Chicken Cordon Bleu looks so classy and complicated (a great dish to serve company!), but this THM S version is equally impressive in its simplicity to prepare.
It occurred to me that the coating for the Parmesan Chicken Wings could easily be used in place of the traditional breading around Chicken Cordon Bleu. I adjusted the coating recipe slightly, inserted a slice of deli ham and a thick slice of Swiss cheese inside the chicken breasts, and baked them on stoneware for 30 minutes.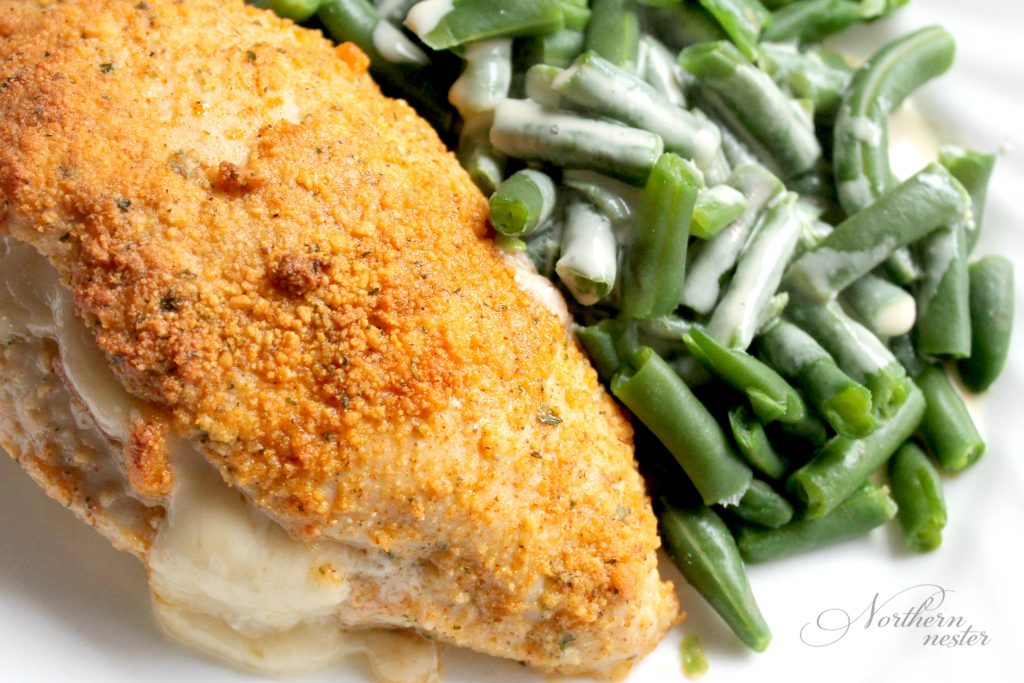 They turned out perfectly, and Brad declared them to be the best chicken breasts he has ever had.
"Can I quote that?"
"Yup."
I also made an accompanying Dijon Cream Sauce to drizzle over the green beans we enjoyed with the chicken. It has a definite mustard flavor that compliments the ham in the Chicken Cordon Bleu, but it's not overpowering. You could also pour it over steamed broccoli or cauliflower instead.
Yield: 8 servings (half a chicken breast is a serving)
Chicken Cordon Bleu with Dijon Cream Sauce | THM: S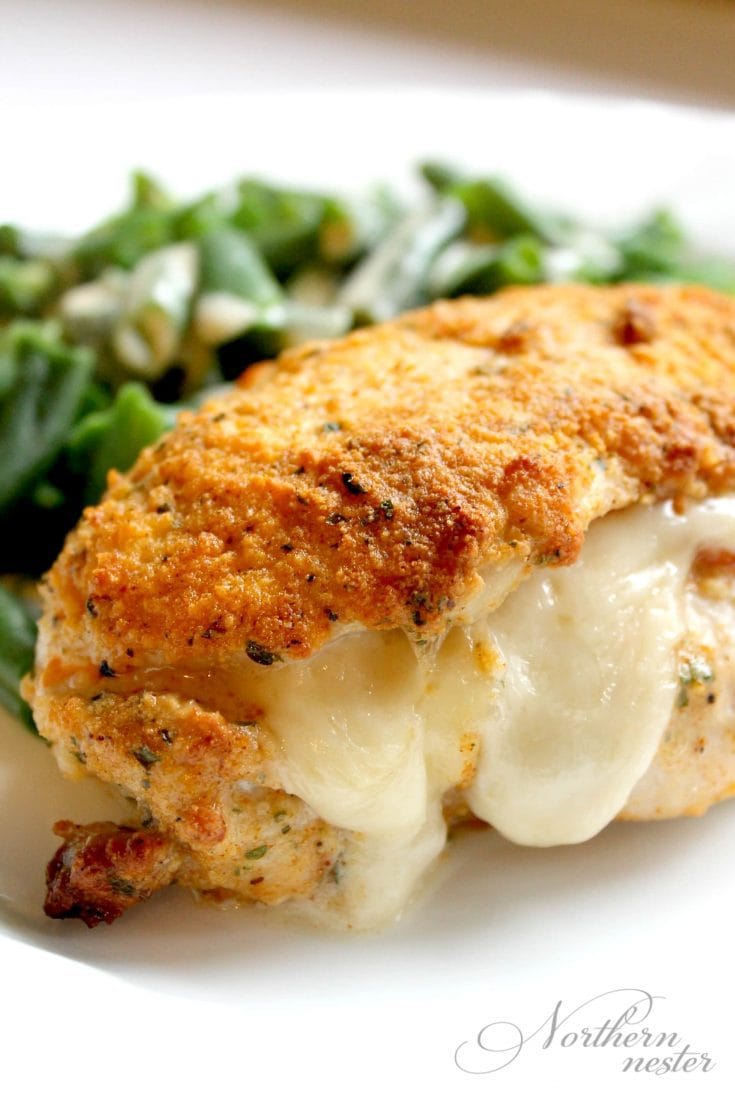 This low-carb, gluten-free Chicken Cordon Bleu looks impressive, but is incredibly easy to make! A Dijon Cream Sauce brings vegetables to the next level. A great THM S meal to serve to company.
Additional Time
10 minutes
Ingredients
CHICKEN CORDON BLEU:
1 cup grated Parmesan cheese
1 tsp dried parsley
1 tsp paprika
1 tsp mineral salt
1/4 tsp ground pepper
1/2 tsp garlic powder
1/4 cup butter, melted
4 boneless, skinless chicken breasts
4 slices of deli ham
4 thick slices of Swiss cheese
DIJON CREAM SAUCE:
3/4 cup heavy cream
2 Tbsp Dijon mustard
1/4 tsp ground pepper
Instructions
Preheat the oven to 350.
Mix first 6 ingredients together in a bowl and set aside.
Slice chicken breasts nearly in half, lengthwise. Keep them attached on one end and open each breast like a book. Lay a slice of ham and a slice of cheese in the center of each opened chicken breast. Fold the top half of each chicken breast over so the ham and cheese are tucked inside.
Dip each stuffed chicken breast into melted butter and then into Parmesan mixture. Lay chicken breasts on stoneware (or other greased baking sheet), and bake at 350 for 30 minutes, or until chicken is cooked through.
While chicken is cooking, prepare Dijon Cream Sauce by heating all the sauce ingredients together in a saucepan. Be careful not to boil. Pour sauce over cooked chicken and accompanying vegetables if desired.
Notes
I'm not a Pampered Chef consultant or affiliated with the company in any way, but I've used my Pampered Chef baking stoneware every day for over 8 years and would be lost without it. The large bar pan is expensive, but I use it for everything, including cooking chicken breasts. They always turn out moist, even without greasing. Stoneware is definitely worth the investment!