Traditional Italian Vanilla Panna Cotta with Raspberry Coulis is one of my favorite desserts and very easy to make on plan by just switching out the sweetener to a plan-approved one. However, since it's made from heavy cream, it can be an abuse of calories by indulging in it too often, and since it's a Heavy S, it can only be enjoyed in an S setting, unless you want a Crossover.
Heavy cream also causes acne for me, so I had plenty of incentive to lighten up my favorite dessert! This Fuel Pull Vanilla Panna Cotta with Raspberry Coulis is low-carb, low-fat, high in protein, and can be enjoyed with any meal!
Aside from setting time, this Fuel Pull Vanilla Panna Cotta with Raspberry Coulis only takes 10 minutes to make and doesn't require any special ingredients.
You'll need:
unsweetened cashew or almond milk
sweetener (I used xylitol, but you can also use Gentle Sweet in half the amount)
water
0% fat Greek yogurt
frozen raspberries
xanthan gum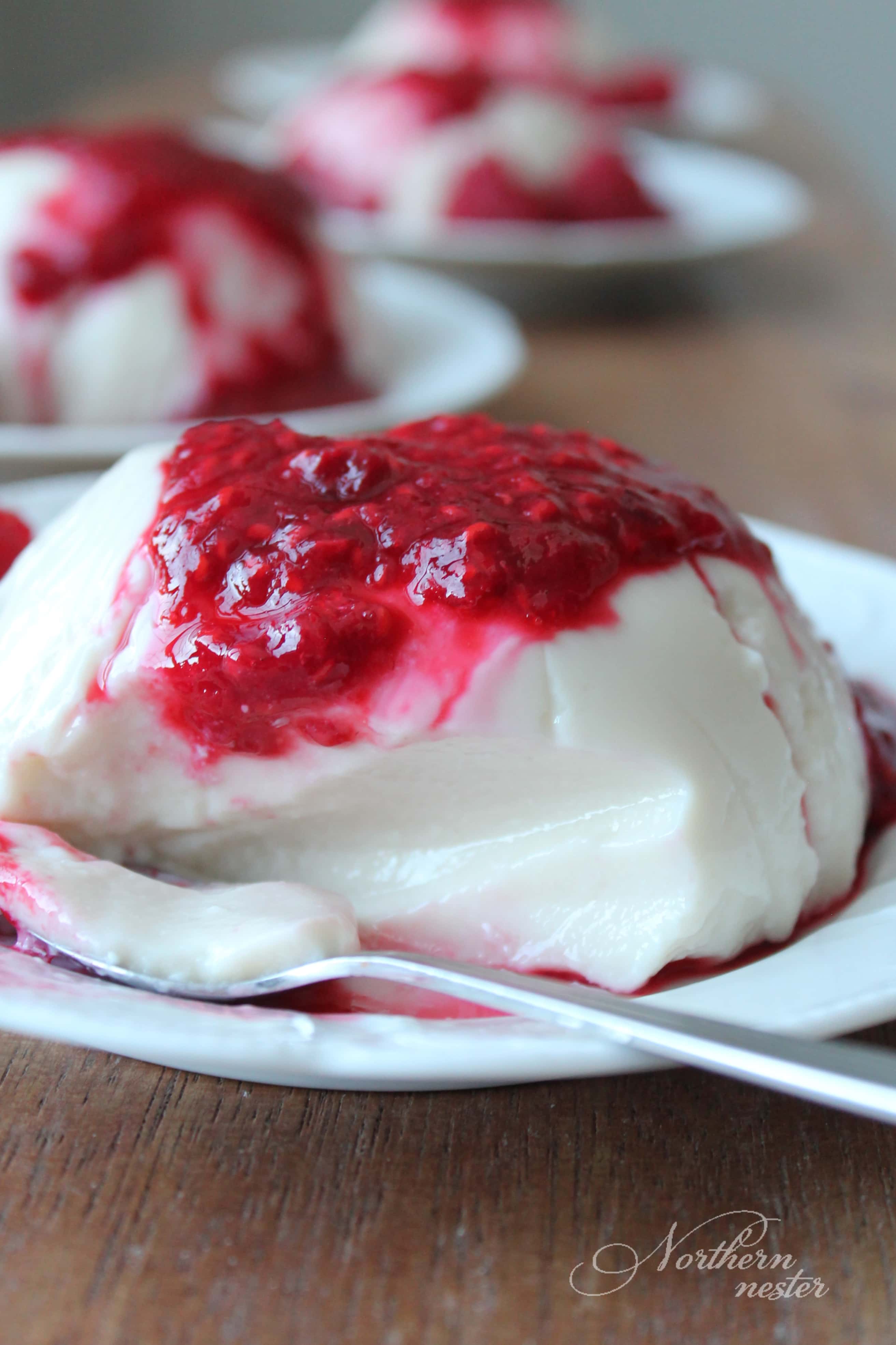 You can use any berry to make the coulis, but I think the tarter raspberries complement the sweet, creamy panna cotta the best. The two flavors are so good together!
Alternatively, you could make a compote out of any favorite fruit (I'm thinking peaches would be delicious!) and turn this dessert into an E!
This Vanilla Panna Cotta with Raspberry Coulis makes 4 servings. They keep well in the fridge, for a convenient dessert or snack, or half the recipe for a romantic dessert for two!
Yield: 4 servings
Vanilla Panna Cotta With Raspberry Coulis | THM: FP, GF, Low Fat
This low-carb, low-fat, gluten-free, high protein Trim Healthy Mama Fuel Pull proves that indulging in dessert doesn't have to be fattening! A delicious end to any meal, no matter what the fuel type.

Prep Time 10 minutes

Additional Time 2 hours 50 minutes

Total Time 3 hours
Ingredients
PANNA COTTA:
1 1/2 cups unsweetened cashew milk
1/3 cup xylitol (OR use Gentle Sweet in half the amount)
pinch of mineral salt
1 tbsp unflavored gelatin
3 tbsp water
1 1/2 cups 0% Greek yogurt
2 tsp vanilla extract
RASPBERRY COULIS:
1 cup frozen raspberries
1 1/2 tbsp xylitol (OR use Gentle Sweet in half the amount)
1/8 tsp xanthan gum
Instructions
Line 4 ramekins, small bowls, or glasses with plastic wrap.
In a medium saucepan, whisk and heat cashew milk, xylitol, and mineral salt together until sweetener is dissolved. Meanwhile, in a small bowl, sprinkle gelatin over water to soften for 1-2 minutes. Scrape softened gelatin into hot cashew milk mixture and whisk until completely dissolved.
Remove from saucepan from heat. Stir in yogurt and vanilla until smooth. Pour into prepared dishes. Refrigerate for at least 3 hours. Invert onto a plate and remove plastic wrap.
To make the raspberry coulis, bring raspberries and sweetener to a boil in a saucepan. Remove from heat and whisk in xanthan gum. Cool in the fridge for 5 minutes before pouring over each panna cotta.
Notes
Unsweetened almond milk can be substituted for the cashew milk.

Gentle Sweet can be used in place of xylitol in half the amount, or Super Sweet in a quarter of the amount.

Any frozen berry can be used in place of the raspberries. For an E dessert, you can enjoy this panna cotta with any fruit.