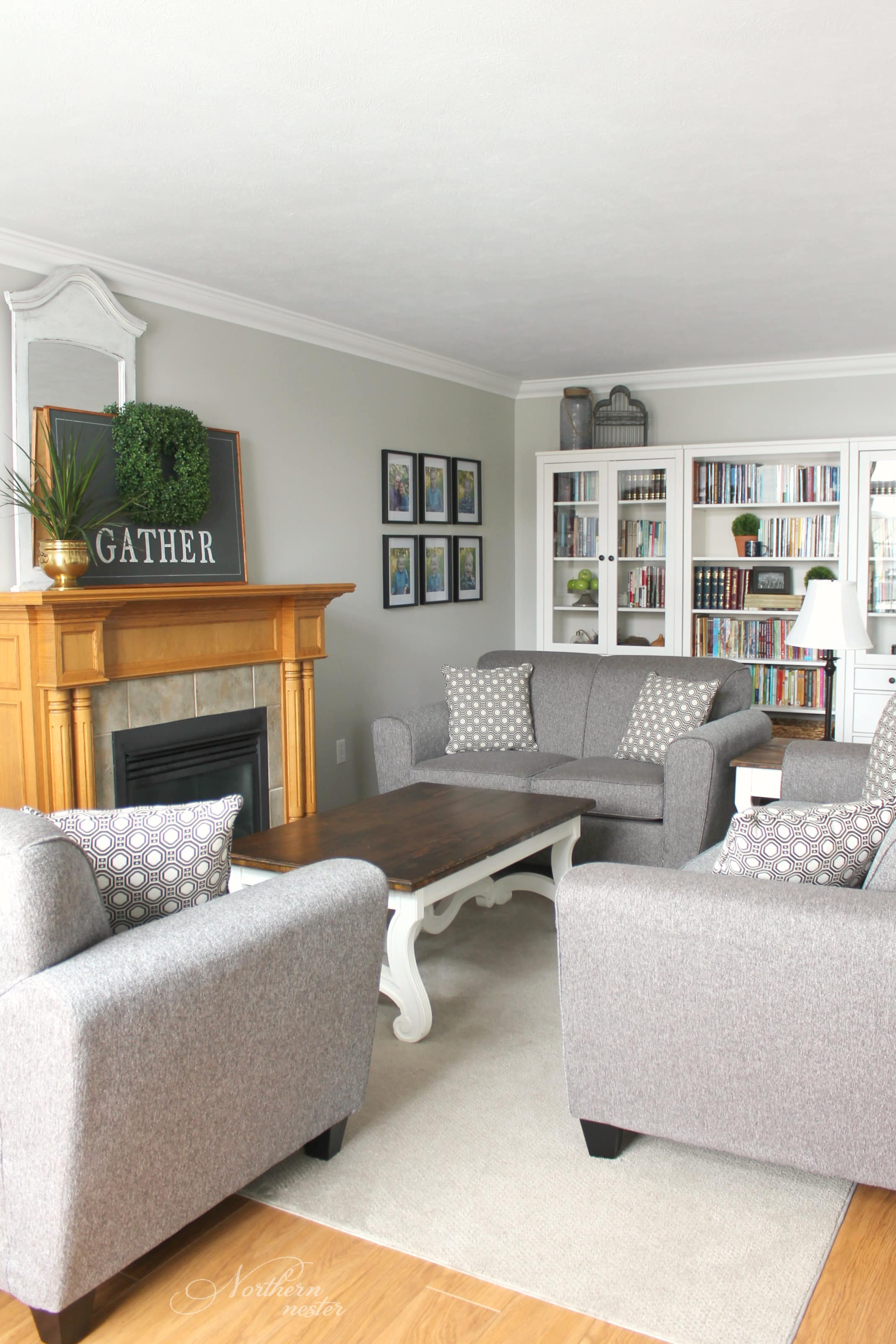 Recipe creating and gardening aside, homeschooling and minimalism are two other passions of mine. Sometimes the two concepts seem diametrically opposed to each other. Creating a fun and healthy atmosphere of learning requires things, and yet too much stuff feels suffocating! My goal is to create an uncluttered homeschool: warm, friendly, and educational, but free of excess. I want to encourage creativity, but not feel stifled by a mess. It's difficult to do (especially when you're family is larger than average!), but it's not impossible!
Here are some things I try to keep in mind when I'm decorating.
Here's a short video of my husband and boys putting together these IKEA Hemnes cabinets:
Let your homeschooling resources double as decor
Is there anything more beautiful or educational than shelves and shelves of good books?!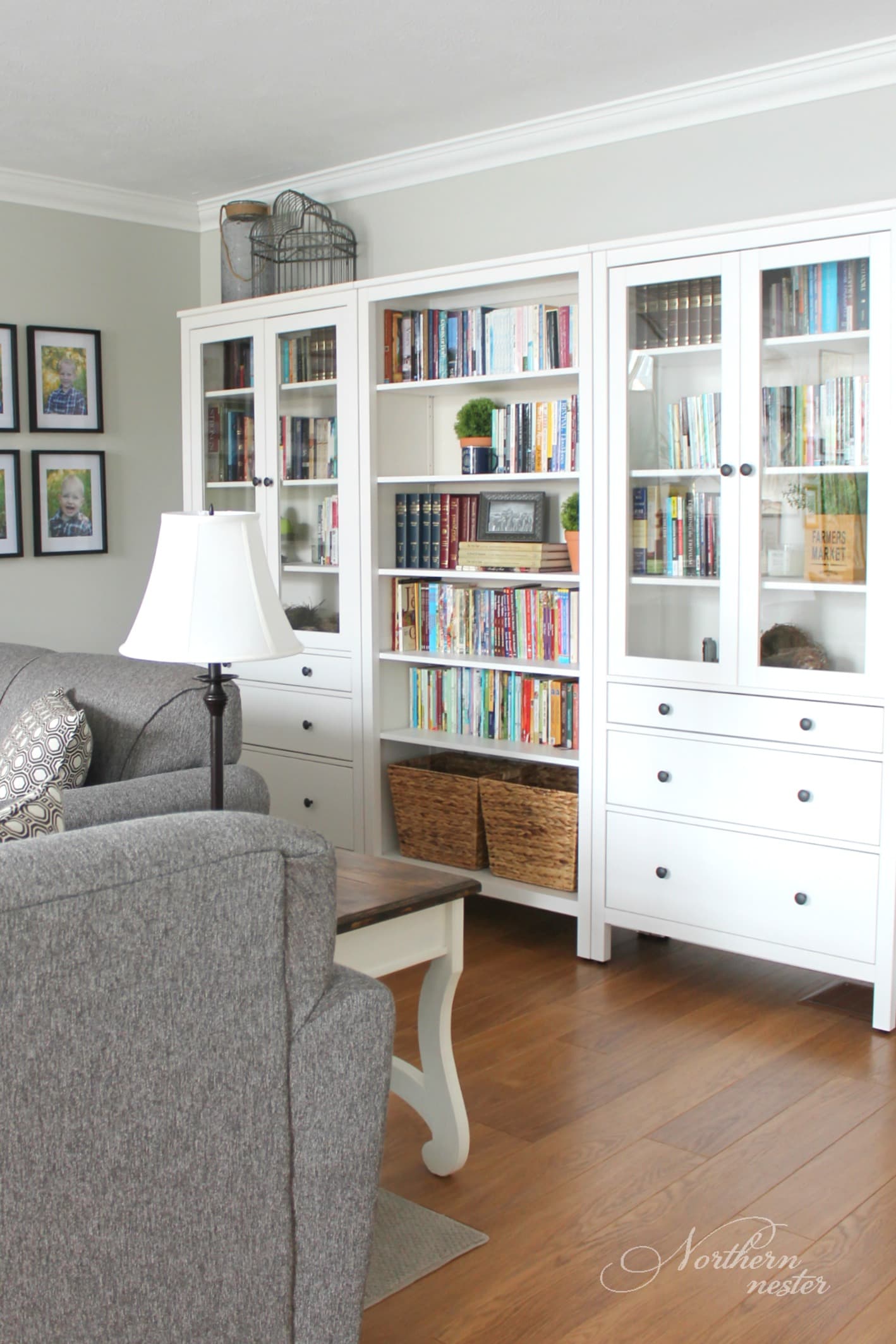 We have a series of 3 bookcases upstairs and 3 bookcases downstairs. The books one the shelves shown here are organized by topic (Christian living, marriage/family, homeschooling, biographies, children's literature, politics, etc.). Books that are too large to stand upright, I stacked on their side to act as a bookend for the other books and add interest to the shelves.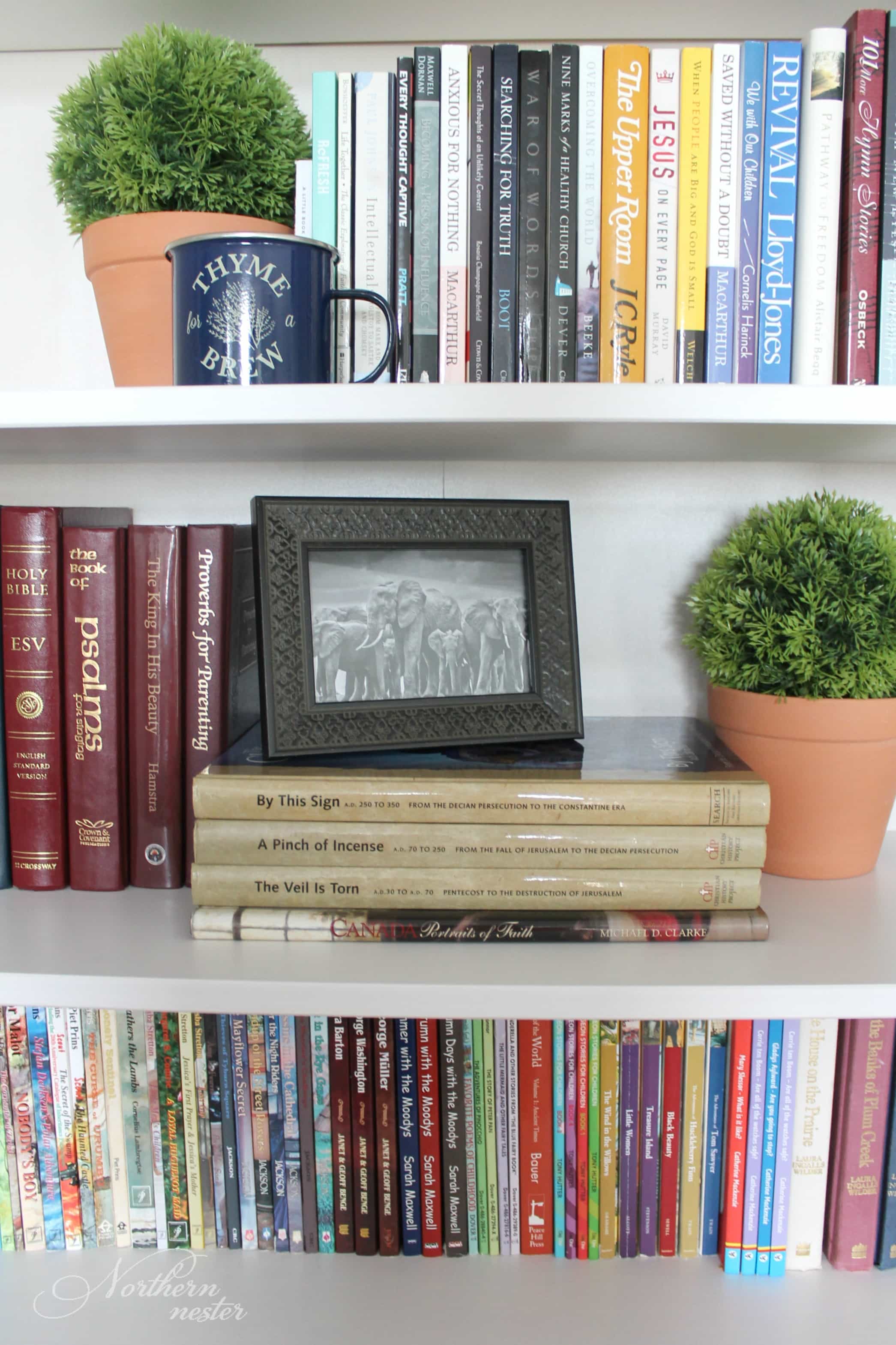 White space and pops of greenery (these Dollar Store terra cotta also double as bookends) keep things looking fresh and minimal.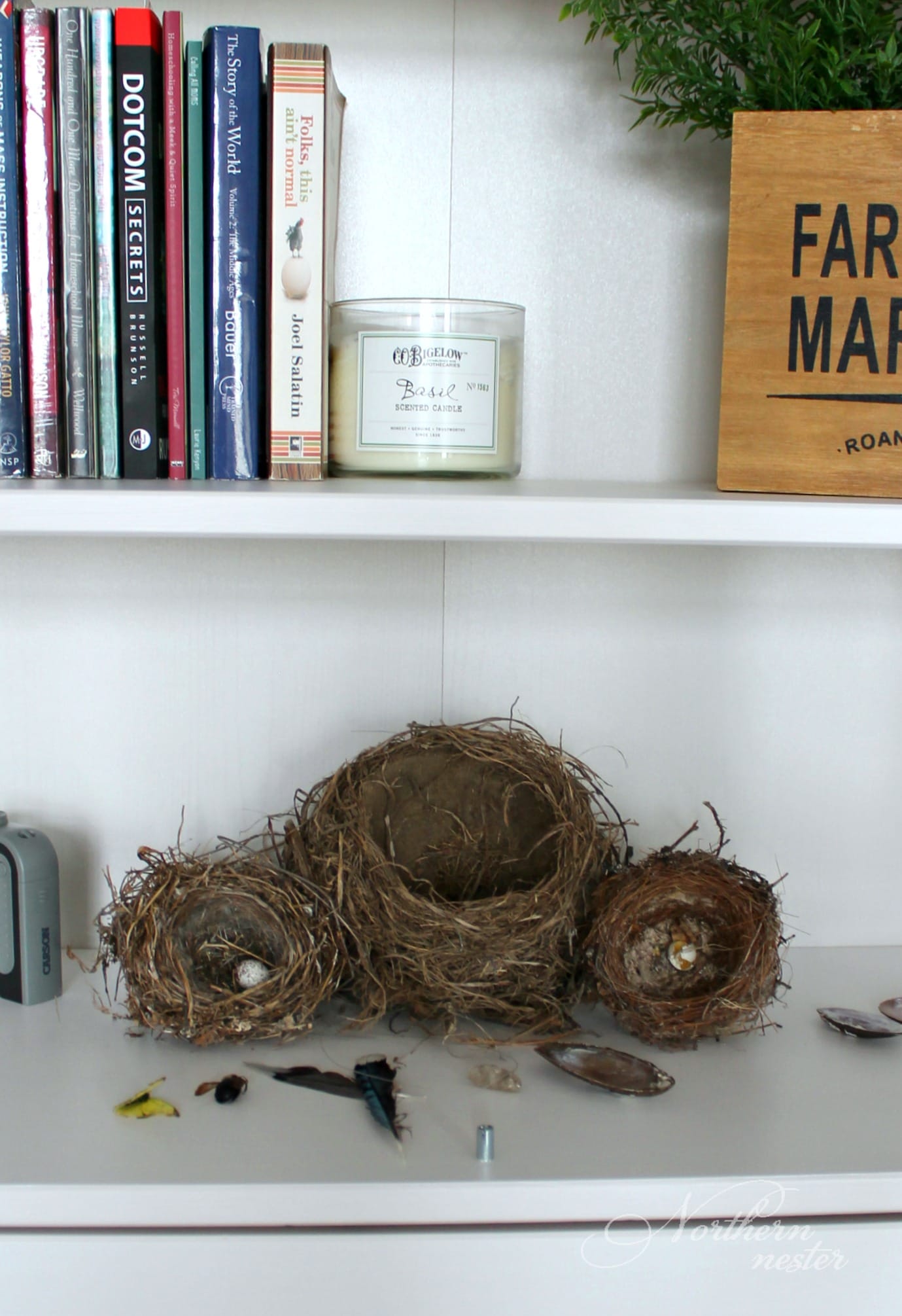 Treasures we've found during our Nature Walks have a designated shelf behind glass doors in our bookcase. I love being able to have their feathers, nests, rocks and bugs on display but out of reach from our littlest people.  This idea was inspired by my friend, Doreen (if you homeschool, or love poetry and nature, you will love her Instagram page, An Every Day Faith).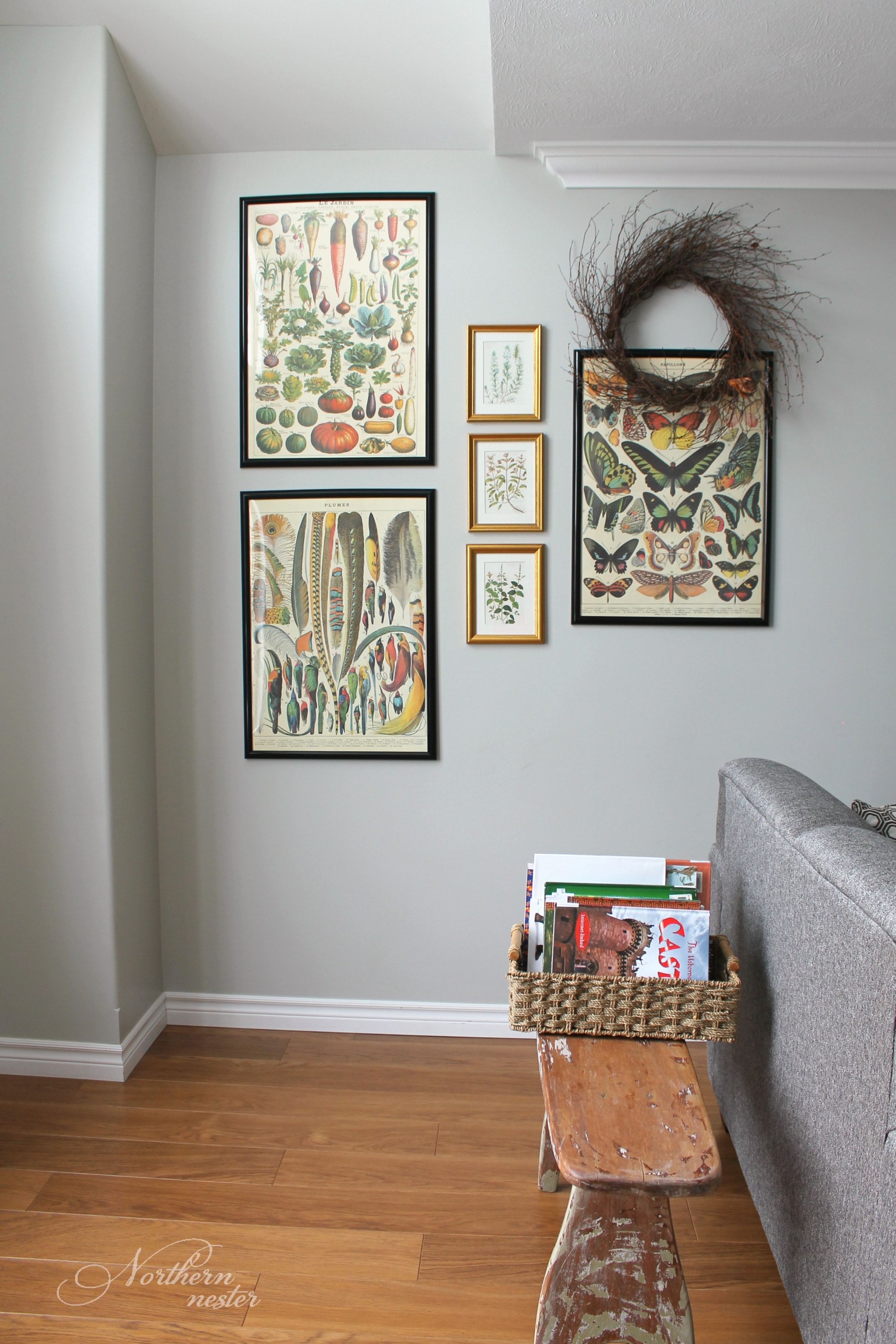 My friend Meagan (Our Home In The Woods on Instagram, and artist behind Printable Homeschool on Etsy) gifted me two vintage posters from The Paper Place. I loved them so much, that I ended up purchasing 4 more! At $6 each, they are a beautiful and inexpensive way to add color to your home can help us identify the butterflies, birds, and feathers we find, and the veggies and herbs we grow…in French!
Charlotte Mason said that every child needs three things:
Something to think about
Something to do
Something to love (or care for)
Indoor plants (and outdoor rabbits!), are part our "things to love." They provide the kids opportunity to care for something and reap the reward of seeing growth and life. Currently, we don't have many indoor plants, but our plans for the Summer include building a console table to fit behind the couch closest to the window so we can grow more of them in the natural light that fills the space.
Stick to neutral colors and clean lines
A simple color palette and clean lines lend a peaceful vibe to the atmosphere of a home. Our house is usually bustling with activity and I find it helps to keep the decor toned down to prevent sensory overload. I find neutral colors and textures calming; wood, weaves, grays, whites, blues, and greens are prevalent here.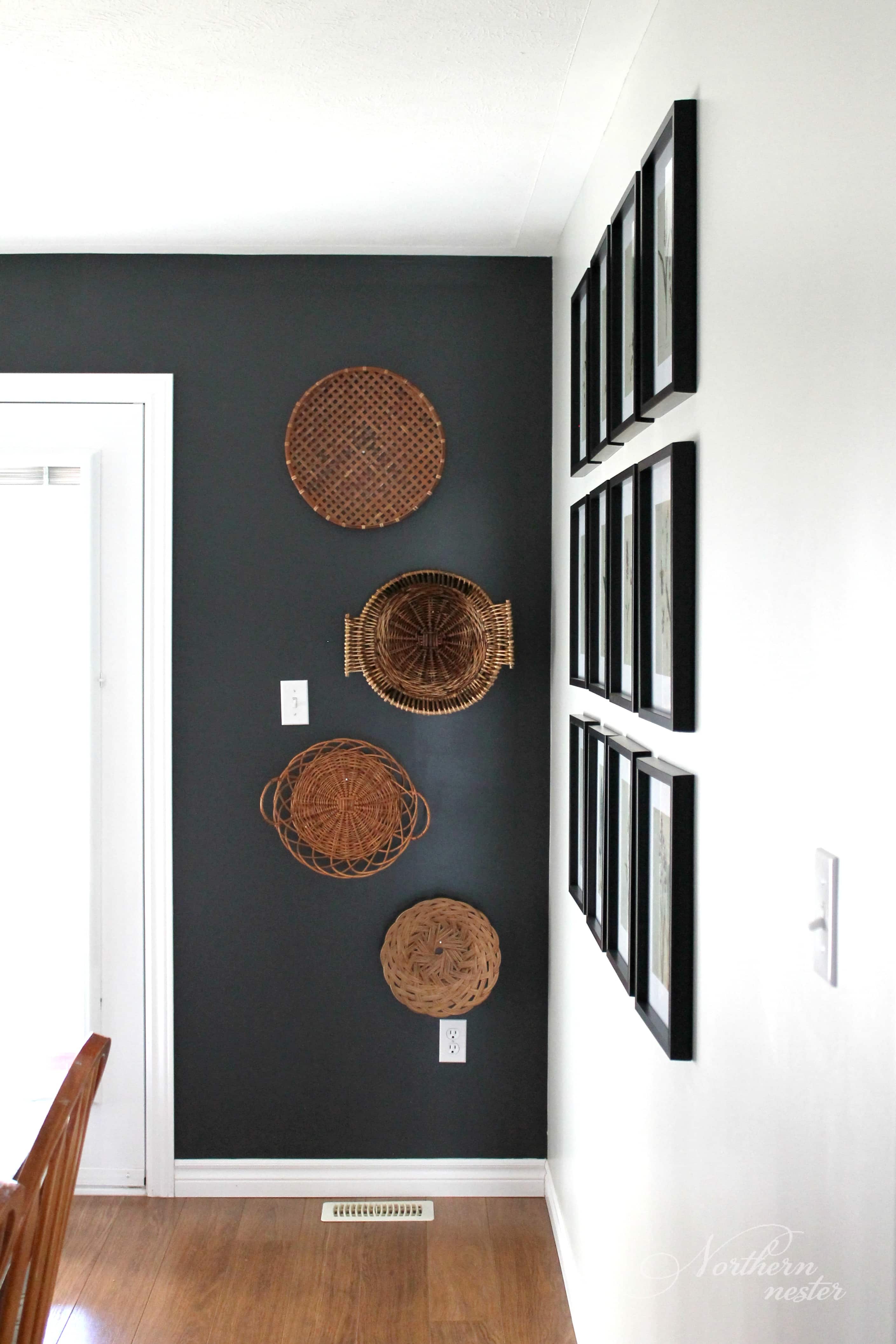 (Here's an easy trick to hanging a Gallery Wall with Dollar Store picture frames.)
Another benefit to having one color scheme through out the whole house, is that you can "shop" your rooms and switch up your decor without having to buy new things. Switching mirrors, picture frames and furniture around is easy to do when everything looks like it belongs together.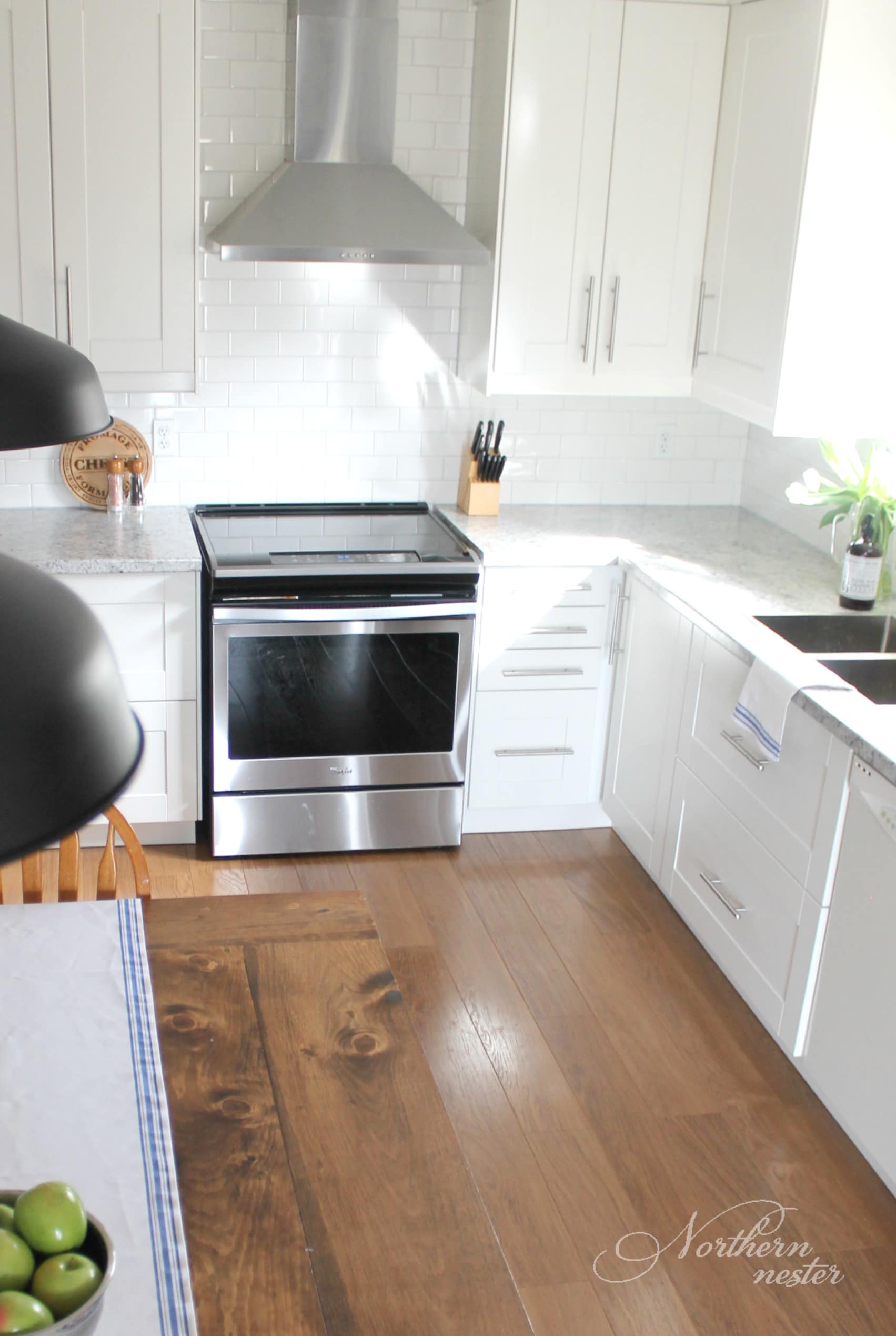 Neutral palettes can often be created for free of very frugally. The vast majority of the decor in our house was salvaged from junk piles and restored with a little love, or built ourselves with natural materials. It's easier to purge things that haven't cost much money to begin with, too.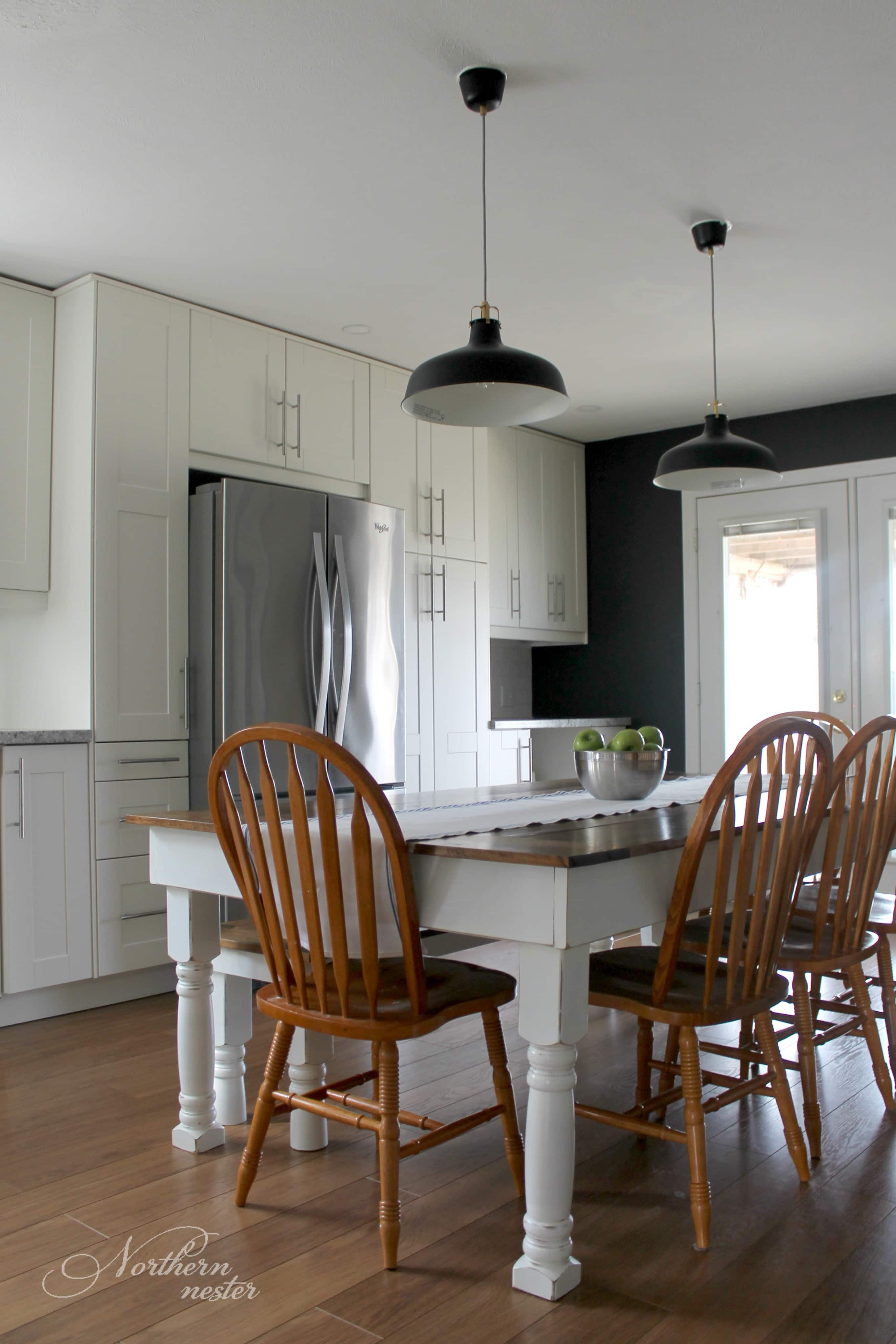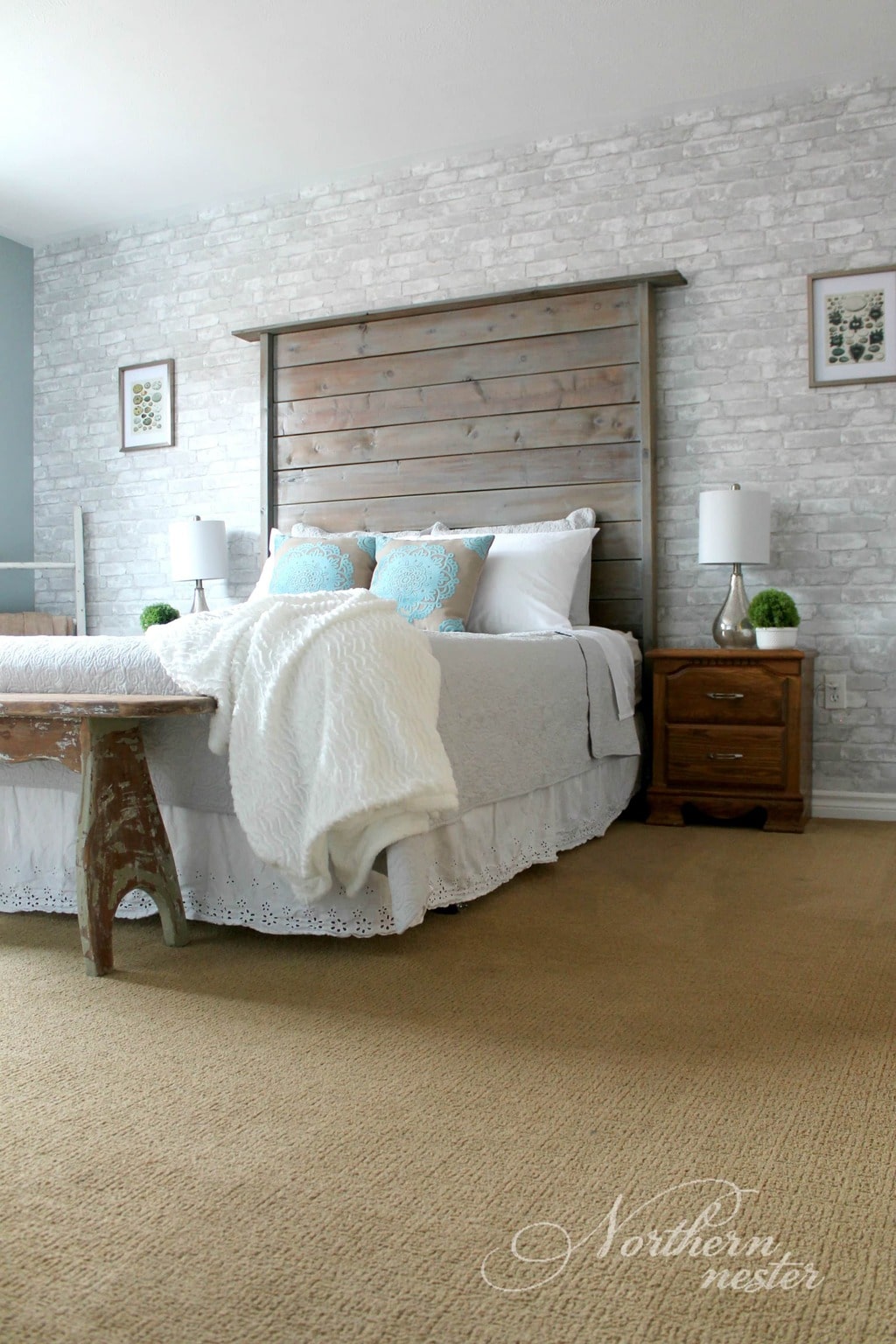 Hide the mess
The reality of homeschooling is that your children live at home, so don't expect it to look as though they are off at school (I am so guilty of this!).
The wear and tear on a house is far more significant when it's being occupied for most of the day. The mess is more significant, too. I often have a small anxiety attack when someone drops in unannounced, but I'm slowly adjusting to the reality that our house usually look like it's well loved…and it's a good thing!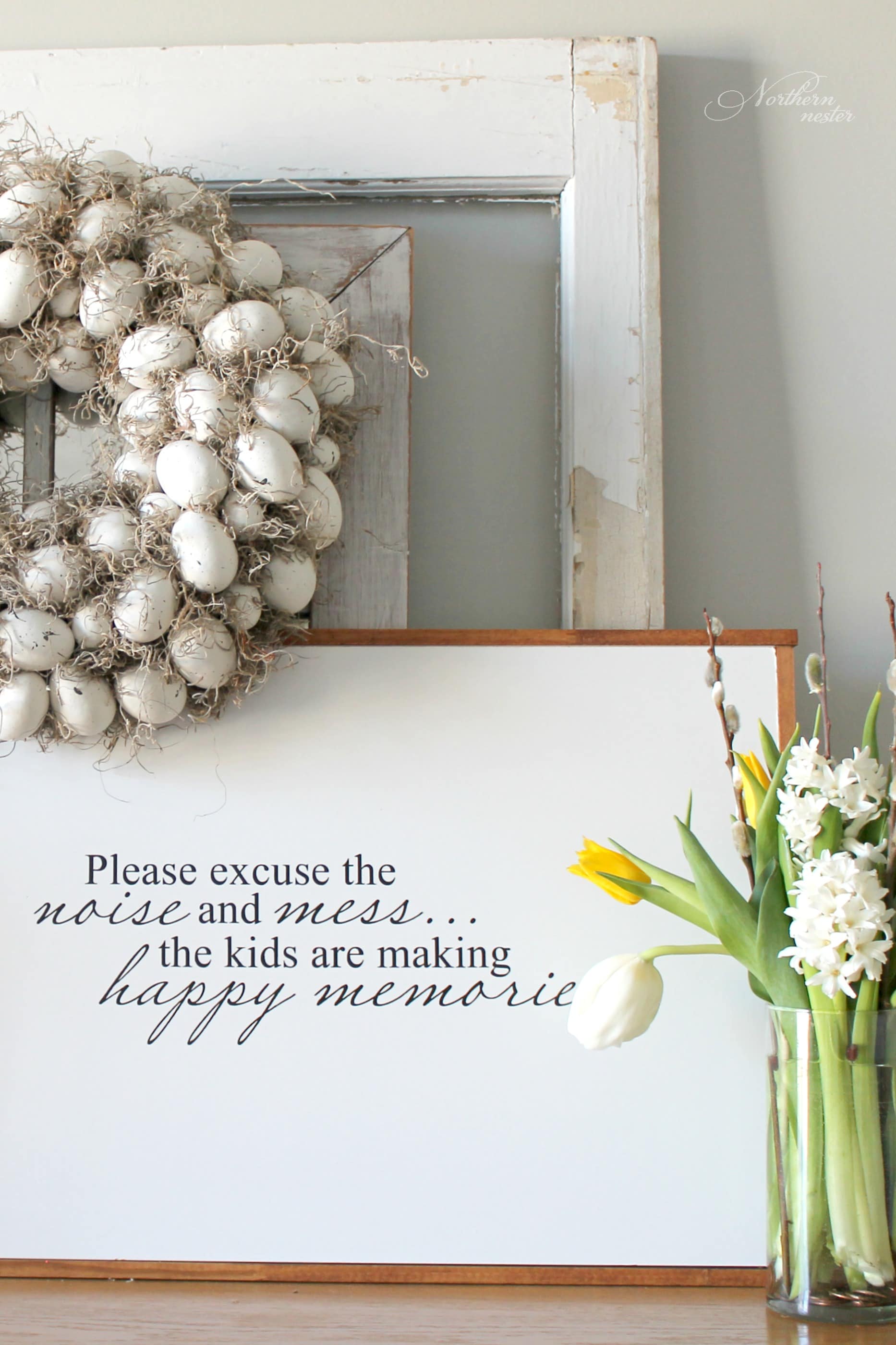 There's a saying that goes:
If you want to see me, you're always welcome; if you want to see my house, please make an appointment. 
That couldn't be more true! When appointments are made, however, it's nice to be able to tidy up a bit and hide the mess. This is where sufficient and proper storage comes in handy!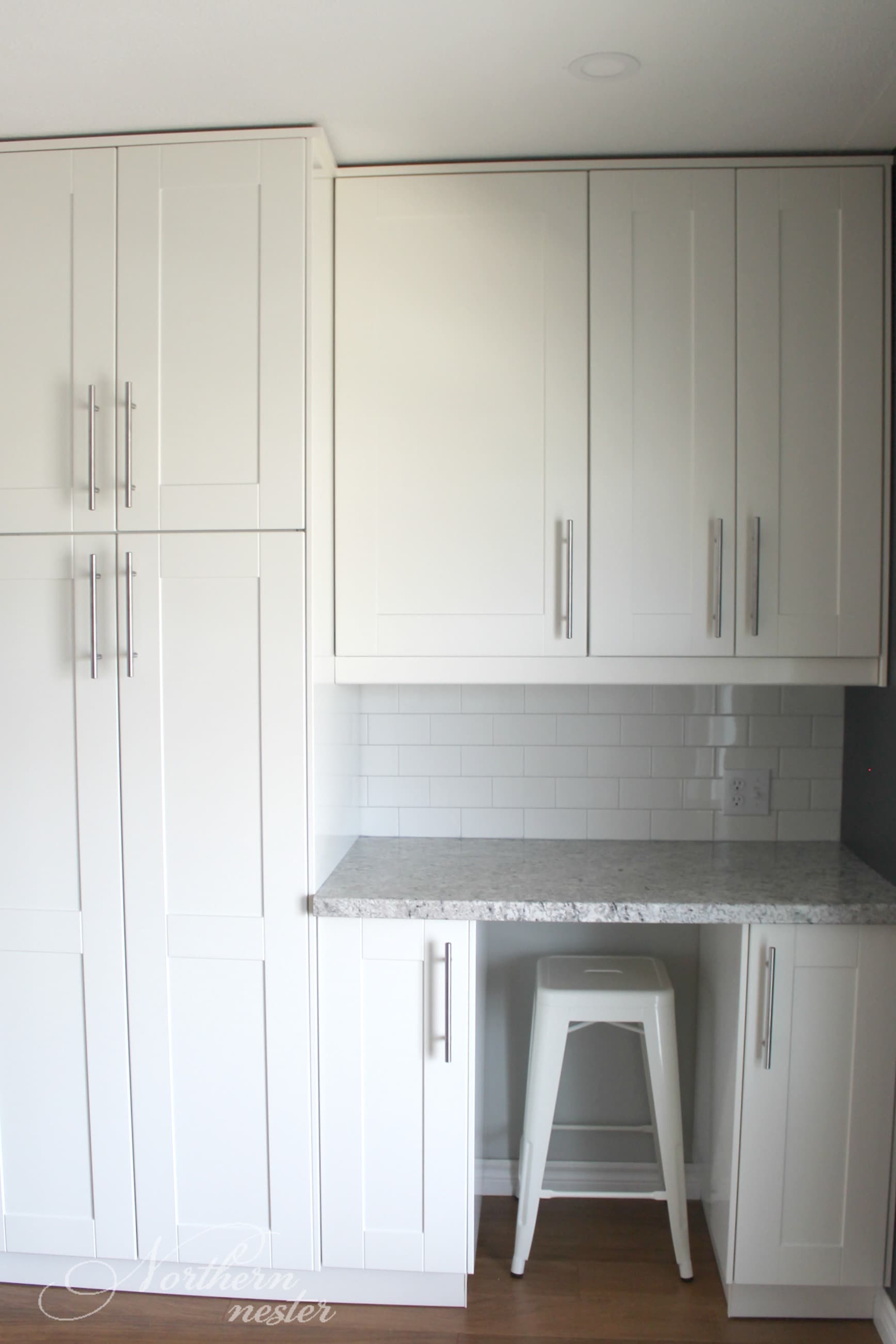 Our children's workbooks, pencils, erasers, pens, notebooks, coloring books, etc., have designated cupboard space in our kitchen (which also doubles as our homeschool room). It's not always organized the way I'd like it to be, but I love being able to shove everything behind closed doors when I want the outside of the cup to look clean!
Baskets are handy for storing toys that keep the younger kids occupied while I'm working with the older ones (and for stashing ALL THE THINGS into when people pop by unannounced).
Beds are made for so much more than sleeping on – do you know how much stuff you can store under there?! A room full of Lego, that's what. We store our Lego and army and Playmobil in these handy under-the-bed storage totes.
They come with wheels on the bottom, making access and transport a breeze.
Only allow things in your homeschool that serve a purpose or bring you joy.
If it doesn't serve a purpose or bring joy, get rid of it. That means selling, donating, or tossing anything that:
isn't used enough to deserve the space it takes up
has a purpose that can be fulfilled by something else you already own
is irreparable
causes unnecessary stress or clutter
Toys, clothes, linens, toiletries, books (I have a really hard time with this one), craft supplies, kitchen utensils, tools, footwear, DVDs, CDs, home decor, appliances, electronics, magazines, paint cans, cookbooks, hair accessories, curriculum, hand bags, herbs & spices, sports equipment, gift wrap, games – there is always something to purge!
You'll find yourself with:
less to clean
less to organize
less to distract
more space
more freedom
more peace
more time
more money
more enjoyment of the things we have
a place for everything
things that are easy to find
Don't allow stuff to breed
This isn't hard to do if you regularly enforce two rules:
If something new comes in, something old must go out.
When it comes to gifts, give an experience instead of a thing.
You don't have to keep all of their projects
Really. You actually don't.
We take photo memories to keep of their projects and accomplishments, and then release most of them to the recycle bin. Their best works that I want to save for posterity, I store in a scrapbook/binder for each child.
The best reason for working towards an uncluttered homeschool?
As much as reading writing, and arithmetic are important, I want our children to understand that this is even more so:
Lay not up for yourselves treasures upon earth, where moth and rust doth corrupt, and where thieves break through and steal: but lay up for yourselves treasures in heaven, where neither moth nor rust doth corrupt, and where thieves do not break through nor steal: for where your treasure is, there will your heart be also." Mathew 6: 19-20