Is it a THM blackberry crisp or crumble? You decide!
It's been *gasp* literal years since I've created a new Trim Healthy Mama recipe, but the backyard of the house we are currently occupying is exploding with some might good Texas-sized blackberries, and I couldn't let them go to waist!
I mean, waste.
And since I've re-committed to Trim Healthy Mama in recent weeks, I thought I'd try putting the blackberries into a crisp – an S crisp, of course, so it can be served with whipped cream or some on-plan ice cream!
(Blackberries themselves are a fuel pull fruit, suitable for enjoyment in every fuel setting!)
The trick to not burning a nutty, crumble topping is to allow the fruit a head start on cooking while you prepare it.
Here's how simple this recipe is: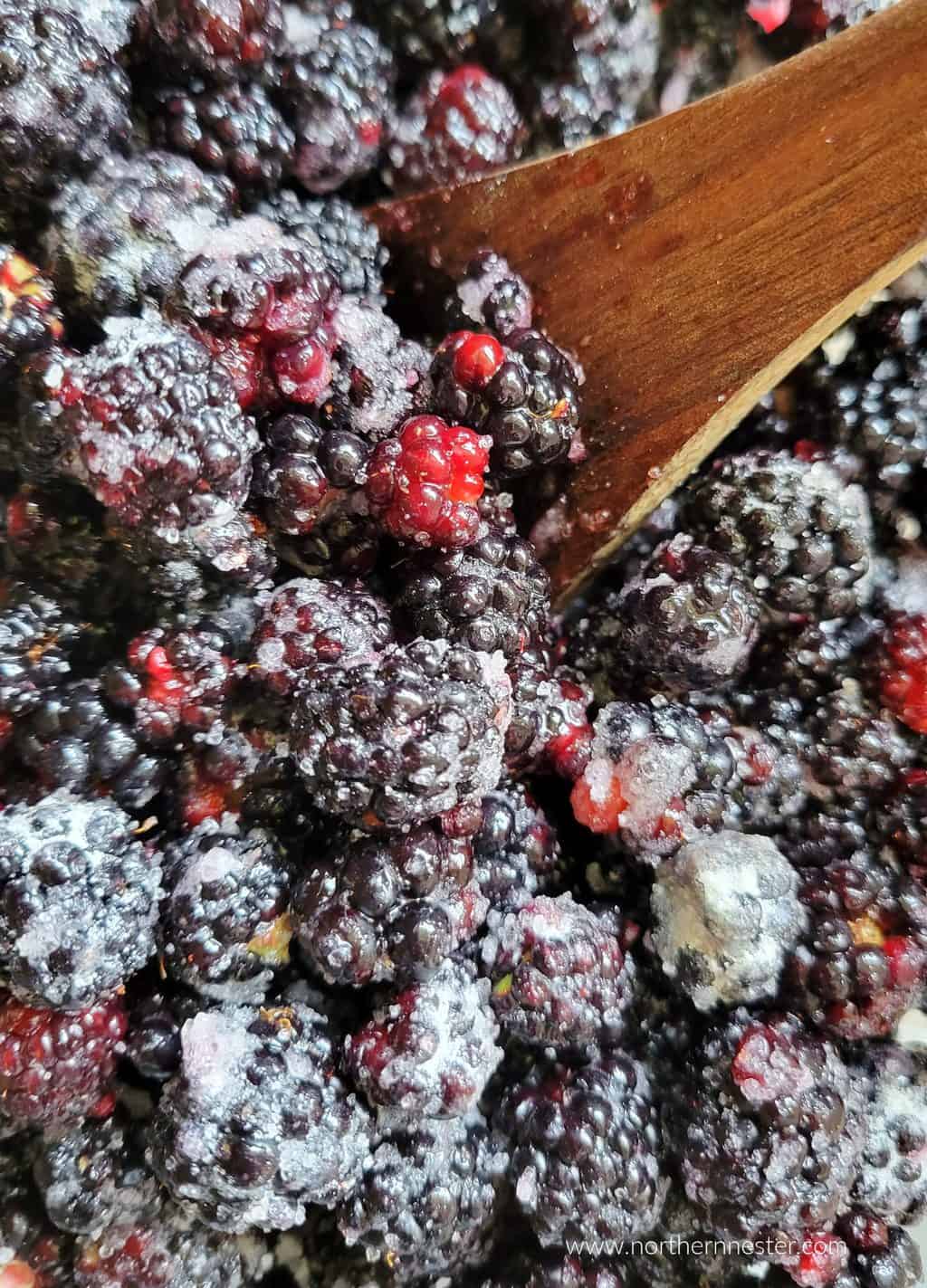 First, you toss your berries in some sweetener, lemon juice, and xanthan gum. The xanthan gum thickens the juices into a nice, syrupy filling.
Pop the berry mixture into the oven while you prepare the topping.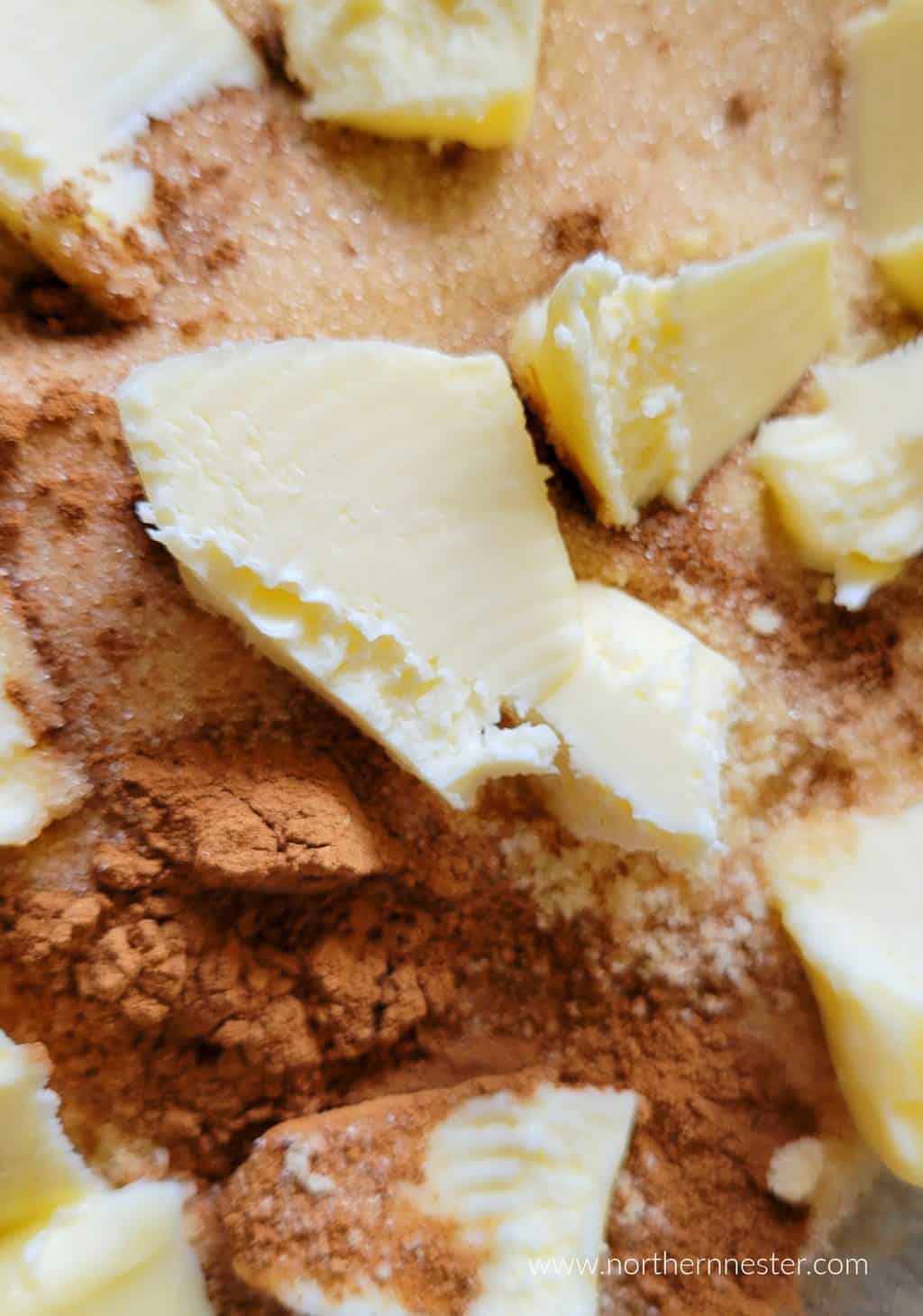 Then you cut some butter into sweetener, cinnamon, coconut flakes, ground almonds, and salt for an incredibly delicious crumble topping.
Mmmm-mmmm! I could eat this stuff plain.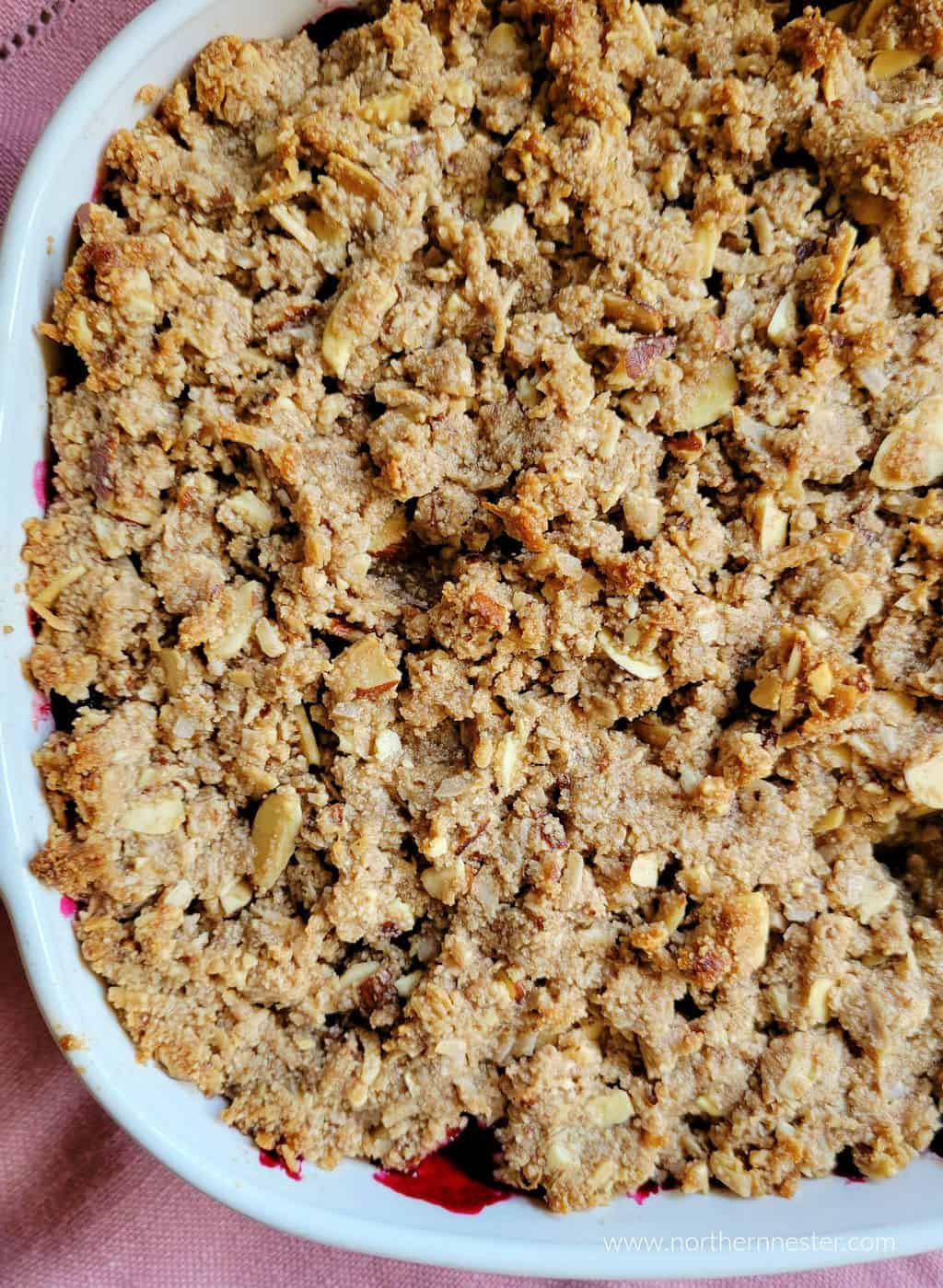 Remove the partially cooked berries from the oven to sprinkle on your topping. Return to oven and back until golden.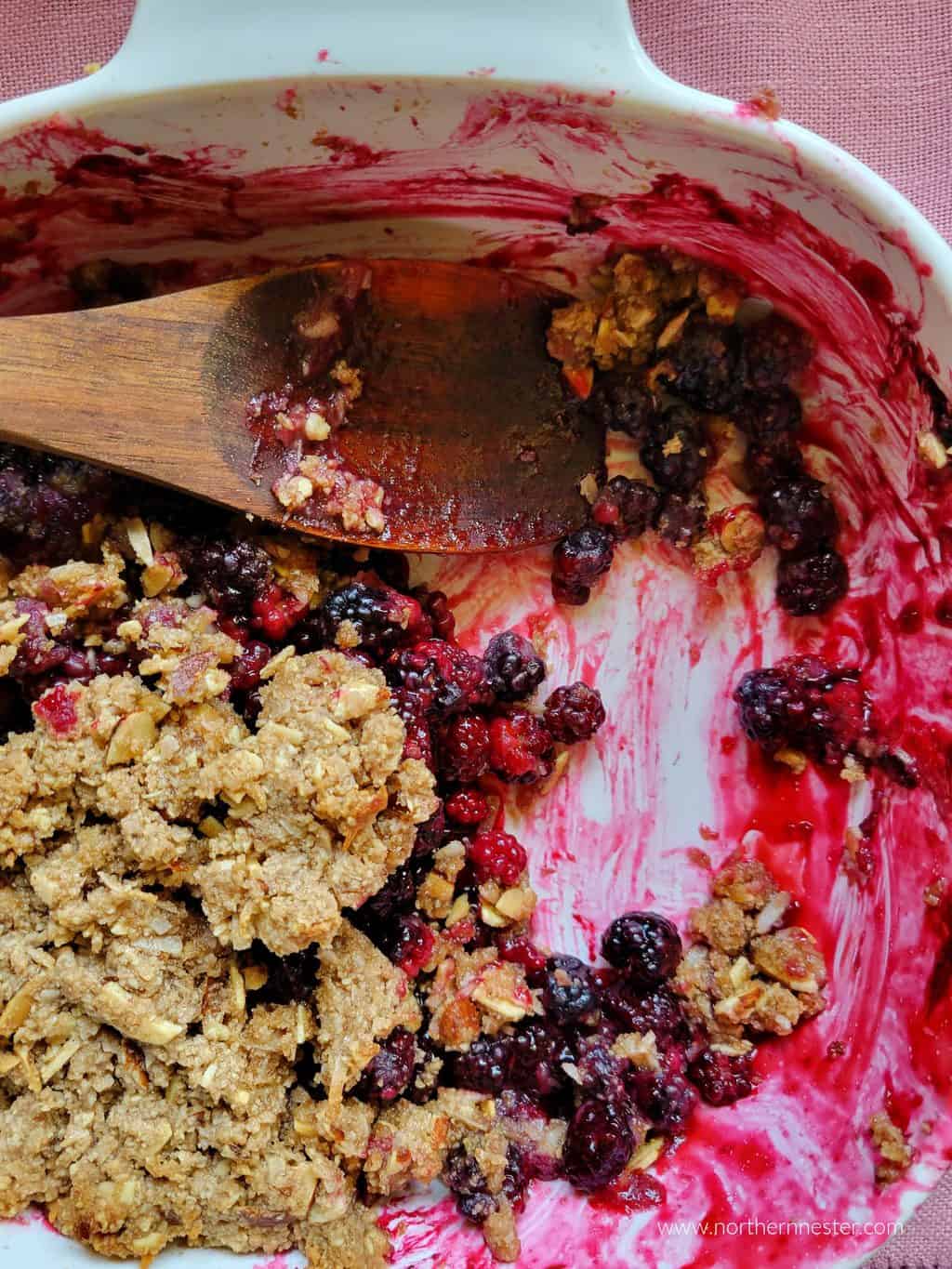 Try not to eat it all in one sitting, like my 3 year-old who had as many helpings of this THM Blackberry Crisp as her years.
Enjoy!
Yield: 9 servings
Blackberry Crisp | THM: S, Keto, GF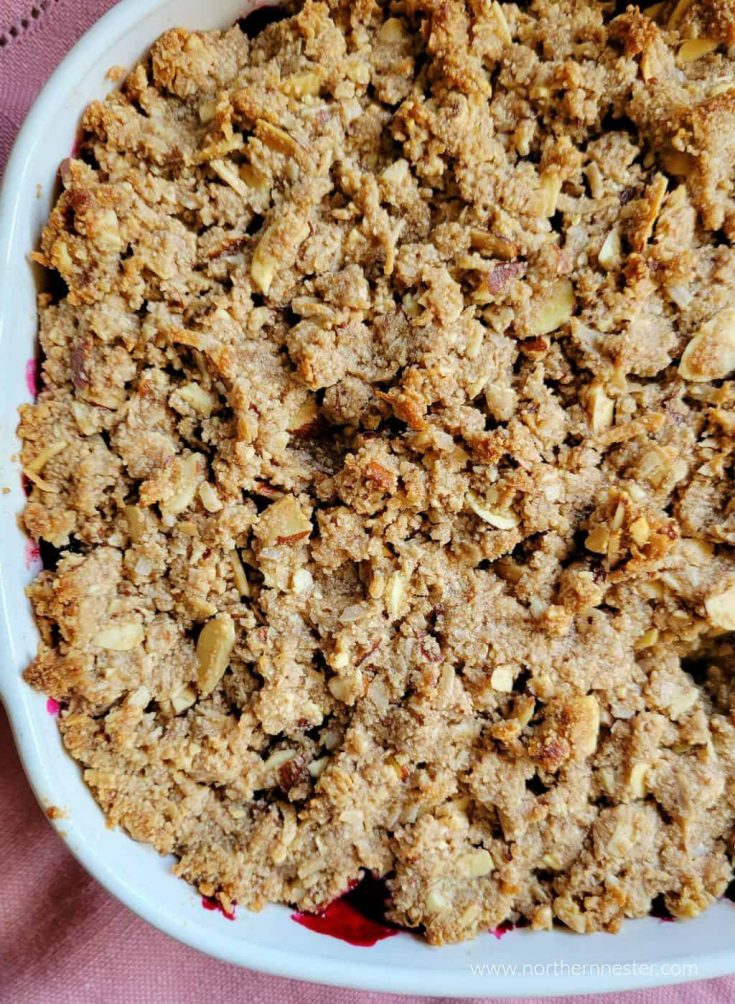 This THM Blackberry Crisp is so easy and delicious! You can use any fresh berry in place of the blackberries to keep it in an S setting. Enjoy warm with whipped cream!

Prep Time 10 minutes

Cook Time 30 minutes

Total Time 40 minutes
Ingredients
6 cups fresh blackberries (raspberries will work, too!)
1 tbsp lemon juice
1/4 cup granulated Swerve OR Lakanto Classic Sweetener (or equivalent to 1/4 cup sugar)
1 tsp xanthan gum
1/2 cup finely chopped almonds or pecans
1/2 cup unsweetened coconut flakes
1 cup almond flour
1/2 cup cold butter
1/4 cup of Brown Swerve OR Lakanto Golden Sweetener (or equivalent to 1/4 cup brown sugar)
1 tsp ground cinnamon
1/4 tsp sea salt
Instructions
Preheat oven to 350 F. Butter an 8x8 baking dish and set aside,
In a large bowl, toss berries with lemon juice, first amount of sweetener, and xanthan gum.
Pour berries into baking dish and place in oven for 10 minutes while you make the topping.
To make the topping, mix finely chopped almonds, coconut flakes, almond flour, second amount of sweetener, cinnamon and salt together. Cut in cold butter and combine with hands until mixture resembles coarse crumbs.
Sprinkle topping over slightly cooked berries and return to oven for another 20 minutes, or until golden brown.
Notes
Serve warm with naturally sweetened ice cream or whipped cream!