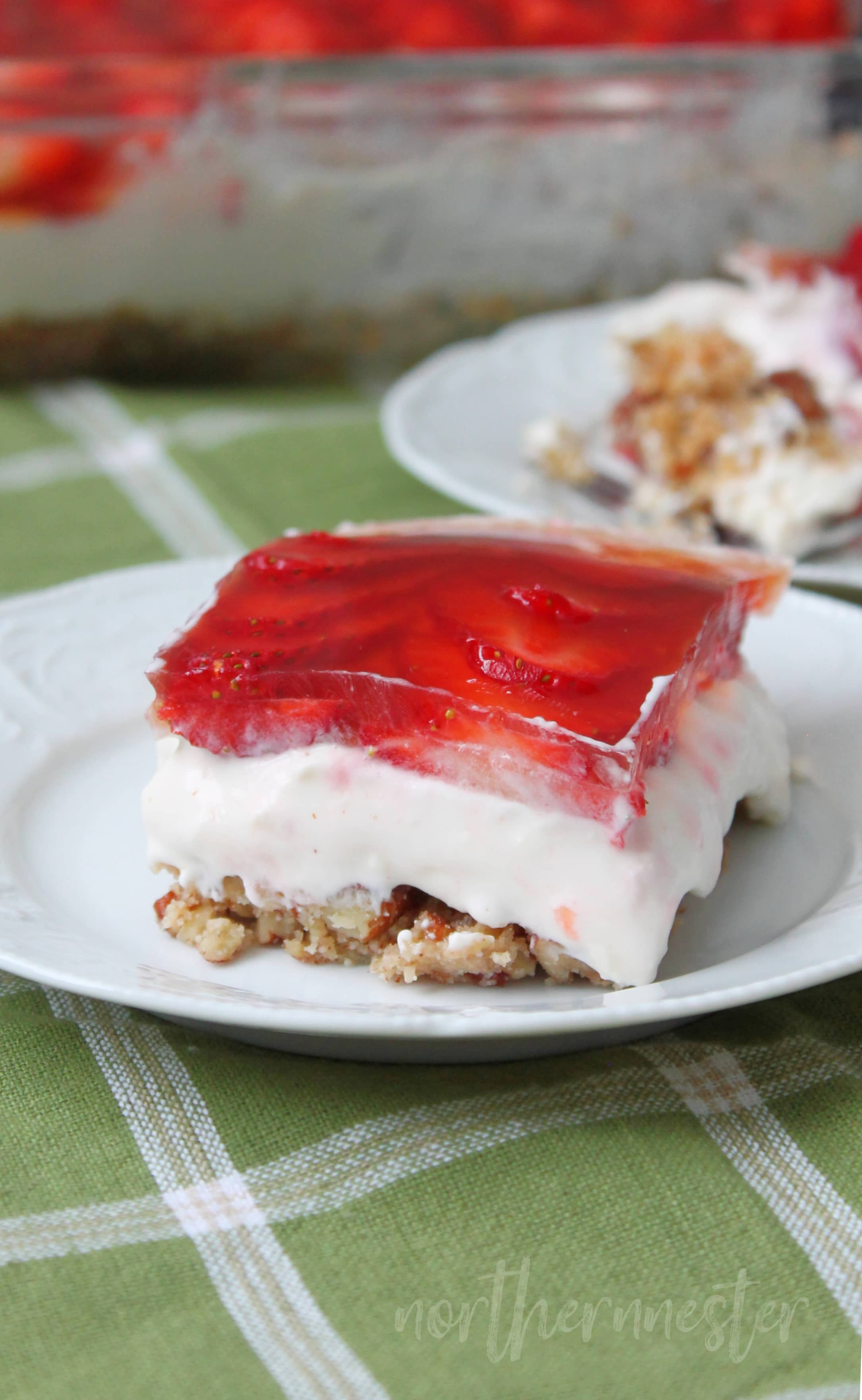 I've made this low-carb Strawberry Pretzel Dessert twice in five days. My whole family cannot get enough of it, especially my husband – he even licked the kids'plates clean "so it goes to waist and not to waste!" 😀
(Except, this low-carb Trim Healthy Mama version of the classic dessert is waist-friendly, as it's free from both sugar and gluten!)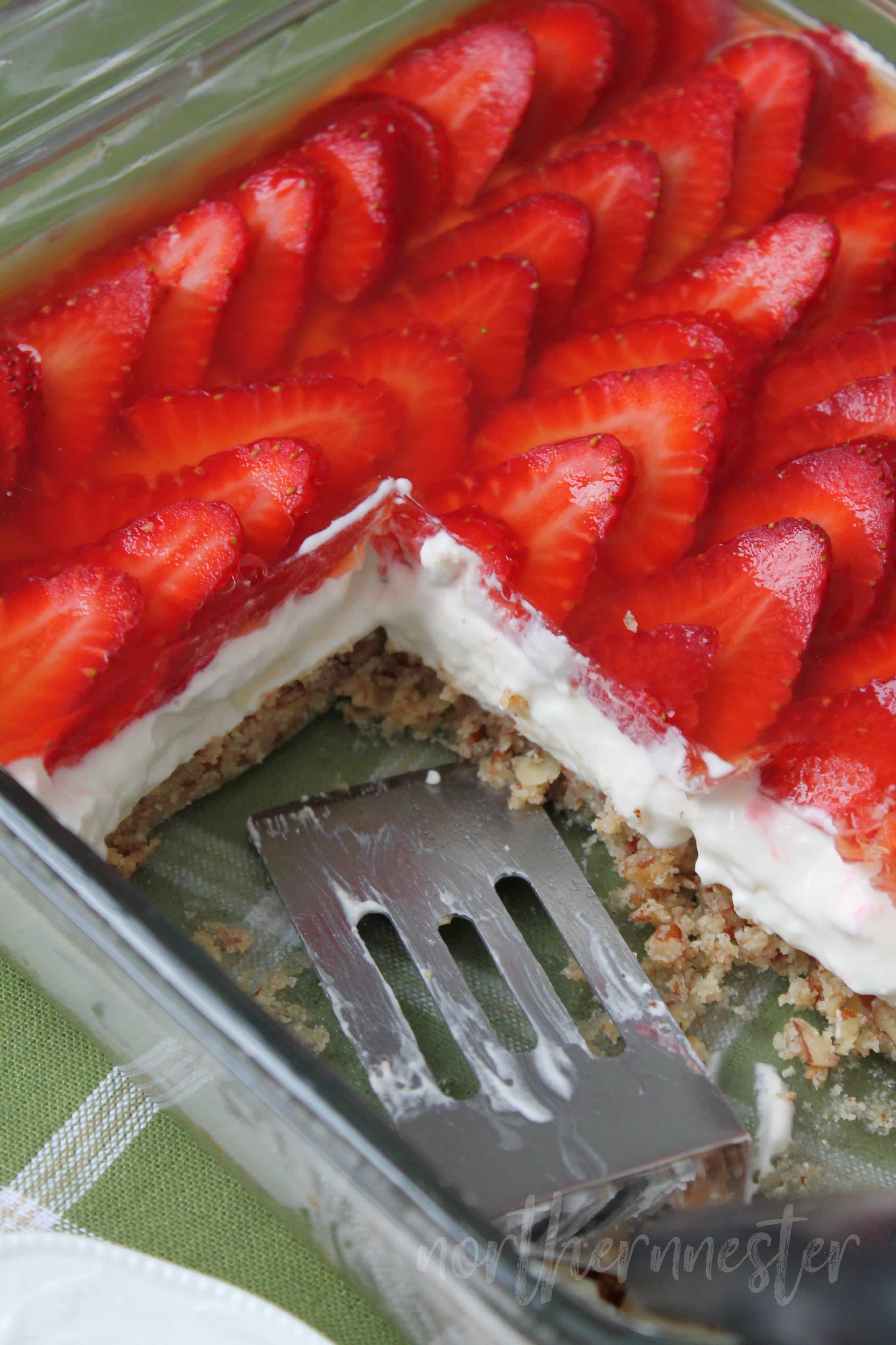 My favorite part of the traditional Strawberry Pretzel dessert is the pretzel crust, so I spent the most time trying to get that part juuuuuuust right. Nothing beats the sweet 'n salty layer combined with the creamy middle, and sweet, Jello-set strawberry topping!
Using sprouted pretzels might have worked, but they would have made this low-carb Strawberry Pretzel dessert a Crossover, which I wanted to avoid.
Instead, the winning combination ended up being made from melted butter, coarsely chopped pecans, almond flour, sweetener and salt. My kids didn't even know I hadn't used pretzels! The crunchy, salty, sweet layer is my favorite part and really makes the whole dessert.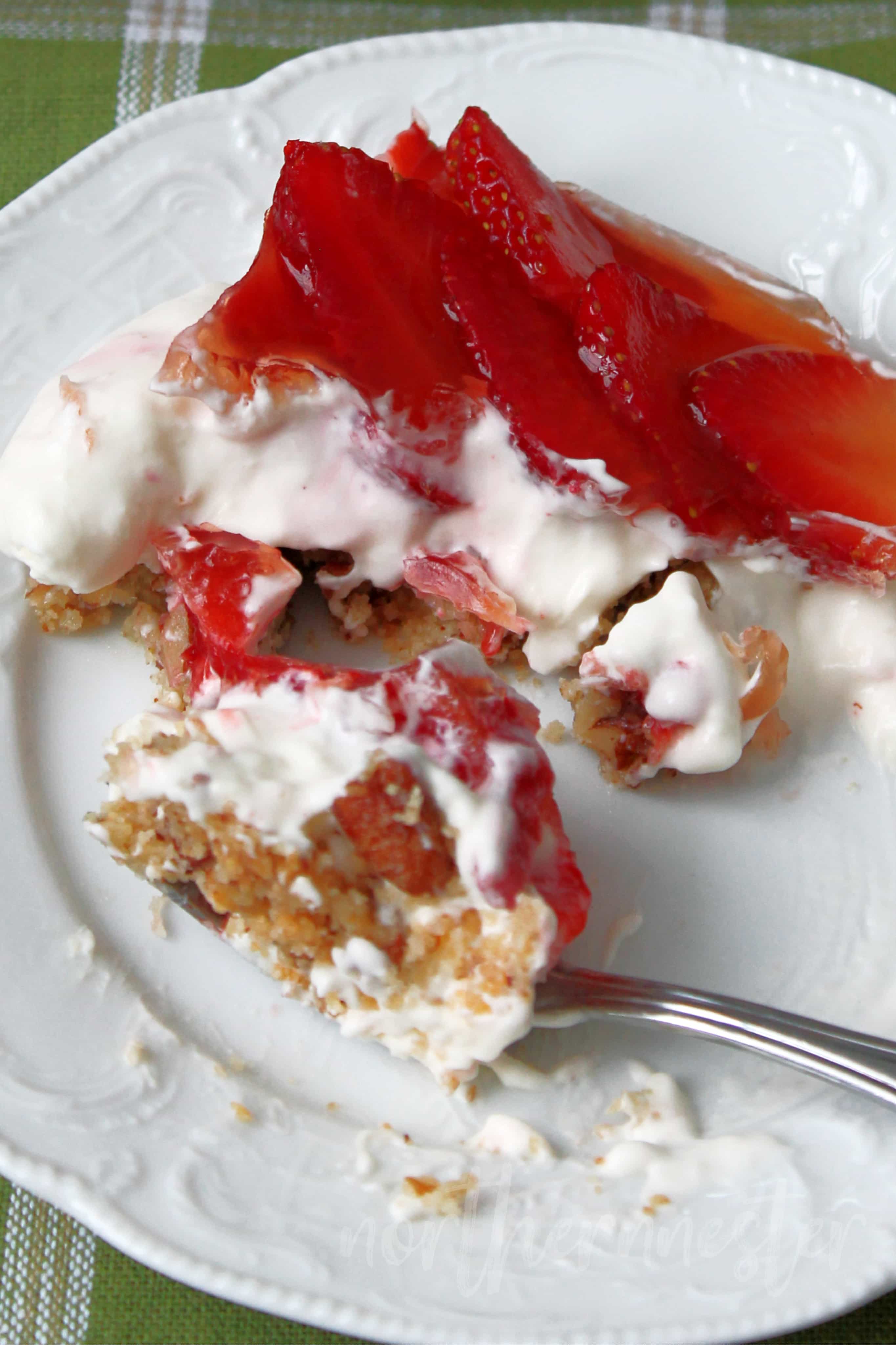 The creamy middle is made by simply beating a package of softened cream cheese and folding it together with sweetened whipped cream.
While the middle layer sets in the fridge, you can start working on the topping, which is my other favorite part! The naturally colored and flavored "Strawberry Jello" is made using Celestial Raspberry Zinger Tea, sweetener, lemon juice, and unflavored gelatin.
I used one packet of Knox unflavored gelatin for the recipe to keep it free from special ingredients, but you can also use 1 tablespoon of Trim Healthy Mama's Just Gelatin or Great Lakes.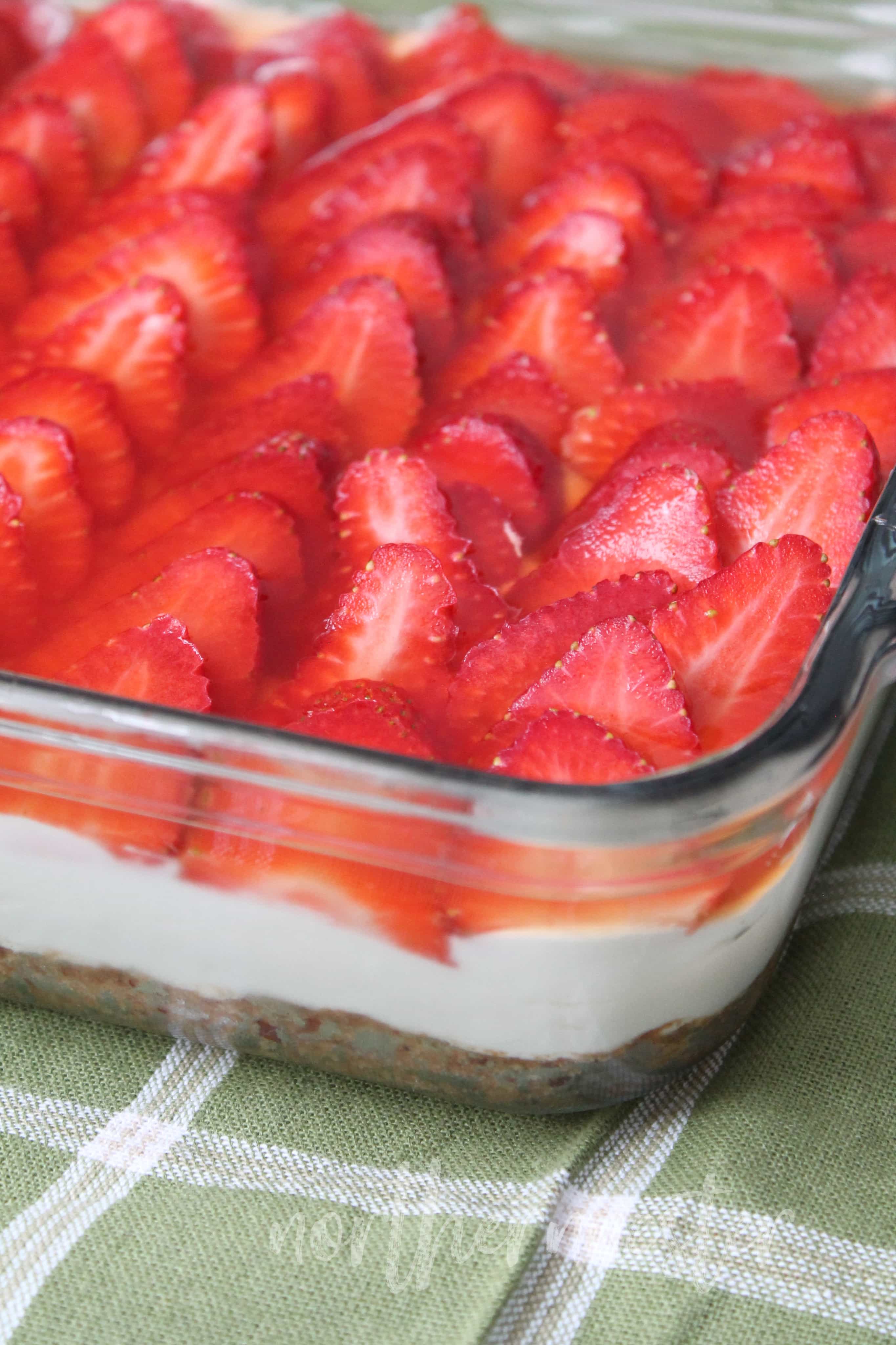 Both times, I served this low-carb Strawberry Pretzel Dessert on the same day I made it, and the baking dish got cleaned out. Like most desserts made with alternative sweeteners, I still think it tastes best the next day, but you can totally get away with serving it right after the "jello" has set.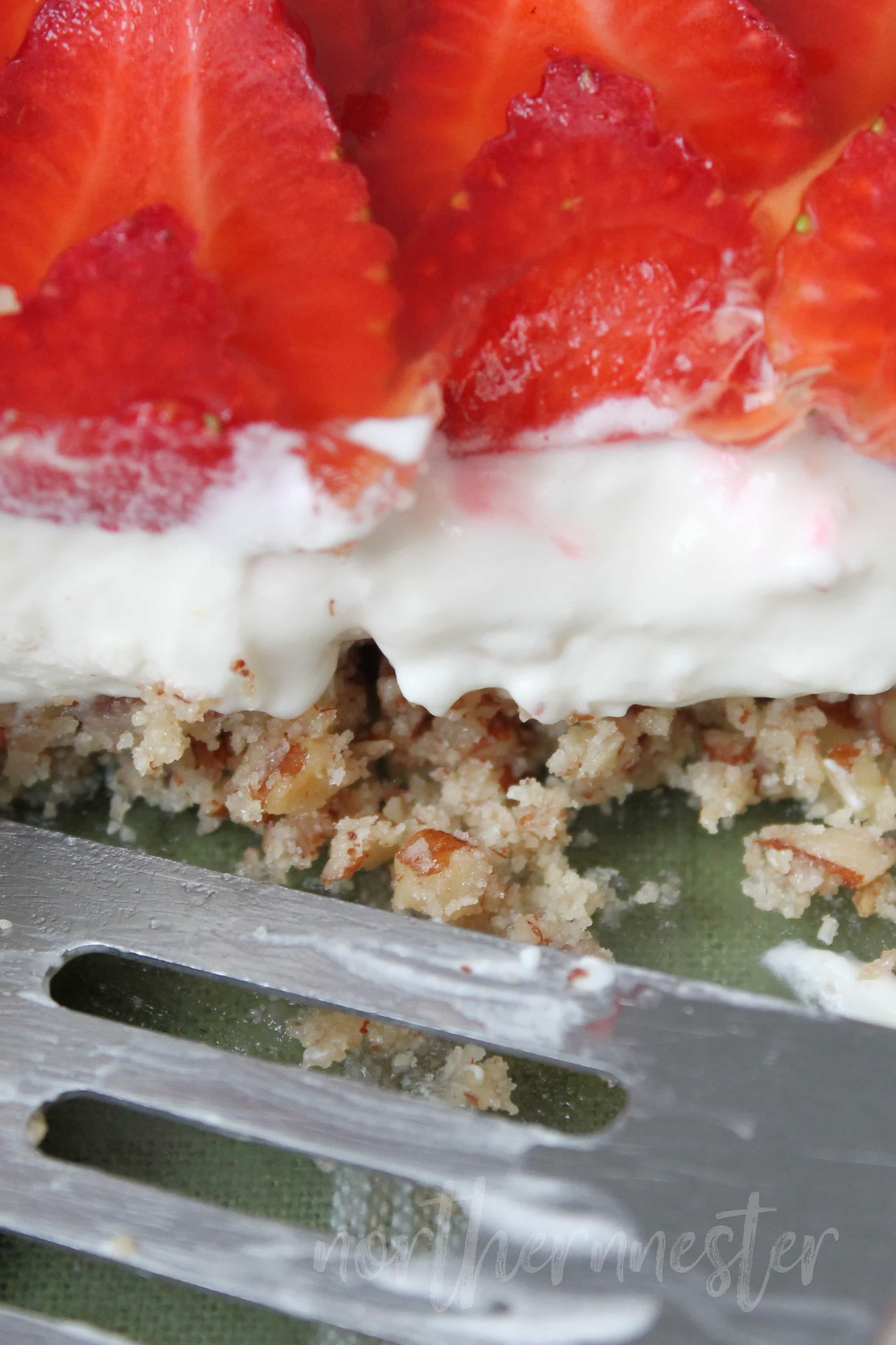 Wouldja look at those sweet, creamy, and crunchy layers?!
Oh, so good together.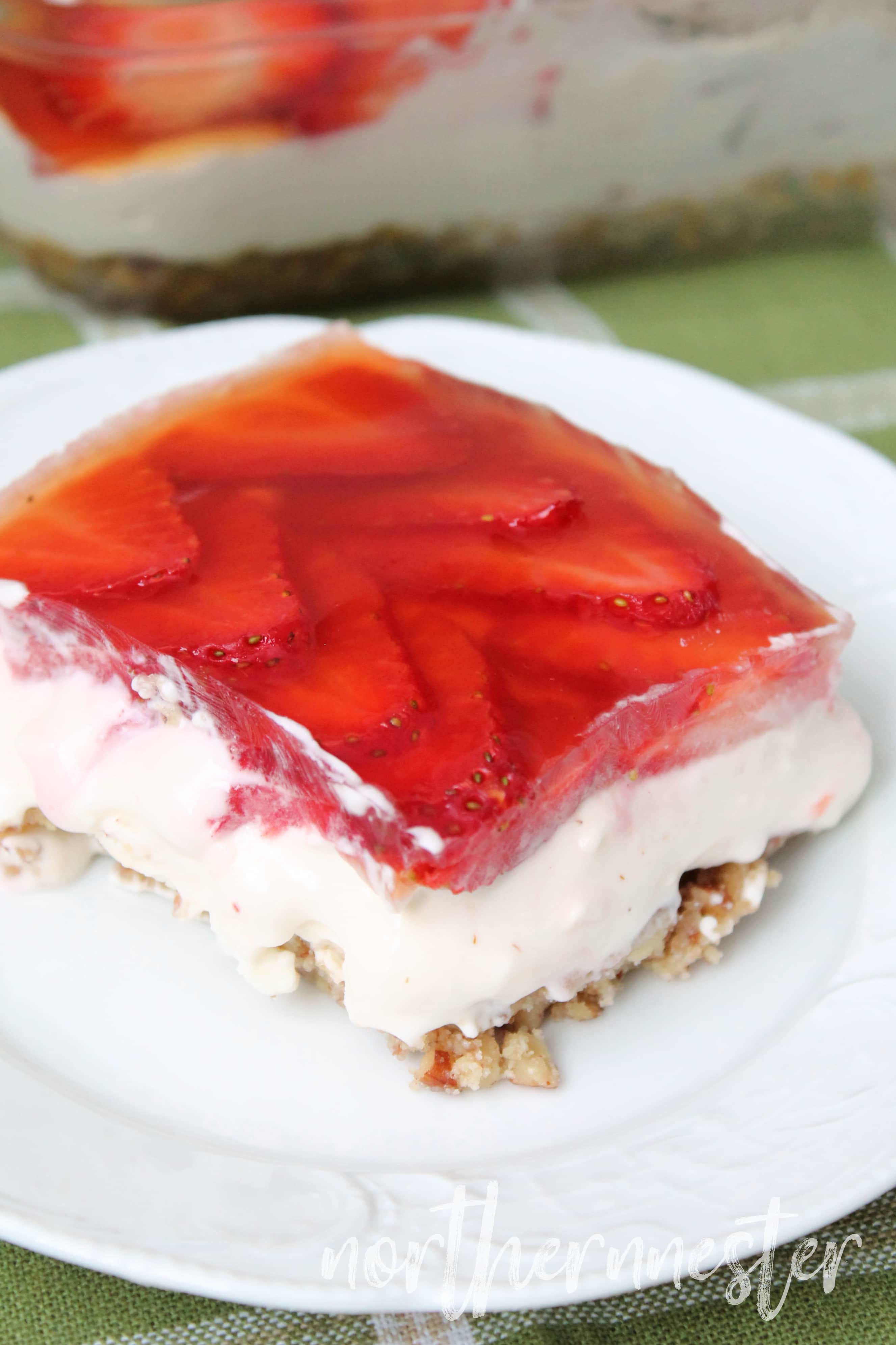 If you prefer, you could also use raspberries instead of strawberries in this dessert.
I hope you enjoy the low-carb version of this classic as much as our family does!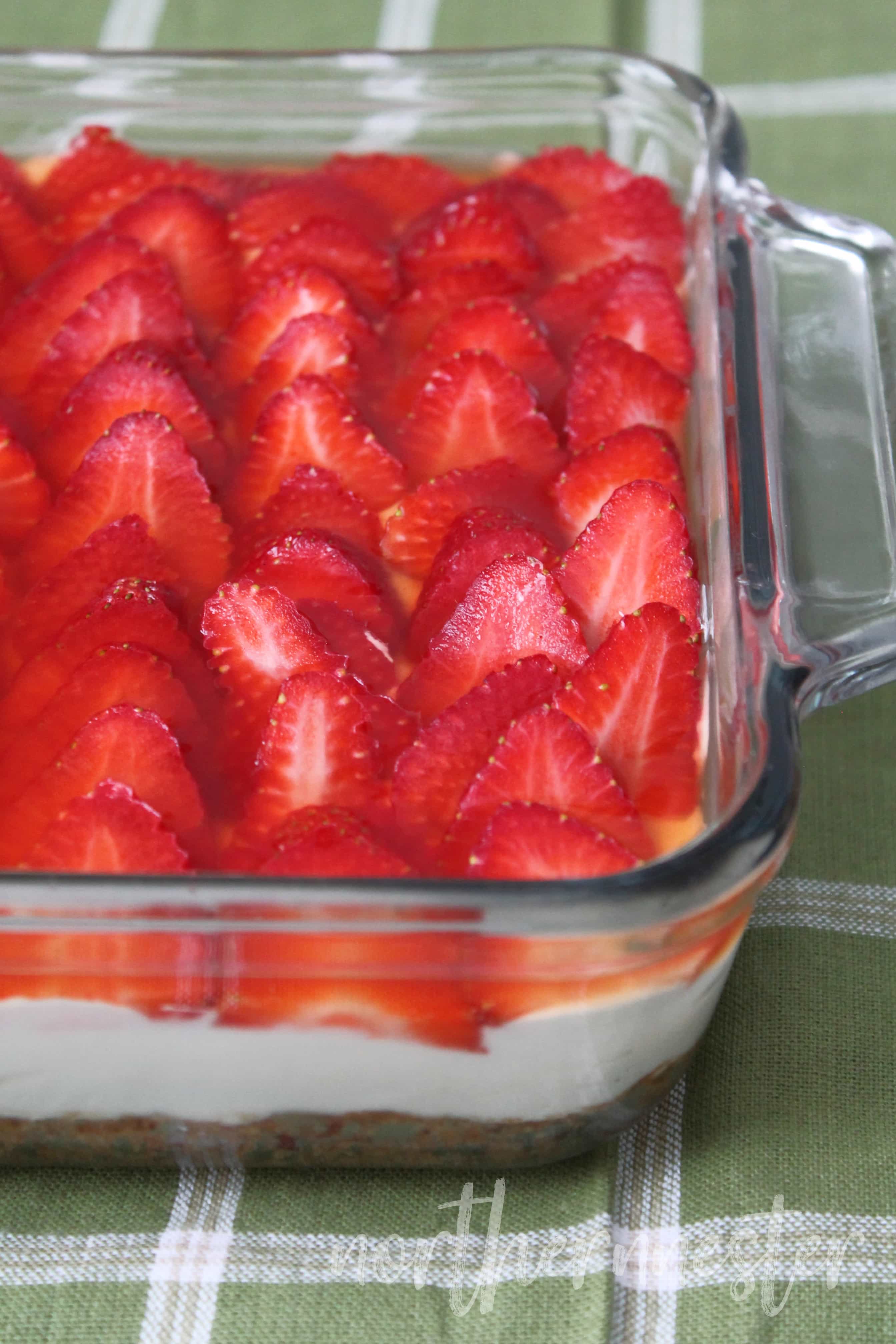 Yield: 9-12 servings
Low Carb Strawberry "Pretzel" Dessert | THM: S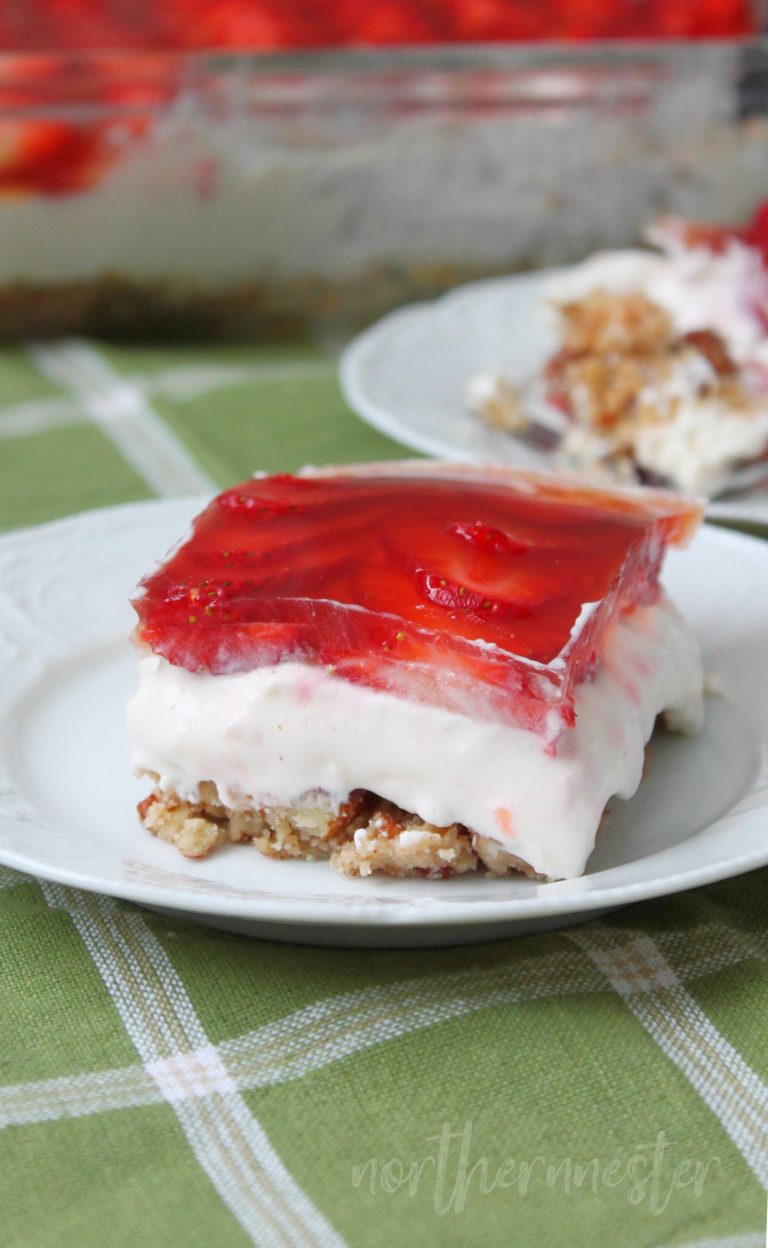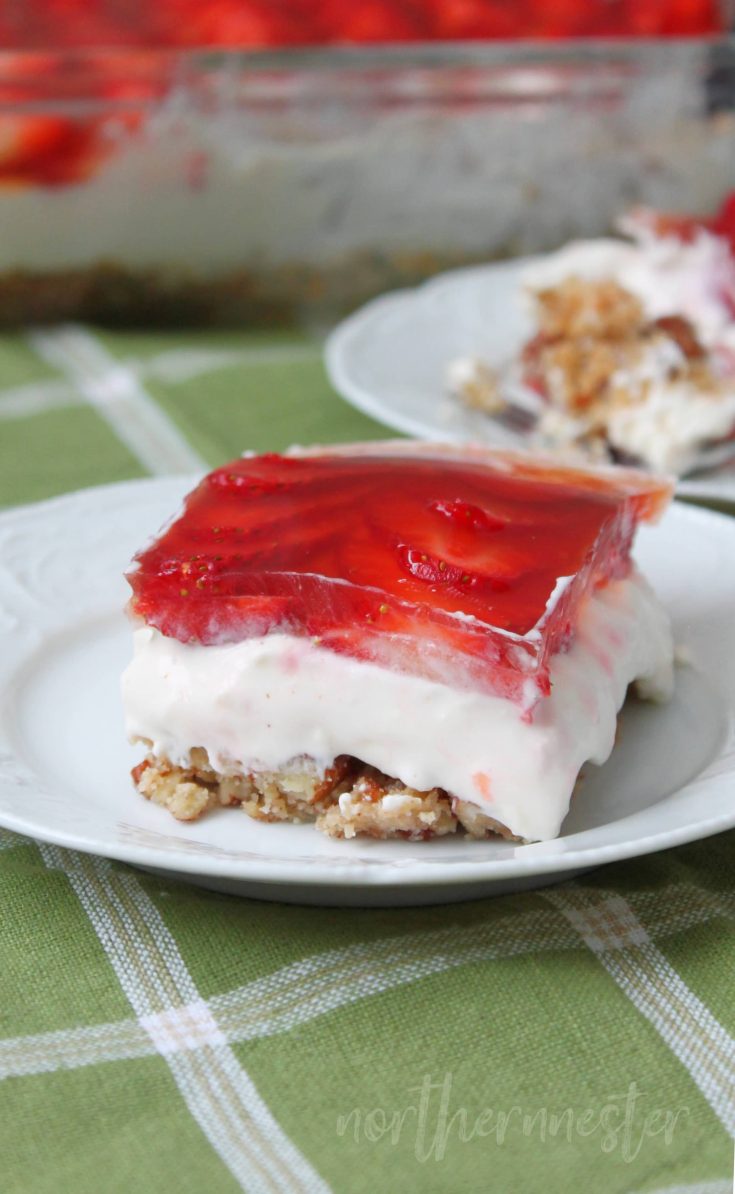 This low-carb Strawberry Pretzel Dessert is a deliciously slimming version of the classic, made without sugar, gluten, or artificial colors and flavors! A THM S with no special ingredients. Sweet 'n salty, creamy 'n crunchy goodness!

Prep Time 25 minutes

Cook Time 15 minutes

Additional Time 3 hours 20 minutes

Total Time 4 hours
Ingredients
CRUST:
1/4 cup butter
2 tbsp xylitol
1/2 tsp salt
1 cup coarsely chopped pecans
1/2 cup almond flour
CREAM CHEESE LAYER:
3/4 cup whipping cream
1/2 cup xylitol
1 tsp vanilla extract
1 8oz. pkg. cream cheese softened
STRAWBERRY JELLO LAYER:
1 lb fresh strawberries
1 packet or 1 tbsp unflavored gelatin
1/4 cup cold water
1/4 cup boiling water
2 Raspberry Zinger tea bags
1 tbsp xylitol
1 tbsp lemon juice
Instructions
Preheat oven to 350 F.
In a medium saucepan, melt butter, xylitol, and salt together until sweetener and salt are dissolved. Remove from heat. Stir in chopped pecans and almond flour until well combined. Press into an 8X8 baking dish. Bake for 15 minutes, or until golden brown. Cool completely.
To make the filling, beat whipping cream, xylitol, and vanilla extract together until stiff. In a separate bowl, beat softened cream cheese until light an fluffy. Fold in whipped cream until smooth. Spread over cooled crust. Chill in the fridge while you make the strawberry topping.
Slice strawberries and arrange on top of the cream cheese layer.
To make the Strawberry Jello, sprinkle gelatin over cold water in a bowl. In a second bowl, pour boiling water over xylitol and two Raspberry Zinger tea bags. Stir until sweetener is dissolved and water turns red. Discard tea bags. Immediately pour over softened gelatin and stir for 3 minutes until gelatin is completely dissolved. Stir in lemon juice. Thicken in the fridge for 10 minutes, stirring once after 5 minutes to keep glaze from setting. Pour over strawberries.
Refrigerate for 3 hours until set. Serve and enjoy!
Notes
You may substitute raspberries for strawberries.

Gentle Sweet can be used in place of xylitol in half the amount, or Super Sweet in a quarter of the amount.