This Cheesy Cauliflower With Bacon is low-carb comfort food at its finest! Think Mac & Cheese (or "KD," as we call it up here 🙂 ) ooey, gooey goodness with out any of the carbs!
Cheesy Cauliflower With Bacon makes an amazing side dish to wings, steak, burgers, or any other S meat. Or, if you're craving a bowl of Mac & Cheese, you can enjoy a bowl or this on its own. It will fill you up without crossing fuels!
You don't need any special ingredients for this recipe:
riced cauliflower
water
bacon
onion
cream cheese
cheddar cheese
mozzarella cheese
dried parsley or green onion slices for garnish
If you don't have riced cauliflower, or can't find it, you can easily make your own for this recipe by running half a head of fresh cauliflower through a food processor or blender, or even a cheese grater.
I took the fast route by steaming my riced cauliflower in the microwave, but you can also do it in a saucepan on the stove. Just remember to drain it well once its tender.
Keep in mind that this dish is quite calorie-dense with all the different cheeses in it, so it's best enjoyed responsibly and saved for occasional use.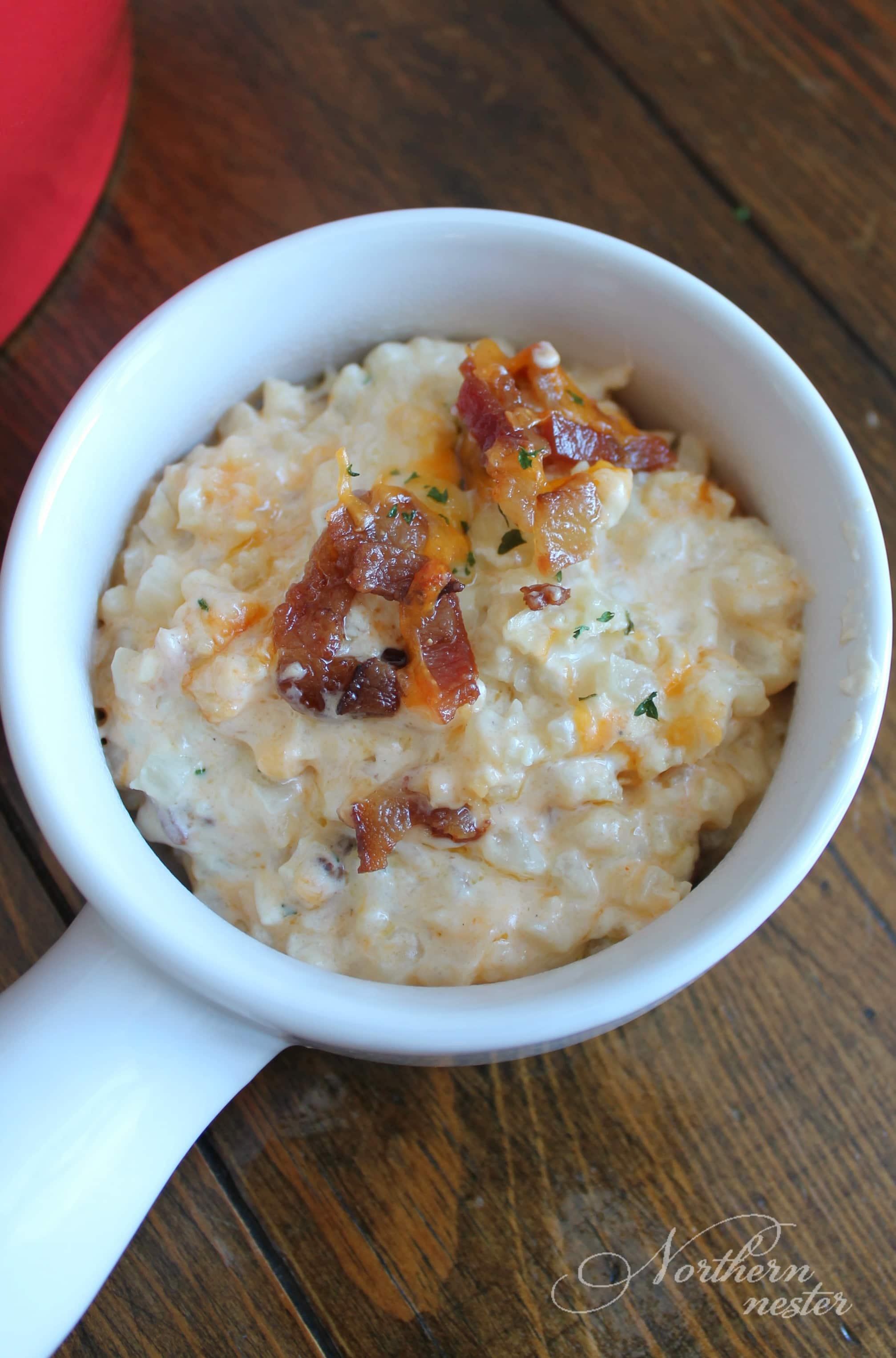 Yield: 8 servings
Cheesy Cauliflower With Bacon | THM: S
This cheesy cauliflower with bacon is low-carb comfort food at its finest! Think Ooey, gooey Mac & Cheese deliciousness without the carbs! A THM S.

Prep Time 20 minutes

Cook Time 25 minutes

Total Time 45 minutes
Ingredients
5 cups riced cauliflower
1/2 cup water
6 slices of bacon
1/2 cup finely chopped onion
1 8oz. pkg. cream cheese, cubed
1 tsp Frank's Red Hot Sauce
3/4 cup mayo
1 cup grated cheddar, divided
3/4 cup grated mozzarella
1/4 cup grated Parmesan
dried parsley for garnish
Instructions
Pre-heat oven to 350 F.
Pour riced cauliflower into a microwavable bowl with water and microwave on HIGH for 4-6 minutes or until softened, stirring halfway through. Drain and set aside.
Fry bacon in a skillet until crisp. Remove bacon and drain on paper towel. Crumble when cooled. Discard all but 1 Tbsp of bacon drippings. Fry onions in reserved bacon grease until translucent. Add in cream cheese and hot sauce, stirring until melted and smooth.
Pour cream cheese mixture into a large casserole dish. Stir in cauliflower mayo, and 1/2 cup grated cheddar and other cheeses. Stir until smooth. Top with crumbled bacon and remaining 1/2 cup of grated cheddar.
Bake at 350 F. for 25 minutes or until heated through. Sprinkle on parsley for garnish.