This Low Carb Brownie Pie was a hit with the entire family! We polished it off for dessert after lunch one day (they're always happy to eat THM experiments that involve chocolate and whipped cream), and begged for me to make it for snack time, too.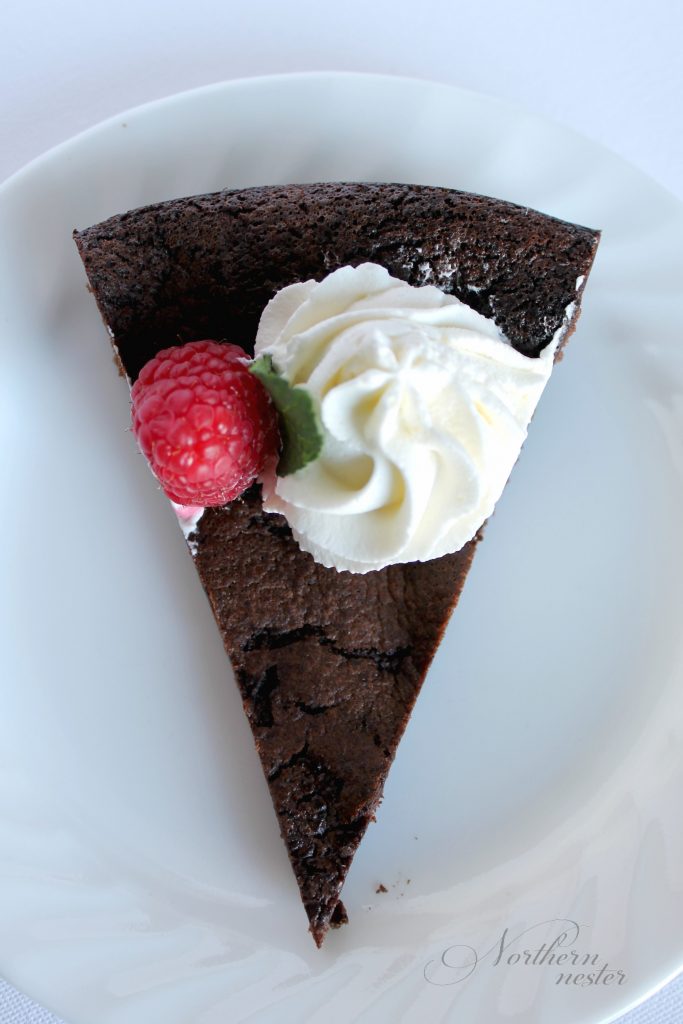 Sometimes you can tell, even if  just a little, when a dessert is made with a sweetener other than sugar. My husband can always pick it out, even when I can't (and I have pretty sensitive taste buds). This Low Carb Brownie Pie had him fooled though! As a percentage, there's very little sweetener (I used xylitol, but you can also use half the amount in Gentle Sweet) in this recipe. The whipped cream garnish compliments the dark chocolate flavor so it isn't too bitter.
No flours are used in this recipe at all, making it a very affordable treat. Don't be alarmed when it poofs up in the oven like a souffle while baking; it will settle as it cools and you can garnish the cooled brownie with whipped cream, raspberries, and mint leaves like I did (how festive would this look at Christmas time?!) or fill the inside with a peanut butter cheesecake mixture!
Yield: 8 servings
Low Carb Brownie Pie | THM S
This decadent dark chocolate brownie is a wonderfully easy THM S dessert that requires no special ingredients.
Ingredients
1 85% Cocoa Lindt chocolate bar (100 grams)
3/4 cup butter
2 teaspoons vanilla extract
5 eggs, room temperature
6 Tbsp whipping cream
3 Tbsp xylitol (or 1 1/2 Tbsp Gentle Sweet)
GARNISH:
1/2 cup whipping cream
1 Tbsp xylitol
fresh raspberries
Instructions
Preheat oven to 350. Line 9" round baking dish with parchment paper and butter lightly. Make sure the sides are also lined.
Melt chocolate and butter together over low heat. Stir until smooth. Remove from heat and add in vanilla extract.
In a separate bowl, beat eggs, cream and sweetener together for 4 minutes (mixture will be runny). Stir into melted chocolate until well blended. Pour into prepared pan and bake for 45 minutes, or until top forms a crust (it will poof up in the oven and settle while it cools). Cool. Run a knife along the edges of the pan to remove brownie.
Beat whipped cream and second amount of sweetener together for garnish. Pipe onto cooled brownie and decorate with raspberries. Cut into 8 slices and serve.
Notes
Brownie will poof up in the oven like a souffle while baking and settle when it cools.
The possible uses for this dark chocolate brownie base are endless - garnish with coffee-flavored whipped cream, peanut butter drizzle, a cream cheese filling, or pile on some berries.