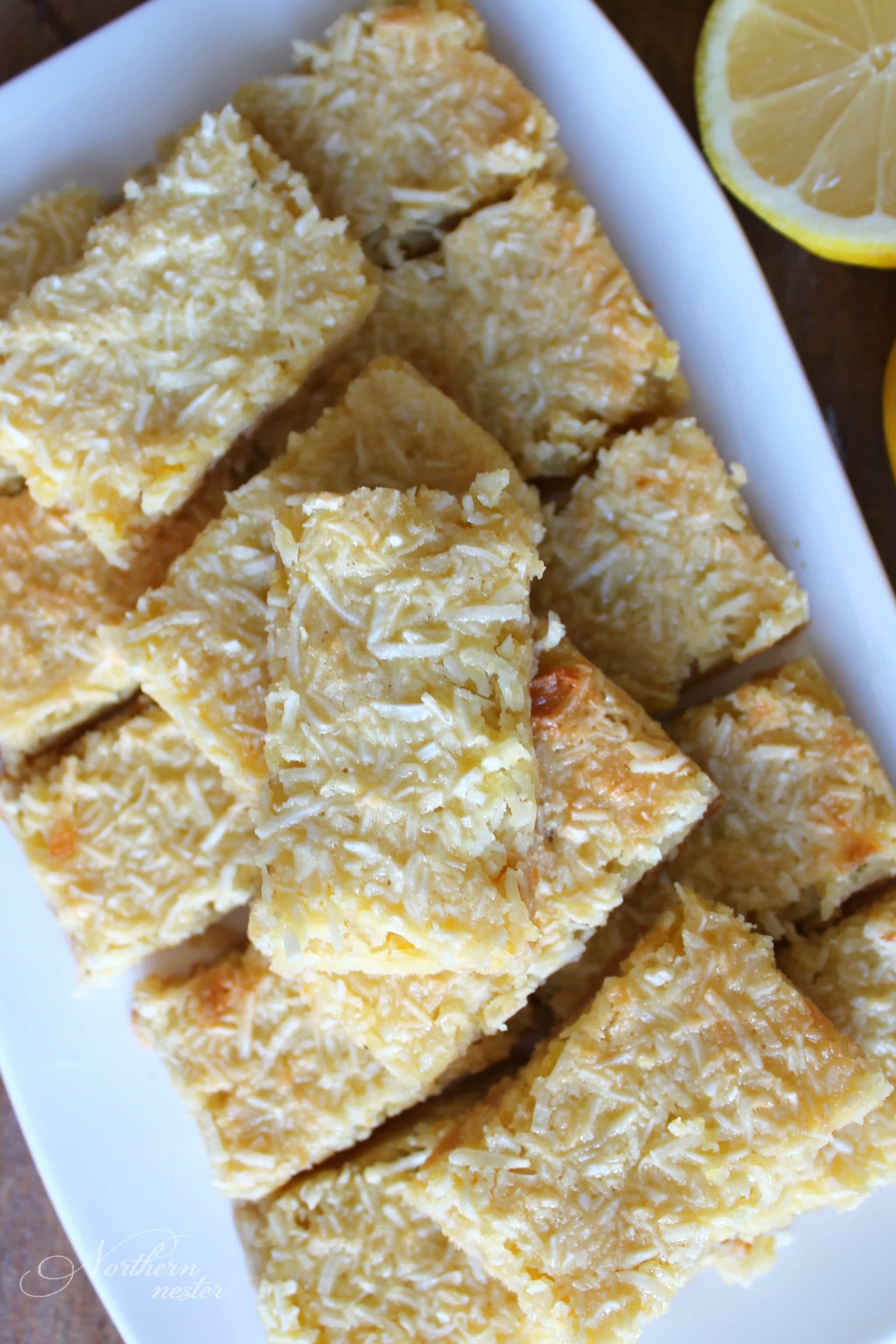 You know those lemon bars with the shortbread-like crust, lemony filling, and a dust of icing sugar on top? That's the recipe that inspired these Lemon Coconut Bars and I've got to tell you – I love this low-carb, gluten-free, sugar-free, dairy free (if you use coconut oil instead of butter) keto and Trim Healthy Mama-friendly version just as much!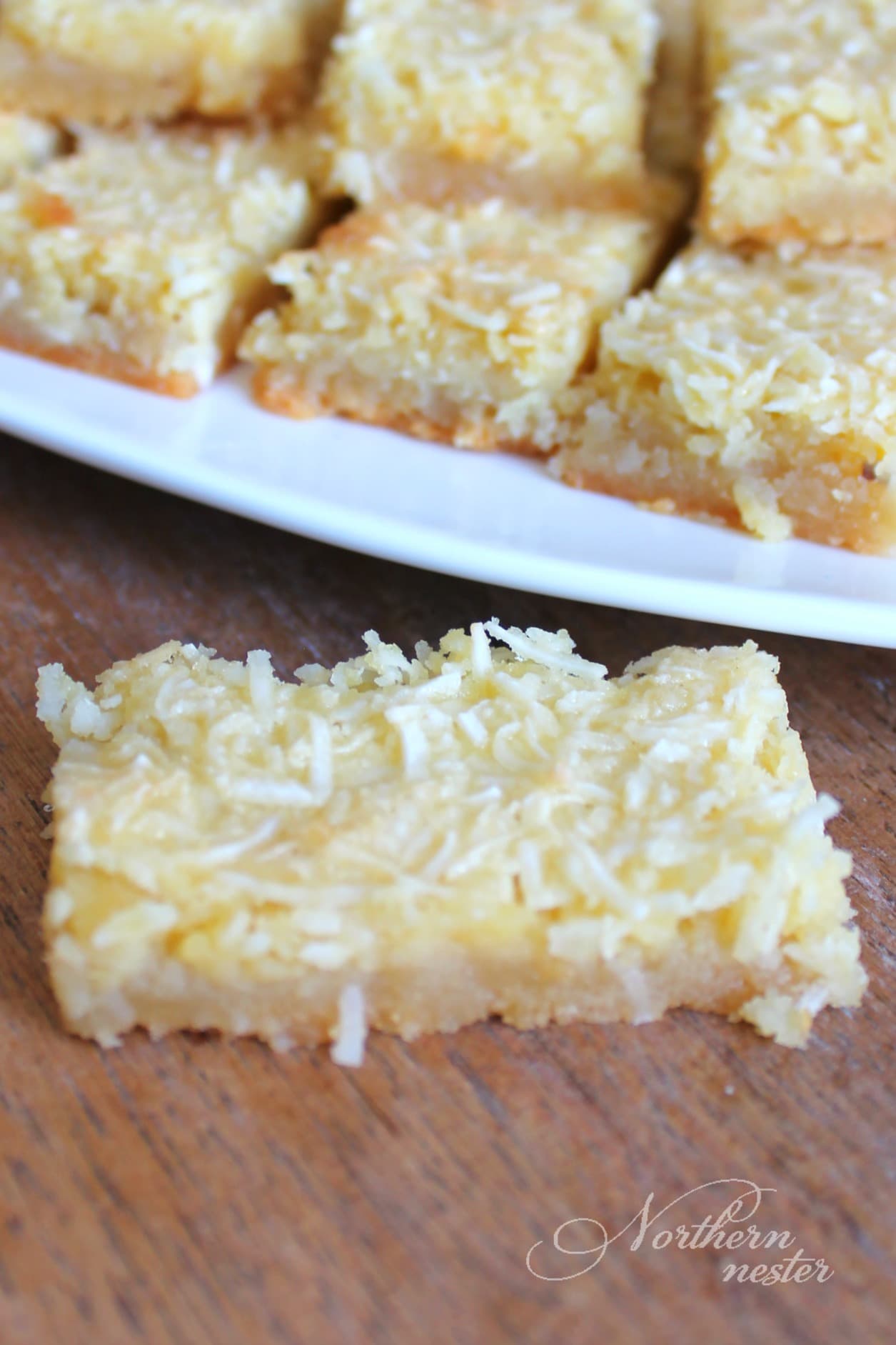 This Lemon Coconut Bars could not be more simple. The "shortbread" crust is made from just 3 ingredients:
sweetener (I used xylitol, but you can also use Gentle Sweet in half the amount)
butter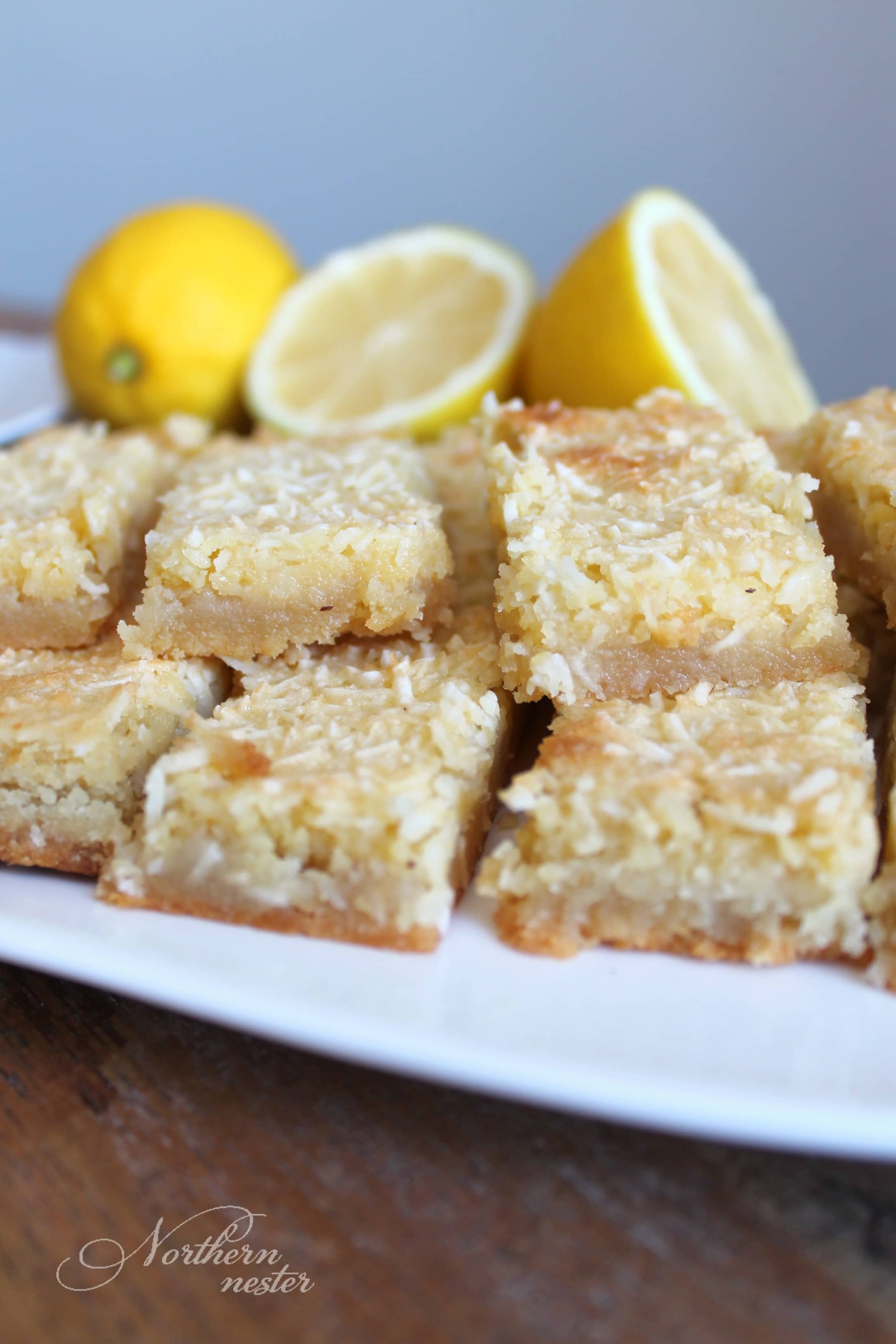 Normally, I don't like to use straight almond flour in my baking recipes, since it's quite calorie dense. However, this Lemon Coconut Bar recipe produces 28-30 bars, so it's really not that much almond flour per serving. Besides, the crust is perfectly shortbread-like this way!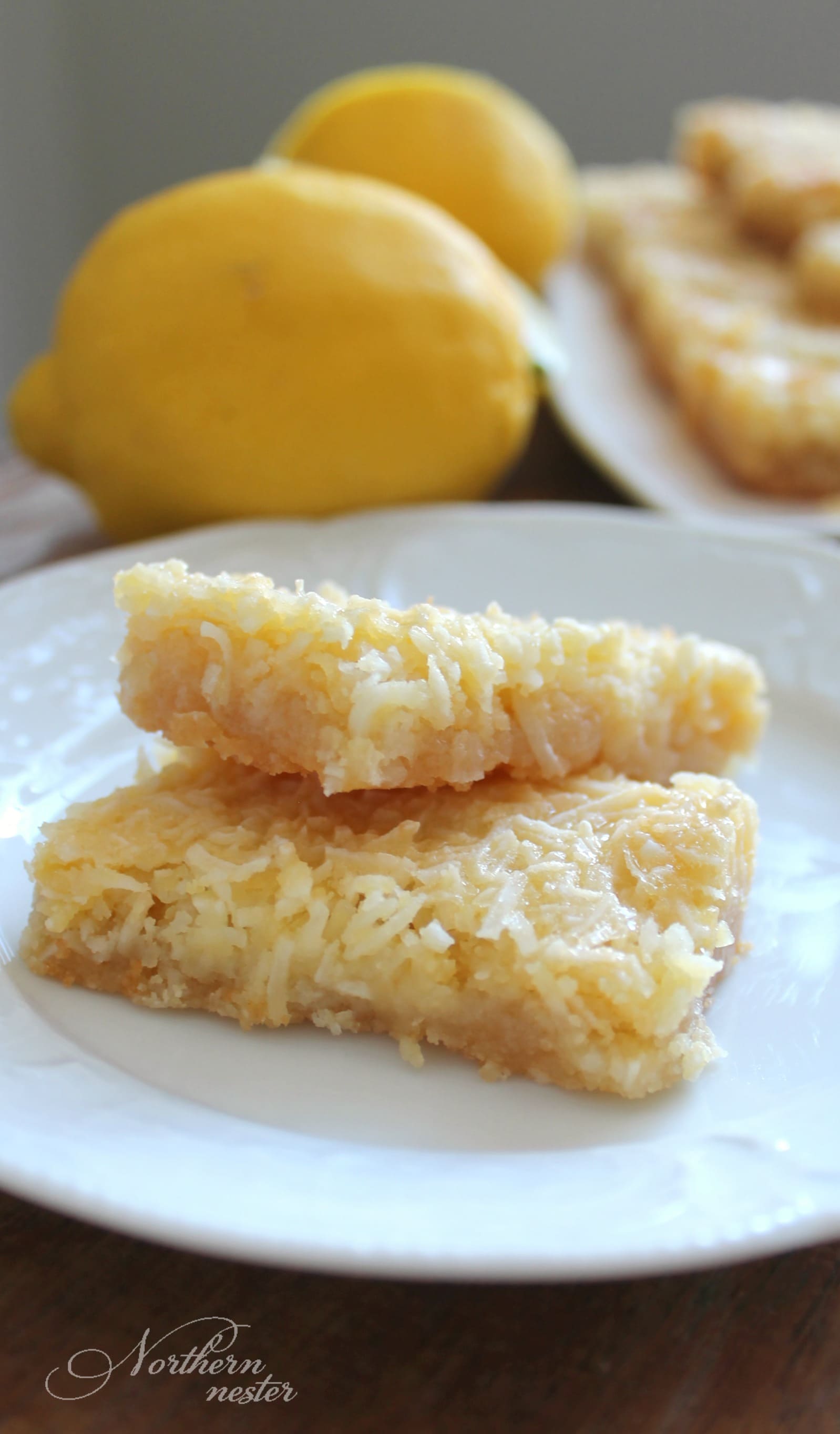 An easy-peasy filling is made by beating together:
Sprinkle on some flaked coconut and….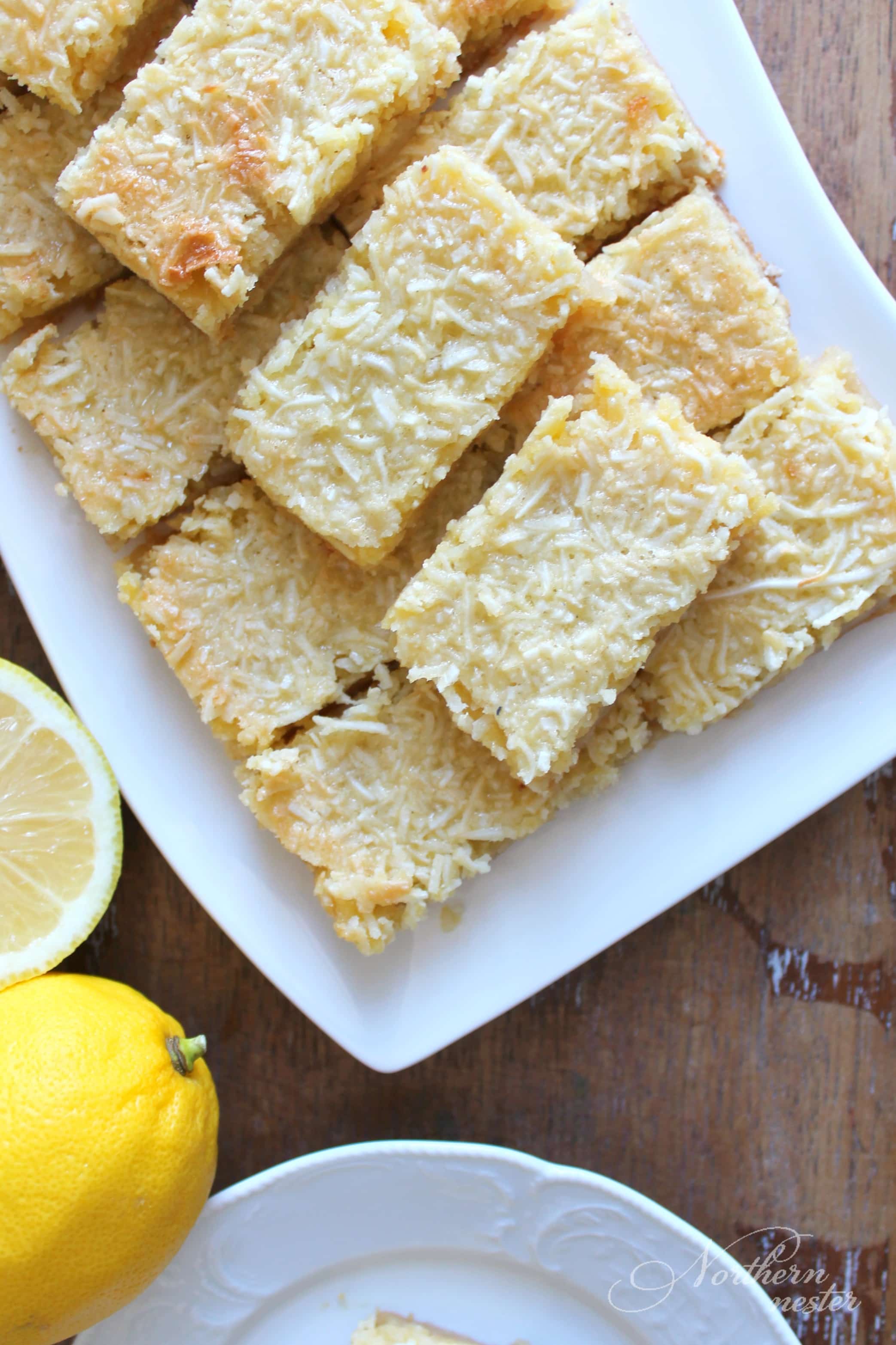 voila!
Lemony bars that are perfect for a snack or dessert.
Store them in an air-tight container and keep them in the fridge or freezer.
Yield: 28-30 servings
Lemon Coconut Bars | THM: S
These Lemon Coconut Bars are an easy and delicious low-carb baked good that only takes a few minutes to prepare. Keto and THM S friendly. No special ingredients.
Ingredients
1/3 cup butter
1/4 cup xylitol (OR 2 Tbsp Gentle Sweet)
2 cups almond flour
4 eggs
1 cup xylitol (OR 1/2 cup Gentle Sweet)
1/2 cup lemon juice
1 tsp baking powder
3/4 cup flaked coconut
Instructions
Pre-heat oven to 350 F.
In a medium saucepan, melt butter and first amount of sweetener together. Remove from heat and stir in almond flour. Pat mixture into 9x13" baking dish. Bake for 12-15 minutes, or until golden.
Meanwhile, beat eggs, the second amount of sweetener, lemon juice, and baking powder together. Pour over crust. Sprinkle flaked coconut evenly over top. Return to oven and bake for 20-25 minutes or until golden. Cool completely.
Cut into 28-30 bars. Store in an air-tight container in the fridge or freezer.