My 3 favorite ways to get in my E meals are oatmeal, shakes or smoothies, and soups. This Chicken Tortilla Soup is a wonderful E lunch or dinner that I can enjoy all week long. The recipe makes 6-8 servings and it's so delicious and fresh tasting, I don't tire from it.
Made without any special ingredients, Chicken Tortilla Soup is a fantastic way to get in your veggies! This soup contains:
red and yellow peppers
tomatoes
garlic
onion
corn
A squeeze of lime juice, fresh cilantro, and a few Mexican-inspired spices like cumin and chili powder add a very mild amount of heat to this soup. You could easily increase the spices since this soup is not hot at all (very kid-friendly!).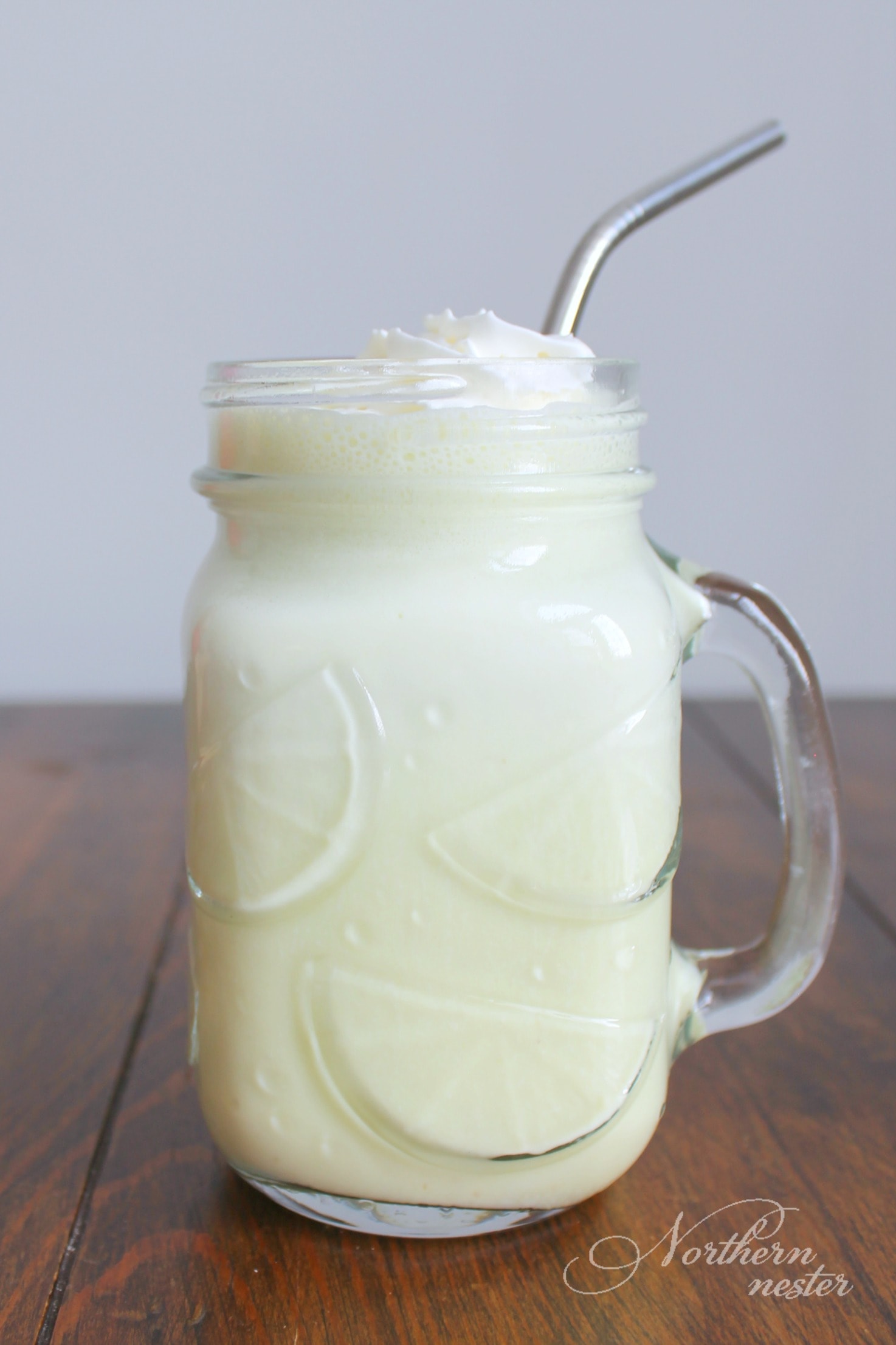 The only real source of protein here is the lean chicken breast, so I suggest pairing this soup with an E or FP shake or smoothie (the Key Lime Kefir Smoothie is a very complimentary flavor!) or a slice or two of sprouted or sourdough bread to keep you feeling full.
Baked corn chips are impossible to find locally where I live, so I improvised with my tortilla topping and it turned out wonderfully!
I took a low-carb wrap (Joseph's or Mission wraps are my favorite) and used a pizza cutter to slice the wrap into skinny strips. Then I fried them in a teaspoon of oil (I used butter, but olive oil works great, too) until they were crispy.
Yield: 6 servings
Chicken Tortilla Soup | THM: E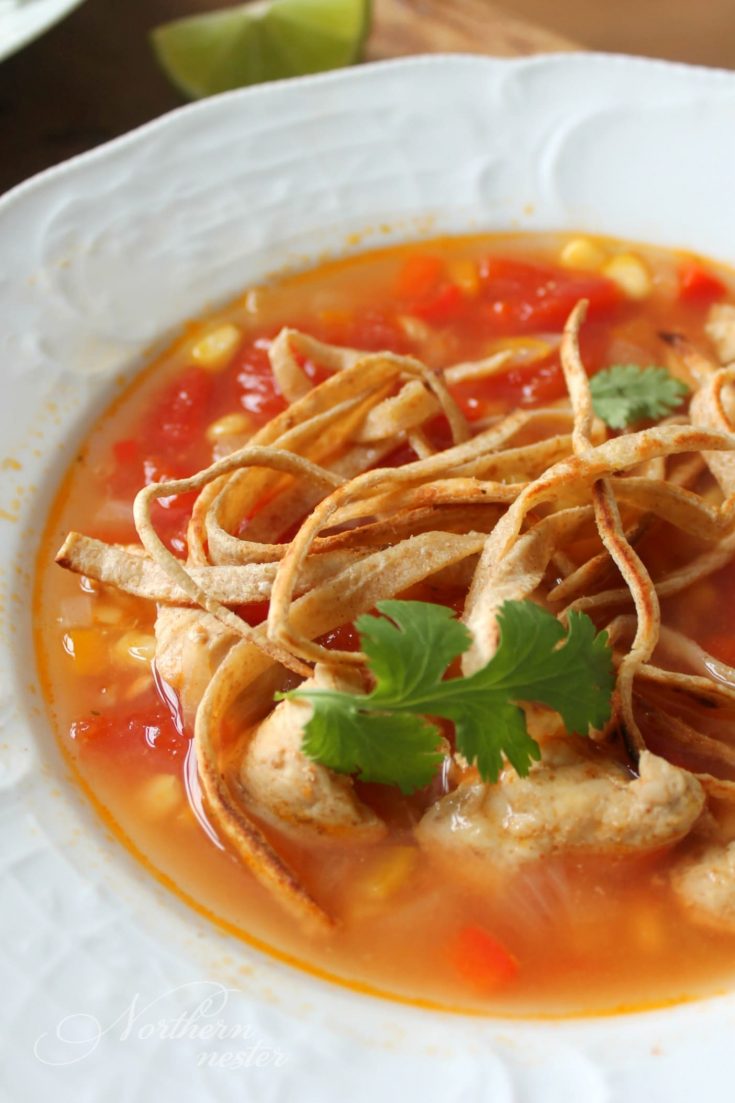 There is so much flavor packed into this Chicken Tortilla Soup! A Trim Healthy Mama E meal that you can serve with sprouted or sourdough bread for more protein, or pair with an FP shake or yogurt and berries for dessert.

Prep Time 20 minutes

Cook Time 40 minutes

Total Time 1 hour
Ingredients
1 low-carb or sprouted wrap
1 tsp olive oil
3 boneless, skinless chicken breasts
1 Tbsp butter or olive oil
1 onion
2 cloves garlic, minced
1 tsp ground cumin
1/2 tsp chili powder
1 red bell pepper, chopped
1 yellow pepper, chopped
1 28 oz. can diced tomatoes
4 cups chicken broth
1 cup corn kernels (fresh or frozen)
1 Tbsp lime juice
fresh cilantro, chopped
Instructions
Cut wrap into 1/4" strips. Heat a teaspoon of olive oil in a frying pan. Cook tortilla strips in oil over medium-high heat until crisp for approx. 2 minutes. Transfer to paper towels and set aside.
Add butter, onion, garlic, cumin, and chili powder to a large saucepan. Cook over medium heat until onion is soft. Cut chicken into 1/4" strips, and add to onion mixture. Add in peppers. Cook until chicken is golden. Add in diced tomatoes and chicken broth. Bring to a boil. Reduce heat and simmer for 7 minutes. Add in corn. Cook for 2 more minutes. Stir in lime juice. Pour into bowls. Top with tortilla crisps and fresh cilantro before serving.
Notes
Leftovers can be frozen without the tortilla crips or stored in an air-tight container in the fridge.
Only have 5 minutes? Here's an even faster version of this speedy soup!
5-Minute Tex-Mex Chicken Soup | THM: E