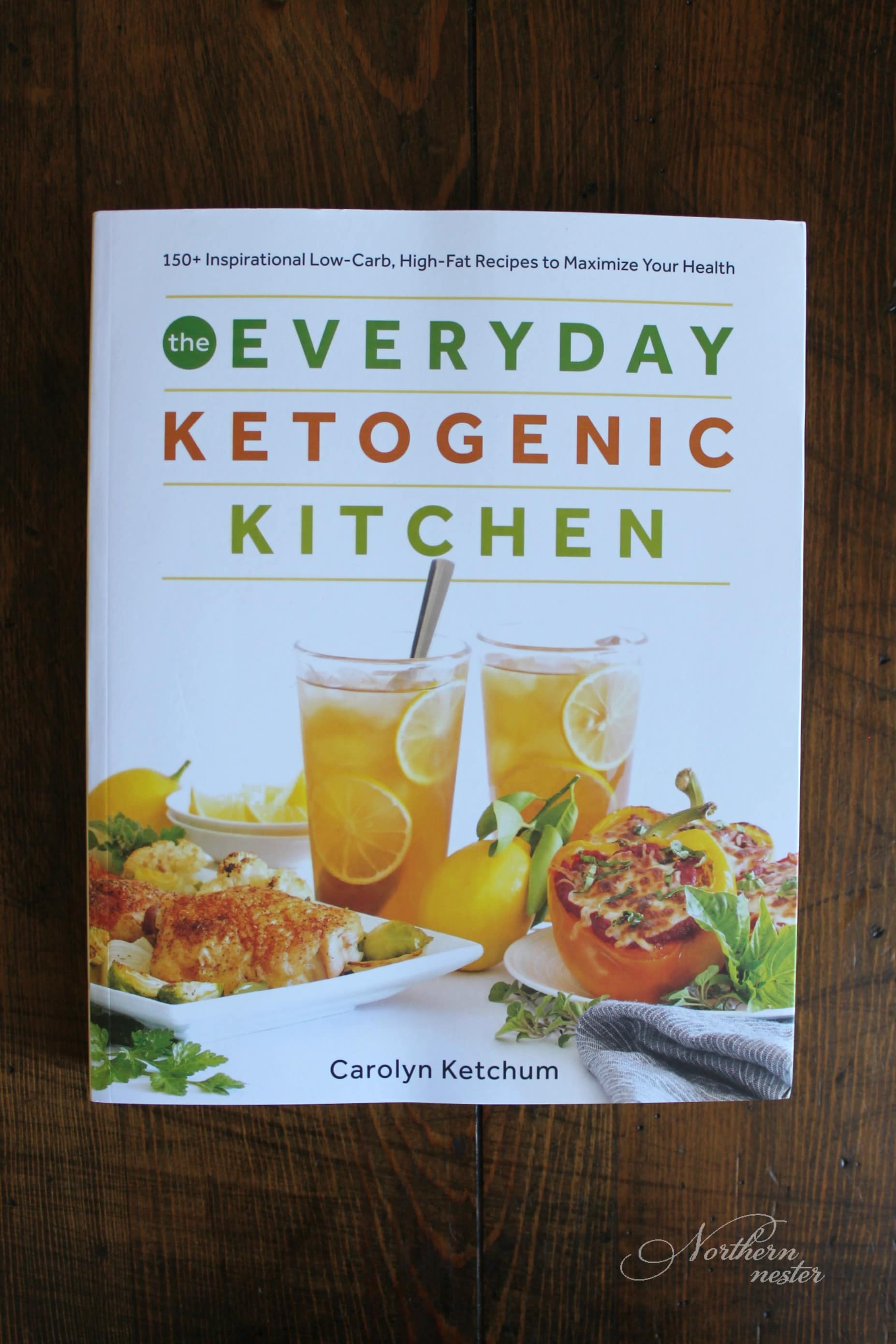 My husband walked in the front door with this wonderful piece of happy mail last week. I dropped what I was doing to ogle over Carolyn Ketchum's gorgeous new cookbook, The Everyday Ketogenic Kitchen.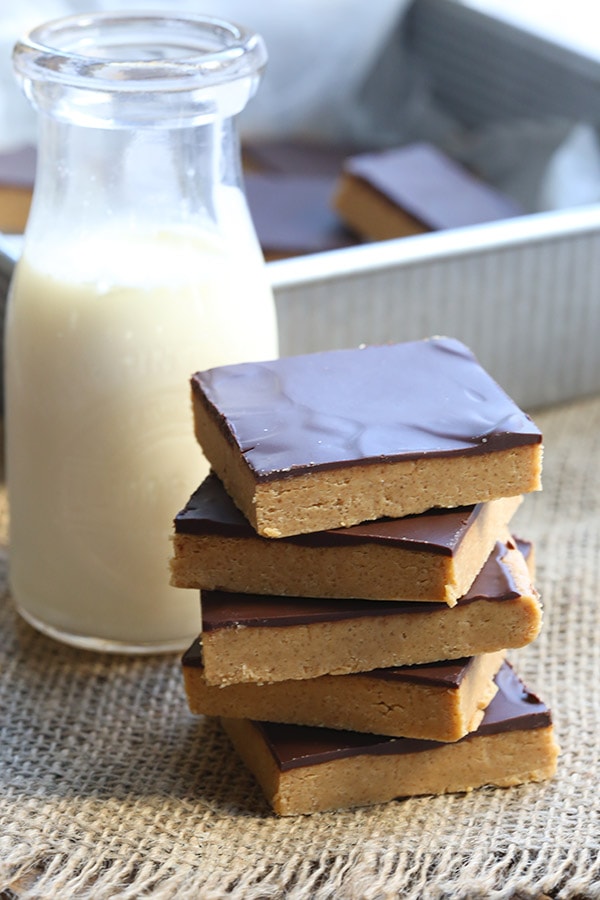 Carolyn blogs at All Day I Dream About Food. She became one of my blogging heroes after the very first recipe I tried from her site: Trim Healthy Mama-friendly, Easy No Bake Peanut Butter Bars. These bars are incredible; they are nearly identical in flavor and texture to the ones I grew up eating, but they're low carb, sugar-free, gluten-free THM S. I don't make them too often though because they're addictive, and I can't stop after just one!
Anyway. Back to The Everyday Ketogenic Kitchen Review.
I love The Everyday Ketogenic Kitchen most of all because it works with Trim Healthy Mama. It's considered a low-carb, ketogenic cookbook, which means it only offers dishes that fit into the Satisfying and Fuel Pull categories of Trim Healthy Mama. You won't find any E recipes, S Helpers, or Crossover dishes in this cookbook, but it's a great supplement to the plan and a wonderful resource if you're looking for great tasting S meals with almost no special ingredients.
Carolyn got it right when she named her cookbook, The Everyday Ketogenic Kitchen. It's full of normal, everyday food; the SAD diet made happy and healthy. Things like hamburger buns, pancakes, muffins, crackers, Shepherd's Pie, soups, salads, fish nuggets, brownies, cookies, cheesecakes, and pies – those are the kind of on-plan foods you'll find in this cookbook.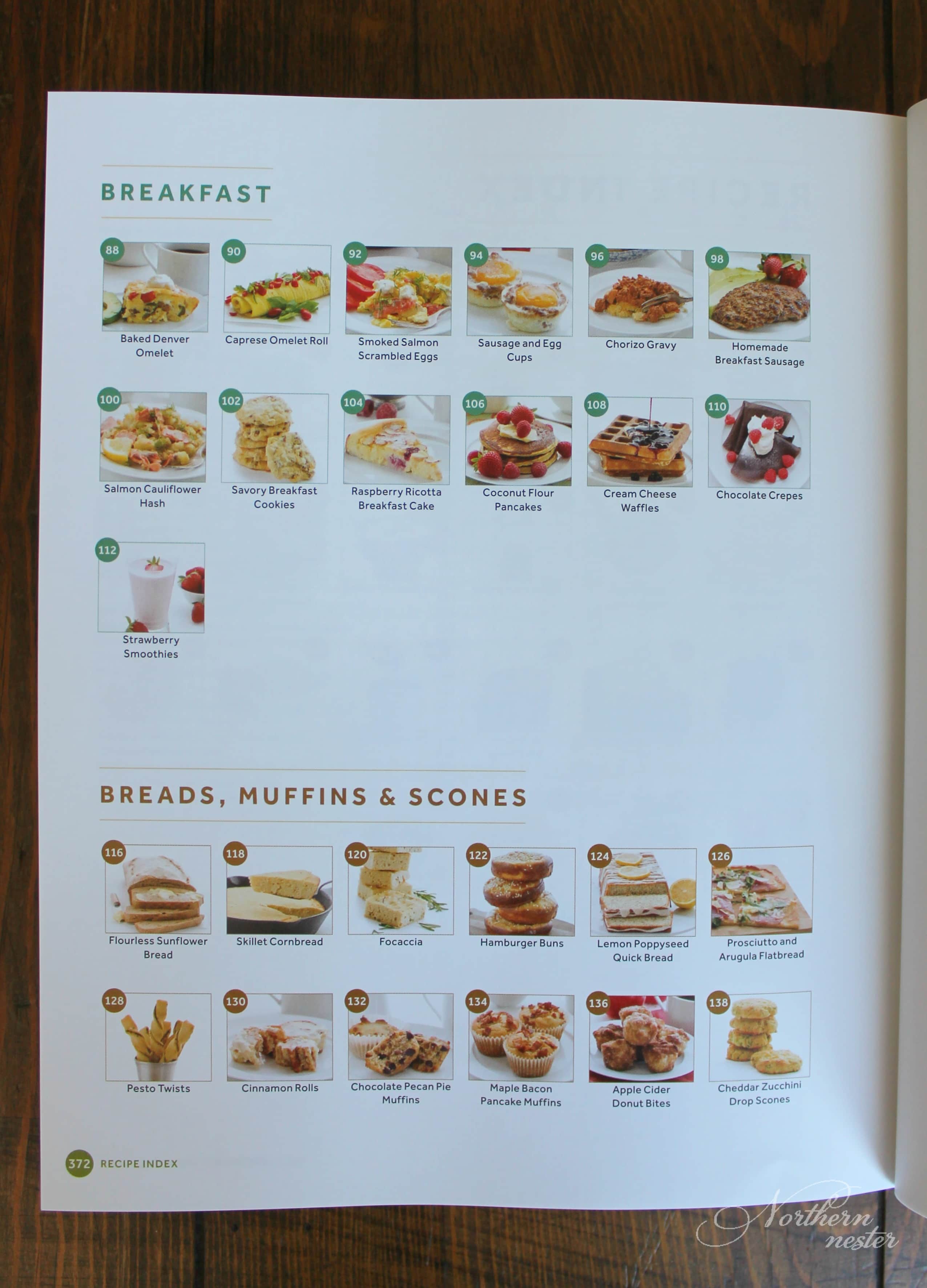 I love the indexes in the back The Everyday Ketogenic Kitchen. There are 3 of them; one is a graph highlighting all the recipes are compatible with different dietary restrictions (dairy, nuts, eggs, meat, etc.), one is a full-color photo recipe index of every single dish (my favorite!), and the general index shows you where to find everything alphabetically.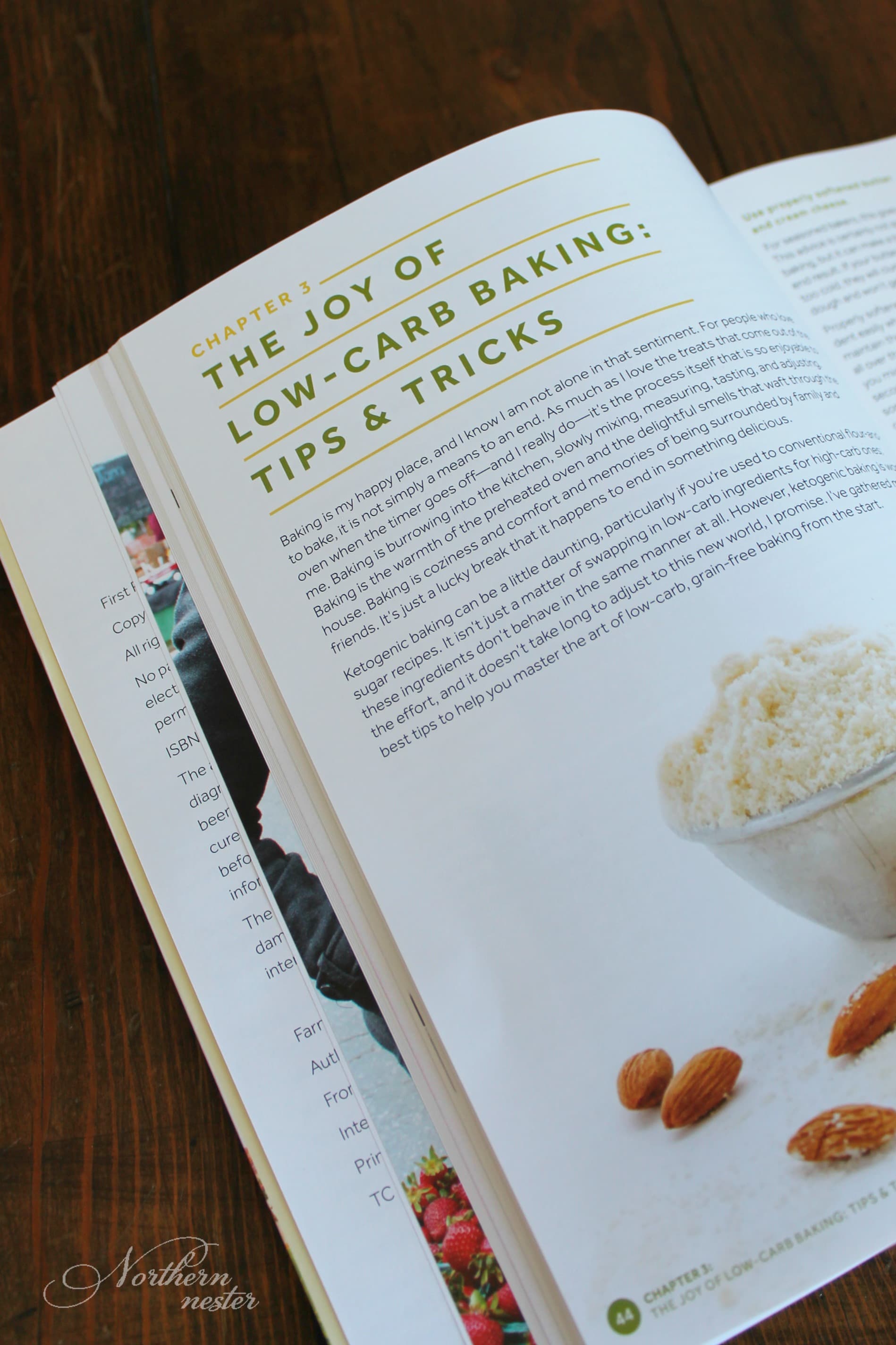 One of the most valuable parts in The Everyday Ketogenic Kitchen are chapters 1-3. Carolyn explains keto (or "S," for Trim Healthy Mamas) ingredients at length. In addition to listing the benefits of everyday healthy fats and oils, proteins, vegetables, fruit (berries, lemons, and limes), nuts and seeds, she also features less common ingredients like grass-fed collagen and gelatin, xanthum gum, extracts and flavorings, almond flour, coconut flour, protein powders, leavening agents, and low-carb sweeteners.
Carolyn tells you what to stock your pantry with, which kitchen tools are they most valuable to have, which substitutions you can use in place of other ingredients, and dedicates an entire chapter to sharing her best tricks and tips for low-carb baking. If you're struggling in the Trim Healthy Mama baking department, trying figure out how to make low-glycemic treats beautiful and delicious, you will benefit immensely from reading chapter 3.
One more thing.
There are mouth-watering photos for every single recipe in The Everyday Ketogenic Kitchen. I don't know about you, but the only Trim Healthy Mama-friendly recipes I make are the ones that have photos to show me how it's supposed to look when I'm done. At a glance, I want to know if the dish I'm about to prepare is worth the time and ingredients to prepare, and whether it fits with my family's palate.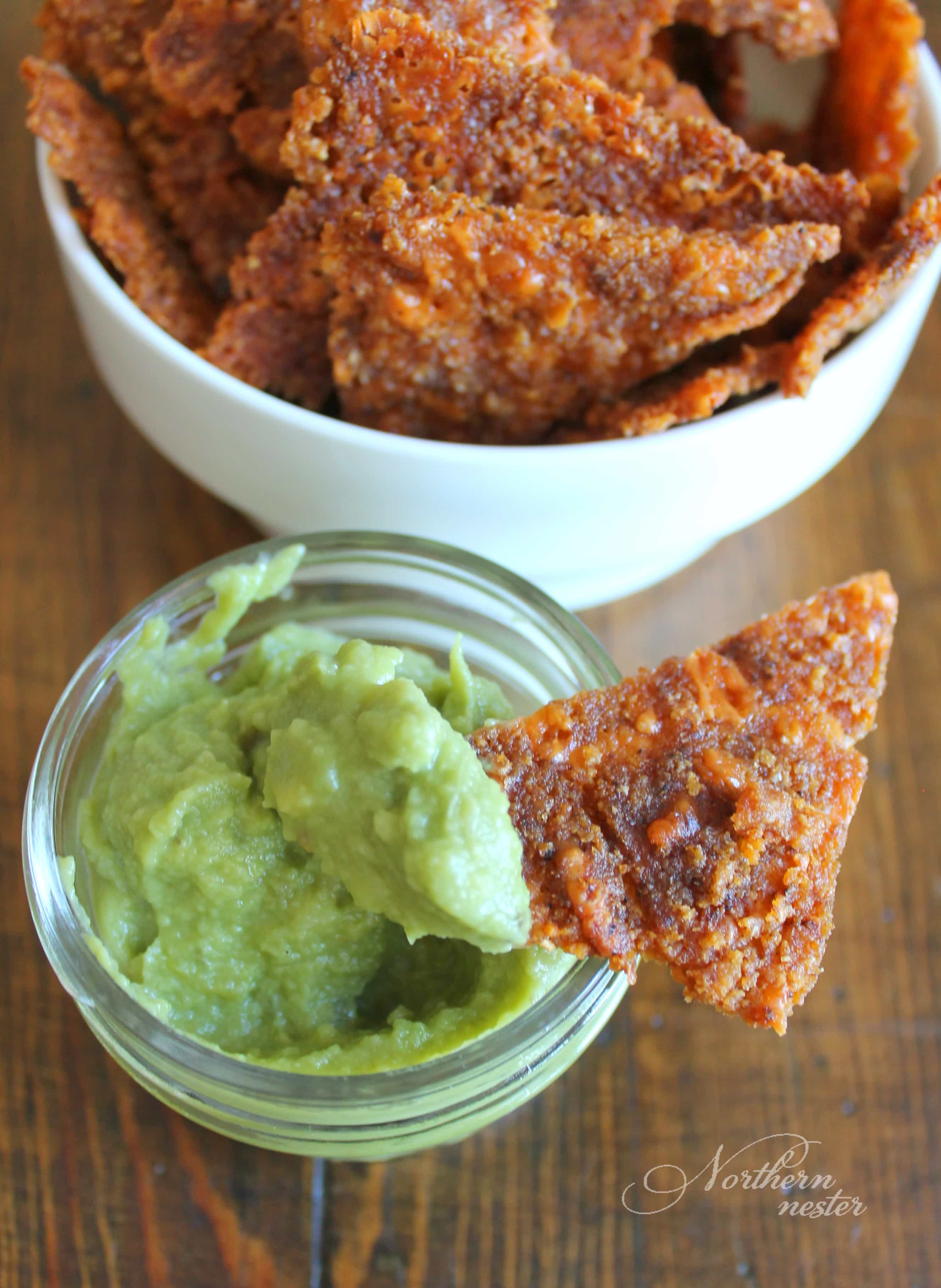 We're not big fish fans, so apart from that chapter, every other recipe in Carolyn's cookbook is something I know our family would enjoy. In fact, as soon as I saw her Nacho chip recipe on page 148, I squealed at the prospect of having a crunchy Trim Healthy Mama-friendly chip that would work with an S meal! It did not disappoint!
Carolyn graciously gave me permission to share her Nacho chip recipe with you. They taste quite similar to Doritos. Served with a little guacamole, they make an amazing S snack! THMs, here's the crunchy S chip you've been searching for!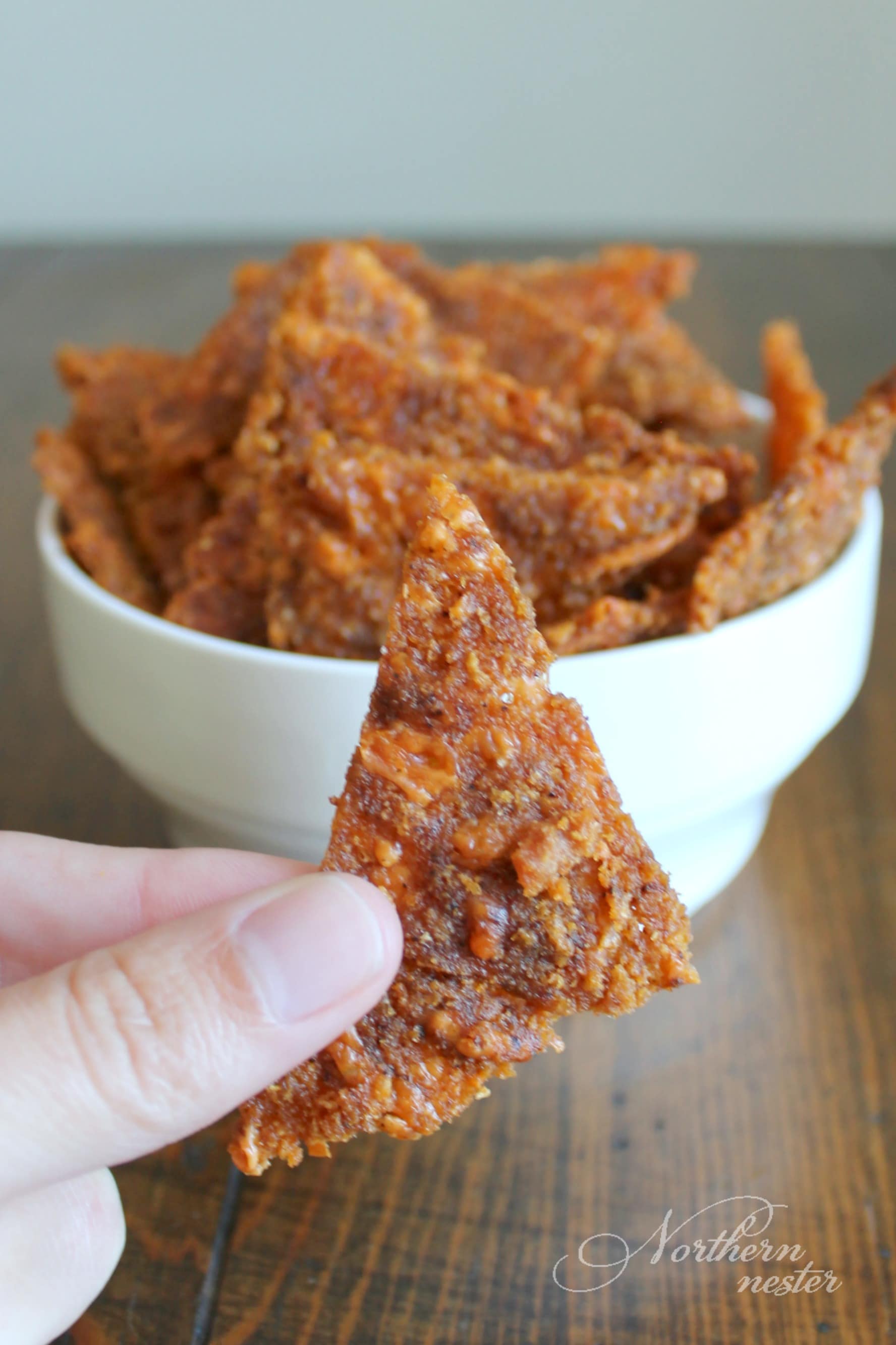 Yield: 50-60 chips
Nacho Chips | THM: S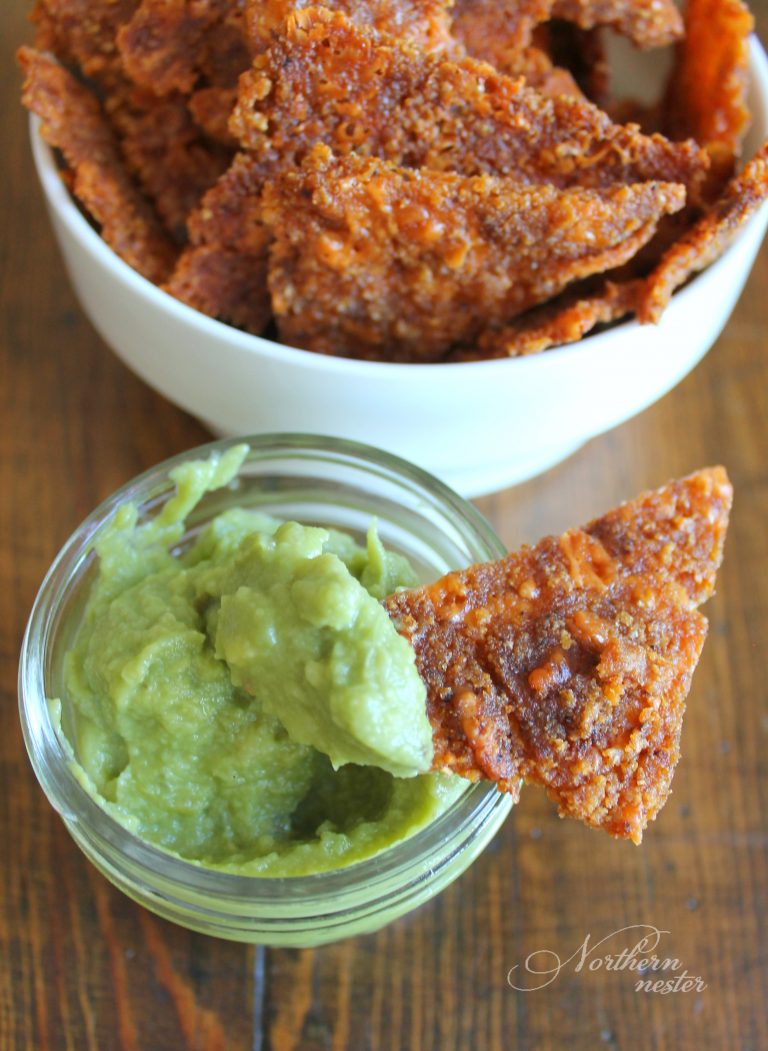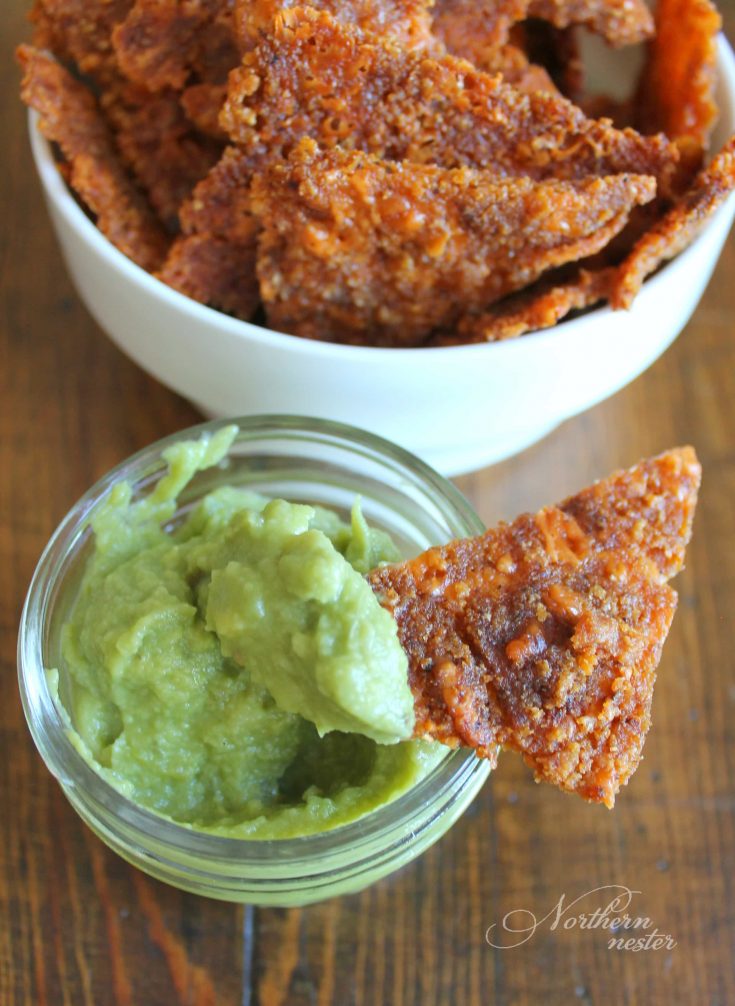 A truly crispy, very low-carb alternative to tortilla chips that stands up to dipping in salsa or guacamole.

Prep Time 15 minutes

Cook Time 40 minutes

Total Time 55 minutes
Ingredients
2 large egg whites
1/4 tsp salt
1 1/2 cups finely crushed pork rinds
1 cup pre-shredded Mexican cheese blend or cheddar cheese (about 4 ounces)
1 Tbsp Taco Seasoning (pg 63)
Instructions
Preheat oven to 300 F.
In a large bowl, whisk egg whites with salt until frothy. Stir in the pork rinds, cheese, and taco seasoning until well combined.
Turn the mixture out onto a large piece of parchment paper and pat it into a square. Top with another piece of parchment and roll out the mixture into a very thin square, about 12 inches. Remove the top piece of parchment and slide the bottom piece onto a large baking sheet.
Use a sharp knife to score the cheese mixture into 2-inch squares. Then score each square diagonally into 2 triangles. Bake for 20 minutes, until chips are turning golden brown. Turn off the oven and let them sit inside until they are firm to the touch, about 20 minutes.
Remove from oven and let cool completely on the baking sheet before breaking along the score lines. Store in a covered container on the counter for up to 3 days.
Notes
You can crush pork rinds in several ways, and you can even purchase precrushed "pork dust." To crush them at home, place them in a thick plastic bag and pound them with a rolling pin or kitchen mallet. You can also process them in a food processor. Be sure to crush them as finely as you can and measure them after crushing for accurate results.