This low-carb, sugar-free THM S Chocolate Cappuccino Cheesecake is a perfect marriage of cream cheese and coffee. Rich and filling, you'll be completely satisfied with a small piece. I love cheesecake for breakfast; baking just one of these cheesecakes ensures my morning gets off to a good start for 2 weeks straight!
Alternatively, you could share this cheesecake with company, you know…if you're that kind of person.
A smooth, chocolate ganache keeps the cheesecake moist and, as a bonus, hides any cracks that might occur during baking. I used 85% Lindt chocolate in this recipe, but you could also use 100% baking chocolate and increase the amount of sweetener. Or, try using a bar of Lily's stevia-sweetened chocolate if you like things really sweet!
Xylitol is my sweetener of choice because it tastes the most to me like real sugar and I can buy it locally. If you have pets, or can't tolerate xylitol, feel free to use Super Sweet instead. Simply quarter the amount of sweetener called for and it will still taste fabulous.
Yield: 12-16
Chocolate Cappuccino Cheesecake | THM: S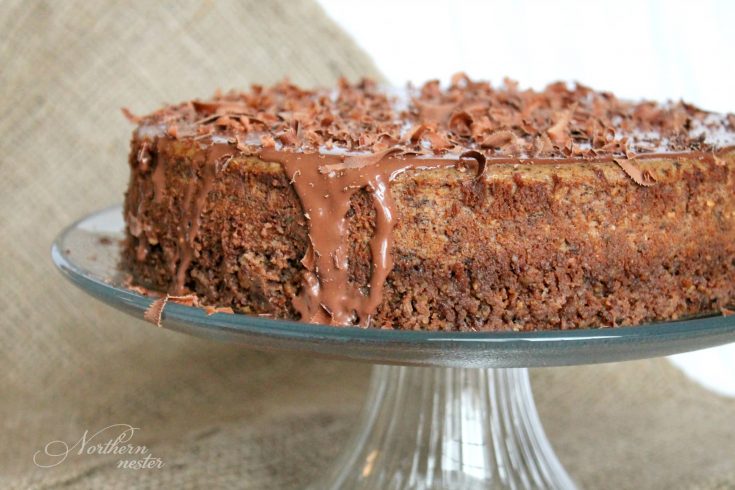 You'll only need a small piece of this decadent Chocolate-Cappuccino Cheesecake! It's rich and filling, and completely satisfies a coffee-lover's sweet tooth. A smooth ganache keep the cheesecake moist and as a bonus, hides any cracks that might occur during baking! A show-stopping THM S.

Prep Time 30 minutes

Cook Time 1 hour 10 minutes

Additional Time 20 minutes

Total Time 2 hours
Ingredients
CRUST:
2 cups pecan pieces
1/4 cup xylitol
1/4 cup butter, melted
1/2 bar of 85% Lindt chocolate
FILLING:
2 8-oz pkgs. cream cheese softened
1 cup xylitol
4 eggs
1/3 cup cold coffee
1 cup sour cream
2 tsp vanilla
1 1/2 bars of 85% Lindt chocolate, melted
GANACHE:
1/3 cup whipping cream
1/8 cup xylitol
1/4 bar of 85% Lindt chocolate
Instructions
Preheat oven to 300 F.
To make the crust, pulse pecan pieces and xylitol (or other sweetener) together in blender until crumbs are fine. Stir in melted butter, and press into a 9" spring-form pan. Drizzle melted Lindt chocolate on top, and refrigerate until hardened.
Meanwhile, to make the filling, beat cream cheese and sweetener together until smooth. Add eggs, coffee, sour cream, and vanilla, and beat again. Stir in melted chocolate until completely combined. Pour filling over crust and bake at 300 F for 1 hour and 10 minutes. Cool completely.
To make the ganache, melt whipping cream, sweetener, and remaining chocolate together over low heat, whisking constantly until smooth. Cool and pour over cheesecake.
OPTIONAL: garnish with grated chocolate.