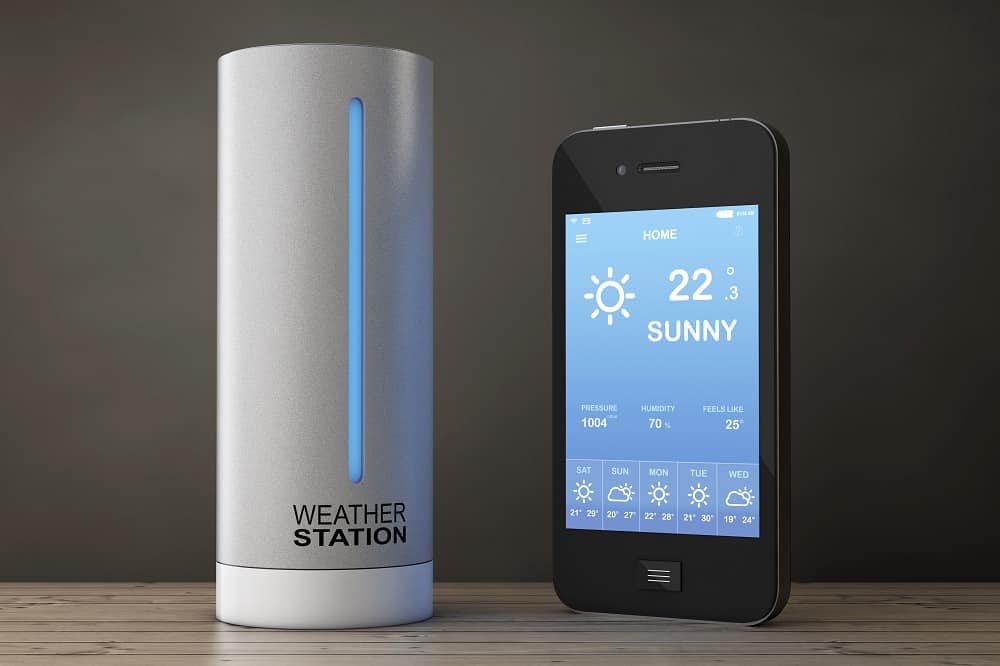 Weather is a common topic of conversation and for good reason. Weather can brighten your mood or ruin your plans.
So that you never get caught unaware, finding the best home weather station can help you plan things out a lot better!
There's a lot to consider when you're trying to find the best home weather station. First of all, decide if you just want to know what the temperature is or if you want humidity levels, rainfall levels, or even UV levels.
However, no matter what kind of weather data you're looking for, there is a model that will provide it.
We've found five high precision weather stations for you to consider, all of which guarantee accurate and timely readings.
La Crosse Technology V10-TH-INT V10-TH Wireless WiFi Weather Station
Tap to view on Amazon
The La Crosse Technology weather station is definitely not your grandpa's old barometer.
This high-tech, the digital interface has all the information you want in one convenient location.
Product Highlights
Included in this weather station panel are the temperature and humidity levels, measured from both outside and inside your home. Also included is the date, day, and time.
Furthermore, the screen shows the forecasted weather, complete with a digital picture.
The La Crosse Technology weather station comes with a wireless remote so you can see what the temperature and humidity levels are, anywhere in your home.
One of the great things about this weather station is that it pairs seamlessly with its custom mobile app.
Simply download the app to your phone and you can see all the details you want, wherever you want.
This weather station can be placed on a surface inside your home or hung up on a wall, either inside or outside. It works with 2 AA batteries that are not included.
What We Like
The LCD screen is easy to use and has 5 brightness settings which is ideal if you hang it in the sun.
The temperature and humidity readings are accurate and the pictograph is a charming touch.
What We Don't Like
This weather station runs on batteries so you will need to remember to replace them periodically.
Pros
Clear readings and well-organized display
App is easy to use
Cons
Batteries are not rechargeable
AcuRite 01036M Wireless Weather Station with Programmable Alarms
Tap to view on Amazon
Some weather stations are fairly basic while others offer a more advanced system of knowledge.
The AcuRite weather station is not messing around with the amount of information it offers.
Product Highlights
The AcuRite weather station has two parts to it for accurate measurements of everything weather-related.
The weather sensor is best attached outside, preferably in the open so it can measure not only temperature but wind speed and wind direction.
Not only are you given current weather conditions, but you will also receive weather predictions based on weather patterns.
This will help you decide what to do around the house and when, and is a lot more location-specific than regular weather forecasts.
In addition to the weather sensor, you also receive a display screen. This display will show you the temperature, humidity, wind direction, wind speed, and even the amount of precipitation.
These readings are organized on the display screen and even boxed in by different colors so that they are easy to understand.
The display screen has a nice, flat bottom so you can place it anywhere in the house and not have to worry about it tipping over.
Furthermore, all the data can be synced with the My AcuRite app on any smartphone or tablet.
What We Like
The amount of information displayed on the screen is organized so it's not overwhelming.
You can receive important notifications about your local weather via the app.
What We Don't Like
You need to set up the weather sensor which can be a bit cumbersome.
Pros
Comprehensive overview of everything weather-related
Accurate temperature readings
Cons
The rain gauge can be a bit lacking
WeatherFlow Smart Home Weather Station with WiFi hub
Tap to view on Amazon
The WeatherFlow weather station is a bit different than other products on our list in that it doesn't have its own display screen.
Instead, it simply sends the information to an app that you can view on any smartphone or tablet.
Product Highlights
Touted as one of the most accurate weather stations on the market, the WeatherFlow system has a lot of components to give you all the data you want.
These include a light sensor, a haptic rain sensor, and a sonic wind sensor. Together the system is solar powered for accurate results.
While there are a lot of parts, setup is relatively easy. Simply follow the instructions; just be sure to place this weather station somewhere unobstructed.
One final part of this package is the Wi-Fi hub. This device should be placed inside your home. It acts as an intermediary that connects everything.
All the weather data is sent to it which then transmits the data to the app and the hub itself is powered by a USB cable.
What We Like
This is an extremely comprehensive system that provides accurate readings.
You can connect to the Weather Underground app fairly easily.
What We Don't Like
There is no display panel so you have to constantly take out your phone and open the app to see all the information.
Pros
Information is updated constantly, in real-time
Easy to set up
Cons
Different sensors work better in different areas so some location planning is needed
Ambient Weather WS-2902A Smart WiFi Weather Station
Tap to view on Amazon
The Ambient weather station allows you to monitor weather patterns and analyze them from either the included display screen or through their app.
It's a nice, comprehensive system.
Product Highlights
The weather sensor portion of this product is quite futuristic looking with a myriad of dials and sensors.
It then transmits that information to a display screen that you can have inside your home.
There's really no end to what the Ambient weather station can measure.
This includes the indoor and outdoor temperatures, rainfall, humidity levels, wind speed and direction, and even UV and solar radiation.
If you don't want to check the display screen, you can simply use the Ambient Weather app that includes all the information you want.
To power the weather sensor, you will need 3 AAA batteries that work in tangent with solar power. The display screen is powered by DC current.
What We Like
This unit measures everything you want in a weather station.
The setup is easy and the display screen is well-organized.
What We Don't Like
While the setup is easy, it can take a while to accurately calibrate all the measurements.
The Wi-Fi strength is a bit spotty so make sure the sensor, the display, and your Wi-Fi router are all close together.
Pros
Display is color-coded and well-organized
The app is easy to navigate
Cons
Hard to calibrate at first
Newentor Weather Station Wireless Digital Indoor Outdoor Thermometer
Tap to view on Amazon
Those wanting something simple yet effective will really like the Newentor weather station.
Built more like an upscale thermometer, this product still gets the job done and looks good while doing it.
Product Highlights
The Newentor weather station has two parts to it. A small outdoor sensor can be hung anywhere on the exterior of your home.
A separate display screen connects to the sensor and displays all the weather-related information you need.
This includes the outdoor and indoor temperature, the outdoor and indoor humidity levels, and the barometric pressure.
Furthermore, the display screen shows the phases of the moon as well as a weather forecast. These extras make the Newentor weather station really stand out.
What We Like
The extras, like the moon phase make this product a little extra special.
The outdoor sensor is easy to install and discreet enough not to be noticed.
What We Don't Like
While it has multiple brightness levels, even the brightest isn't easy to read from far away
Pros
Includes a lot of information on the screen
Outside sensor is easy to setup
Cons
Doesn't connect to an app
What to Look when Buying The Best Home Weather Station
Durability
Weather stations usually have an exterior and interior component. The exterior component measures all the weather-related data and is, of course, outside.
You want a product that is durable and won't crack under pressure.
This is especially true of weather stations that measure wind and rain. To get these readings, the sensors need to be high up and unobstructed.
This, unfortunately, makes them more susceptible to the elements, which makes durability all the more important.
Transmission
With wireless weather stations, you want to ensure that the data is being transmitted to the sensor without any lag issues. Otherwise, what's the point?
Some devices are more sensitive than others so you will have to make sure the display screen and the weather sensor are close together and potentially not obstructed by thick concrete walls.
It's a good idea, too, to have the Wi-Fi router near everything so that the transmission is further enhanced. All these elements might need a bit of forethought to find the best place where everything can connect together.
Connectivity
Most home weather stations are wireless in nature. They do not need cords to connect from the sensors to the display screen.
Some home weather stations also offer apps that you can connect to. Your personal data is sent to the app and you can enjoy digital readings on your smartphone wherever you are.
Power
Some weather stations are powered by solar although they may still need batteries to get them up and running.
As for the display screen, this is usually plugged in, either using DC current or a USB connection.
Batteries are sometimes used, although if this is the case you might want to consider the cost of constantly replacing batteries in the future.
Accuracy
Above all else, you want a home weather station that is accurate. When you first setup your weather station, you might want to use a secondary device to compare readings.
This could be a different phone app, or even just a plain old thermometer.
Monitor these readings over the first few weeks.
Expect readings to differ by a degree or two. However, if the readings are vastly different, contact the manufacturer right away for a repair or replacement.
Related Questions
What is a home weather station?
A home weather station collects data that is weather-related thanks to instruments that use modern technology and sensors.
Data is collected via these instruments and gives you information such as temperature, humidity, and atmospheric pressure.
How accurate are home weather stations?
Thanks to ever-evolving technology, home weather stations are now quite accurate.
There are, of course, more sophisticated stations, so depending on the results you expect, you may have to pay a premium for a more advanced weather station.
Which weather station is most accurate?
All of the home weather stations on out list are very accurate. The AcuRite weather station is probably one of the most accurate, thanks to its wide array of sensors.
To improve the accuracy of any weather station, always place the sensor in an unobstructed area, free from tree branches or possible falling debris.
How do I pick a weather station?
To pick a weather station, first think about what you want to know.
There are some weather stations that just highlight the temperature and humidity. Then there are more advanced stations that measure UV readings and barometric pressure.
Once you know what information you want, finding the right product is a lot easier.
What is the best weather app?
A lot of wireless weather stations will have their own apps so you can see your specific information.
For a comprehensive weather app, check out Weather Underground. You can customize the map according to your location and get notifications about any weather readings.
Conclusion
Ready to take some control of the weather?
These professional weather stations give you all the information you need to determine if your evening will include a BBQ dinner or an indoor movie night.
Related Posts: