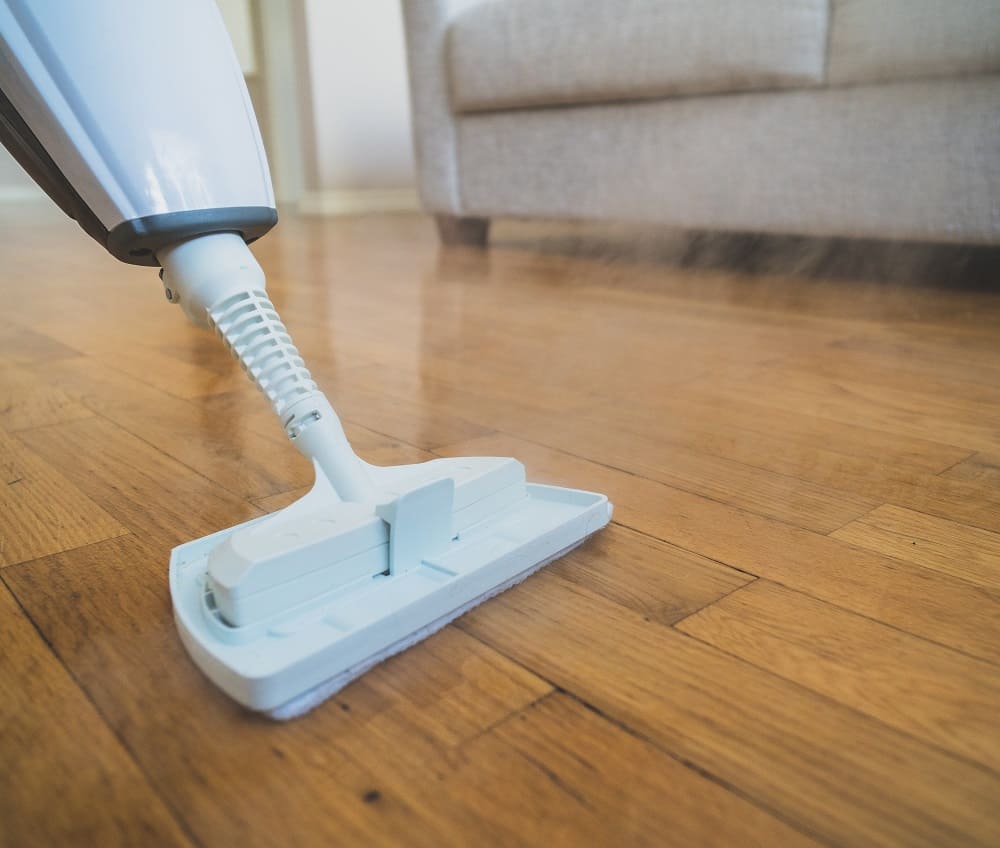 Get ready to have a sparkling clean house. A steam mop is an innovative, simple way to scrub your floors without having to dig deep in your arm muscles.
If you're looking for the best steam mop, we've got five products for you to look at.
Long are the days of having to scrub your floors with a mop, wring out the dirty water, and lay cardboard down while the whole surface dries. Now, you can simply use a steam mop.
This innovative design harnesses the power of steam so that dirt is actually lifted off the floor. The microfiber cloth gently scrubs the dirt and the mop pad is washable. There is less hassle and the fact you can clean and reuse your mop pad means the planet will be a lot happier.
There are a lot of factors to consider when deciding which steam mop to purchase.
To help you out, we've found five of the best steam mops on the market this year.
BISSELL PowerFresh Steam Mop
Tap to view on Amazon
There are a few mop brand names that really stand out and Bissell is one of them.
This high powered steam mop is easy to use and will eliminate 99.9% of germs from your floors.
Product Highlights
The Bissell PowerFresh steam mop is ready to use in just 30 seconds. Simply plug it in, select your steam setting, and away you go.
You can choose from low, medium, or high steam settings, depending on the surface you are cleaning and the level of grime.
The 23-foot power cord gives you plenty of room to move around so you don't have to constantly find a new plug for each new room or space.
Included in your purchase are the mop itself, one microfiber soft pad, one microfiber scrubby pad, and two fragrance discs.
You can use the Bissell PowerFresh steam mop on a lot of different surfaces, including ceramic, linoleum, marble, granite, and sealed hardwood. However, it is not meant for above-ground cleaning.
What We Like
The steam mop is lightweight and easy to maneuver.
You can clean a lot of surfaces which makes this tool quite versatile.
What We Don't Like
The scrubber pad needs a lot of extra effort to really make it work.
Pros
Affordable price
Easy to move around furniture
Cons
Not meant for above-ground cleaning
Shark Genius Hard Floor Cleaning System Pocket (S5003D) Steam Mop
Shark products have a repetition for using innovative technology and the Shark Genius steam mop is no exception.
It provides steam blast technology to allow you to remove even the toughest of grime from your floors.
Product Highlights
The whole cleaning process is quite simple with the Shark Genius steam mop. Simply choose a steam setting from the touch of a button and get to work.
Then, once you've finished, another one touch will release the dirty mop head.
It releases right into the laundry basket so you don't have to get your hands dirty.
And, once you're ready to start mopping again, one touch is again all you need to attach a clean mop head.
Unlike other steam mops, the Shark Genius has a double-sided pad. So, you can clean just about anywhere you need to.
Included in your purchase are the steam mop, one mop head, two grip pads, and one water fill flask.
What We Like
The ability to secure and remove mop pads makes it easy and a lot cleaner.
The two-sided scrub pad allows you to clean so many areas.
What We Don't Like
The steam selection buttons are on the base of the mop, not the handle, which requires extra bending over.
Pros
Construction is made for powerful cleaning
Includes 2 grip pads
Cons
Not meant for above-floor cleaning
LIGHT 'N' EASY Multifunctional Steam Mop
Tap to view on Amazon
If you like versatility, then you will love the Light N Easy steam mop.
It works as an upright steam mop for your floors, as a handheld steamer for your walls, and as a steam press for your clothes.
That's pretty impressive for just one product!
Product Highlights
The Light N Easy steam mop has a few attachments which allow it to transform into a tool for all your steaming needs.
You can use it in an upright manner where it will tackle grime from many types of flooring including sealed wood, laminate, tile, and stone.
If you're ready to move onto your walls, simply detach the handheld portion and tackle the tile on your kitchen or bathroom walls.
Finally, if your clothes are getting a bit wrinkled, you can use the handheld steamer and the purposeful attachment to get your shirts, dresses, and pants ready to wear.
The Light N Easy steam mop has three settings, including light, medium, and high.
There is an easy-to-use button at the top where you can select your preferences.
If you're in doubt about this purchase, the customer service should sway you.
The manufacturer offers a one-year quality assurance guarantee. And, if there are any issues, you can contact them 24/7.
What We Like
The three-in-one products make this a truly versatile steam mop.
It is easy to attach and detach the different accessories.
What We Don't Like
The mop head is a bit basic, despite the advanced capabilities of the entire mop.
Pros
Can work on many different surfaces
Easy to operate
Cons
More expensive than other steam mops
Steam Mop Cleaner ThermaPro Elite 12 in 1 for Hardwood
Tap to view on Amazon
Steam mops are great, but what happens when you run into a corner?
Instead of awkwardly trying to angle your rectangular mop head, try the ThermaPro Elite steam mop which has a brilliant triangular corner.
Product Highlights
The ThermaPro Elite steam mop is quite versatile. It works as a stand-up mop which can tackle grime and stains on many surfaces.
These surfaces include linoleum, granite, sealed tile, and hardwood.
When you want to tack your cleaning up a notch, simply detach the handheld part and bring your cleaning to a whole new level.
Thanks to the abundance of accessories the ThermaPro Elite steam mop comes with, you can clean tile walls, bathroom sinks, stovetops, and even pillows.
When you purchase the ThermaPro Elite steam mop, you get a two-year warranty included. You also receive the mop, one microfiber pad, three different brush nozzles, and one power nozzle.
What We Like
The triangular mop head makes it really easy to reach into corners.
All the accessories give you plenty of options for deep cleaning your house.
What We Don't Like
You only get one pad and because it is triangular in shape, it is hard to replace.
Pros
Can clean surfaces throughout the house
Easy to detach the handheld steamer
Cons
The power cord is only 16 feet long
Simpli-Magic 79153 5 in 1 Steam Mop Floor Steamer
Tap to view on Amazon
Don't let appearances deceive you. This thin and simple steam mop works well and is quite budget-friendly.
Product Highlights
The Simpli-Magic steam mop is a simple solution for those that just want a basic way to clean their floors.
It works on many surfaces, including tile, laminate, wood, and marble.
Furthermore, it can actually work on the carpet, too.
This steam mop is nice and lightweight so you can easily move it around the house. Attaching and removing the microfiber cloths is nice and easy.
Included in your purchase are the mop, one microfiber pad, one carpet glider, and one measuring cup.
What We Like
Simple and straightforward, this steam mop is very easy to use.
It is far less expensive than other products and great if you're still unsure about investing in a steam mop.
What We Don't Like
There aren't a lot of extras with this steam mop so you may end up buying a newer, more all-encompassing product at a later date.
Pros
Simple to put together
Affordable
Cons
Replacement scrubbing clothes are hard to find
**Planning to do some quick cleaning? Check out our Gas vs Electric Dryer reviews here!**
What to Look when Buying the Best Steam Mop
Durability
Steam mops aren't incredibly expensive, but they are still an investment. You want to find a steam mop that is up to the task of floor cleaning and will last for at least a few years.
One of the best ways to figure out its durability is to look for how long the warranty is. If it is for two years or more, then you will know the steam mop is of high quality.
Maintenance
Give your steam mop a regular check-up to see if anything needs to be fixed. Check the water canister for leaks and the power cord for fraying.
Overall, though, your steam mop should be pretty straightforward to take care of.
Performance
There's no point in purchasing a steam mop if it doesn't properly clean your floors. A good steam mop will work without too much effort on your end.
The steam it produces is meant to remove stuck-on dirt and then the pad will wipe anything up.
If your arms start to hurt after a mopping session, then the steam mop is not doing its job well.
Mobility
Look for a steam mop that is mobile as you will most likely have to move it around your house, including in and out of where you are storing it.
A long power cord means you don't have to constantly bend over or try to find an outlet in each room.
The inclusion of a handheld steamer means you can detach it and use it on walls, couches, and even clothes.
Capacity
Steam mops need water and the capacity of a product refers to how much water that mop can hold.
The larger the water capacity, the less often you need to refill the reservoir, meaning more cleaning time and less hassle.
However, the more water your mop can hold, the heavier it will be. It's up to you to decide which is more important: weight or convenience.
Size and Weight
Steam mops are all upright devices that allow you to stand and push the mop around. However, some also include handheld steamers that can be removed from smaller projects.
The more attachments your steam mop has, the heavier and bulkier it will be. While steam mops are generally sleekly designed, be aware that some can be a bit trickier to maneuver.
Power
You can expect steam mops to have power capabilities of between 1000 and 1800 Watts. The higher the power, the fiercer the steam mop is able to clean.
Steam Control (most important)
Any good steam mop will have the feature of adjustable steam. You should be able to choose from low, medium, and high steam.
Different types of flooring require different levels of steam. For example, laminate and wood floors require low steam as you don't want to introduce too much moisture to them.
Meanwhile, tile and marble floors can use high steam to scrub them easier.
Related Questions
Which is the best steam mop to buy?
There are a lot of great steam mops, but one of the best is the Shark Genius steam mop.
Not only is this an affordable option, but it is an overall great floor cleaner.
With the included cleaning pads, you can easily remove the grime that has been slowly building up on your floors.
Are steam mops any good?
There are many different brands of steam mops and not all are created equal. However, there are plenty of steam mops that work incredibly well.
Is a steam mop good for tile floors?
Steam mops are incredibly powerful and therefore perfect for tile floors. They can remove stains and grime from your tile, making them look better than ever.
Steam mops are also good for laminate floors and wood floors, although it's recommended to use a low steam setting so that the moisture doesn't penetrate the floor.
Steam mops should not be used for untreated or unsealed floors.
Can you use vinegar in a steam mop?
If you plan on using a steam mop on tile or linoleum, you can use vinegar for a bit of a cleaning boost.
However, do not use vinegar if you are cleaning a wood floor as it will ruin the chemical finish.
See Also: Gas vs Electric Stove, which is more efficient?
Conclusion
If you want to increase your cleaning abilities without creating sore muscles, a steam mop is a way to go.
Using the power of steam, dirt is easily removed from your floors and possibly your walls, as well.