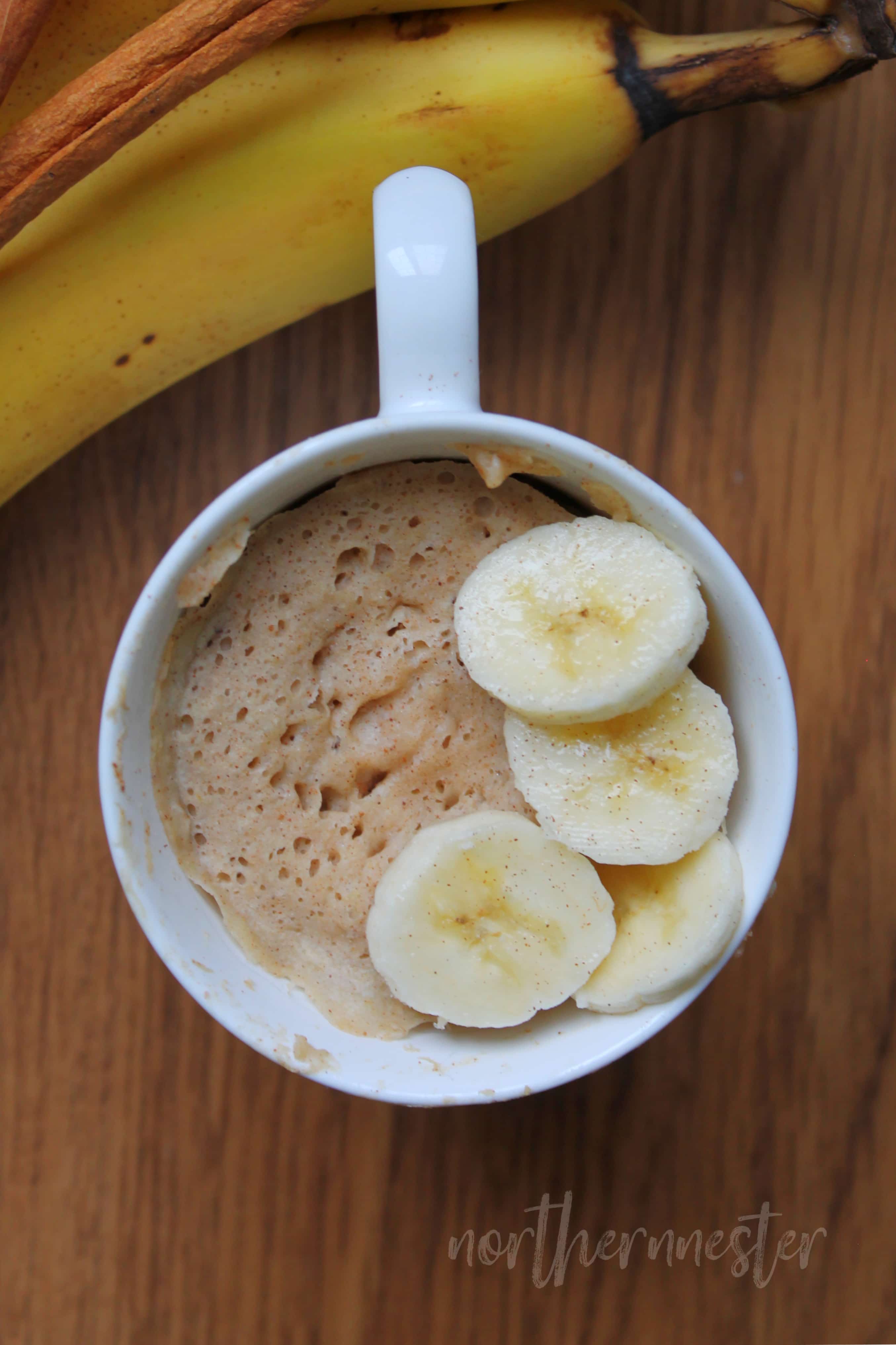 I never imagined my favorite Muffin In A Mug recipe would be an E! Normally, I gravitate towards rich and buttery S Muffin In A Mug recipes, but this Banana Muffin In A Mug is so moist and flavorful, I can hardly believe it has no fat source!
Unlike many low-fat E recipes, this one is not chewy or dense. It's light, sweet and cake-y – more of a banana cake than a banana muffin. You know those Banana Sheet Cake recipes with cream cheese frosting? That's what this Banana Muffin In A Mug is like! Dessert in a mug!
This Banana Muffin In A Mug doesn't require any special ingredients to make, and is a very frugal Trim Healthy Mama recipe. The sweetness from a quarter of a very ripe banana cuts down on the need for much more sweetener (I used xylitol, but you can also use Gentle Sweet in half the amount, or Super Sweet in a quarter of the amount), and the oat flour can easily be made by simply grinding up oatmeal into a powder using your blender.
Add an egg white for more protein and rise, unsweetened nut milk for moisture, some flavorings like vanilla extract, cinnamon, and mineral salt, and you've got the makings of a wonderfully sweet, single-serve THM E breakfast, snack, or dessert!
I have not tried baking this Banana Muffin In A Mug in the oven yet, but if you don't have a microwave, you should be able to bake this (and most other Muffin in a Mug recipes!) at 350 F for a 10-15 minutes, using a toothpick to check for doneness.
Since there's no fat source in this Banana Muffin In A Mug, you have room to add a teaspoon (or 5 grams) of butter, peanut butter, nuts, or sugar-free chocolate chips if you like that in your Banana Muffins.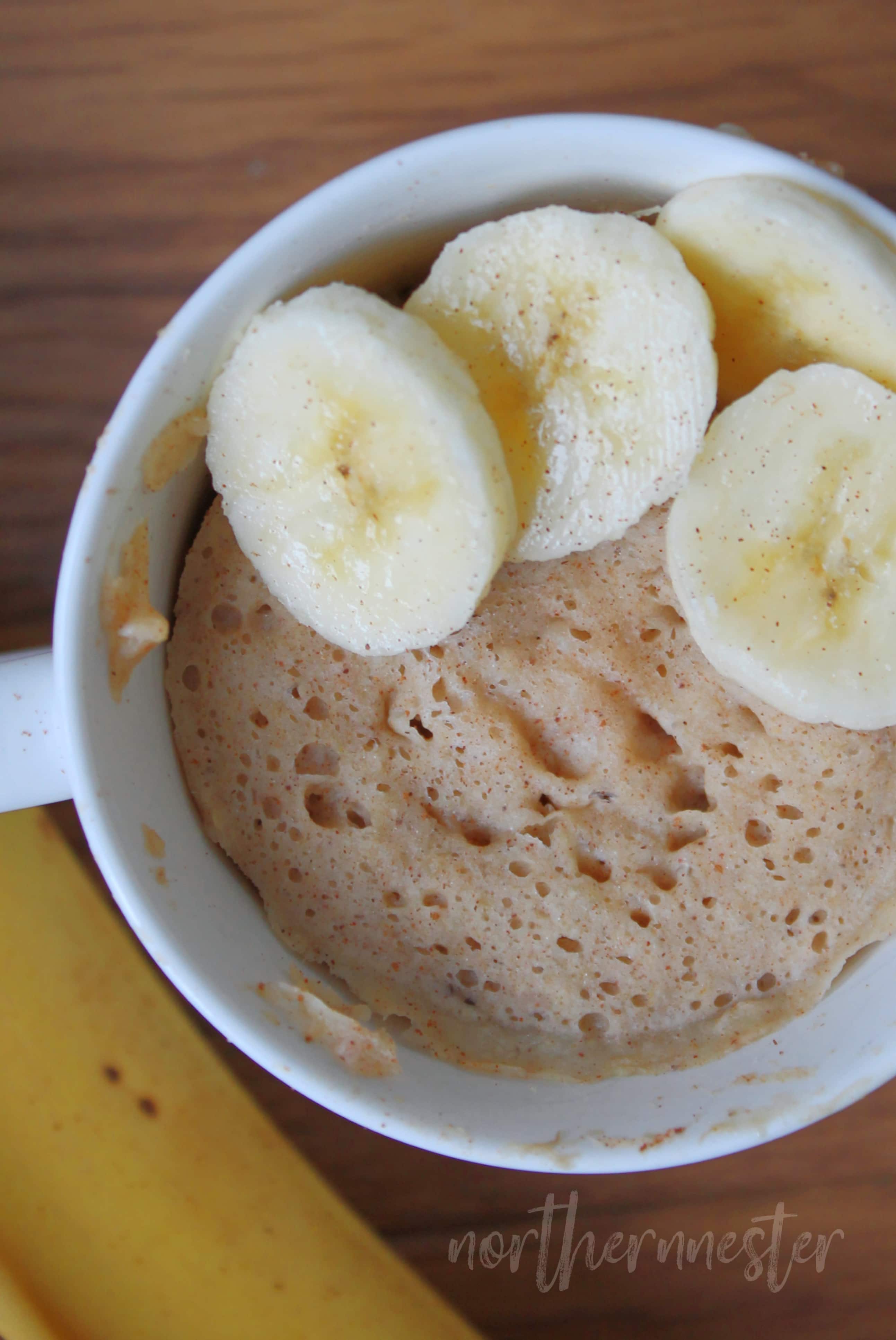 Yield: 1 serving
Banana Muffin In A Mug | THM: E, GF
This Banana Muffin In A Mug is the yummiest THM E muffin ever! It's tender, moist and sweet like a regular banana muffin, but in a convenient single serve size, and made without any special ingredients.

Prep Time 2 minutes

Cook Time 1 minute

Total Time 3 minutes
Ingredients
2 tbsp mashed banana
1 egg white
1 tbsp unsweetened cashew or almond milk
3 tbsp oat flour
1 tbsp xylitol (OR 1/2 tbsp Gentle Sweet)
1/4 tsp baking powder
1/4 tsp vanilla extract
1/8 tsp cinnamon
pinch of mineral salt
Instructions
Whisk together mashed banana, egg white, and nut milk in a mug. Stir in remaining ingredients until well combined. Microwave for 1 - 1.5 minutes, or until cooked through.
Notes
Since there's no added fat to the recipe, you have room to add a teaspoon of butter to this recipe, if you like!
In search of other great E Muffin In A Mug recipe? Check these two out: