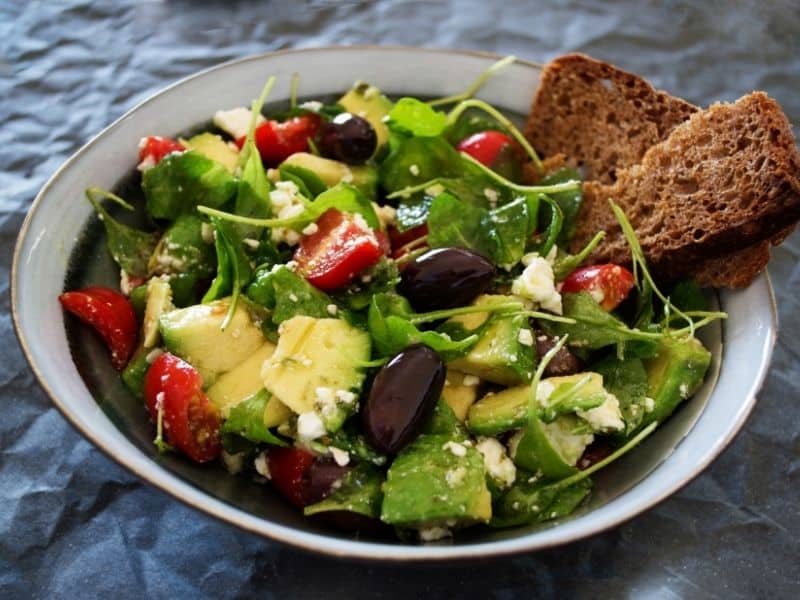 Tired of those boring green salads that don't have a lot of flavors and definitely don't leave you full? The good news is there are tons of salads to choose from that have global inspirations.
What are the 4 categories of salads?
There are plenty of salads around the world, but they can be classified into four major groups. We'll break down these four categories and explain their defining characteristics.
Green salads or vegetable salads
A simple salad is sometimes all you're craving. Green salads can consist of different types of greens, including leaf lettuce, iceberg lettuce, romaine, spinach, arugula, and many more.
To make a green salad, start with your choice of greens. Then, add a simple salad dressing, which could be a thinner olive oil-based dressing or a thicker ranch dressing.
Finally, toss the salad together. These are simple salads to make and yet are still delicious.
Salads of pasta, legumes, or grains
Ironically, this category of salads doesn't often include any lettuce. You can make a pasta salad with penne or rigatoni, and then a simple dressing to it.
A quinoa salad or chickpea salad is also a great option that again can be paired with a simple dressing so as to not overpower the main ingredients.
The really nice part about pasta, legumes, or grains being in a salad is that they are more filling and definitely quite nutritious.
Mixed salads incorporating meat, poultry, or seafood
If you're planning on making a salad, why not save a bit of time and energy and make a whole meal out of it? Many salads work well with different types of meat and seafood.
If you're creating a Caesar salad, you can easily add some grilled chicken on top. Likewise, a Cobb salad will have bacon and grilled cheese, along with other filling foods such as avocado and hard boiled eggs.
Fruit salads
Want to amp up your breakfast? A colorful fruit salad will help you start your day off in style.
The beauty of a fruit salad is that you can customize it to your own tastes. Popular ingredients include oranges, melons, berries, and bananas. To dress it, you can either just mix it together, or add a bit of orange juice to align all the flavors.
10 Popular Types of Salads Around The World
Salads look quite different around the world. These are some of the most popular salads that you may encounter on your travels.
Cobb salad
Can't choose what to have for lunch? With a Cobb salad, one of America's favorites, you can choose everything.
This stunning salad is a composed salad, with its ingredients lined up on the plate. To craft it, chop up mushrooms, avocado, ham, bacon, hard boiled eggs, and cherry tomatoes.
Then, place these ingredients on a thin layer of lettuce. Sprinkle a bit of blue cheese on top and dive in.
Larb
Originating from Thailand, this meat salad usually uses chicken, although pork can be substituted, too.
The shredded chicken is combined with green onions, Thai chiles, and lemongrass. Cilantro, mint, and fresh lime juice are also added.
Finally, this salad is served on a bed of Boston lettuce. It is a mixture of spice, heat, and texture.
Israeli salad
An Israeli salad is a salad, although there is no lettuce involved. Instead, it is a mix of bell peppers, tomatoes, green onions, and cucumbers.
Some fresh herbs and olive oil are added to make this a very colorful salad.
Mexican black bean salad
Hailing from Mexico, this nutrient-dense salad will quickly fill you up. At its heart are black beans which are mixed with corn, red peppers, onions, cherry tomatoes, and jalapeno.
The dressing is a delightful mix of olive oil, vinegar, lime juice, and chili pepper.
Waldorf salad
A Waldorf salad is definitely not as healthy as other salads on our list, but it is something that will delight your palate.
You can use apples, celery, and grapes, along with walnuts. The dressing is usually mayonnaise and yogurt.
If you're trying to get kids to eat more salads, this might surprise them a little bit.
Gado-gado
This hearty salad originated in Indonesia and will quickly fuel you up for the rest of the day. It is a composed salad, with lines of hard boiled eggs, steamed vegetables, and fried tofu.
A large serving of peanut sauce is also placed on the plate so you can dip and mix as you would like.
Dressed herring salad
If you're trying to cook a rainbow and need a purple dish, we suggest the dressed herring salad. Originating in Russia, this salad uses diced pickled herring that is then buried under a mound of boiled and grated vegetables.
These vegetables include carrots, potatoes, and beetroot, which gives this salad its stunning purple color. Chopped onions and mayonnaise round out the dish.
Nicoise salad
This French salad is really a meal all on its own. It starts with a small wedge of romaine lettuce and then green beans, hard boiled eggs, tomatoes, olives, and tuna are added.
If you feel like you still need one more food group, you can add boiled potatoes as well. A bit of olive oil is drizzled over the top
Tabbouleh
Tabbouleh salad hails from the Middle East and centers around the bulgur grain. Bulgur, which is made of different wheat species, is cooked for this salad.
The bulgur is mixed with minced onion, tomato, and parsley, and dressed in a simple mix of fresh lemon and mint. It is aromatic and delicious.
Fiambre
A fiambre salad is not simple but it is well worth the effort of crafting it. Originating from Guatemala, this salad includes hard boiled eggs, baby corn, beets, cheese, deli meats, and olives.
All the pieces are arranged beautifully on a platter. It is a traditional dish made on the Day of the Dead. Each family will have a different version, so it's a treat to taste each other's salads.
Other Types of Salads
Ambrosia
An Ambrosia salad is definitely an acquired taste but if you're from the southern US, it is probably a staple at Thanksgiving.
This salad uses canned fruit such as mandarin oranges and pineapple, as well as peeled grapes and maraschino cherries. The dressing is a thick combination of yogurt, mayonnaise, and sour cream.
The secret ingredient is mini marshmallows, making this a truly sweet salad.
Caesar salad
This tossed salad is one of the most popular salads in America. It is simple and the only lettuce you need is romaine.
A peppery, garlic vinaigrette is used for the dressing and it is garnished with parmesan cheese and crunchy croutons. Lemon and bacon are also used in some variations.
Caprese salad
A Caprese salad only has three ingredients, but it sure makes the most out of these fresh ingredients. Ripe tomatoes are sliced in circles and alternated with fresh pieces of mozzarella. Fresh basil is then added on top.
A bit of salt and pepper and a drizzle of balsamic vinegar complete this incredibly fresh salad.
Chef salad
A chef salad is like a smorgasbord of fresh ingredients. Beautifully crafted, this rainbow of ingredients is a real feast for the eyes.
To create a chef salad, chop up carrots, tomatoes, radishes, and hard boiled eggs. Then, slice up some deli ham and chicken.
Place all the ingredients on a bed of leaf lettuce and enjoy.
Crab Louie
As its name suggests, a crab louie salad is all about crab. Start with a wedge of iceberg lettuce. Then, add crab, hard boiled eggs, asparagus, and tomato.
To dress the salad, make a concoction of mayonnaise and chili sauce. This is more of an individually-plated salad and looks great as an appetizer when cooking for company.
Fattoush
Fattoush salad comes from the Middle East and is packed with flavor. It is a mix of romaine lettuce, cucumbers, tomatoes, and red onions.
Pieces of pita bread are used as croutons to give it a bit of crunch and the salad has a simple dressing with a bit of sumac for extra flavor.
Greek salad
Greek salads may have originated in Greece, but they have become extremely popular in America. Made of chunks of tomato, cucumber, onion, and black olives, this is a very fresh salad.
It is sprinkled with feta cheese and dressed with olive oil and herbs for a savory experience.
Jello salad
Once popular in the 1960s, Jello salads are making a comeback for those feeling a bit nostalgic. Jello salads need to be prepared ahead of time so that the Jello has a chance to set.
You can add just about anything to the liquid Jello, including grated carrots, canned and fresh fruit, and even cottage cheese. Marshmallows and nuts can also be added.
Once set, the Jello salad is often topped with whipped cream, making this one of the few desserts you can eat with your main meal.
Karedok
This vegetable salad comes from Indonesia and is an explosion of flavors. It doesn't involve any cooking, which is a real bonus for many people.
Inside the salad, you will find green beans, cabbage, cucumbers, bean sprouts, basil, and eggplant. The peanut sauce is drizzled on top and adds a spicy element to the dish.
Olivier salad
This Russian salad can vary greatly by region. It is a combination of chopped vegetables, potatoes, and meat, all of which can be of varying types.
The entire salad is tossed in mayonnaise and is served as an appetizer, particularly on New Year's Day.
Panzanella
Hailing from Tuscany, a Panzanella salad helps you get rid of leftovers in a delicious manner. Start with stale bread. Soak it in water and then squeeze it dry to act as croutons.
Then, add red onions, cucumbers, and tomatoes. Drizzle with olive oil, vinegar, salt, and pepper.
Potato salad
Potato salads are often found at summer BBQs. They are a hearty side dish full of rich tastes.
Potato salads start with small chunks of boiled potatoes. Hard boiled eggs, onion, and celery are often added and the entire mixture is coated in mayonnaise.
Shopska salad
Hailing from Bulgaria, a shopska salad is a simple salad. It is made of cucumbers, tomatoes, onions, and peppers.
A healthy portion of Bulgarian cheese is spread on top, along with sunflower oil. It is said to represent the culture of Bulgaria.
Som tam
This fresh, Thai salad is a nice combination of crispness and sweetness. It uses papaya as well as peanuts, tomatoes, and green beans.
The dressing for a som tam salad is a mix of tangy fish sauce and dried shrimp, along with spicy chili peppers and fresh lime.
Taco salad
Eating hard shell tacos can be a bit messy. If this is the case for you, a taco salad is a much more sophisticated way to eat.
Similar to an American taco, a taco salad has a taco shell for its base, usually in the form of a large bowl. Inside, add seasoned ground beef, iceberg lettuce, tomato, and cheddar cheese. You can top it with some sour cream and dig in.
Wedge salad
A wedge salad starts with a wedge of iceberg lettuce, naturally. Its only other ingredients are bacon and chopped tomatoes.
To top the salad, you can spice things up with a blue cheese ranch dressing.
What are the most popular salads?
Because there are so many salads all over the world, is it tough to state just which ones are the most popular.
In America, popular salads include the potato salad, the Caesar salad, and the cobb salad. The gado-gado salad is very popular in Indonesia and the dressed herring salad is popular in Russia.
If you find yourself travelling, be sure to ask the locals what their favorite salads are. Just be aware that while one salad may reign supreme in one country, there will be many local variations of each dish to try.
Conclusion
When it comes down to it, a salad can have a wide variety of ingredients. From fresh vegetables to ripe fruit, and even to sweet marshmallows, there's a salad to please every taste bud.
Related Articles: