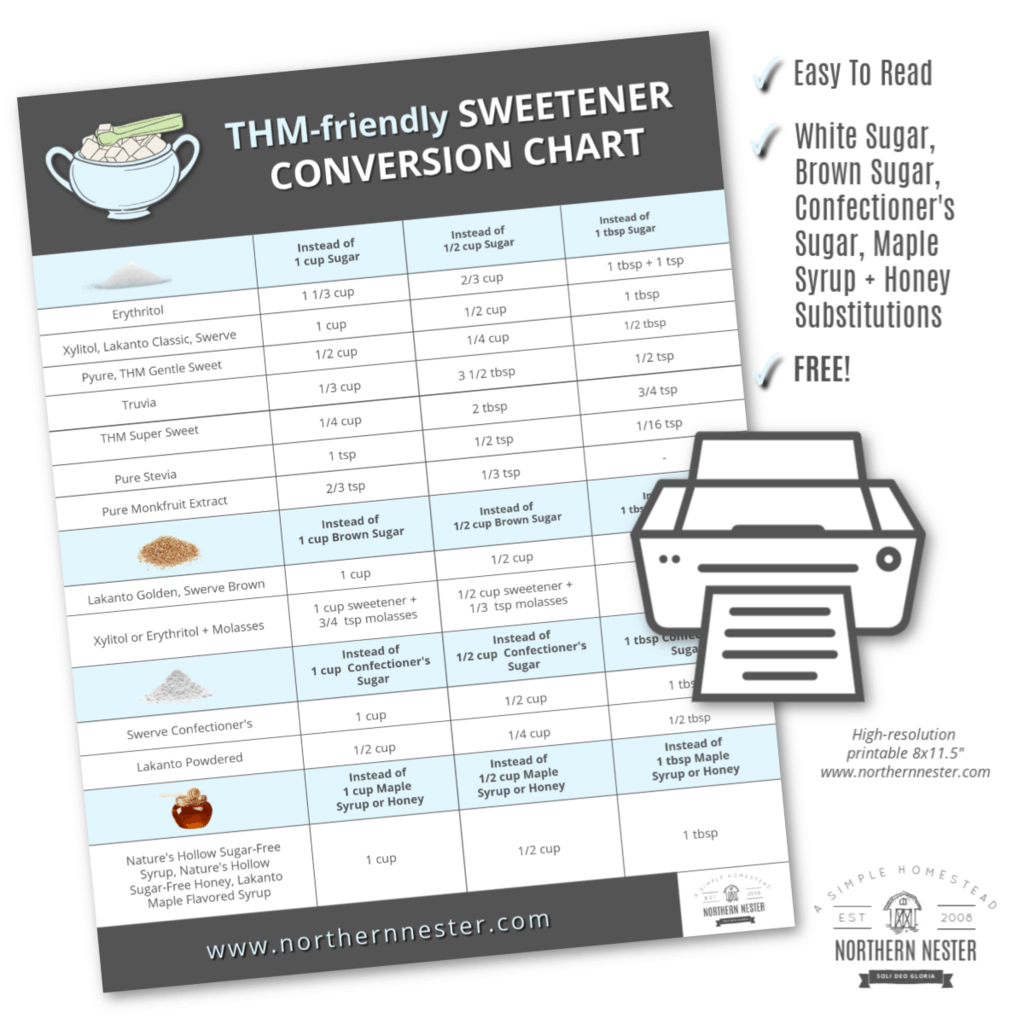 Have you ever been confused about what sweetener you can use on THM, and how much of it you should substitute with?
Me, too!
Behold:
The simple THM Sweetener Conversion Chart!
Nowadays, there are many low-carb sweetener options available, but not all of them are Trim Healthy Mama-friendly. Even though they may be low in carbs or have a good rating on the glycemic index, they might contain other ingredients that can be harmful to our bodies in the long run.
In this THM Sweetener Conversion Chart, I've kept things as simple as possible, by only including sweeteners that have thus far been approved by Trim Healthy Mama, and by using traditional cane sugar products as the guideline for substitution measurements.
In addition to regular white sugar alternatives, I've also included on-plan, low-carb, low-glycemic substitutions for:
brown sugar
Confectioner's or icing sugar
honey & maple syrup
Scroll to the bottom of this post for the printable THM-friendly Sweetener Chart! 
But first,
A FEW Tips For Using THM-Friendly Sweeteners
1:1 substitutions are my favorite. Aside from the obvious bonus of not having to do any math 😉 , 1:1 subs generally provide the best results in baking because they have a similar consistency to their traditional counterpart.
Often, the bulk of a granular sweetener is needed for a baked good to turn out properly, which makes erythritol or xylitol based sweeteners (i.e. Lakanto Classic, Swerve, and THM Gentle Sweet), a better choice for baking than pure monkfruit or stevia.
Pure monkfruit and stevia are only needed in minuscule amounts, and can have a bitter aftertaste if too much is used. These sweeteners are better fit for drinks like Good Girl Moonshine, Singing Canary, and The Shrinker. Any aftertaste is usually masked by the stronger flavor of apple cider vinegar and flavored teas. Adding a pinch of salt in drinks sweetened with pure monkfruit or stevia also helps take away any bitterness and diminishes the cooling effect.
A Quest FOR THE PERFECT THM-FRIENDLY SWEETENER
For the longest time, I used xylitol for all of my baking and liquid stevia drops in my THM drinks.
Xylitol has a nice granular consistency, a bit larger than real sugar, which gives volume and substance to baking. Some people use a coffee grinder to decrease the size of the granules, but I don't find it necessary.
Xylitol is not a perfect sweetener. It doesn't dissolve quite as well as real sugar, so it requires whipping or beating longer than normal to get it fully incorporated. Xylitol is also not a good choice if you have pets; it can be fatal to furry animals, especially dogs. Additionally, xylitol can also cause digestive distress in some people if they consume excessive amounts.
To me, the perfect THM Sweetener should:
not have a bitter aftertaste
measure cup for cup like regular sugar
taste like real sugar
dissolve easily
be available in granular, brown, and icing sugar consistency
be available locally
be pet friendly
be easy on the digestive system
be affordable
My quest for the perfect sweetener found me experimenting with all kinds of brands: Pyure, Swerve, SweetLeaf, Trim Healthy Mama, Truvia, Xyla, and generic Bulk Barn sweeteners. In the end, one sweetener stood out among the rest.
Lakanto Monkfruit Sweeteners
Disclosure: I am a Lakanto Affiliate because we use and love their sweeteners! We earn a small commission from purchases made through our link.
Lakanto Monkfruit Sweeteners were the last ones I tried, and I kicked myself for not giving them a go first! They were the only sweeteners that met my long list of "perfect sweetener" qualifications.
Lankanto's Monkfruit Sugar Substitutes:
measure and taste like real sugar
dissolve easier than xylitol
are on the digestive system
are pet friendly
are available in classic, brown and Confectioner's consistency
are available locally (In the U.S., you can find them at Costco; in Canada you can often find them at Winners or Home Sense)
Bonus:
Lakanto Monkfruit Sweeteners are affordable! If you use the Coupon Code "NORTHERNNESTER," you save 15% off all your online purchases (plus, they offer $5.99 flat rate shipping, and free shipping on orders over $75!).
Lakanto also offers a variety of other sugar-free sweeteners and THM-friendly products, including:
Enough about me and my favorite sweetener. 😉
Here's that THM-friendly Sweetener Conversion Chart you're after! You can right-click to enlarge the image and print it off, or click here to download.