I want to say that this Hazelnut Meringue Torte is Northern Nester's magnum opus, but that kind of reminds me of Charlotte in Charlotte's Web, and she died shortly after saying that about her nest of spider eggs, so I think I'll just call this my favorite Trim Healthy Mama-friendly dessert ever.
It looks so complicated and tricky, but it's not.
My great-aunt used make a wonderful, light, tender, flavorful, slightly crunchy hazelnut torte with layer upon layer of meringue, rich, espresso-flavored chocolate, and whipped cream. She passed the recipe onto my Mom, and it used to be an occasional Sunday treat growing up since it took quite a bit of time to make. That torte was out-of-this-world amazing though, and a fast favorite.
This recipe is the Trim Healthy Mama-friendly version of that hazelnut meringue torte, and wouldn't you know it? It's just as tasty, but it's practically carb-less, contains no special ingredients, and is a cinch to put together! The trick is to bake the meringue portion of the torte at night and so you can leave it in the oven to dry out while you're sleeping. When you wake up, Ta-da! Your torte is ready for assembly!
If you've never made a meringue before, this is a perfect recipe to start with. Instead of drawing circles on parchment paper and trying not to over work the egg white mixture while you divide and spread it evenly between them, you simply line two rimmed 17″ cookie sheets, spread out the mixture between them, bake, and each cut each meringue in half the next morning, giving you four layers to make cake with! Easy-peasy.
The chocolate sauce and layers are made by melting 1 1/2 bars of 85% dark Lindt chocolate with instant espresso powder and xylitol in heavy cream.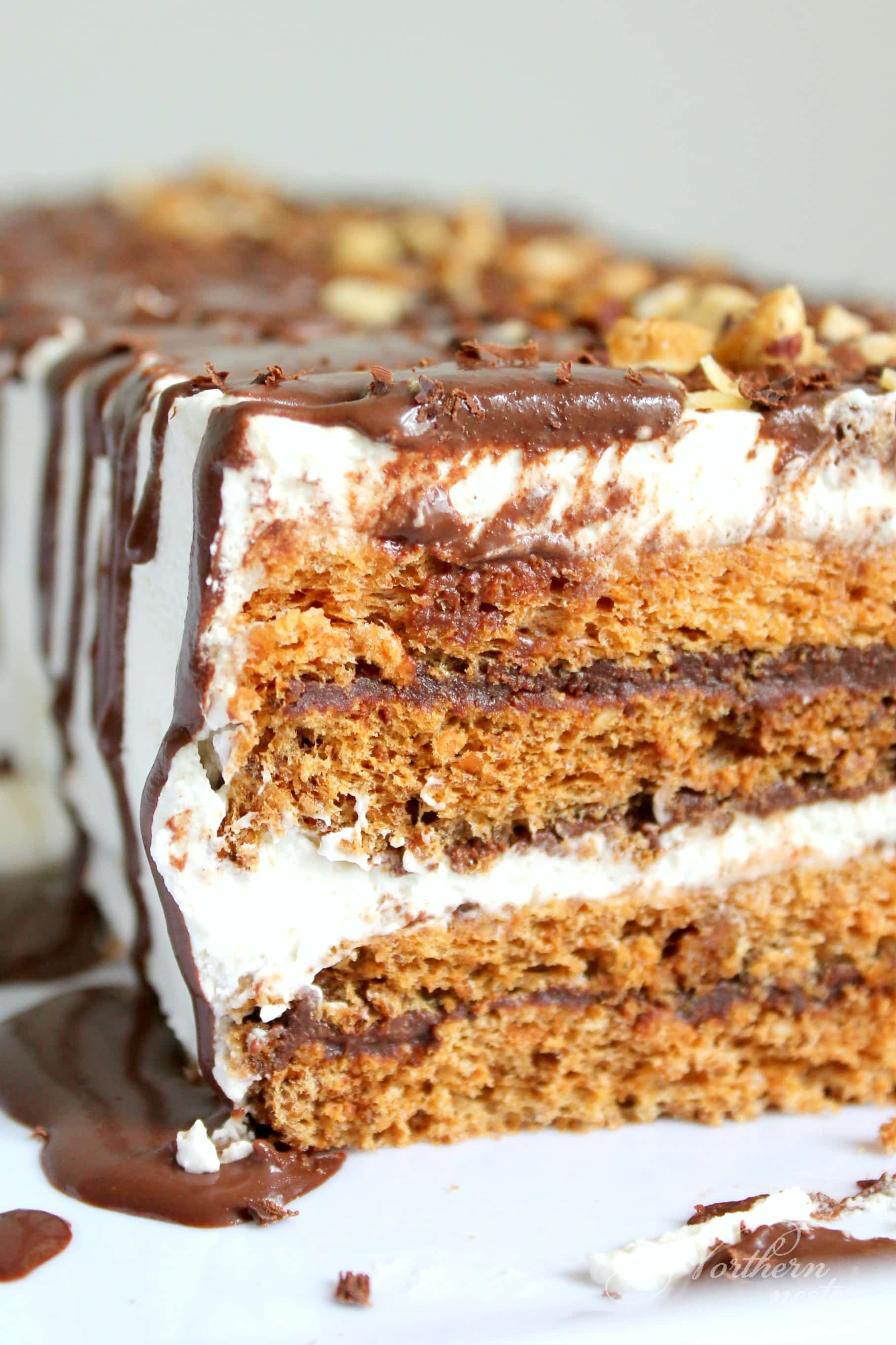 Yield: 15 servings
Hazelnut Meringue Torte
This complicated-looking Hazelnut Meringue Torte is actually very easy to make! A novice THM baker can totally pull it off! The trick is to bake your meringue at night and leave it in the oven while you're sleeping. You'll wake up to a perfect, low-carb meringue to use in this incredibly delicious torte! A THM S.

Prep Time 30 minutes

Cook Time 1 hour 30 minutes

Additional Time 13 hours

Total Time 15 hours
Ingredients
1 1/2 cups dry roasted hazelnuts
1 1/2 cups xylitol, divided
1/2 tsp xanthan gum
6 egg whites
3 cups whipping cream, divided
1 1/2 3.5 ounces 85% dark chocolate bars, coarsely chopped
1 Tbsp instant espresso powder
1 tsp vanilla extract
Instructions
Preheat oven to 275 F. Line 2 rimmed cookie sheets with parchment paper.
Add hazelnuts, 3/4 cup xylitol, and xanthan gum to a blender and blend until hazelnuts resemble small crumbs.
In a separate bowl, beat egg whites on high speed until stiff. Fold in hazelnut mixture. Divide and spread evenly onto lined cookie sheets. Bake at 275 for 1.5 hours. Leave in oven overnight to dry out.
In the morning, slice each meringue in half lengthwise. Stack the four layers on top of each other and square off with a knife until they are equal in shape.
To make the chocolate filling, heat 1 cup of whipping cream with 1/4 cup of xylitol in a saucepan until hot, but not boiling. Remove from heat and stir in espresso powder and coarsely chopped chocolate until smooth. Cool in the fridge for 30 minutes until slightly thickened and spreadable.
Beat remaining two cups of whipping cream together with 1/4 cup xylitol, and 1 tsp vanilla extract until stiff.
To assemble, place one meringue layer on a serving tray and spread chocolate mixture on top. Add the second meringue layer. Spread on a layer of whipped cream, followed by a layer of chocolate sauce. Top with third meringue. Spread on chocolate sauce. Top with final meringue layer. Spread remaining whipped cream on the top and sides of the cake. Drizzle remaining chocolate sauce on top. Garnish with coarsely chopped hazelnuts and grated chocolate, if desired.
Refrigerate for 2 hours before serving.
Notes
You can use Gentle Sweet instead of xylitol in half the amount.