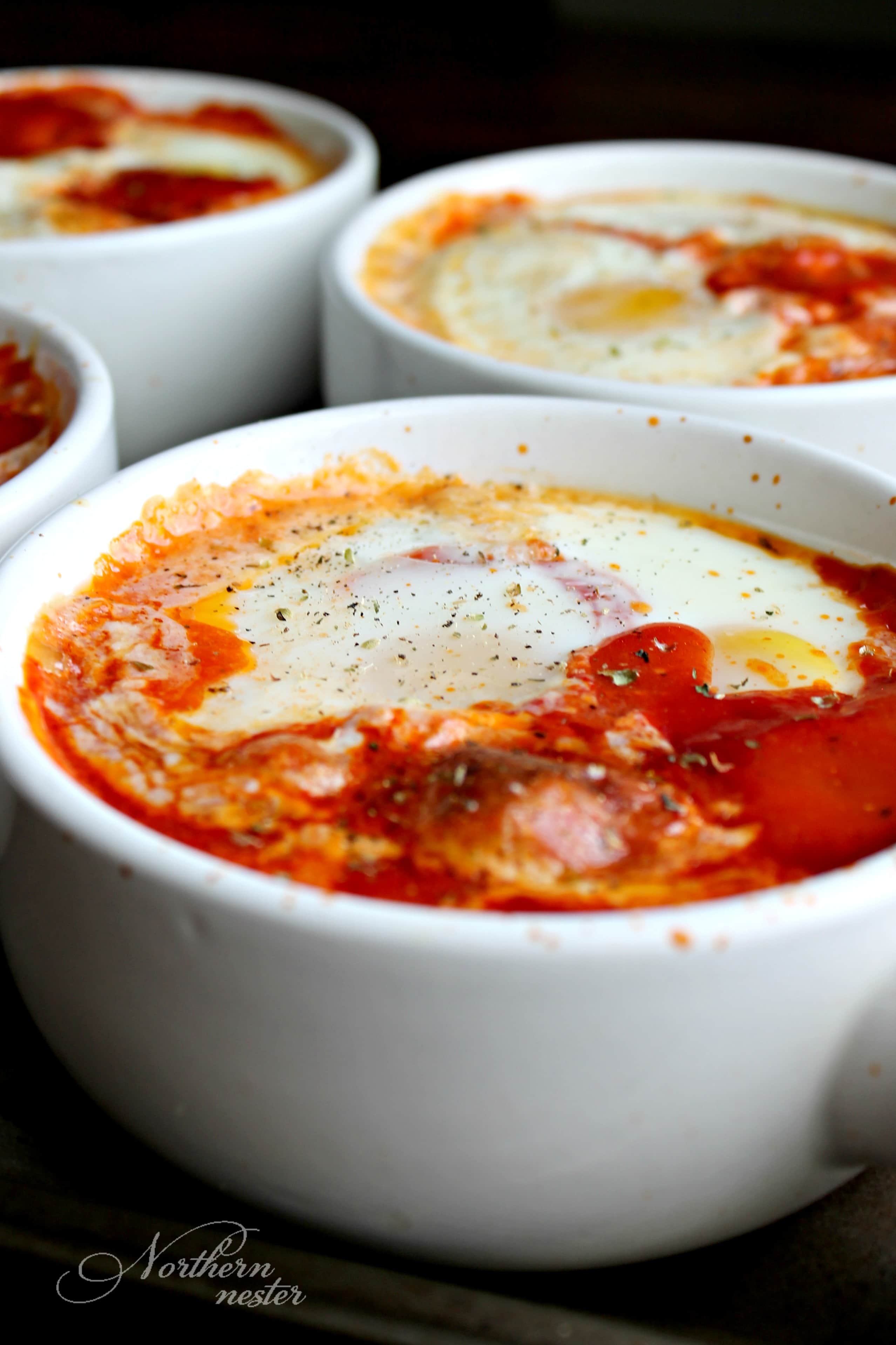 Looking for an exciting new way to enjoy those protein-packed eggs? Try Eggs Italian! This recipe is an ultra-frugal THM S meal that requires no special ingredients, can easily be adapted to large family or single serve needs, and takes just a few minutes to prepare!
All you need to make these individualized brunches or dinners are eggs (2 per person), a little olive oil or butter, a bit of freshly minced garlic and some finely chopped onion, a can of crushed tomatoes, sea salt, ground pepper, dried oregano, a splash of cream, and a few small chunks of mozzarella cheese. I like to bake my Eggs Italian in ramekins or oven-safe soup bowls, but you could also use a 9×13″ baking pan and bake the whole recipe in there.
Yield: 6 servings
Eggs Italian | THM: S
Prep Time 15 minutes

Cook Time 25 minutes

Total Time 40 minutes
Ingredients
1 tbsp olive oil
1/4 small onion, chopped
2 garlic cloves, minced
1 can crushed tomatoes
1 1/2 tsp dried oregano
sea salt and pepper to taste
6 Tbsp heavy cream
1 cup of mozzarella cheese, cubed
12 eggs
6 ramekins or soup bowls
Instructions
Preheat oven to 350 F. Set 6 ramekins or bowls on a baking sheet.
In a saucepan, saute onion in olive oil until clear. Add garlic and cook for another minute. Pour in crushed tomatoes and spices. Stir and heat through.
Divide sauce between soup bowls (approx. 1/4 cup in each bowl). Pour 1 tbsp of heavy cream in each bowl, and divide cheese evenly among each dish. Top each serving with two eggs. Bake at 350 for 25-30 minutes, depending on how runny you like your yolk. Serve immediately.
Notes
This meal can easily be turned into a crossover by serving with a crusty slice of spouted or sourdough bread.