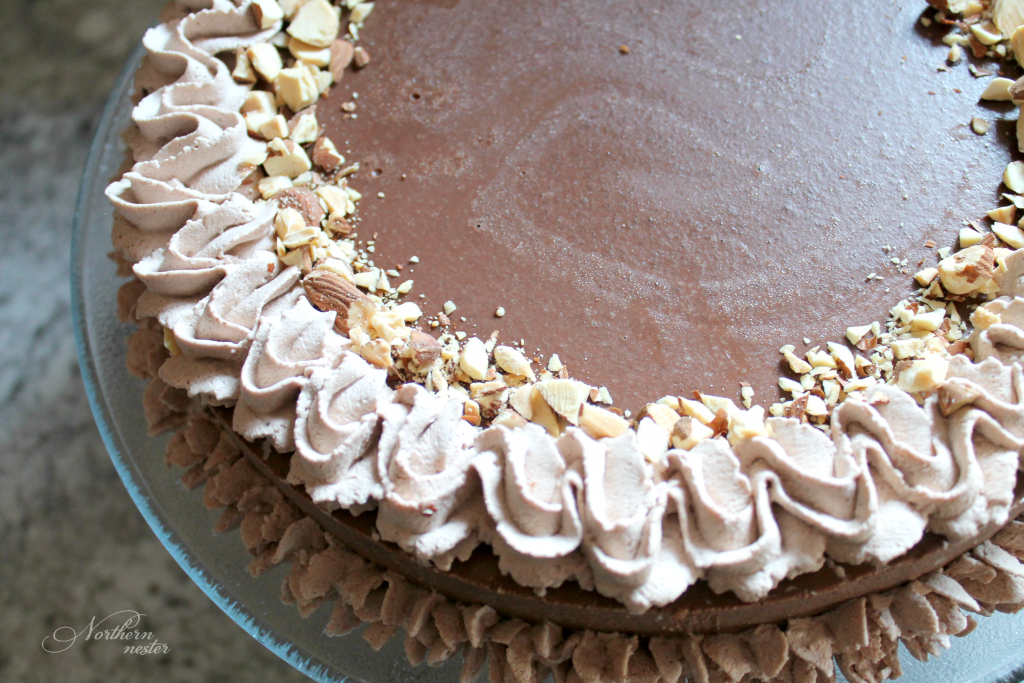 While I was eating Dark Chocolate Cream Dessert for breakfast one morning (have I mentioned how much I love food freedom and Trim Healthy Mama? Who else gets to do that and not have their blood sugar spike through the roof?!), it occurred to me that the texture and thickness would make perfect filling for a cake or torte.
In fact, the gelatin in the dessert helps it set so well, I decided to double the recipe, pour it over an almond flour crust in a spring-form pan, and see if it would hold it's shaped after being refrigerated. It worked out beautifully!
I garnished the top and sides by piping on some chocolate whipped cream and sprinkling on a handful of crushed, sea-salted almonds. The result was an incredibly easy, absolutely decadent cake that fooled everyone into believing I must have spent hours making it. No way, no how! This is a show-stopper that newbie THMs can easily pull off. You don't even need to turn on your oven.
I'd suggest saving this recipe for special occasions. Even though it doesn't use any special ingredients, 2 85% cocoa Lindt chocolate bars and a whole container of whipping cream can be pretty pricey. Plus, it's pretty calorie dense; having lots of people to share it with is probably better than consuming the whole thing yourself for breakfast over the course of two weeks (do as I say, not as I do).
Yield: 16-20 servings
Double Chocolate Almond Cake
Decadence at its simplest! This THM S cake is an impressive looking dessert that the most inexperienced baker can pull off.

Prep Time 15 minutes

Additional Time 1 hour 45 minutes

Total Time 2 hours
Ingredients
CRUST
1/4 cup butter
1 Tbsp xylitol
1 cup almond flour
FILLING:
3 cups heavy whipping cream
2 bars Lindt 85% chocolate
1/4 cup + 1 Tbsp xylitol (OR 2 1/2 Tbsp Gentle Sweet)
2 Tbsp gelatin
4 Tbsp cold water
FROSTING:
1 cup whipping cream
3 Tbsp xylitol
2 Tbsp cocoa powder
GARNISH:
Instructions
For the crust, melt butter and xylitol together until sweetener is dissolved. Stir in almond flour. Press into a 9" spring-form pan or pie dish. Bake at 350 F for 12-15 min. Cool while you're making the filling.
For the filling, melt cream, chocolate, and sweetener together over medium heat until simmering, but not boiling. Stir often until chocolate is completely melted and sweetener is dissolved. Remove from heat.
In a separate bowl, soften gelatin in cold water for 5 minutes. Scrape into whipping cream mixture and stir until gelatin is fully dissolved and incorporated. Pour over crust. Refrigerate for 2 hours or until set.
For the frosting, beat cream, sweetener and cocoa powder together until stiff. Spread or pipe onto torte, and garnish with slivered almonds.
Notes
This is a VERY rich S dessert. It's pretty calorie-dense, so save it for special occasions when you have lots of people to share it with. 🙂