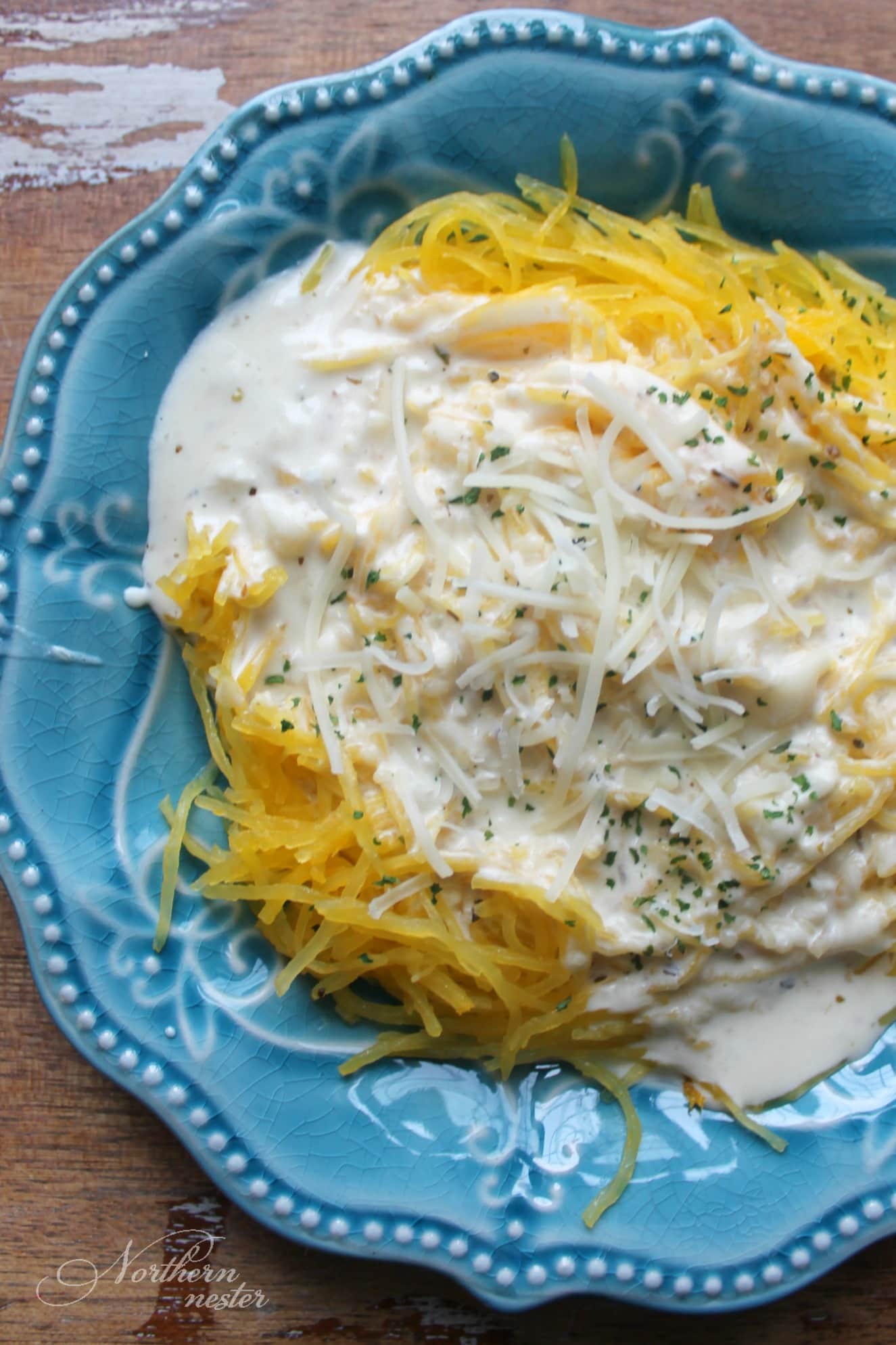 We had an ice storm and my husband's birthday over the weekend; those two things seemed like perfectly legitimate reasons to indulge in some low-carb, Trim Healthy Mama S comfort food! This Creamy Garlic Alfredo hit the spot! Brad and I had ours over a bed of spaghetti squash noodles, but this sauce would also work over zoodles, cooked chicken, or even Dreamfields pasta!
Funny thing is, Brad and I don't even care for spaghetti squash in most recipes. It has a sweet note of flavor to it that doesn't always pair super well with a savory sauce. Also, if it's not cooked long enough, the "noodles" can be unpleasantly crunchy. We both loved it buried under this Creamy Garlic Alfredo sauce though!
Why?
We couldn't even taste them.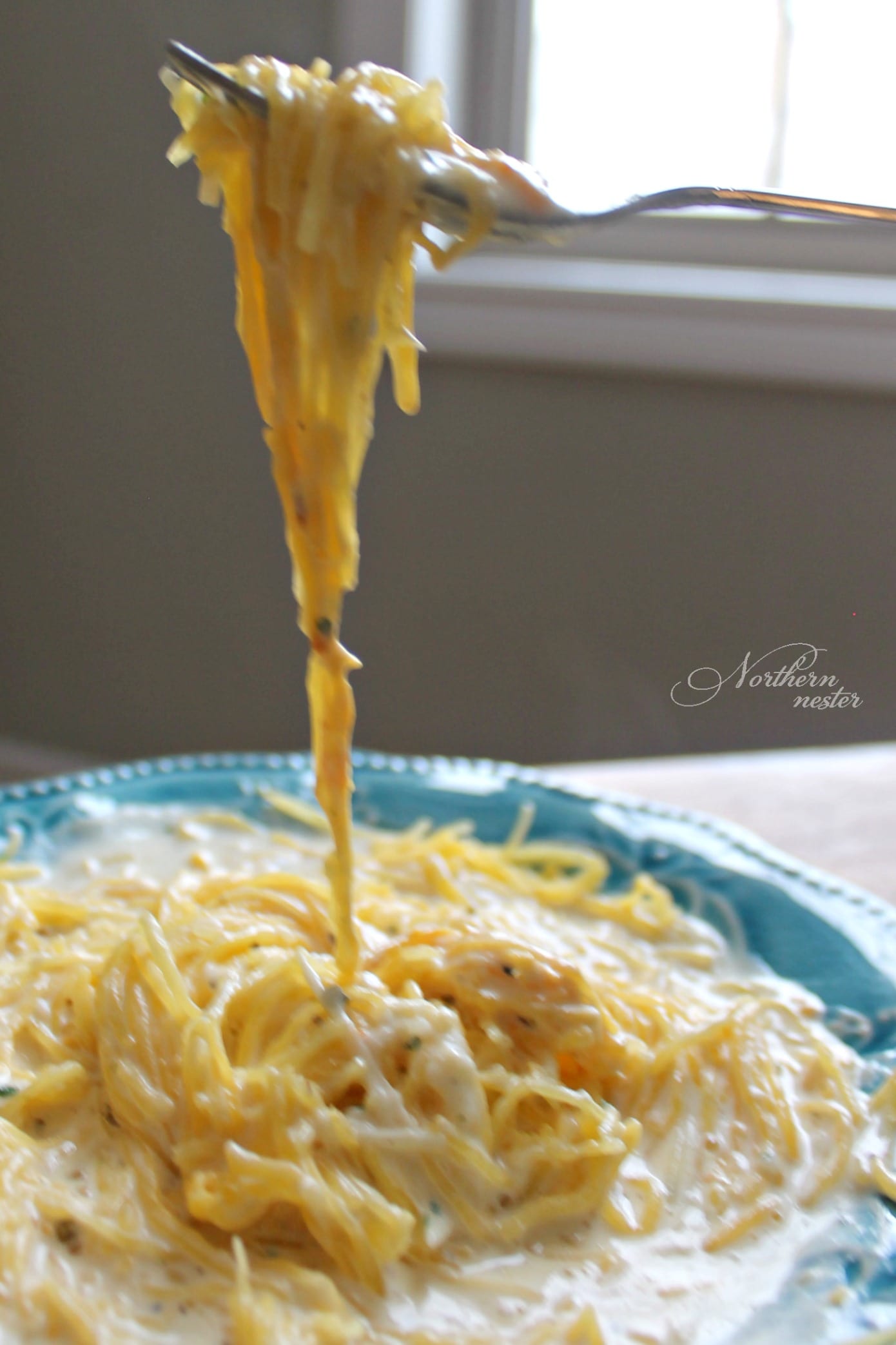 This Creamy Garlic Alfredo Sauce is so incredible flavorful, you can't taste veggies you choose to disguise underneath!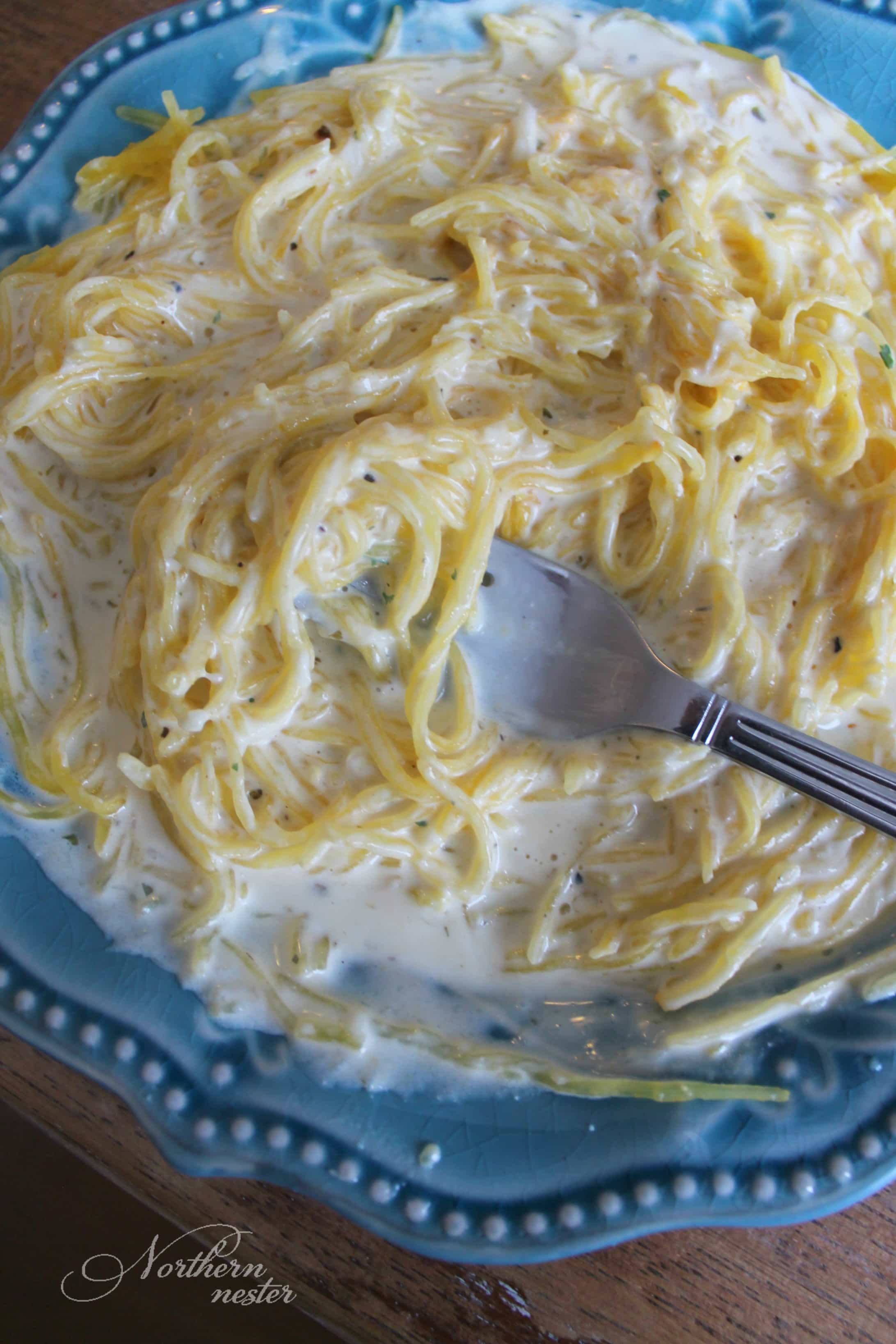 A dairy-heavy recipe, it's best to enjoy this Creamy Garlic Alfredo occasionally, but what a marvelous calorie-dense treat it is! Made without any special ingredients, you probably have everything on hand to whip it up for dinner tonight! You'll need:
butter
garlic cloves
heavy cream
cream cheese
Parmesan cheese
mozzarella cheese
parsley (fresh or dried)
spaghetti squash or some other low-carb "noodle"
I hope you enjoy this low carb comfort food as much as we did!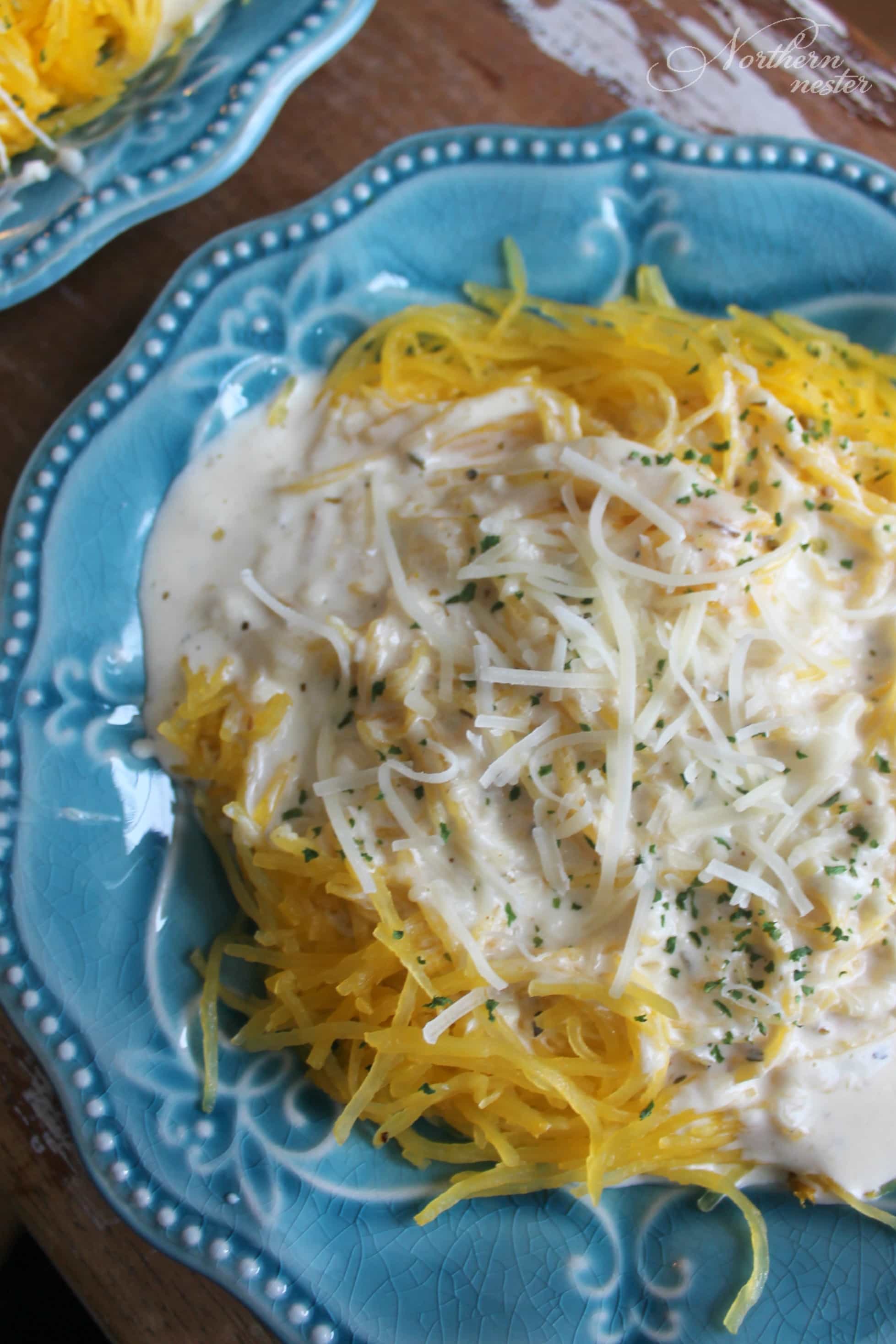 Want more Trim Healthy Mama-friendly Spaghetti Squash Recipes?
Check out this spaghetti squash round-up by MamaShire!
Yield: 5-6 servings
Creamy Garlic Alfredo | THM: S
This Creamy Garlic Alfredo Sauce is so incredibly flavorful, you can't taste veggies you choose to disguise underneath! A low-carb THM S with no special ingredients.

Prep Time 20 minutes

Cook Time 10 minutes

Total Time 30 minutes
Ingredients
1 Spaghetti squash *see note
1/3 cup butter
3 garlic cloves, minced
2 cups heavy whipping cream
4 ounces cream cheese
1 tsp Italian seasoning
1/4 tsp mineral salt
1/4 tsp ground pepper
1 cup grated Parmesan cheese
1/2 cup mozzarella cheese
chopped fresh parsley for garnish
Instructions
Pre-heat oven to 400 F. Cut spaghetti squash in half, length-wise and scoop out the seeds. Place on a cookie sheet and lightly brush the tops with olive oil, salt and pepper. Bake for 50 minutes. Use a fork to scrape spaghetti "noodles" into a bowl.
Meanwhile, in a medium saucepan, melt butter. Add garlic and cook until soft. Add cream, cream cheese, Italian seasoning, mineral salt, and ground pepper, and whisk until smooth. Add Parmesan cheese to sauce and simmer for 10 minutes until sauce is thick and smooth. Stir in mozzarella cheese smooth. Stir in spaghetti squash noodles (or serve sauce over top), and garnish individual servings with freshly chopped parsley.
Notes
Omit the directions for cooking the spaghetti squash if you're choosing to use zoodles or Dreamfields pasta instead.