Lead In: Playing pool is such a fun past time.
Both old and new can take up this game and the natural extension is to bring the game outside for an enhanced gaming experience.
Can you play pool outside?
When most people think about playing pool, they envision a smoky indoor setting with deep wooden wall paneling.
However, times are changing and the pool is now enjoyed by people of all ages in a wide variety of settings.
Pool tables are even being built to withstand the elements outside. You can find a great pool table built for any type of weather.
Or, if you have a covered area in your backyard, you can simply set up the pool table of your choosing.
If you're looking to enhance your backyard experience, these are five of the best outdoor pool tables to choose from.
5 Top Outdoor Pool Table
Imperial Outdoor Pool Table 8ft
Tap to view on Amazon
You really can't beat this durable outdoor pool table. It is strong, sleek, and a perfect enhancement to any backyard party.
Product Highlights
The Imperial Outdoor Pool Table is 8 feet in length, which is the standard home-use size.
It is constructed from strong but lightweight aluminum and the playing area is made from a waterproof cloth.
It includes two pool cues, two pieces of chalk, a set of balls, a triangle, and as a bonus, a waterproof cover.
What We Like
Includes a waterproof cover
Sturdily built
What We Don't Like
Not as stylish as traditional wooden pool tables
Uses blue chalk but the surface is a tan color
Pros
Includes adjustable foot pads
Great customer service
Cons
Lancaster Gaming Company 90 Inch Classic Design Pool Table
Intro
When you want regal sophistication, you will want to consider the Lancaster Gaming Company pool table.
Made from a warm, rich-colored wood with a burgundy playing area, you'll think you were transported back into a different era.
Product Highlights
The Lancaster Gaming Company Poo Table is a standard 8 feet in length. The table's legs are elegantly carved with claw-foot details.
You will receive the basic accessories, including two pool cues, a set of balls, a triangle, and two pieces of chalk.
What We Like
Includes drop pockets made of leather
Particleboard and felt cover make for a smooth playing surface
What We Don't Like
Not waterproof and will need to be stored elsewhere
Pros
Extremely stylish
Not too expensive
Cons
Only has a 90-day warranty
Heavy to lift
BARRINGTON 90 Inch Ball and Claw Leg Billiard Pool Table
Intro
When you love the pool but also want a bargain of a deal, it's time to consider the Barrington Pool Table.
Not only do you get a standard pool table in your purchase but you also receive a dartboard set for added enjoyment.
Product Highlights
Your purchase of the Barrington Pool Table gets you a lot for your money. Included is a 9-foot standard size pool table.
You will also receive a cue rack that has shelves for both your cues and all your balls.
Within the rack are a dartboard and dart storage for hours of entertainment.
What We Like
Comes in 3 color choices: red, green, tan
Includes two games in one
What We Don't Like
Cue rack requires its own space for storage
Pros
Includes traditional leather drop pockets
Lots of color choices
Cons
More expensive than just a simple pool table
Might take a while for delivery
Hathaway Maverick 7-foot Pool Table
Intro
For kids and adults that love to play games, the Hathaway Maverick Pool Table is the perfect purchase.
It can easily convert from a pool table to a table tennis court, allowing both young and old to engage in a bit of friendly competition.
Product Highlights
The Hathaway Maverick Pool Table is a bit smaller than standard home use as it is only 7 feet long, instead of the more traditional 8 feet.
However, this does make it perfect for kids to use as well as adults.
To make use of the table tennis court, simply place that board on top of the pool table and start playing.
What We Like
The two-in-one combo is a great deal
Includes all necessary accessories for both pool and table tennis
What We Don't Like
Design, while quality, is a bit basic
Pros
Durable construction
Easy to assemble
Cons
Smaller in size
Accessories are prone to wear and tear
Mizerak Dynasty Space Saver 6.5′ Billiard Table
Intro
Short on space but still want to be entertained?
The Mizerak Dynasty Billiard Table is the perfect solution. Measuring just 6.5 feet long, it is still capable of providing tons of fun but can fit a lot easier into tight spaces.
Product Highlights
The Mizerak Dynasty Billiard Table is touted as being a space saver, and that's just what it is.
While standard home pool tables are 9 feet in length, this is only 6.5 feet. It is perfect for kids and teens, or if you just don't have enough space for a longer table.
What We Like
Deep green felt is a classic color
An affordable purchase, especially for kids
What We Don't Like
Construction is good but basic
Pool cues are not that great and will need to be replaced
Pros
Includes leg levelers
Comes with a satisfaction guarantee
Cons
Quite a bit smaller than average
Best Outdoor Pool Table Buying Guide (What to consider)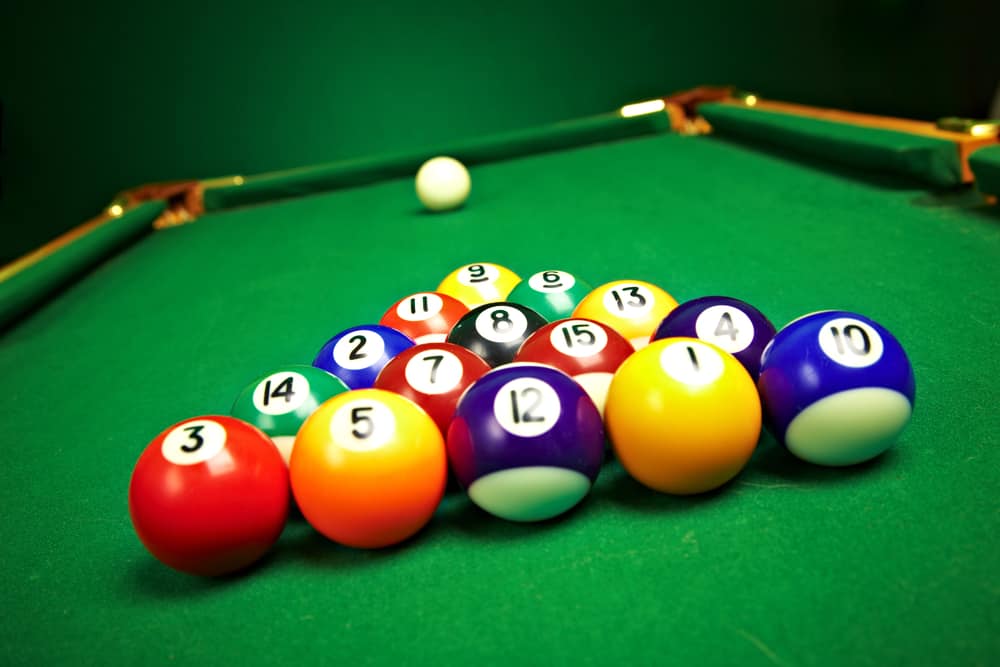 Construction/Sturdiness
Pool tables can be heavy, weighing up to 300 pounds. If you want to place your pool table outside, the lighter the better.
This way you can move it to a sheltered location when not in use, or store it properly over winter.
Size
Most home outdoor pool tables will measure 8 feet in length. This is perfect for the home amateur that just wants to have fun.
If you are trying to practice your skills for tournaments, then you will want a regulation size which measures 9 feet in length.
Just remember to measure the space you want to place your table and factor in at least 5 feet in clearance around the table to ensure the best shots can be made.
Material
Your outdoor pool table should be made of an aluminum metal frame. Not only is aluminum durable and rust-proof, but it is also lightweight, so you can easily move your table around.
As for the playing surface, expect a durable waterproof cloth that will allow you to still play well but will also not fall apart when exposed to the elements.
Accessories Included
Standard accessories that should be included in all pool table purchases are two pool cues, 1 set of balls, 2 pieces of chalk, and one triangle.
It's nice if a waterproof table cover is included although cheaper outdoor pool tables don't always have this accessory.
Waterproof
If you're going to place your pool outside it better be waterproof. Outdoor pool tables are normally made from rust-proof aluminum.
The playing area of an outdoor pool table will be covered in waterproof cloth, as well.
However, you always want to cover your pool table with waterproof cloth to ensure it has as long a lifespan as possible.
Maintenance
Outdoor pool tables are constantly exposed to the elements. If not maintained properly they will become damaged and ultimately broken.
If you can, set up your pool table in a covered area. This will help protect it from rain, sun damage, and even debris.
Once you are finished playing, always put your waterproof cover over your pool table. While the materials should be waterproof, even the most durable table will weaken over time.
Finally, if you can, store your pool table in a dry, covered area through winter. If snow accumulates on your pool table, it can soak through and ruin even the toughest material.
Related Questions
Can a pool table be kept outside?
As long as you purchase an outside pool table, then yes it can be kept outside. Inside pool tables have felt and wood that will quickly be damaged outside.
If you really want a traditional pool table to be outside, make sure it is covered and as protected as possible from the elements.
How long is a pool table?
A regulation size pool table will measure 9 feet long, or 100 inches x 50 inches. However, most home pool tables measure 8 feet long, or 88 inches x 44 inches.
The key to a pool table is in the ratio. As you can see, pool tables should maintain a 2:1 ratio for their length and width.
How do you set up a pool table?
You might think you can just place your pool balls inside the triangle in any manner, but there is actually a correct method to it.
The top ball in the triangle should be the 1-ball.
One bottom corner of the triangle should hold a striped ball and the other bottom corner should hold a solid ball.
The 8-ball should be in the very center of the triangle.
Once these key balls have been placed, you can randomly place the remaining balls. The result is a game that will be started purely by chance.
Conclusion
Pool tables are not just for inside anymore. An outdoor pool table is a perfect investment if you want to spice up your BBQ or you just want to enjoy a bit of fresh air as you battle your opponent.