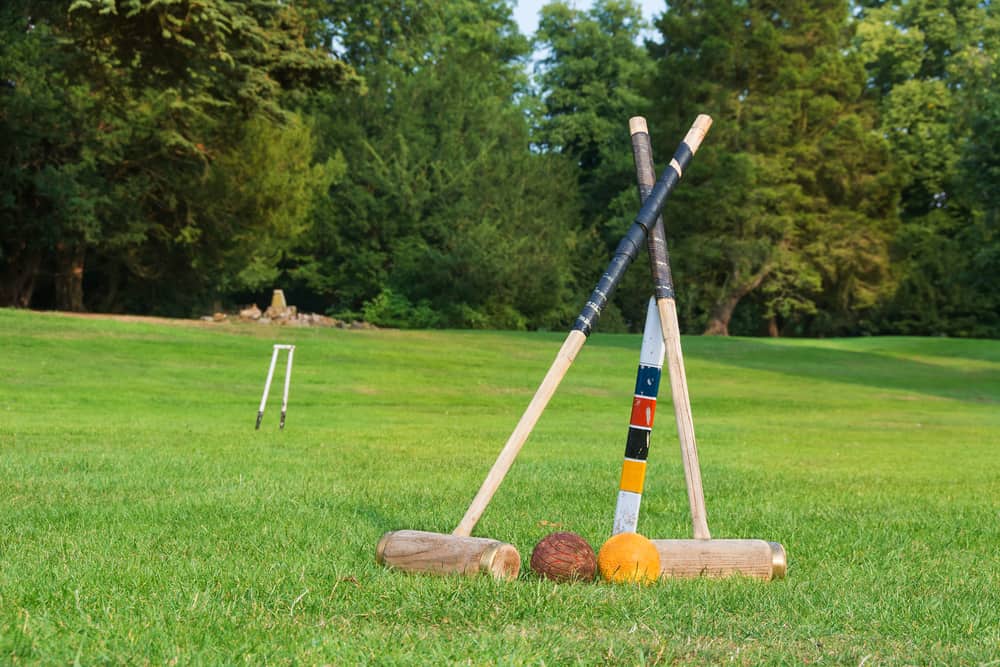 Ready to find the best croquet set? This fun, easy-to-play game, is perfect for all ages and a must for any backyard party.
What makes the best croquet set?
If you think back to your childhood, chances are you have a vague memory of playing a game of croquet.
This backyard pastime has been around for ages, and for a reason.
Even a good croquet set can be found for a reasonable price and because up to six people can play a game, it's perfect for any backyard get together.
Both kids and adults can play croquet, again making it a versatile hobby. When looking for the best croquet set, think about who will be playing it.
Look for a set that is made from quality, solid wood mallets and includes a set of balls in the right color palette.
A quality carrying case is also good to find so that you can store your settings in a way that protects it from the environment as well as allows you to transport it anywhere you need to.
Whichever croquet set you to decide on, your backyard will be transported into a world of fun and games.
To help you find the best croquet set, we've put together this list of five of the best options out there. Get out, enjoy your backyard and have fun with friends!
Best CROQUET SET Reviews of 2023
BroWill Croquet Set with Carrying Bag
Tap to view on Amazon
Bring some sophistication to your next croquet game. The innovative design of the BroWill Croquet set adds style and comfort to your game.
While most croquet mallets are 25 inches long, these mallets are an impressive 35 inches long.
For adults, this means a lot less bending over. For kids, this means owning a set that they can grow with and won't need to be replaced.
Product Highlights
The BroWill Croquet Set comes with six mallets. They are in a black veneer with colored stripes which is in sharp contrast to the more traditional light wood color.
The mallets are made from strong eucalyptus wood. They are then treated with a lacquer which makes them both durable and weather resistant.
As for the balls, they are made from high-density polyethylene. This durable material means less worry about cracking or deteriorating due to environmental factors.
Also included is a carrying bag with anti-wear corners for added durability. The black bag has a nice, bright blue zipper on it and two handles for easy carrying.
Inside the bag is a spot for everything. There is no worry about items knocking against each other.
The bag is quite large so you can fit the croquet mallets in without having to take them apart. This leads to much better convenience and less wear and tear on your set.
There are also nine posts and two center pegs for added set-up versatility. You can create no shortage of fun with all of these pieces.
Some croquet sets only come with six posts and one peg, so having these extras means you can take advantage of a large playing field and set up more complicated courses.
What We Like
35-inch mallets add more comfort for adult players
Carrying case is extremely portable
Large bag means you don't have to take apart mallets for storage
What We Don't Like
Large mallets not suitable for younger kids
Balls are a bit lighter than other models
Pros
Easy-to-use carrying case
Large-sized mallets
Stylish design
Premium croquet set
Cons
Best for adults only and not little kids
Baden 6-Player Champions Croquet Set with Soft Grip Handles
Tap to view on Amazon
If you're into sophistication, you will want to check out this Baden Croquet Set.
Its lofty price tag may be out of range for most people's budgets but if you can afford it, you won't be disappointed.
It is styled in a classic, colorful design and has enough pieces for the whole family.
Product Highlights
Included in the Baden Croquet Set are six mallets.
The mallets are constructed from durable cottonwood and are striped with six classic colors.
The light color of the wood makes for a pleasing contrast with the deep colors.
The mallets are 33 inches long which makes them ideal for adults. Even if you suffer from a bad back, you can still play with comfort in this game.
The handles also feature comfort soft grips. Take a moment to position yourself and find your best grip and then let your swing hit the ball in an accurate manner.
With this set, you also get six croquet balls. They are made from poly-resin which is durable and long-lasting.
Also included are nine wickets and two scoring posts.
An official croquet rulebook rounds out the package, allowing you to navigate the game without any disputes.
The Baden Croquet Set has a lovely black carrying case included which allows for easy cleanup and storage.
The outside is weather-resistant and will protect your croquet set from the elements.
The bag is a tight squeeze, however, and you will have to detach the mallets from their heads for storage.
While the price is a bit steep, there is a 90-day satisfaction guarantee.
Whenever you're purchasing a new product, there's always a bit of trepidation.
This function can reduce your fears and let you try out your new croquet set to make sure it's exactly what you want.
What We Like
Soft grip handles and long length increase comfort while playing
The included rule book is perfect for beginners
Storage case helps protect your new set
90-day satisfaction guarantee gives nice peace of mind
What We Don't Like
You need to take the mallets apart when storing in the bag
The price is out of budget for a lot of people
Pros
Comfortable to use
90-day guarantee
Nice, complete package
Cons
Juegoal Six Player Croquet Set with Carrying Bag
Tap to view on Amazon
Want to start playing croquet but aren't sure if you're going to like it?
Or maybe you need a cool birthday gift for a kid?
The Juegoal Croquet Set is the perfect starter kit. It has everything you need all within a very appealing price point.
Product Highlights
The six mallets that are included in the Juegoal set are made from hardwood and not prone to breaking.
The mallet heads have plastic end caps for added protection from wear and tear.
They are 28 inches in length which, while great for kids, does mean that adults will have to bend over to play.
If you're used to this smaller height, the mallets will be just fine but anyone approaching the six-foot height range will probably not feel very comfortable with this set.
Also included are six molded balls that are weather resistant. There are nine steel wickets and two wooden goal stakes.
Each mallet has a ball with a corresponding color and the colors are slightly more whimsical shades than traditional sets.
Again, this makes them more appealing for kids getting into this fun pastime.
Surprisingly, given the affordable price, the Juegoal Croquet Set also includes a carrying case.
The case itself is quite long so you don't need to disassemble the mallets.
Anything that makes storing your toys is always a bonus.
Unsurprisingly, given the price, though, is that the construction of the mallets leads a bit to be desired.
Repeated unscrewing and screwing of mallet heads can lead to the wood quickly deteriorating.
It's best to be aware of this before use and keep the dismantling to a minimum.
If, however, this problem does arise and it becomes too hard to screw your mallet back together, a bit of wood glue can fix the problem.
What We Like
The affordable set is perfect for beginners and children
Comes in bright, whimsical colors
Set even includes a carrying case
What We Don't Like
Short mallet length can lead to uncomfortableness
Repeated unscrewing of mallet heads can lead to broken threads.
Pros
Very affordable
Includes everything you need
Cons
Mallet length is too short
Not as stable construction
Harvil 6-Player Croquet Set for All Ages
Tap to view on Amazon
Want a bit of choice when it comes to your next croquet set?
With the Harvil Croquet set, you can choose between three color schemes with corresponding stylish carrying bags.
Product Highlights
The Harvil Croquet set is perfect if you're torn between a smaller mallet size and a larger full size.
Coming in at 30 inches, the mallet height is a nice compromise and should work for most people, adults and kids alike.
To begin with, you will want to choose your color scheme. There is a traditional, light wood color with more pastel-colored balls.
You can also choose a dark grey color with darker pastel-colored balls.
Finally, you can step outside the box and choose a light grey color for the mallets.
For each color scheme, the carrying case is also different and tries to match up with the color of the mallets.
As for the pieces of this croquet set, you will get six croquet mallets.
They are made from hardwood with bamboo ends made to be chip-resistant. This is a quality set.
There are also six polymer balls made to be durable as well as two goal posts and nine steel wickets.
The wickets actually have a vinyl coating on them which will prevent rust and provide long-lasting playtime.
With the carrying case, you can store all of your pieces although you do have to dismantle the croquet mallets to fit them in.
There are elastic straps within the case to hold everything together.
Included with your purchase is a warranty.
The customer service is quite reputable, and they promise to quickly ship new parts in the case of damages or defects.
And, if you're not completely satisfied, they also offer a full refund within the warranty period.
There have been some issues with the mallet heads not screwing on properly, so be sure to check for this issue right away and contact the manufacturer for a replacement.
What We Like
You have the ability to choose from three color options
Price is affordable and comes with great pieces
Solid warranty and customer service
What We Don't Like
Mallet construction is good but not great
You need to unscrew the mallets to store in case
Pros
Good customer service
Multiple color options
Cons
Not as high-end as other croquet sets
ROPODA Six-Player Deluxe Croquet Set
Tap to view on Amazon
The ROPODA Croquet Set adds a touch of sophistication to this fun game. Made from a cherry-stained hardwood, the mallets look regal in anyone's hands. If you're in the market for a housewarming gift, this may just be the winner.
Product Highlights
Within the ROPODA Croquet Set, you will get six high-quality croquet mallets. There are also six balls, nine stakes, and two pegs.
The mallets are 31 inches in length, which makes them comfortable to use by both kids and adults.
The croquet balls come in a rainbow of colors although in more subdued shades, adding a bit of sophistication to them.
The croquet mallets are covered in a solid resin that protects them from the elements as well as hard use. This is a set that will last a long time.
While there is a carrying case included, it leaves a lot to be desired.
Basically, the bag is a place to put your croquet pieces in but in a haphazard manner.
Other carrying cases will include straps to store your mallets and balls so that they don't knock around and become damaged. With this case, there are no straps.
The case will technically protect your items from weather damage but be careful when transporting the case as too much-repeated movement can quickly lead to premature wear and tear.
What We Like
Set is affordable for most people
Design is sophisticated and perfect for both kids and adults
Mallet and ball construction are heavy-duty
What We Don't Like
Carrying case doesn't have separate compartments for pieces which can lead to breakages
Pros
Affordable
The set looks really good
Cons
Carrying case is not very good
Best Croquet Set – Things to Consider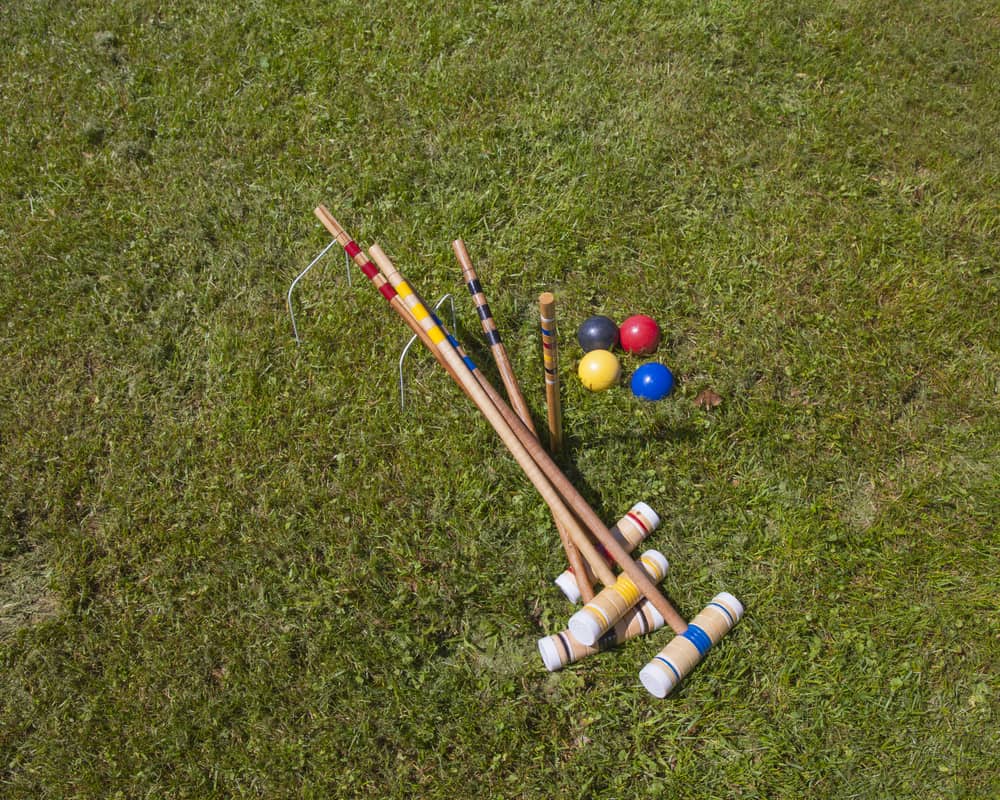 Mallets
Length
Croquet mallets range in length from 25 inches to 35 inches.
You can expect some amount of bending over but depending on your height you might want to lessen this amount.
Finding a larger-sized mallet length means taller people can have a more pleasurable experience.
However, too large mallets are not suitable for kids.
Think about who will be using your croquet set the most and then find an appropriate length to accommodate players.
If both kids and adults will be playing, it's best to find a medium-length set.
Weight
Croquet mallets will weigh about 3 pounds. You can expect longer mallets to weigh a bit more.
This is a nice weight and even little kids shouldn't have issues picking up their mallet.
If you're particularly worried about little kids being able to hold a croquet mallet, some mallets weigh as little as 2 pounds and would be perfect for small hands.
Shaft
The shaft of a croquet mallet will have colorful stripes that correspond with your ball color.
More innovative mallet shafts will have better grip options.
This can include either a rubber grip or a grooved wooden area.
Whatever the grip area, take some practice swings to find your comfort zone.
Head Shape
The head of a croquet mallet will protrude on either end and have a flat surface with which you will be hitting the ball.
More heavy-duty mallet heads will include a cap, made from either a tougher wood or plastic, to protect itself from the repeated ball hitting.
Balls
Typical croquet sets will include six mallets and six balls.
However, no matter how many mallets are included in a given set, there should be an equivalent number of balls.
Croquet balls are typically made from a polymer made to be incredibly durable.
The outside resin should repel water and make for a ball that can withstand environmental factors.
For color, each ball will be a different shade, typically within a rainbow spectrum so that it's easy to tell one color from the other.
Within these colors, different sets may have bright colors, pastel colors, bright, or even muted shades.
Stakes
Two stakes should be included with your croquet set. One is placed at the beginning of the field, behind the two starting wickets.
The other stake is placed at the far end of the field, on the other side of a different two wickets.
These stakes need to be hit with the balls so premium construction is paramount. If the stakes aren't built solidly, they won't last long.
Wickets
You can expect between six and nine wickets for game setup.
Wickets are usually made of steel which allows you to easily place the wickets into the ground.
Look for wickets that are coated to add protection from the elements. It's no fun playing with rusty wickets.
Add-ons
Corner pegs
If you want to designate a field of play, corner pegs can help create that space.
If these are not included, you can simply improvise and use any large objects to designate the corners.
Boundary string
Technically, you can set up a croquet game however you want it. In fact, that's one of the biggest appeals of this game, in that it is so versatile.
However, if you want to play by official rules, having boundary string can dictate clear boundaries so you can award penalties for anything that goes out of bounds.
**Searching for a great indoor game? Check out Professor Noggin's Card Games here!!**
Related Questions
What comes in a croquet set?
Croquet sets should all have the same basic parts.
There should be at least two croquet mallets although most will have four or more mallets. There should be two center peg and six to nine hoops. There should also be as many balls as there are mallets.
Each mallet will have colored stripes that have a corresponding colored ball.
How do you set up a croquet set?
There are many ways to set up your croquet game.
For a basic setup, start by placing a peg where you want to start. Then, place the other center peg down the field from your peg.
Place two hoops in front of the starting peg and two hoops in front of the other peg.
The remaining four hoops can be set up with two on each side of the centerline.
This way you can play in a zig-zag motion until you hit the center peg, at which part you would then have to hit the ball back through the starting hoop.
How many mallets are in a croquet set?
A croquet set will have between two and six mallets. You should have the same amount of balls as you have mallets.
The balls will all be different colors and the mallets will have different colors of stripes on them, to indicate which color you are.
How do you hold a croquet mallet?
There are different ways to hold a croquet mallet and really, it all comes down to what feels the most natural.
You can hold a croquet mallet similar to a golf club where you line up your knuckles and place both thumbs on the top side of the mallet.
Another way is to grip the handle with two fists and have all your fingers on the top side.
Yet another grip is a combination of the two. You can place your thumb on the front of the grip with one hand and make a fist with your other hand.
Before you play any croquet, take some time to play around and get a feel for the mallet.
Can you put your foot on the ball in croquet?
If you take notes from the movies, it may seem natural to put your foot on the ball in croquet, usually in an attempt to move around a teammate's ball.
However, if you look closely at the rules, putting your foot on a ball is actually prohibited.
However, if you really want this to be a part of your game, it's best to hash it out with your teammates before you start a croquet game.