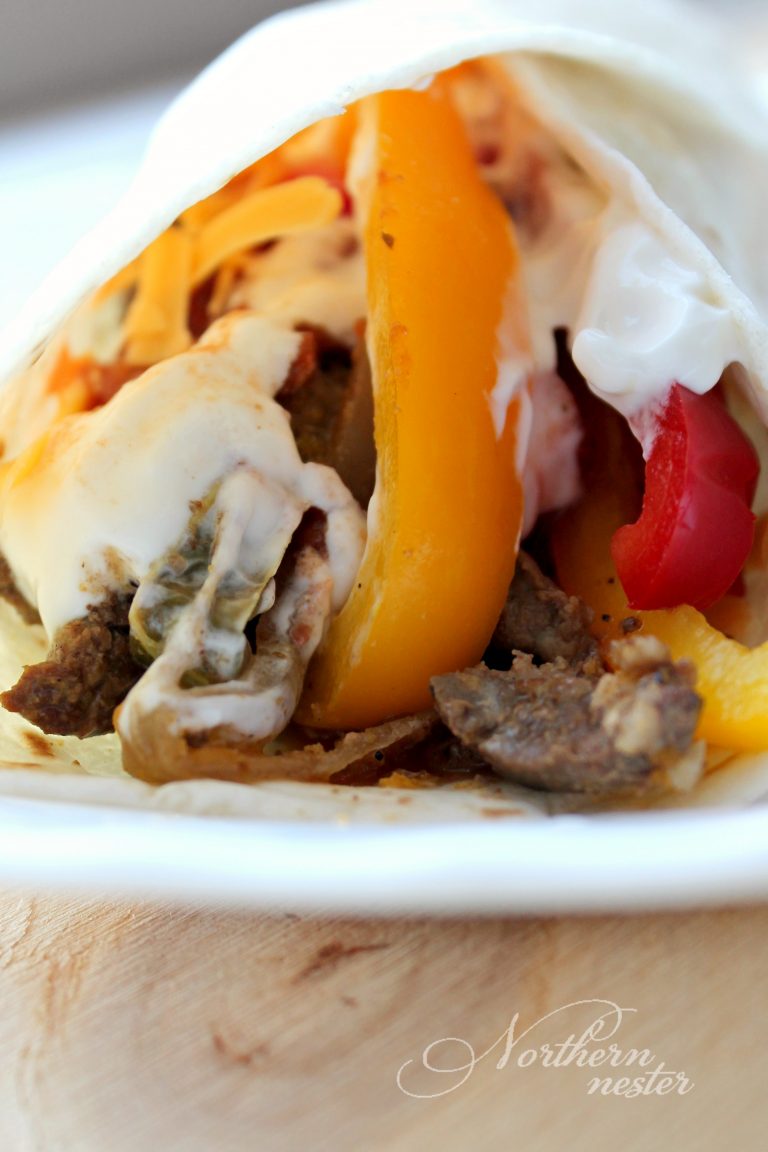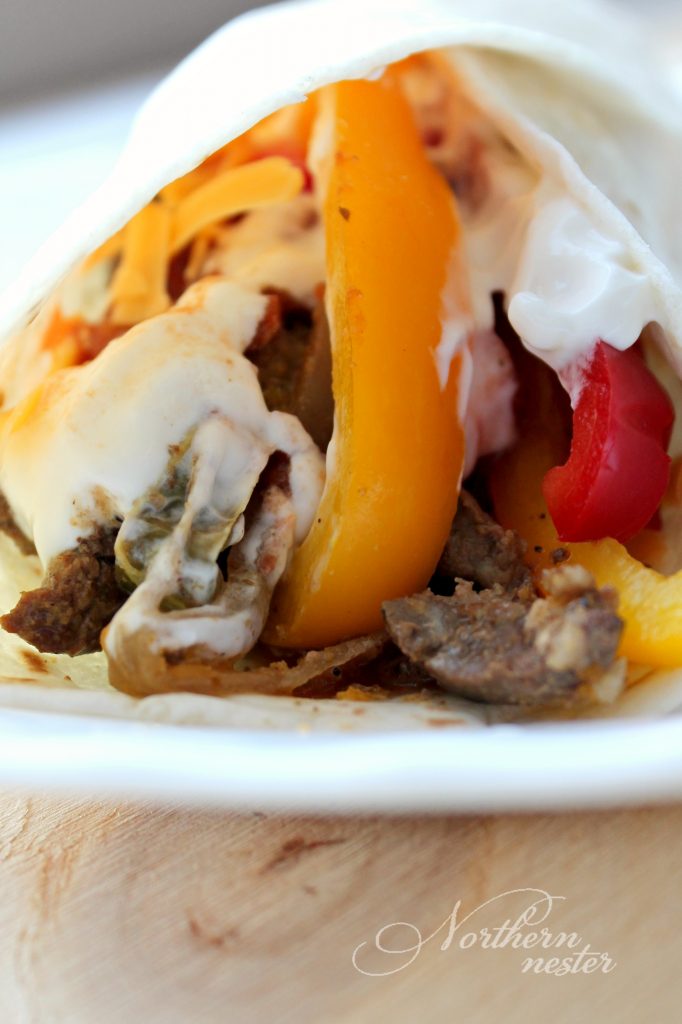 These Slow-Cooker Steak Wraps are my go-to meal during this busy holiday season! I can prepare them in less than 10 minutes while the kids are eating their lunch. The slow-cooker takes care of the rest and by dinner, one of my hubby's favorite meals is hot and ready.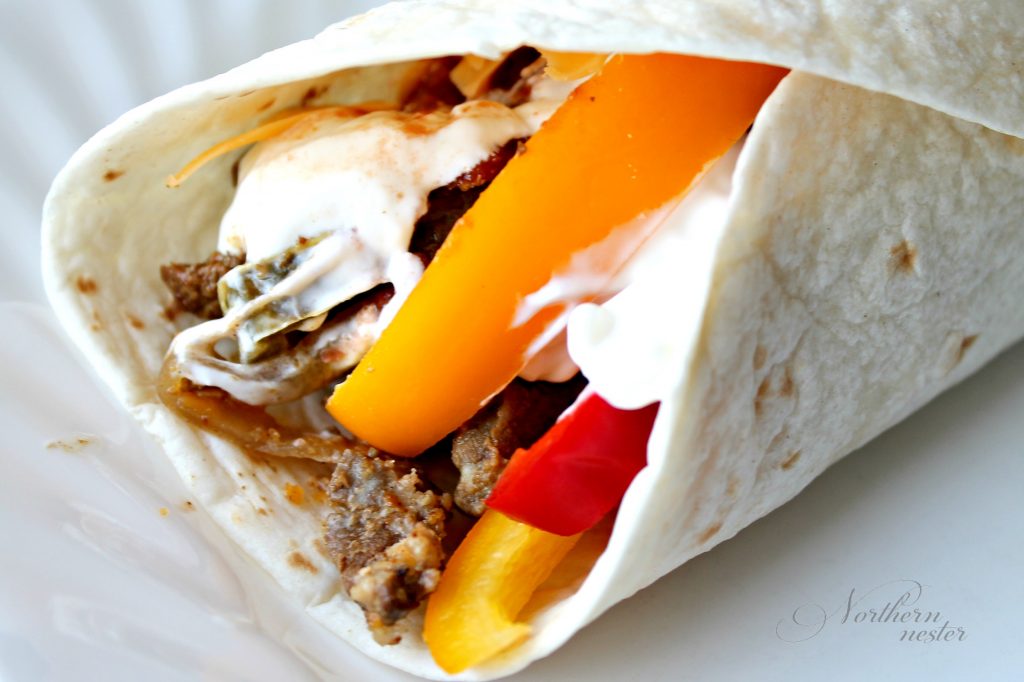 Beef steak strips are sometimes too chewy when they're pan-fried. Browning the steak strips in butter first and then transferring them to the Crock Pot with the juices, a green pepper, onion, garlic, and some spices produces a tender, flavorful filling that works perfectly in a low-carb wrap (Joseph's are a great choice!).
This is a Trim Healthy Mama-friendly S meal, which means you can top off your wrap with sour cream, salsa, cheese, lettuce, and more peppers 'til your heart's content!
Yield: 4 servings
Slow Cooker Steak Wraps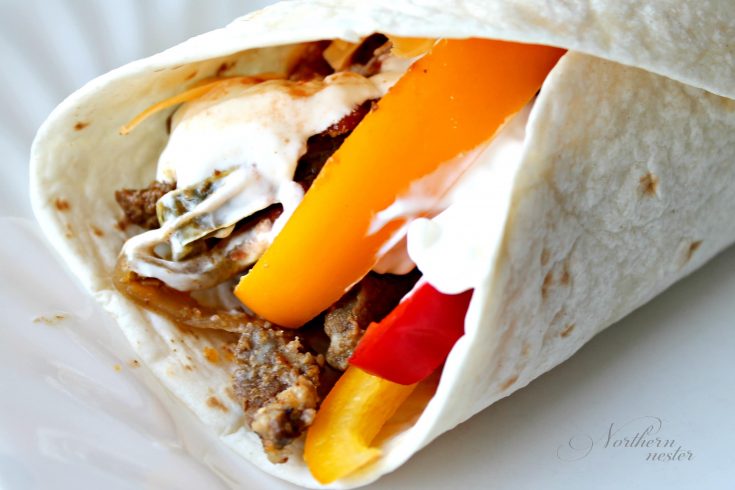 Your supper can be made ahead in a jiffy with these THM S Slow Cooker Steak Wraps. 10 minutes of preparation at lunch time is all it takes; the crock-pot takes care of the rest.
Total Time
4 hours
10 minutes
Ingredients
1 lb sirloin steak strips (or any other steak, cut into strips)
1 green pepper, sliced
1/2 small onion, sliced
2 garlic cloves, minced
1 Tbsp butter
1 tsp cumin
1/2 tsp chili powder
1/2 tsp mineral salt
1/4 tsp black pepper
4 low-carb wraps
Instructions
Melt butter and brown steak strips in the frying pan. Transfer steak and drippings to crock-pot. Sprinkle on seasonings and layer on vegetables. Cook on low for 3-4 hours. Use tongs to add steak to wraps. Discard leftover juices, or save them for another use.
Notes
You can top these steak wraps with cheese, sour cream, salsa, avocado, or more peppers if you'd like!
You can add peppers of other colors to the slow-cooker, but be aware that red and orange peppers will shed their skin You'll want to remove the papery skins before serving. Green peppers work best for slow-cooking.
Remember to limit your net carbs to 5g or less to stay in S territory. That means you'll be able to have one (possibly two, depending on the brand) very stuffed wrap.