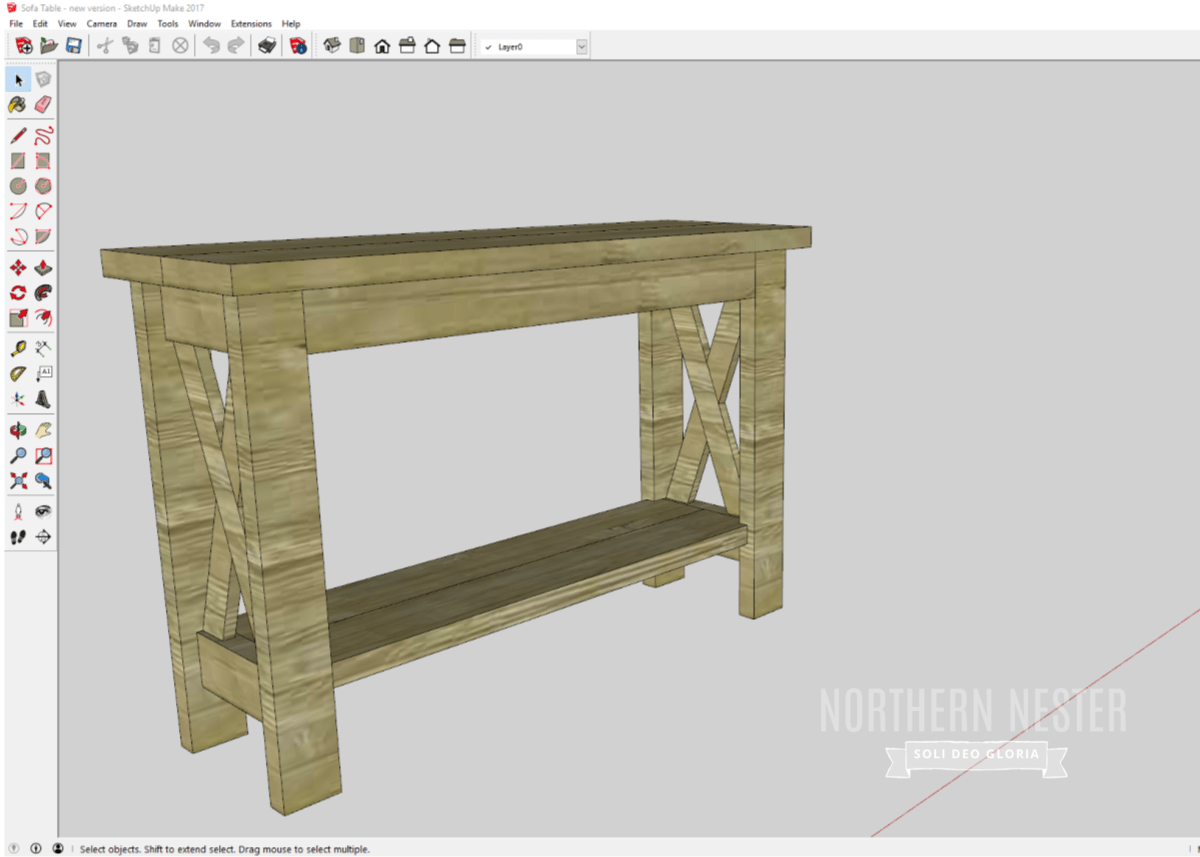 Thinking of a concept for a design can be a challenge, let alone rendering your design idea to a visible concept. This is where the use of 3D modeling software comes in. For those who are unfamiliar, SketchUp Make is the free version of SketchUp Pro – a popular 3D modeling software.
The software, which was previously known as Google SketchUp, is a 3D modeling software that is used for a wide range of drawing applications such as interior design, landscape, and architecture.
Due to its versatility, it's also increasingly being used for many different types of applications, from civil and mechanical engineering to designing movies and video games. It also offers those who like to take on DIY woodworking projects to see what their completed project is going to look like and share plans with others.
Those are just a few of the reasons SketchUp Make is the 3D modelling (CAD) software we recommend for woodworkers.
Here's a link to the SketchUp Download page.
The version we are talking about here is the free SketchUp Make 2017:
Here's a video from Ron Paulk showing the difference between SketchUp Make vs SketchUp Pro; it also serves a nice intro so you can see what is possible with SketchUp Make:
Why Use SketchUp Make?
SketchUp Make is a free and easy-to-learn 3D-modeling program that gives you access to a few important tools, allowing you to create efficient and detailed 3D models of houses, home renovations, decks, patios, sheds, along with 3D models of woodworking projects.
SketchUp Make allows users to easily add in details, glass, and various textures to their models. For DIY woodworking enthusiasts, the software provides dimensional accuracy and can lead to better project results. Using various plugins, you can also use it to generate your project cut list.
We love to to use it to help generate cut lists, and also for figuring out difficult angles.
We also love that it makes it nice and easy to share our projects with you!
Best Free 3D Modelling Software
SketchUp Make is a free version of the 3D modelling software that can be used for home or commercial projects. It begins with the 30-day trial of the SketchUp Pro version, after which, users can agree to the Terms of Service and continue to use SketchUp Make for free.
Since the developers of the software want to help users migrate to the SketchUp Free version, there have not been any updates to SketchUp Make. That being said, the installer is still active and available for download by those who are interested in using Sketchup Make.
Free SketchUp Courses
SketchUp has recently launched some excellent courses to help beginners or advanced users progress. They are excellently done and very comprehensive.
You will need to create a Trimble login to access it, but it is totally free and highly recommended. Once you've created a login, you can access the courses here.
The Units currently available are:
SketchUp Fundamentals
This comprehensive SketchUp course does what it says on the box and will rapidly have you feeling quite comfortable using SketchUp.
It contains 12 courses:
Quick Start – Description: "Jump right into creating your first model in SketchUp. We'll introduce several of the tools and techniques that you will use often in SketchUp." 11 lessons

Getting Started: 1 Quick Start
Getting Started 2: Navigation
Getting Started 3: PIllars
Getting Started 4: Components
Getting Started 5: Platform
Getting Started 6: Circles
Getting Started 7: Array
Getting Started 8: Steps
Getting Started 9: Slide
Getting Started 10: Color
Course 1 Review

Core Concepts – Description: "Understanding how edges and surfaces behave and the underlying concepts of SketchUp." 5 lessons

Edges and Surfaces
Inferences
Inference Challenge
Blue Axis
Course 2 – Review

Push Pull – Description: "Push Pull tool." 2 lessons

Push Pull
Course 3 – Review

Accuracy – Description: "Understanding accuracy in SketchUp and the Tape Measure tool." 3 lessons

Accuracy
Tape Measure Tool
Course 4 – Review

Drawing Tools – Description: "Reviewing the drawing tools: circles/polygons, arcs, rectangles, freehand, offset and eraser." 7 lessons

Circles and Polygons
Arcs
Rectangles
Freehand
Offset
Eraser
Course 5 – Review

Selections – Description: "Overview of the selection tool and modifiers." 2 lessons

Selections
Course 6 – Review

Grouping – Description: "Grouping concepts" 2 lessons

Grouping Concepts
Course 7 – Review

Components – Description: "Overview of components, component browser and introduction to nesting." 2 lessons

Components
Course 8 – Review

Layers – Description: "Overview of Layers and how they differ from other programs." 2 Lessons

Layers
Course 9 – Review

Move Tool – Description: "Move tool, including manipulating geometry, autofold and copy/array." 5 Lessons

Move Tool
Manipulate Geometry
Autofold
Copy and Arrays
Course 10 – Review

Follow Me – Description: "Using Follow Me including lathed objects" 4 Lessons

Follow Me
Follow Me -Lathe
Follow Me -Practice
Course 11 – Review

Inference Locking – Description: "Inference locking with arrow and shift keys" 3 Lessons

Inference Locking
Inference Locking Practice
Course 12 – Review
Rendering: SketchUp to Photoshop
This fun and easy learning track demonstrate the process for setting up specific scenes with rendering styles applied in SketchUp in order to export and enhance using Adobe Photoshop.
It contains 3 courses:
Creating & Exporting Scenes in SketchUp – Description: "Here we'll provide a brief overview for the goals of this track along with the process of working with scenes, styles and shadows together to create specific exports for post-production in Photoshop." 6 lessons

Getting Started
Model Overview
Layers Overview
Styles & Scene Setup
Exporting Scenes
Course 1 Review Quiz

Post-Processing Scenes in Photoshop – Description: "This course walks you through the process of importing and working with your SketchUp scene exports in order to modify the look and feel of the SketchUp view, transforming it into a one of a kind illustrative. This exclusive method is repeatable, meaning it's not dependent on the model, scene or artistic styling of the creator." 10 Lessons

Importing Scenes into Photoshop
Photoshop Layer Organization
Base Color Overlay
Shadow Adjustments
Linework Adjustments
Entourage Adjustments
Effects: Paper
Effects: Color Wash
Final Adjustments
Course 2 Review Quiz

Bonus: Ground Level Walk Through – Description: "This course takes all the techniques learned in the previous two courses and applies them to an additional view – this time from the ground. This walk though explores how the process is applicable to a number of different model and rendering conditions and still achieves a consistent and beautiful result." 2 Lessons

Ground Level Walk Through
Course 3 Review Quiz
LayOut Essentials
Want to share your SketchUp model with others? Turning 3D models to 2D documents and presentations have never easier using LayOut. This track is intended for beginners who have never opened LayOut before but are familiar with the basics of SketchUp Pro.
It contains 3 courses:
Getting Started in Layout – Description: "Get started using LayOut by learning several ways to create new documents from scratch while also exploring the LayOut's interface, preferences, drawing setup, and customization features." 6 Lessons

Getting Started
Creating New Document
Preferences Overview
Document Setup & Customization
Document Navigation
Course 1 Review Quiz

Tools Overview – Description: "Explore and practice creating custom content with each of LayOut's drawing and annotation tools." 7 Lessons

Selection
Drawing Lines
Drawing Arcs
Drawing Shapes
Adding Text
Labels & Dimensions
Course 2 Review Quiz

Modifying & Styling Content – Description: "In this course, we'll take our lines and shapes to the next level by learning how to edit and apply different styles to them." 7 Lessons

Working with Objects
Modifying Lines
Moving & Copying Objects
Rotating, Scaling, & Arranging Objects
Styles: Fills & Patterns
Styles: Stroke
Course 3 Review Quiz

Working with References – Description: "Learn how to insert, style and annotate various drawing references such as SketchUp models, raster images and CAD dwgs." 11 Lessons

Pages Overview
Inserting Model Reference
Changing Model Scenes
Creating & Applying Model Styles
Adding Labels to Model Reference
Dimensioning a Model Reference
Stacking Views
Reference Images & Clipping Masks
Working with CAD Files
Scaled Drawing
Course 4 Review Quiz

Layers, Scrapbooks, Templates & Tables – Description: "Once we have a model referenced, we can add additional details and content to help complete our document set." 6 Lessons

Working with Layers
Title Blocks & Templates
Scrapbooks
Tables: From Scratch
Tables: From Spreadsheet
Course 5 Review Quiz

Presenting & Exporting – Description: "Finally, learn how to share your document with others by exploring LayOut's awesome built-in presentation and exporting tools." 4 Lessons

Presenting within LayOut
Exporting to Image or PDF
Exporting to DWG / CAD
Course 6 Review Quiz
Coming Soon
SketchUp Fundamentals – Part 2
SketchUp for Landscape & Site Design
Loads of Online Resources
Since SketchUp Make is offered as a freeware, it has resulted in previous users creating scores of pre-programmed add-ons that are available to download to put into immediate use. The wealth of add-ons and plugins, coupled with a powerful photo-realistic rendering engine makes it a great option for those who like to take on DIY woodworking projects either on their own or at a professional level.
For those of you who are still not sure about using it, there are dozens of online resources that are dedicated specifically to SketchUp for woodworkers where you can find cool ideas or share yours.
Pros
Creates surfaces from lines and extrudes 3D solids from surfaces.
Offers a huge library of pre-designed scenes and objects.
A good option for those who are already familiar with AutoCAD.
Cons
Only allows the import and export of raster files and static graphic images that can't be edited.
Get SketchUp Make Today
For the woodworking hobbyist, SketchUp Make is an excellent option! Download it here.