Our entire house was painted beige when we first moved in. It wasn't awful, so I could live with it and not feel pressured to change everything right away. But, it definitely wasn't "me" and I couldn't wait to freshen up each room with a lighter, happier, modern-industrial-country-farmhouse feel (Is that a thing? It is to me.).
I have a strong aversion to clutter and love for things to be clean and bright. Texture, mixed natural elements, and a few big, meaningful pieces are things that make a room beautiful to me. As a single-income family of seven, I try to do projects as frugally as possible. With those things in mind, we took our master bedroom from this:
To this:
It's big, with a large, beautiful window, two double-door closets, neutral carpet, and an entry to the main bathroom. All it needed was some personal cosmetic touches which I was happy to provide. 🙂
I started out by making a new headboard one afternoon using leftover boards from the fence we built around our backyard (tutorial on that another day). I wanted a statement piece that would draw the eye upward and give the illusion of a taller ceiling. It took around two hours to build; all I had to make were a few straight cuts, pound in a handful of nails, and stain the boards a lovely blue-grey color called "Mussel Shell" by Cabot that brought out the blue tone in the paint I used for the walls ("Flint Smoke" by Behr).
Since we already had the boards, hammer, and nails, the only cost for the headboard was the stain, which was just over $9. It was one of the cheapest projects in the room, but it's my favorite!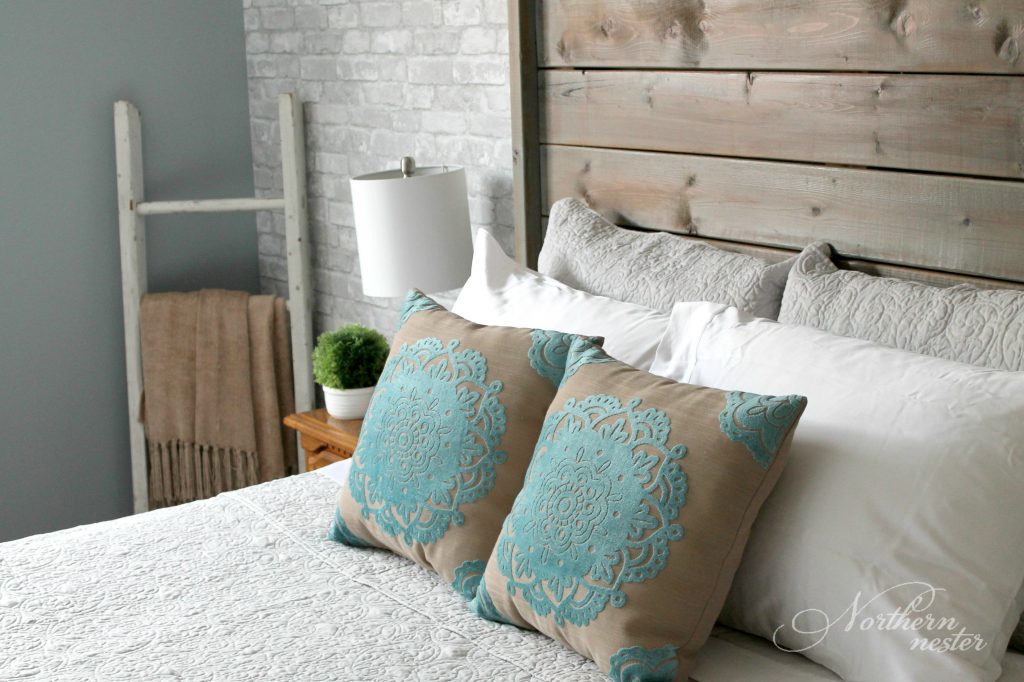 I found the King-sized quilt and matching shams at Quilts, Etc. on clearance for $29. Our bed is actually a Queen, but we're both blanket hogs, so I buy everything but the fitted sheet one size larger.
The throw pillows came from Wal-Mart, the white, organic cotton sheets from Home Sense (also on clearance), and the throw on the blanket ladder (a curbside find…I think it used to part of a bunk bed) was a wedding present.
Our dresser, night tables, and mirror were all from the same hand-me-down set we were gifted from my parents when we got married. We had changed the hardware years ago, so all I had to do was detach the mirror from the dresser, take off the wings, and give it a white wash with leftover paint before hanging it on the wall.
One of my favorite details about this room is the faux brick wall. It looks so realistic, but it's actually just Grey and White Brick Peel And Stick Wallpaper by NuWallpaper! My husband did the entire wall by himself in one evening, and we're still happily married. 😀
Wallpaper is expensive, but we only did one wall so we didn't break the bank. I think the impact it provides was well worth the cost.
The mercury glass base lamps are from Home Sense, and the faux greenery and white bowls are from the Dollar Store.
The heavily distressed wooden bench at the foot of our bed is a hand-me-down from my late grandparents, and the vintage egg-prints in Dollar Store frames were freebies from The Graphics Fairy. They cost me $3 to print.
Now our bedroom coordinates with our main bathroom, which you can see more of here.
I love the change and the peaceful oasis we can retreat to at the end of the day.