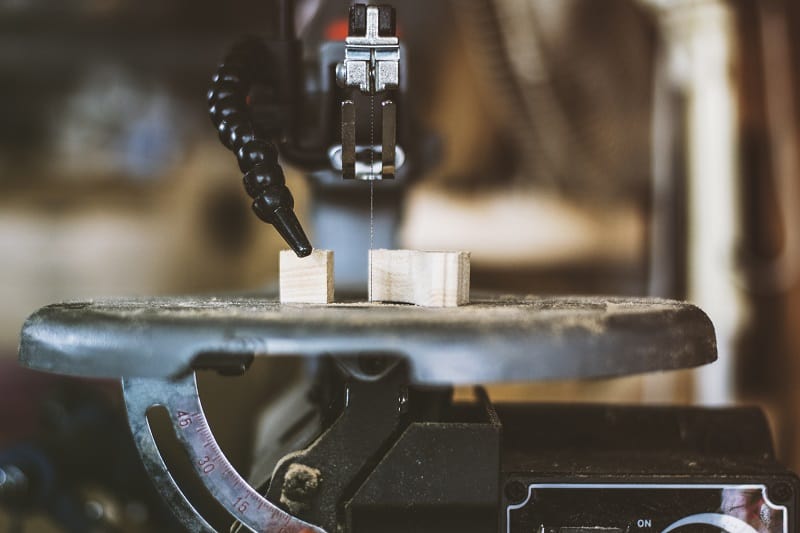 If you want to make cuts in wood, and other materials, that are precise and accurate, then the only tool you should consider is a scroll saw.
The problem is there are so many to choose from, so to make your choice the most informed possible, check out our reviews of the best scroll saws of 2023.
Best Scroll Saws Reviews
DEWALT DW788 Variable-Speed Scroll Saw
Tap to view on Amazon
With DeWalt being one of the most respected manufacturers of power tools in the world, the expectations were high for their DW788 scroll saw.
We weren't disappointed and are sure it will be a popular choice for hobbyists and professionals alike.
Product Highlights
One of the reasons you use a scroll saw is to achieve precise cuts, and thanks to the stability of the DW788 that is invariably what you are going to get.
To further that cause the double-parallel link arm reduces vibrations, allowing you to work more accurately.
The quality of the DW788 is evidenced further in its cast-iron worktable, which is not only very strong, but it also provides excellent support for your workpiece.
It can bevel 45 degrees to the right and the left so that a full range of angled cuts can be made.
One of the saw's most popular features is its lifting arm which allows the blade to be threaded more easily through materials whenever you need to make inside cuts.
The arm's design means the blade will be perpendicular to your work, thus reducing the chances of you over cutting or undercutting.
The saw is powered by a 1.3-amp motor and to provide you with the perfect cutting speed for each material or cut type, you can easily adjust the speed.
If you need to change blades this can be done very quickly, thanks to the DW788's tool-less blade changing mechanism, saving you time and effort.
Finally, to keep your work area clear of debris, and allow you to see your work more clearly, there is a flexible dust blower.
What We Like
We love the overall quality of this scroll saw which allows you to work knowing it is stable and that each cut can be made without fear of excessive vibration leading to inaccuracy, or worse: scrapped workpieces.
What We Don't Like
The lifting arm is an excellent feature but it's so disappointing that DeWalt did not think to include some means of supporting it.
A simple spring or bar would have done the job, but instead, you need to hold it up by hand.
Pros
Blade movement is minimal
Vibration levels are very low
The worktable is extremely stable
Table tilts 45° in each direction
Variable speed control
Cons
90° cuts are awkward
Pricier than others
WEN 3921 16-inch Variable-Speed Scroll Saw
Tap to view on Amazon
There will be many people reading this that are looking for a reliable scroll saw, but who do not necessarily want to pay top dollar for it.
Well, the WEN 3921 is a scroll saw that does the job, but at a price that everyone should find affordable.
Product Highlights
It is the blade that is one of the most important parts of a scroll saw, and in this case, you have the option to use pinless or pinned.
You'll also be pleased to know that changing the blade is a very simple task on this saw.
Your cutting jobs will be made all the easier by being able to adjust the speed of this with a range between 550 and 1600 strokes per minute.
Adjustments are easily made by turning the speed control knob on the side of the machine.
The worktable is 16 inches by 11 inches, and you will be impressed by how solid and secure it is when the saw is operating.
The table can be adjusted to an angle of 45 degrees giving a greater range of possible cuts and bevel options.
There is a flexible work light that helps brighten your work area although we would have preferred it to be a bit brighter.
Also aiding your ability to see your work is a dust blower with a dust collection port.
What We Like
This scroll saw is one where the price is low enough where anyone who wishes to buy one but is wary of forking out on a high-ticket price, can do so. It is one of the lowest-priced saws of its type which means it is also ideal for the first-time buyers
What We Don't Like
While having a replacement blade holder is welcomed, it doesn't help when it is positioned so poorly that it makes it very difficult to access it. This turns, what should be positive, into a frustrating negative
Pros
Consistent and accurate cuts
Blade replacement is easy
Very quiet operation
Variable speed control
Excellent value for money
Cons
The LED light isn't bright enough
Vibration at high speeds
Delta Power Tools Variable Speed Scroll Saw
Tap to view on Amazon
Anyone looking for a good mid-range scroll saw that is suited to both hobby and professional jobs have a great option in the Delta Power Tools 40-694 scroll saw.
It offers some excellent features to give you an impressive range of cutting options.
Product Highlights
Any scroll saw worth considering needs to have a decent-sized table, and the Delta Power Tools 40-694 certainly delivers on that score.
It measures 24 inches by 16 inches and can also be tilted and locked up to 45° to the right or the left for angled cuts and bevels.
The saw speed is variable thanks to its electronic speed control. The speeds range from 400 SPM up to 1,750 SPM, which is a greater range than you'll find even on some more expensive scroll saws.
When in use, you'll find that this scroll saw has very little vibration, even at its higher speeds, plus the noise levels are relatively low too for this type of power tool.
The stability of this saw when in use will also help cutting jobs be more accurate, especially when it comes to intricate cuts.
Blade changes can be made in seconds thanks to the tool-free blade clamp.
To keep your scroll saw blades close at hand, this scroll saw has a useful storage area for them.
Although it does not have a dust port for collection, you can still work mainly dust-free thanks to the dust blower.
This is flexible and the hose is relatively long which allows you to focus the air where you need it most.
What We Like
The variable speed range on the Delta Power Tools 40-694 scroll saw is impressive.
You can set it at speeds between 400 and 1,700 SPM, which is a greater range than many similar saws and gives you more cutting options.
What We Don't Like
The upper arm can be lifted which is a desirable feature, however, its design has one obvious flaw.
The locking button is positioned right at the back of it, meaning you have to stretch right across the saw in order to reach it.
Pros
Quick and easy speed control
Large tilting worktable
A flexible dust blower hose
Low noise and vibration levels
Blade replacement is tool-free
Cons
No dust collection port
No LED light
Shop Fox W1713 Variable Speed Scroll Saw
Tap to view on Amazon
With the Shop Fox W1713, we have another scroll saw that provides excellent value for money for those looking for a low-cost option.
It is an ideal scroll saw for most jobs at home, projects, and hobbyists, and its modern appearance will appeal to many.
Product Highlights
With a motor rated at just 1.2 amps, this might not be the most powerful scroll saw on the market but the range of speed it offers should negate that.
It can run at speeds between 550 and 1,700 SPM, which provides a greater deal of flexibility in terms of types of materials and cuts you can use it for.
The table is very stable, and if you need to cut bevels it can be adjusted up to 45°.
You can set the exact angle using the angle gauge located at the front of the machine.
For convenience, and more importantly, safety, there is a clear plastic guard that surrounds the blade with the main purpose of protecting your fingers.
To help you see your work as clearly as possible, the LED light can be used to illuminate the working area.
Its gooseneck fixture allows you to position wherever it is most effective.
Also helping you to see your work more easily is the combination of the dust blower and dust port.
This allows you to attach a dust collection bag or container to keep your work area free from dust and minimize the cleanup afterward.
What We Like
With many other power saws having a poor quality led lights, or worse, no working light at all, the Shop Fox W1713 impressed us with their bright work light, which is well designed.
Its flexible arm also means it can be positioned exactly where you need the light to shine
What We Don't Like
While some more experienced saw users might be ok, for beginners the blade change process takes time to master.
It can be time-consuming if you haven't done it before.
Pros
Large, cast-iron table
Variable speed control
Low vibration levels
Clear finger guard
Great value for money
Cons
Motor speed can seem slow
Dust blower isn't very powerful
Genesis GSS160 16″ Scroll Saw
Tap to view on Amazon
The Genesis GSS160 may not get the pulses racing of the top professional carpenters, but then it's not really designed for them.
Instead, it is an ideal power tool for hobbyists and those with home workshops looking for a low-cost scroll saw.
Product Highlights
The Genesis GSS160 is powered by a 1.2-amp motor and you can vary its speed, thanks to its easy to use speed control dial at the front.
You can vary the speed between 400 and 1600 SPM, giving flexibility in terms of what materials you can use it to cut.
Angled cuts and bevels are also possible thanks to the tilting table. It can be adjusted to 15° to the right, or a full 45° to the left.
The Genesis GSS 160 also has a quick change blade system.
You can use pinned or pinless blades, and when you purchase this saw you will also receive two spare blades, along with an Allen key tool.
You'll obviously want to keep your work area clear of dust and debris which is why you'll find the dust blower very useful.
Its flexible hose allows you to position it, so it is blowing exactly where you need it to.
Helping you to keep your eyes and fingers safe is the large plastic cover at the front of the saw.
It is made from clear plastic and will prevent dust etc. from being blown towards your face, and also stop your hands from getting too close to the blade.
What We Like
The larger clear guard on the front of this saw is a very welcome feature and better than most.
It provides protection for your fingers as well as minimizing the amount of dust being throw in your direction, thus helping to protect your eyes too.
What We Don't Like
Using a scroll saw often involves working with heavy and solid materials so the fact that, instead of cast iron, this saw has an aluminum table, diminishes the strength of it.
Pros
The 1.2-amp motor is very quiet
Variable speed control
Quick blade change
Flexible dust blower
Very low price
Cons
Some vibration at high speed
No LED work light
Best Scroll Saw Buying Guide
Speed
Most scroll saws will have a motor whose speed can be adjusted therefore allowing you to cut at the speed most appropriate for the material you are working on.
The range of speed will differ between products, but they will generally be between 400 and 1,700 strokes per minute.
The greater the range of speed, the more options in the material choice you will have.
For example, certain hardwoods may start smoking if the cutting speed is too fast; therefore you need the option to quickly slow the cutting speed.
Power
Invariably, scroll saws are electrically powered using 110v standard domestic power.
The motors that drive scroll saws are not as powerful as those that drive band saws, for example, but they don't need to be.
Most scroll saw motors will be rated at either 1.2 amps or 1.3 amps, and these are certainly powerful enough to drive the thin blades that are used.
Precision
One of the greatest benefits of using a scroll saw is its precision and when having a precise cut is essential then the scroll saw is the best tool to use.
Examples of where precision is necessary are decorative cuts, curves, and corners.
Precision is achieved mainly as a result of the thin, short blade which allows for intricate, accurate and detailed cuts to be made.
Also, the way in which the blade is held securely and tightly while it is cutting prevents it from bending which helps with the precision of cuts.
Throat
The throat of a scroll saw is the distance from the rear frame of the saw to the blade and is often how scroll saws are differentiated.
Logic tells us that the greater the size of the throat, then the larger the size of the material that can be cut.
On larger scroll saws that may be used commercial purposes, the throat sizes can be up to 30 inches.
At the other end of the scale, the smallest scroll saws can have throat sizes as low as 12 inches.
On scroll saws designed for general use, you should expect to see throat sizes between 16 and 20 inches.
Depth
Depth, as it relates to scroll saws, is the range of the depth of cut that it is capable of achieving.
It is with this that you determine the maximum thickness of material that a scroll saw can cut.
There isn't normally a great deal of variation except when commercial scroll saws are considered.
You should expect to see scroll saws for normal work having a depth capacity of between 1 3/4 inches and 2 inches.
Tilting
Tilting refers to the ability of a scroll saw to allow you to make angled cuts, more commonly referred to as beveling.
You will find some differences between scroll saws with some tables tilting 45 degrees to the right or left, but not both.
In others, you may have a 45 degree tilt to the right, but just 5 degrees to the left or vice versa.
The best ones are those that give you the ability to tilt the table 45 degrees to both the left and the right giving you the maximum choice of angled cuts that you can make.
Price
Given what they can do, scroll saws are generally not that expensive.
Their prices start from around $120, the mid-range is about $300 to $500, with the highest priced ones being $500 and above.
Warranty
While many electrical products tend to come with 1-year warranties, in the case of scroll saws their warranties always tend to be longer than that.
You should expect a warranty on even the cheapest scroll saws to run for at least 2 years.
Better still there are some manufacturers who will give you a three-year, and even five-year warranties are available.
One caveat is to check what the warranty covers as there may be some limitations.
Other Features
Other features to look for when purchasing a scroll saw include LED lights to illuminate your work, dust blowers to clear away dust, a dust port so that the dust can be collected and clear plastic guards in front of the blade.
A few scroll saws will have all of these features, but most will have just some, so you may need to decide which are the most important to you, in order to make your final choice.
Best Scroll Saw FAQ
What are scroll saws good for?
Scroll saws are an ideal power tool for the job of accurately cutting curves and joints especially when you want those cuts to be precise.
One of the reasons scroll saws are popular is because they cut so cleanly and therefore very little sanding required afterward to finish or smooth the cut.
What wood is best for scroll saw?
For beginners and those wishing to practice certain cuts with their scroll saw, softer woods such as cedar and poplar are best.
They yield to the blade more easily and therefore there is less resistance when you are cutting.
For more advanced projects, hardwoods can be used, with maple, ash and red oak being those which are great for shaping and curves.
What materials can a scroll saw cut?
The fine blades of a scroll saw give it the ability to cut through a wide variety of materials with wood being the most obvious.
Other materials scroll saws can be used to cut include leather, bone, plastics and sheet metals such as steel, aluminum, and copper.
Related Content: Can you cut leather with a scroll saw? Find out if it can cut through with precision!
Can you cut metal with a scroll saw?
Not only can scroll saws cut through metals, but it can do so with a broad range of them, especially if you use a blade with very small teeth.
Brass, copper, bronze, steel, and aluminum are just a few examples.
The caveat is that as scroll saw blades are thin, the thickness of the metal should normally be no greater than 1/8 of an inch.
Which is better: scroll saw or bandsaw?
For detailed work, where you need a high degree of accuracy, then the thin, short blades of a scroll saw would the best option.
Where a band saw would be best is when you wish to cut thicker and longer pieces of material.
As the motors in bands saws tend to be more powerful, they are also more suitable for prolonged use where you have multiple cuts to make.
**Want to learn more about scroll saw blades? Check out this detailed guide on how to install blades!**
Conclusion
Hopefully, we have shared enough information with you in order to make your choice of scroll saw an easier one.
As for the scroll saws we reviewed, each one of them has more than enough good features for us to recommend them all.
If pushed to pick our top choice it would be the Delta Power Tools 40-694 Variable Speed Scroll Saw.
It will appeal to novices, hobbyists, and professionals, thanks to an impressive list of cutting features such as the range of speeds, the 45° bevel tilt to both the left and right, and when in use, the noise and vibrations are minimal.