From tiny and colorful cherry tomatoes to large and meaty beefsteaks, there are thousands of different types of tomatoes. Although technically fruits, tomatoes are used as vegetables and can add flavor and color to almost any dish.
Besides being incredibly versatile, tomatoes are low in fat and full of beneficial nutrients such as vitamin C and antioxidants. Juicy and extremely tasty, tomatoes are usually red, but depending on a variety can also be yellow, green, purple, black, or orange.
With so many varieties to choose from, you might have trouble deciding what is the best tomato to use in recipes or grow in your garden. In this article, we'll cover the most popular tomato varieties so you can find the perfect tomato for your next meal.
How Many Types of Tomatoes is Out There?
There are more than 10,000 tomato cultivars grown in temperate climates all around the world. Since tomato plants can thrive in greenhouses, tomatoes are available all year round and can be cooked and used in dishes, sauces, salads, or eaten raw.
25 Common and Popular Types of Tomatoes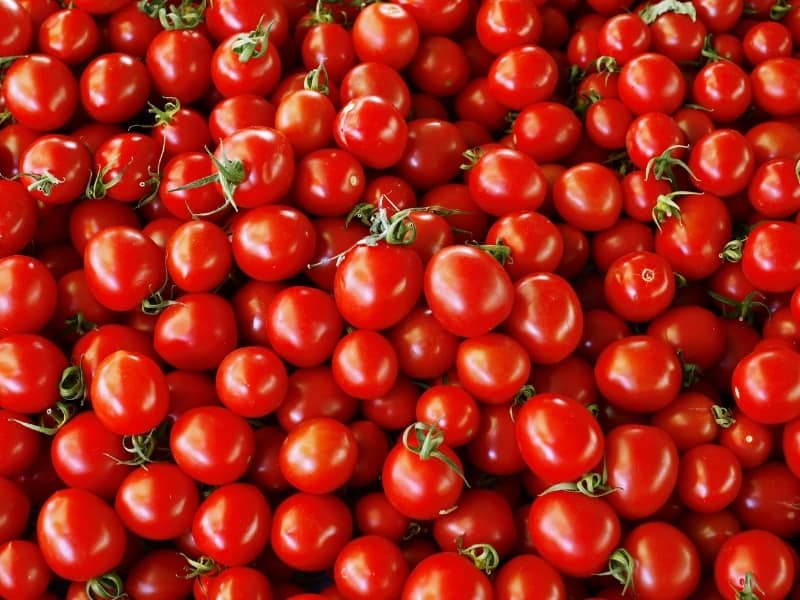 With so many tomato varieties to choose from, you might have a hard time figuring out what's the difference. To help you find the perfect tomato for your dish we'll list different types of tomatoes and their uses.
Ailsa Craig
Ailsa Craig is a tall indeterminate tomato with regular leaves and slightly flattened globe-shaped fruit. This variety ripens early in the season and produces clusters of mid red tomatoes that have an amazing flavor.
Named after a small rocky island off the coast of England, this tomato variety has been a favorite of many gardeners due to its generous yield. Juicy and flavorful, the Ailsa Craig can be cultivated in greenhouses and outdoors and is perfect if you don't have a lot of garden space.
Yellow Pear
Probably one of the most popular heirloom tomatoes, the Yellow Pear tomato got its name from its color and shape. This variety can be traced back to the 1800s and has vigorous indeterminate growth and abundant yield.
Bite-sized, Yellow Pear tomatoes are mildly sweet and deliciously tangy at the same time and are best eaten fresh. Besides being tasty raw, this tomato variety is also great for salads and produces a constant and heavy yield throughout all summer.
Costoluto Fiorentino
Coming from Florence, Italy, the Costoluto Fiorentino is an indeterminate, slow maturing and heavily productive variety. Costoluto produces hefty, medium-large, heavily-ribbed brightly red beefsteak tomatoes.
Meaty, juicy, and flavorful this tomato is ideal for slicing, but it's also amazing when roasted or cooked into a rich tomato sauce. This variety thrives well in both hot and cold climates and usually needs around 80 days to fully mature.
Black Beauty
Believed to be the world's darkest colored tomato, the Black Beauty is an open-pollinated hybrid variety. Dark blue-black on the outside with a meaty dark red inner flesh, this tomato has high levels of anthocyanin, an antioxidant that gives blueberries their darker color.
Ideal for slicing, this beefsteak tomato has a rich and savory earthy flavor. This variety hangs well on the vine, but its flavor intensifies when stored at room temperature.
Adoration
The Adoration is a hybrid variety that produces small, round, brightly red cocktail tomatoes. The plant has an indeterminate growth, good resistance to common tomato diseases, and needs 70 to 80 days to mature.
Being an indeterminate variety, these red tomatoes will continue to grow and produce fruit throughout the growing seasons, so you'll always have fresh supply.
Incas
The Incas is a hybrid tomato variety with a bushy growth that reaches a height of approximately 1.5 meters. This early maturing variety produces large, brightly red plum-type tomatoes that have a firm texture and meaty flesh.
Ideal for making sauces and pastes, these hybrid tomatoes are also great for canning, stuffing, or slicing. The Incas has a great shelf life, can be grown in containers, and is resistant to common diseases such as wilt and fusarium.
Roma
Probably the best-known type of plum tomato, the Roma tomatoes have bright red firm flesh and only a few seeds. Although the Roma tomato is an open pollinator, it's generally not classified as an heirloom variety.
Roma tomatoes are distinctively egg or pear-shaped when fully ripe and are most commonly used for canning and tomato paste. Fully mature in 75 days, this variety is known to produce a heavy yield of brightly red and delicious fruits.
Black Krim
Originally from the Crimean Peninsula, the Black Krim is a very old heirloom variety of tomato with a rather low yield. This variety produces large, beefsteak tomatoes with deep purple-brown skin that turns nearly black in hot sunny conditions.
The Black Krim tomatoes are ideal for slicing and salads and their reddish-green flesh has a rich and sweet flavor.
Black Cherry
A rare heirloom variety, the Black Cherry is the only black variety of cherry tomato currently available. This variety produces heavy clusters of small, perfectly round cherry tomatoes that have a deep red-purple skin with a blackish hue.
Ideal for salads, they have a sweet and rich flavor and juicy texture. This indeterminate tomato variety matures in 65 to 75 days and is fairly easy to grow.
Paul Robeson
The Paul Robeson tomato is a Russian heirloom variety, named after opera singer and equal rights activist Paul Robeson. This variety has vigorous indeterminate growth and produces heavy yields that need 90 days to fully mature.
This beefsteak type tomato has a burgundy color, a broad shape, meaty red flesh, and a very distinctive sweet and smoky flavor.
Sungold
The Sungold is one of the most popular varieties of cherry tomatoes due to its vibrant golden orange color and distinctively tangy-sweet flavor. An indeterminate grower, this variety ripens early and can be harvested throughout the summer.
The great thing about the Sungold is that it can be eaten fresh off the vine, used in salads, or as a party snack. Interestingly, this variety develops its signature sweet-tart flavor early so it can be eaten a week before full maturity.
Pear Tomato
Pear tomato or teardrop tomato is a common name used for several different varieties of indeterminate pear-shaped heirloom tomatoes. There are yellow, red, and orange varieties of this tomato and they generally have a sweet flavor.
Small and colorful, pear tomatoes are ideal as snacks, but also work well in salads and will add a pop of color to every dish.
Brandywine
The Brandywine tomato is a highly popular heirloom variety beloved for its distinctive tomato flavor. This variety produces large, pink beefsteak-shaped tomatoes that are considered by many as the best-tasting tomatoes available.
The Brandywine is one of the slowest maturing varieties, requiring around 90 days to reach maturity. However, Brandywine tomatoes can weigh up to 1.5 lbs and are best used in salads or sliced and added to sandwiches.
Juliet
Juliet is a hybrid plum tomato variety that looks a lot like a mini Roma, but it's also sometimes classified with grape tomatoes. This variety bears small, crack-resistant red fruits that stay in good condition on the vine much longer than other cherry tomatoes.
Juliet tomatoes are soft and juicy and have a wonderfully sweet flavor ideal for salads and have a long shelf life. This plum variety produces a heavy yield throughout the whole summer and is one of the longest-lasting tomatoes in a garden.
Alicante
Alicante is a cordon variety that produces brightly red medium-sized juicy tomatoes. Highly popular and ideal for slicing, this tomato matures early and when properly pruned produces a lot of fruits the entire season.
Sweet and flavorful, this variety is a traditional breakfast tomato since it's great for sandwiches and salads. Easy to grow in home gardens and resistant to common diseases, the Alicante is a popular variety among tomato growers.
Shirley
A hybrid variety, the Shirley produces medium-sized, brightly red, and sweet-tasting fruits. Fairly compact and resistant to common diseases, this plant is ideal for cold or slightly heated greenhouses and produces a heavy yield.
Golden Sunrise
The Golden Sunrise is an heirloom variety that produces medium-sized, well-shaped, golden-yellow tomatoes. This early or mid-season cordon variety takes 75 days to fully mature and has a sweet flavor with tart undertones.
The award-winning Golden Sunrise tomatoes are ideal for salads and salsas and will add a splash of color to every dish.
Campari
An indeterminate grower, the Campari is a hybrid variety that bears deep red, small fruits that are larger than cherry tomatoes but smaller and rounder than plum tomatoes. This variety is most commonly sold in supermarkets as a tomato on the vine and is noted for its juiciness.
Campari tomatoes are high in sugar, but have low acidity levels and don't have a mealy texture. Highly sought after for their sweetness, Campari tomatoes are great for snacking and salads, but can also be cooked or roasted and served on sandwiches or in salsa.
Marmande
The Marmande is a classic French heirloom variety that produces medium-large sized tomatoes. This scarlet red beefsteak tomato is lightly ribbed and has a flattened globe shape.
Marmande tomatoes have a juicy, meaty flesh with minimal seeds and a delicious tomato flavor with a hint of sweetness and tartness. Due to its savory flavor, this variety is best eaten fresh in salads, but it can also be sliced and used as a topping for burgers and sandwiches.
Granadero
Granadero is an indeterminate hybrid variety with a compact vigorous plant that produces heavy yields. This plant bears medium-sized, oval-shaped brightly red tomatoes with smooth skin and a well-balanced flavor.
Although a vigorous grower, this variety maintains a compact size and shape, so it is ideal for container growth outdoors or in a greenhouse. The Granadaro is also highly resistant to common tomato diseases and more tolerant of cool conditions than other tomato varieties.
This variety requires approximately 75 days to fully mature and it can be eaten fresh in salads, canned, or cooked for a tomato sauce.
Gardener's Delight
Gardener's Delight is one of the most popular tomato varieties in supermarkets and the most commonly grown tomato among amateur gardeners. Easy to grow and a heavy yielder, this variety also tolerates a range of different soils and has an amazing flavor and texture.
This variety produces small, juicy, and medium-firm tomatoes with glossy red skin and smooth texture. Gardener's Delight tomatoes have a good sugar content balanced with trace acidity which creates a rather tasty and savory flavor.
Ideal for salads or eaten fresh, the Gardener's Delight can also be cooked. If you want to grow tomatoes, this variety is a great choice since it thrives both outdoors and in a greenhouse.
Astro Ibrido
Astro Ibrido, also sold as Scipio Ibrido, is a San Marzano tomato variety that produces plum meaty fruits. This tomato has bright red skin and very low water content.
Astro Ibrido is a bushy variety suitable for growing outside, in pots, or sometimes even in hanging baskets. The plant also shows good resistance to common tomato diseases and the fruit is ideal for cooking, canning, or making sauces and passatas.
San Marzano
San Marzano is an heirloom variety of plum tomato that was first grown in a small town of San Marzano near Naples, Italy. An indeterminate type, this plant has a somewhat longer season and produces red plum-shaped fruits.
San Marzano tomatoes are more narrow and pointed than other plum-shaped varieties and have a thicker flesh with fewer seeds. This variety has a strong, sweeter, and less acidic taste than the Roma tomato.
Due to their meaty texture and strong flavor, San Marzano tomatoes are commonly used for tomato sauces and pastes.
Rio Grande
The Rio Grande is a determinate type of tomato that produces heavy yields of large, meaty, pear-shaped fruit. These tomatoes need 75 to 85 days to mature to a deep red color and be ready for harvest.
As a vigorous variety, Rio Grande has good resistance to diseases and adapts well to extreme temperatures. Meaty and firm, this variety is best for making sauces, paste, and juices.
Ildi
Tomato Ildi is a cordon variety that produces small and sweet plum-shaped yellow cherry tomatoes. Ildi is a really heavy yielder, generally bearing up to 80 fruits on one truss with an average of three to four trusses per plant.
This variety has a sweet flavor with just a hint of tartness and it will add a pop of color to salads or look great as a garnish on summer plates. Ildi is a great choice for small gardens since it thrives in containers or hanging baskets.
What Are the Different Names of Tomatoes?
The countless tomato varieties are generally labeled based on their growth type as indeterminate or determinate. Indeterminate tomato plants are those that grow continuously and produce fruit throughout the entire season until killed by frost or disease.
Determinate tomato plants, on the other hand, are shorter and stop growing when they reach a certain height. This trait makes them more suitable for smaller spaces like yards, patios, or terraces.
Additionally, tomato varieties can also be divided into hybrid and heirloom plants which are broadly divided into seven different types. The most popular types of tomatoes are:
Cherry tomatoes
Grape tomatoes
Salad tomatoes
Beefsteak tomatoes
Roma tomatoes
Tomatoes on the vine
Green tomatoes
What Are the Best Varieties of Tomatoes?
With so many different types of tomatoes to choose from, you might have trouble deciding what variety is the best for you. Factors such as growth habits, appearance, and the size of your garden will determine what type of tomato is best for you and ensure that your plant produces a heavy yield.
Whether you are an amateur or experienced gardener these are the best varieties of tomatoes you can grow outdoors or in a greenhouse:
Celebrity tomato
Black Cherry tomato
Brandywine tomato
Chocolate Stripe tomato
Beefsteak tomato
Black Krim tomato
Blondkopfchen – Little Blond Girl tomato
Azoychka tomato
Amana Orange tomato
Dixie Golden Giant tomato
Delicious tomato
Better Boy tomato
Cherokee Purple tomato
Early Girl tomato
Green Zebra tomato
Conclusion
Incredibly versatile, colorful, and delicious tomatoes come in many shapes and sizes, and there are thousands of varieties you can choose from. Although technically fruits, tomatoes have that distinctively savory flavor, being at the same time acidic and sweet.
Each tomato variety has its best uses – some are ideal for salads, while others can be cooked, roasted, canned, or used for sauces, pastes, and more. Best of all, all tomatoes are extremely healthy and full of beneficial antioxidants, vitamin C, and beta carotene, but low in calories.
Ultimately, whichever tomato variety you choose you can rest assured that you'll add valuable nutrients into your diet and indulge in that delicious tomato flavor.
Related Articles: