Stuck in a rut?
Tired of menu planning?
Wish someone would just tell you what to eat when?!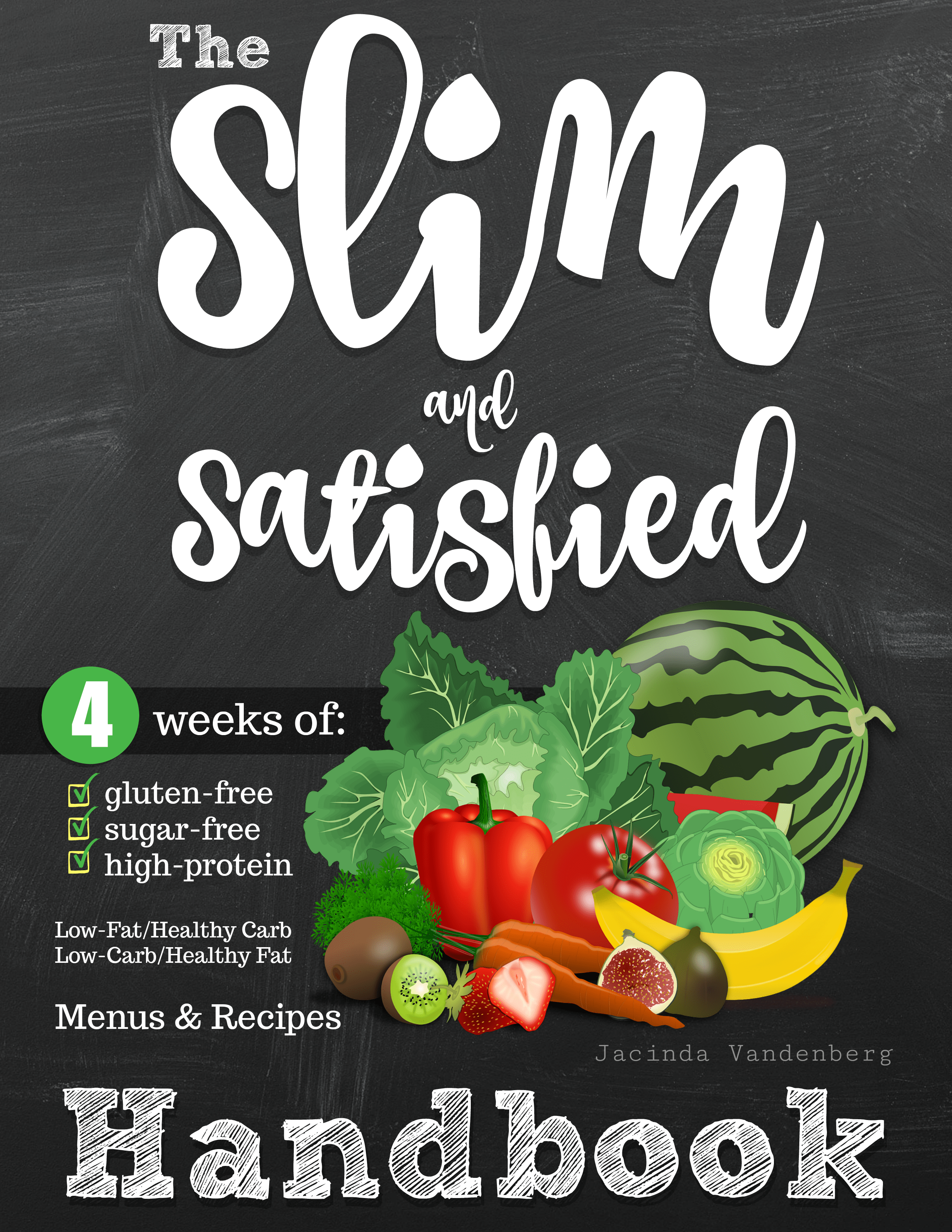 YOU NEED
THE SLIM AND SATISFIED HANDBOOK.
This 4-week, low glycemic menu plan is complete with recipes for every meal of the day!
Alternating low-fat and low-carb recipes for the ultimate metabolism boost, these gluten-free, sugar-free, high-protein family favorites will leave you feeling slim and satisfied.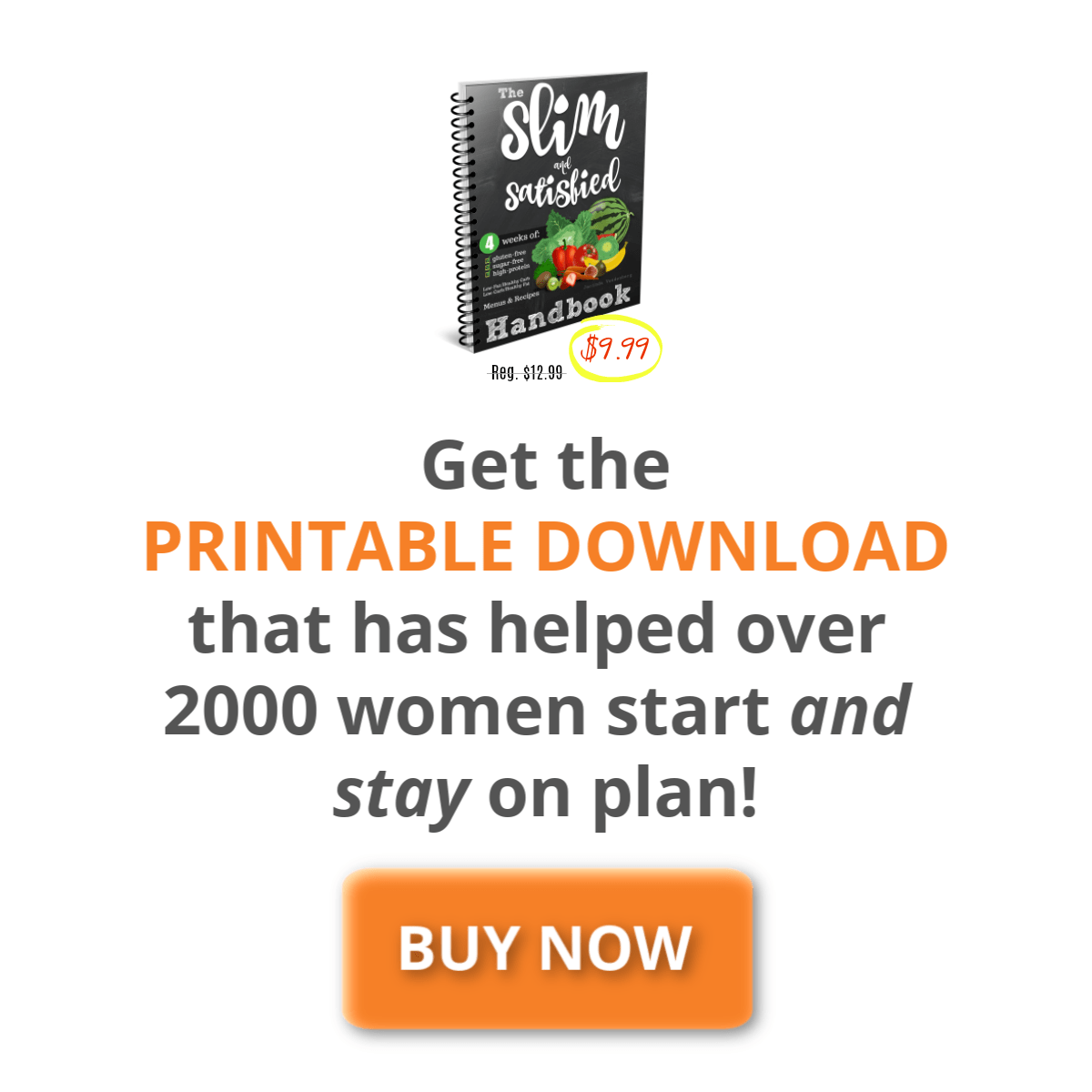 THE SLIM AND SATISFIED HANDBOOK
IS DESIGNED FOR BUSY WOMEN
As a mother of 6 young children, I understand that time is of the essence!
This Menu Plan was designed to reflect that by:
Excluding labor-intensive recipes

Avoiding the use of special ingredients

Making use of leftovers

Utilizing make-ahead recipes

Providing you with a complete grocery list each week and recipes for every meal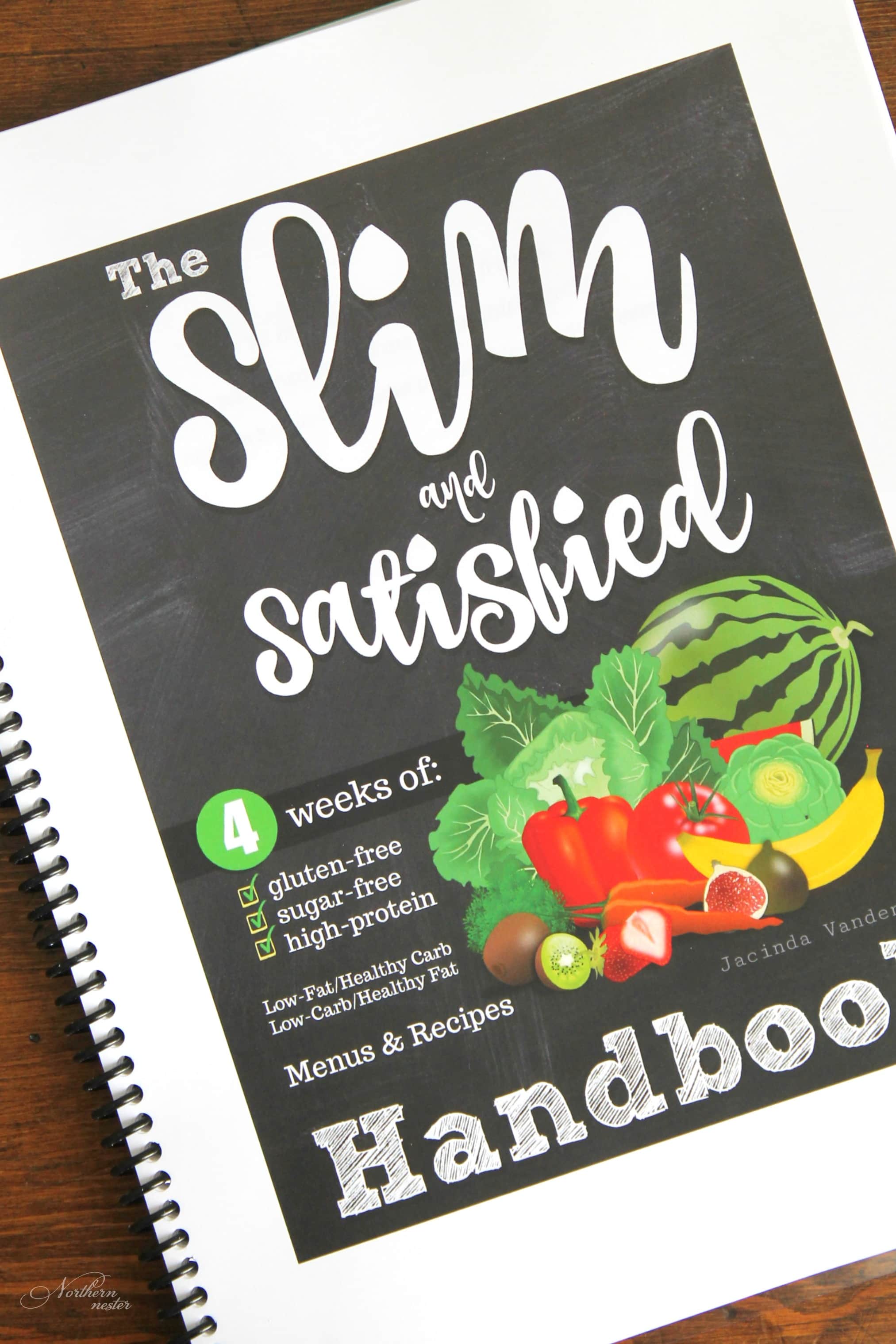 WHAT SETS THIS MENU PLAN APART?
The Slim and Satisfied Handbook is different from other menu plans in that it has a special emphasis on:
Alternating low fat (

LF

) and low carb (

LC

) recipes

Hydration

Kefir

No Special Ingredients
ALTERNATING LOW FAT (LF) AND LOW CARB (LC)  MEALS
Science has proven that, when paired with protein, alternating low-fat/healthy carb meals with low-carb/healthy fat meals revs up the metabolism and promotes weight loss. For this reason, you'll notice I've included 1-2 low-fat/healthy carb recipes in each day of the Menu Plan.
Low-fat/Healthy-carb meals are marked as –

LF

Low-carb/ Healthy-fat meals are marked as –

LC

Low-fat and low-carb meals are marked as LF & LC
WHAT KIND OF FOOD WILL I BE EATING?
I've chosen over 50 of our family's favorite Trim Healthy Mama-friendly recipes for this Menu Plan!  Here's a sneak peek at some of them to whet your appetite!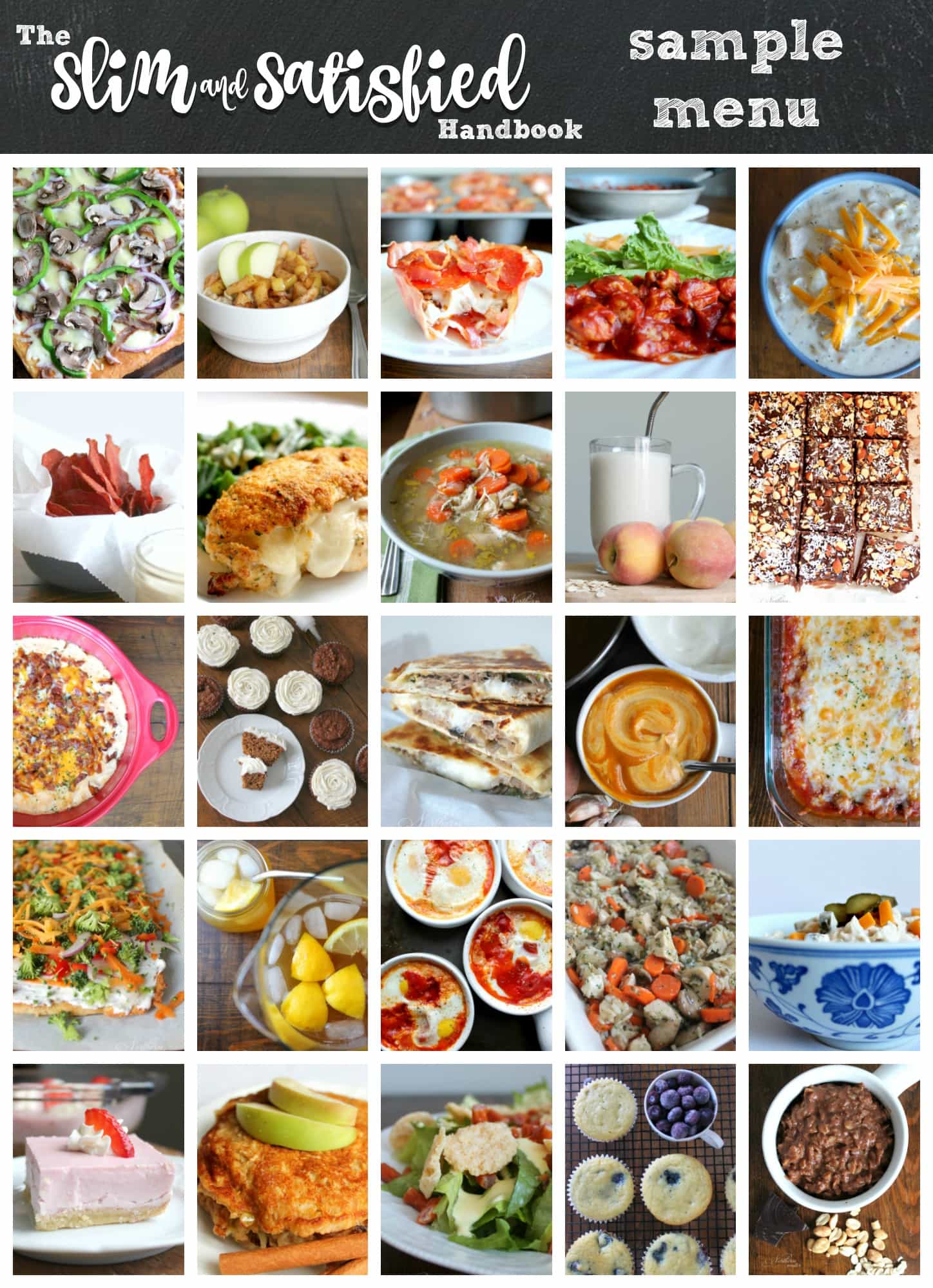 WHAT'S ALL INCLUDED IN THE SLIM AND SATISFIED HANDBOOK?
The Slim And Satisfied Handbook is 63-page Digital Download that will get sent straight to your inbox after purchasing. You can print off the PDF file and get it coil-bound, or access it from any of your digital devices. At the store or in your home, you can have it available whenever you need for $9.99.

HIGHLIGHTS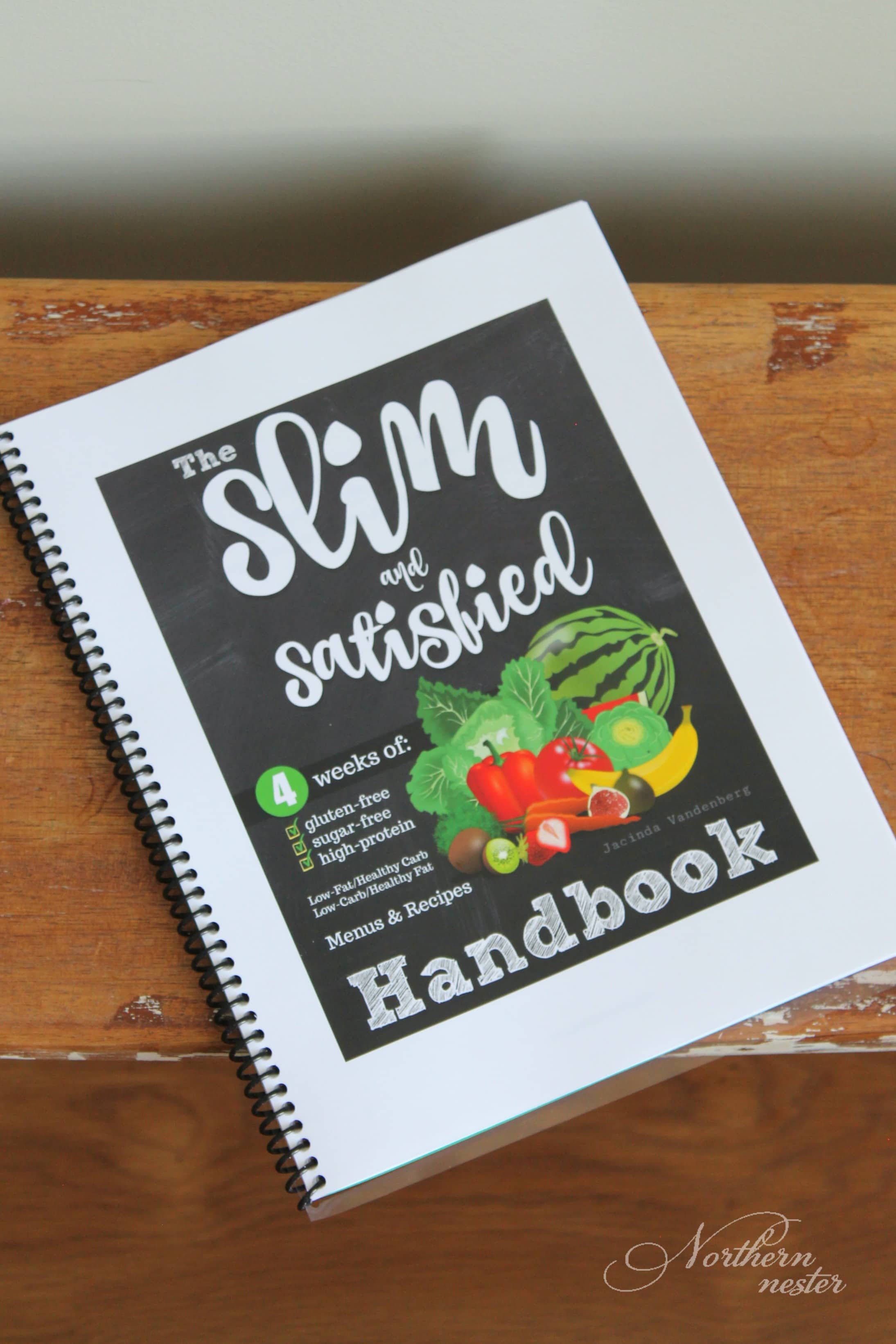 Each week of Menu Plans in The Slim and Satisfied Handbook is color-coded. You will find the corresponding grocery list and recipes following the menu plan for each week in the same color. Some recipes will be used more than once throughout the 4 week plan. A short note directing you to the original recipe is given rather than reprinting the whole thing.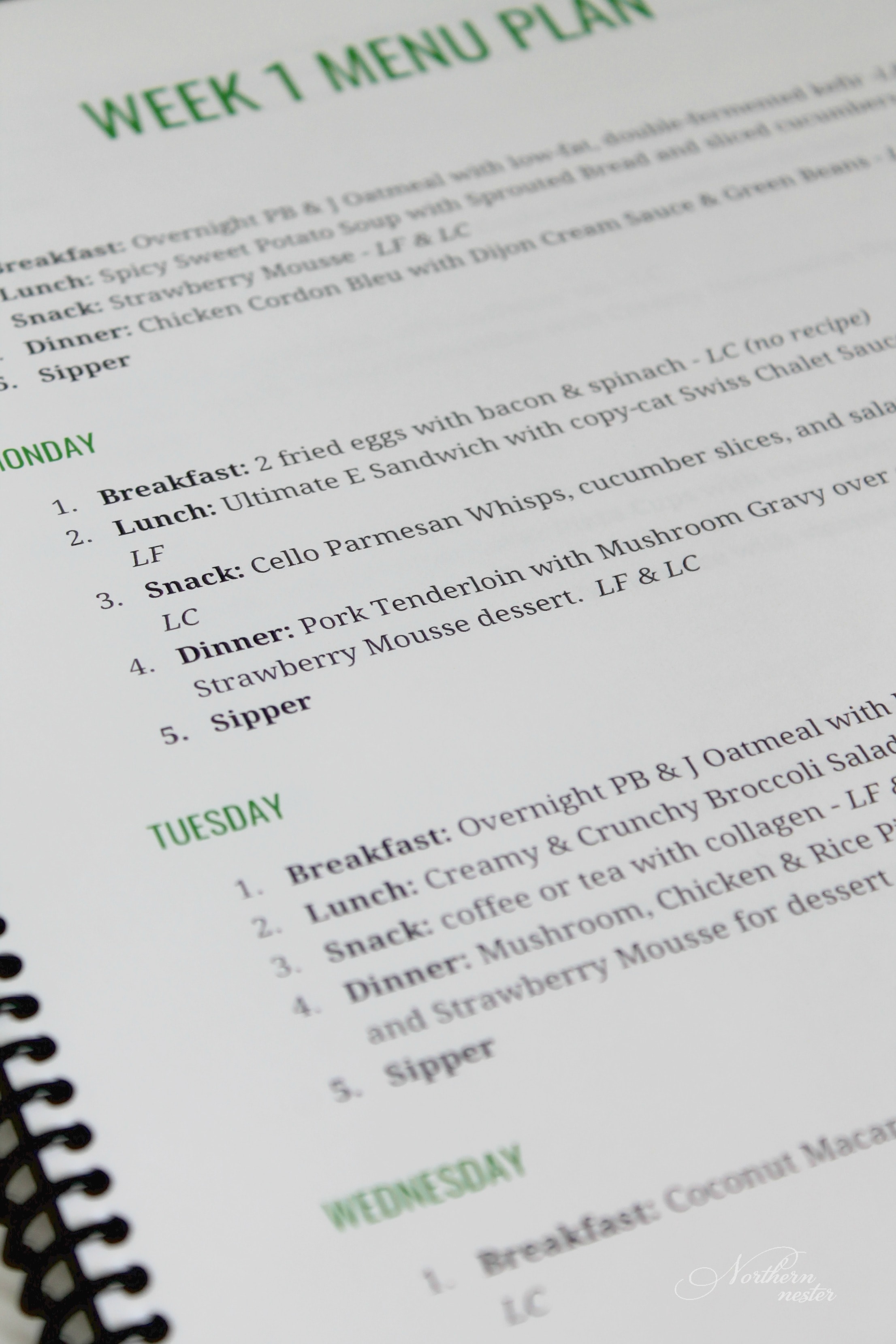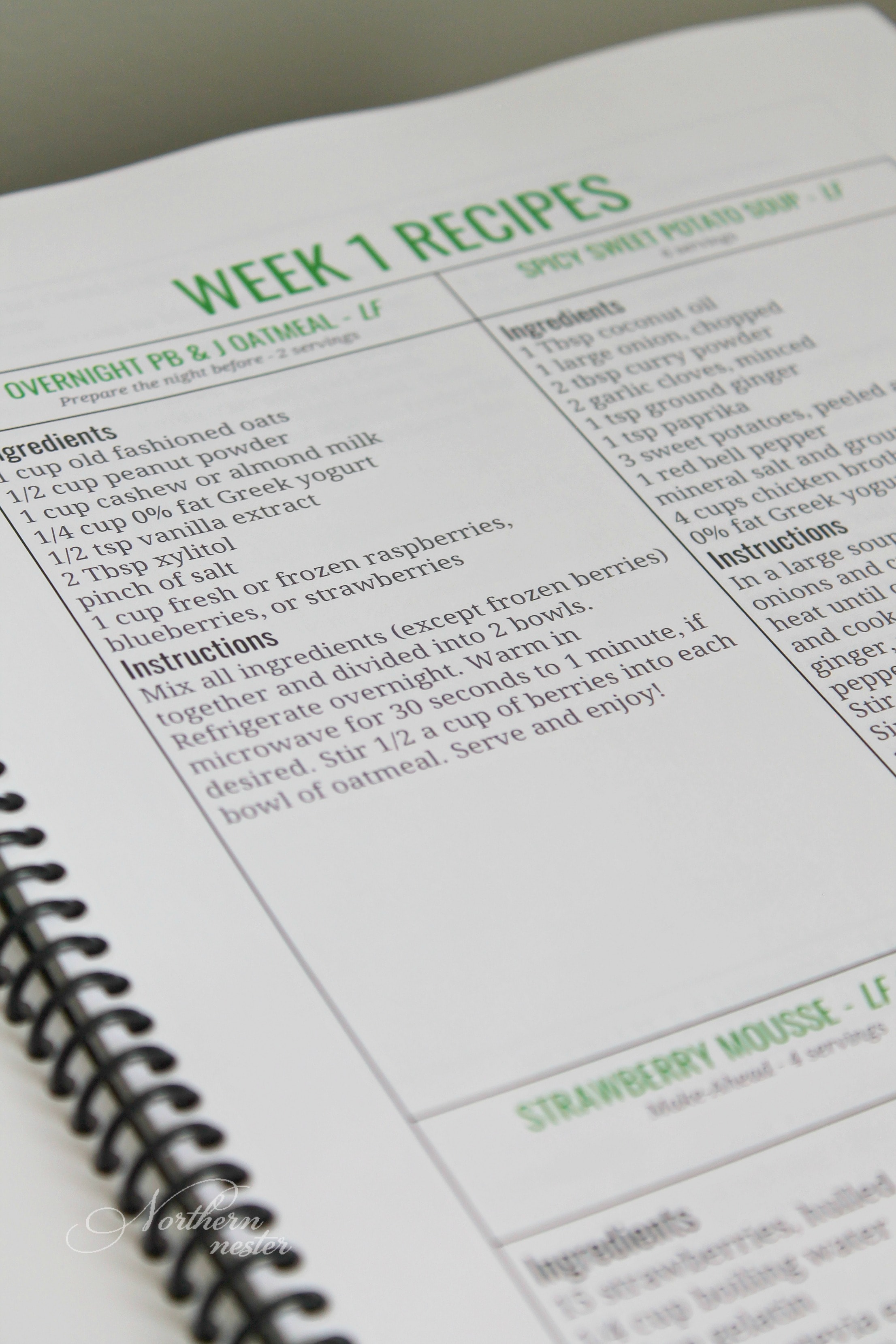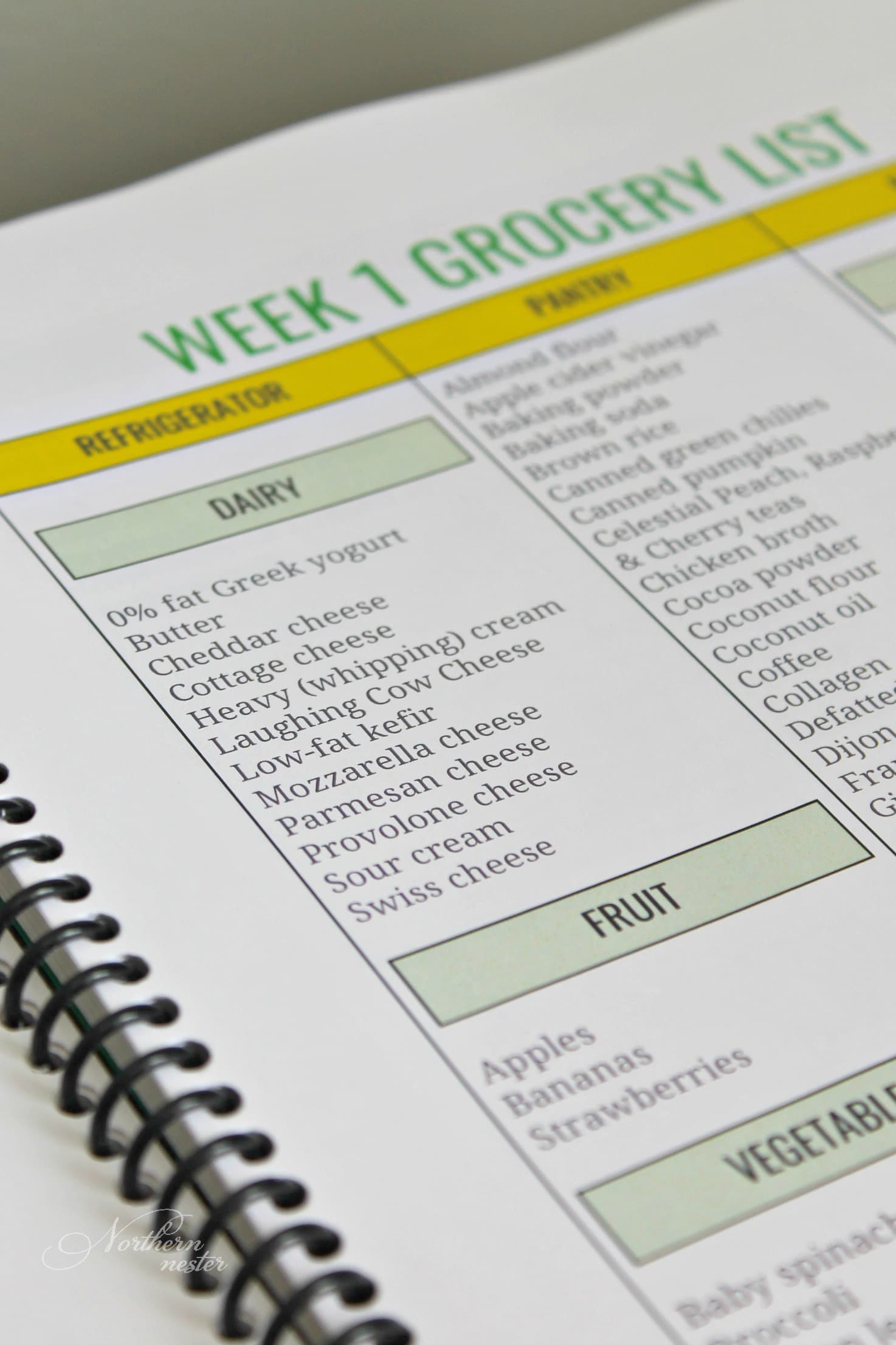 If you're a once-a-month shopper, I've also included an additional Master Grocery List in this handbook to help you stock your blood-sugar friendly kitchen. All of the ingredients listed will be used in the recipes.
Some recipes are noted "Make-Ahead" to help you save time.
Table of Contents
The Scoop on The Slim and Satisfied Handbook
How To Use The Slim and Satisfied Handbook
Master Grocery List
Sipper Recipes
Week 1 Menu Plan
Week 1 Grocery List
Week 1 Recipes
Week 2 Menu Plan
Week 2 Grocery List
Week 2 Recipes
Week 3 Menu Plan
Week 3 Grocery List
Week 3 Recipes
Week 4 Menu Plan
Week 4 Grocery List
Week 4 Recipes
Recipe Index
Sample Menu Photos
Progress Report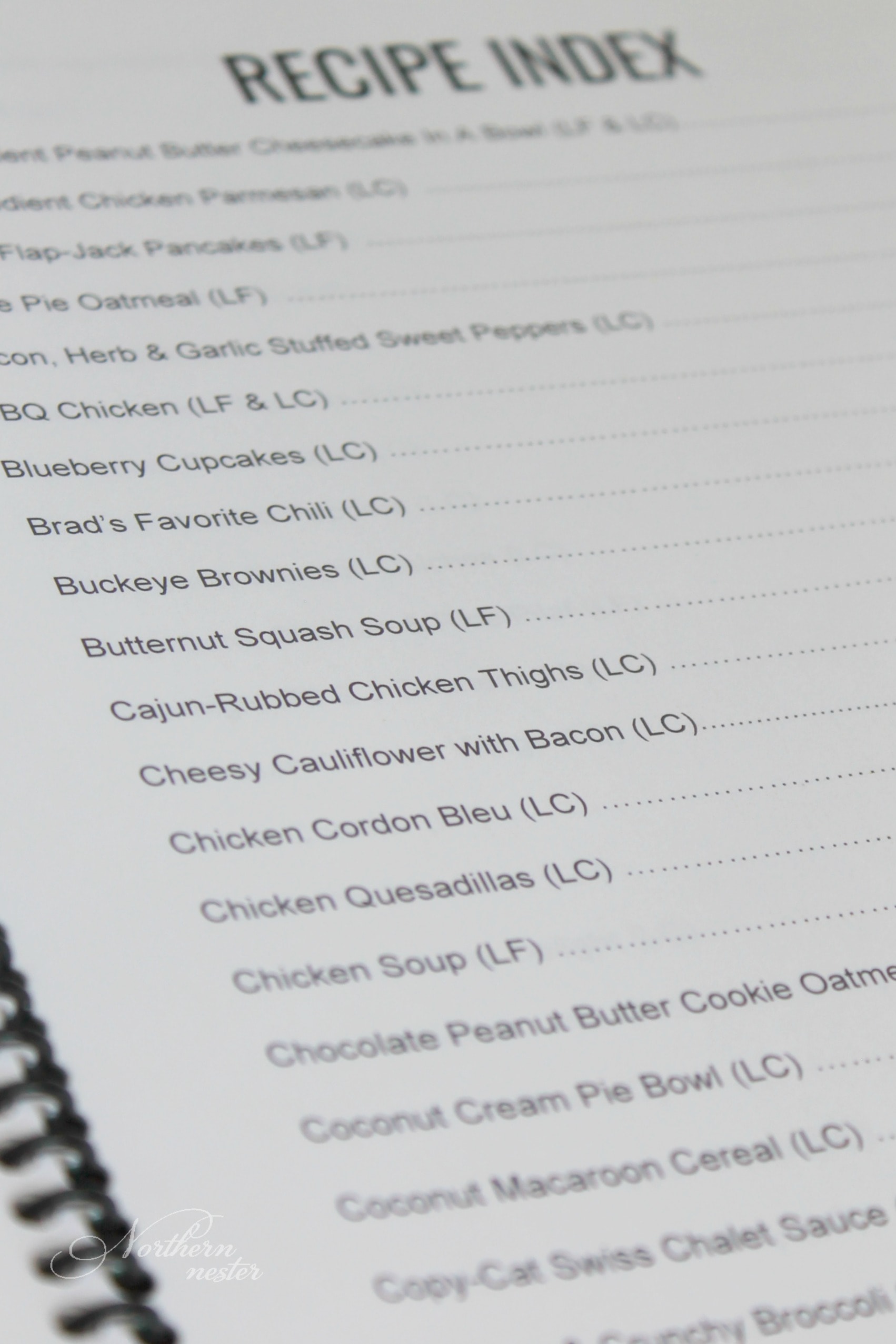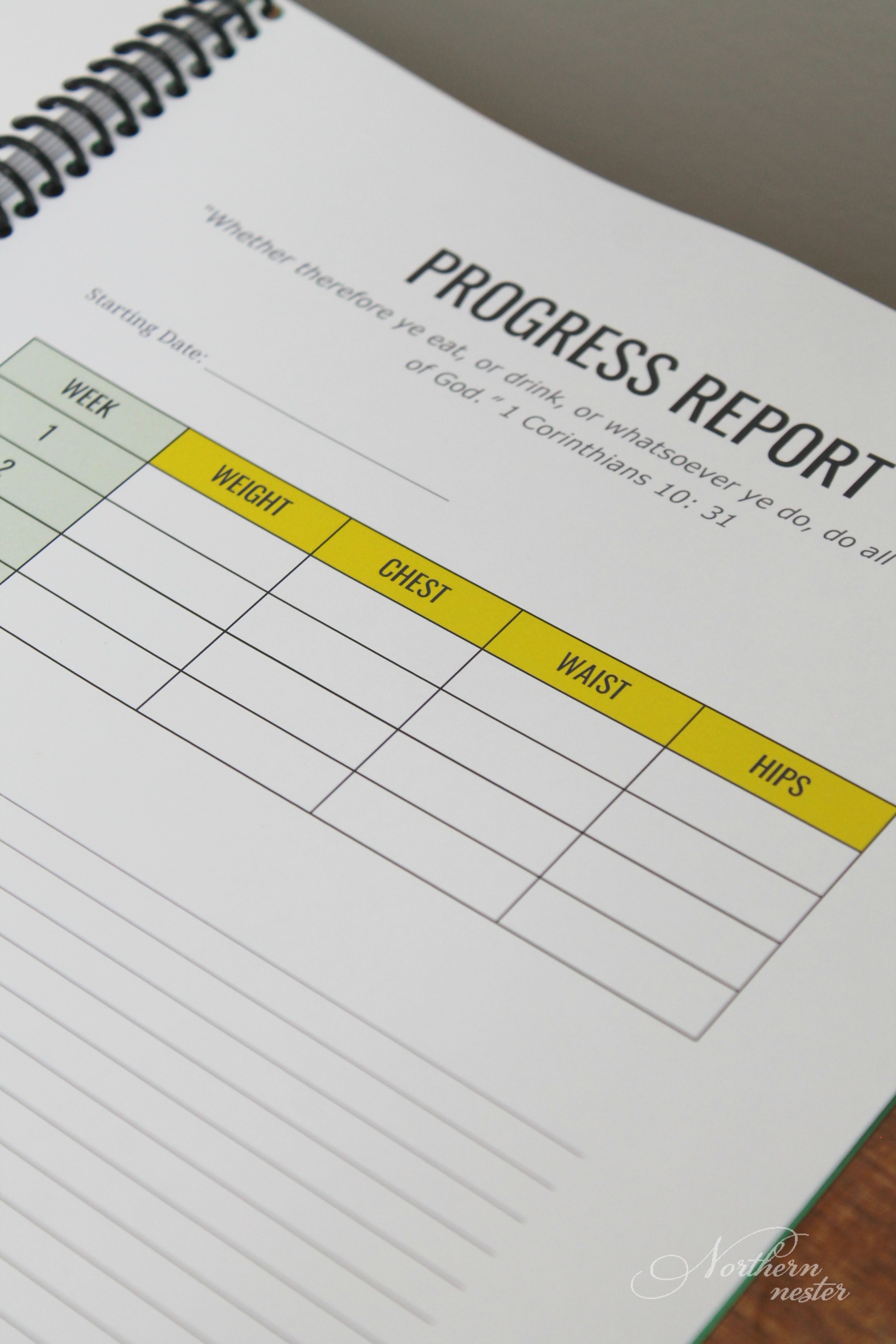 The goal of The Slim and Satisfied Handbook is to help you stay on plan effortlessly. I hope you find it does just that!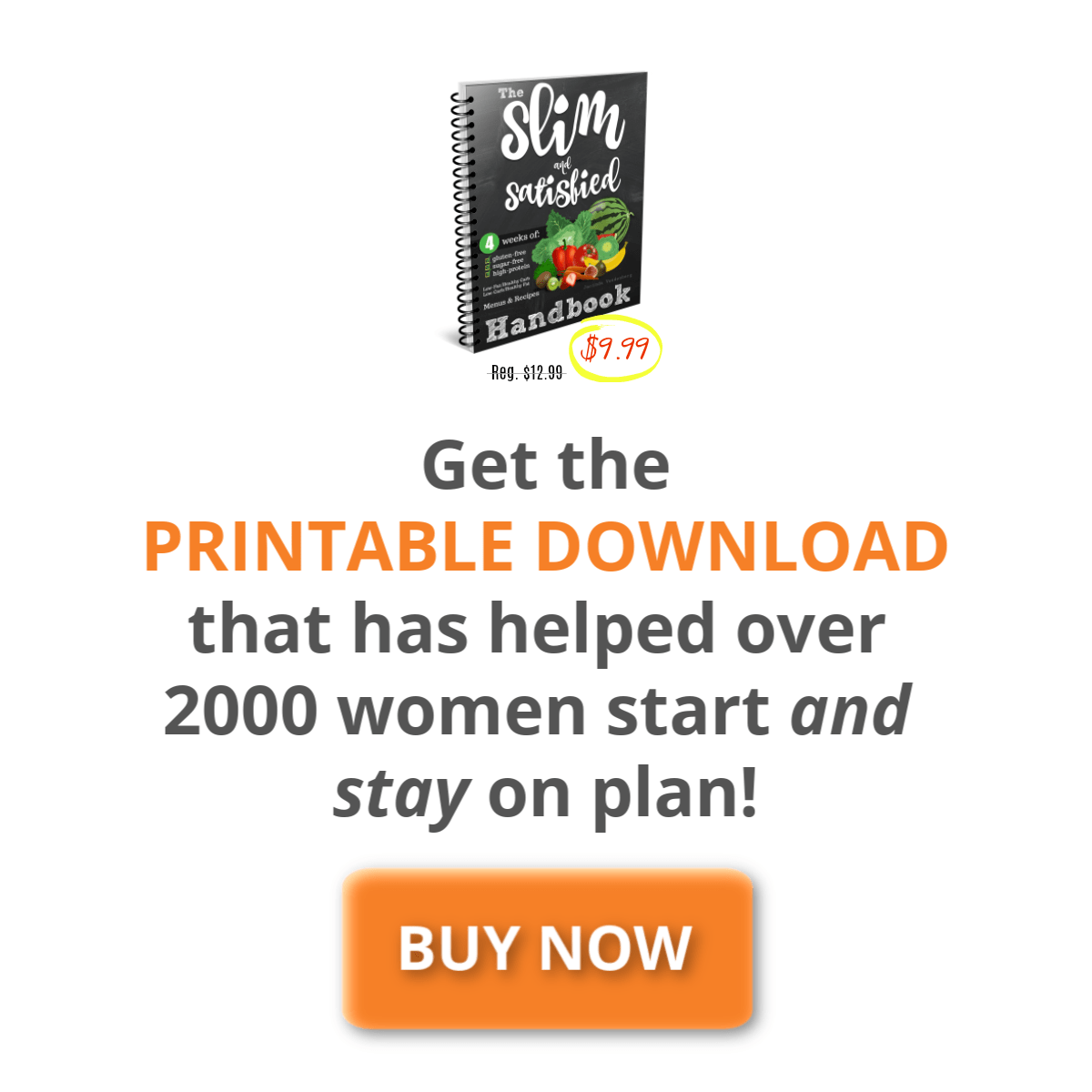 Love,
Jacinda
What Other People Are Saying:
The Slim and Satisfied Handbook takes the guesswork out of healthy, trimming meal planning! Easy to follow, simple but tasty recipes the whole family will enjoy, all written with the busy woman in mind." – Dawn from Oh, Sweet Mercy

As a homeschooling mama of seven, I dread menu planning. "Slim and Satisfied" is a time (and money) saver, providing fresh meals and snacks in an easy to read plan.  Clearly explained, and delightfully presented, "Slim and Satisfied" is exactly what I've been searching for! No special ingredients, and no confusion on what to eat when. Jacinda provides a detailed guide to eating healthy without sacrificing hours searching for meals and kitchen prep! I was hoping it would win me over with scrumptious, uncomplicated recipes and I was not disappointed! – Stephanie H. 

I just wanted you to know how fabulous your handbook is!! I'm a fulltime wife as well as a fulltime nurse…it has made meal planning look so much easy and with no special ingredients… – Andrea Z.