Are you looking for a truly unique Christmas gift for a Trim Healthy Mama friend? Take a look at these:
Aren't they amazing?! The Good Girl Moonshine painting on the right is actually a replica of my own Good Girl Moonshine drink that I shared a photo of on Instagram!
All of these paintings are done by my dear, real-life friend, Natalie, from Thistle & Co. and are available for purchase in packages of 5 5×7 notecard prints (envelopes included) in her shop for $20.00. That's only $4 a print!
(Northern Nester readers, use Coupon Code NNEST10 to receive 10% off!)
Her artwork is completely original, based on GGMS photos from different Trim Healthy Mamas and used with their permission. I lit right up when I first saw my own GGMS turned into a work of art.
These prints evoke feelings of camaraderie that only Trim Healthy Mamas will understand. A framed GGMS print along with a gift basket of GGMS ingredients would make an ideal gift for your THM bestie!
Original GGMS Gift Basket (recipe here)
Caramel Apple GGMS Gift Basket (recipe here)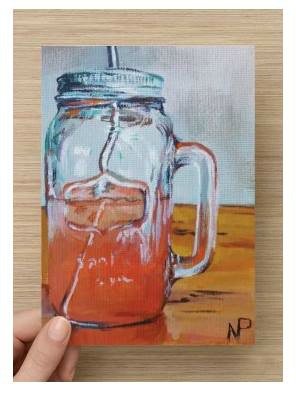 Raspberry Zinger GGMS (recipe here – my husband's favorite!)
Natalie's art prints are also a wonderful way to introduce Trim Healthy Mama to a friend. A hand-written note on the back of one these prints along with a copy of the Trim Healthy Mama Plan (maybe even the Trim Healthy Mama Cookbook?) could literally change a person's life.
Also, for a limited time (Read: TODAY ONLY!), you can get a notebook with either the Original or Raspberry Zinger GGMS paintings on the cover for $20.00. This is an exclusive Cyber Monday offer! It's a beautiful way to record your menu plans, favorite recipes, progress, and success as a Trim Healthy Mama. These notebooks would make a wonderful Christmas gift as well.
Which print do you love best? I'm partial to the one she made of my GGMS, but I love them all. Hop on over to Thistle & Co. to order your prints (remember the 10% discount code: NNEST10). All Northern Nester readers will have their prints and notebooks signed by the artist! Don't forget to peruse her other masterpieces while you're there!