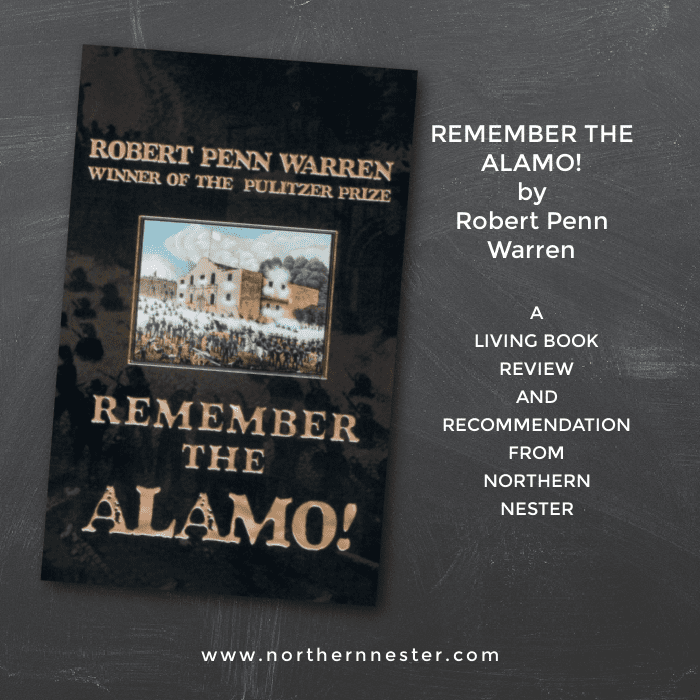 Remember the Alamo! by Robert Penn Warren was the first history book we read about Texas after arriving here. We all enjoyed it, but none so much as our 11 year old son, whose favorite topic is military history, whose favorite games are strategy games, and whose love for the Lone Star State is blinding.
The first portion of the book is divided into chapters that introduce each of the famous characters involved in the battle between the Mexicans and Texans at the Alamo; among them: Davy Crockett, Jim Bowie, and William Travis.
Hopelessly outnumbered, 189 patriots held off the Mexican army led by Santa Anna for nearly two weeks. Multiple calls for help returned unanswered by the government, but ultimately, their valiant sacrifice for Texas liberty became a rallying cry for General Sam Houston and his men. They eventually captured Santa Anna and the Mexican army in a surprise attack known as the Battle of San Jacinto, where Texas finally won its independence from Mexico in an 18 minute showdown.
Warren did a fabulous job of introducing us to Texas' beginnings, making one of the most extraordinary moments in American frontier history a riveting one for the reader. He weaved intensity, sadness, and humor through the account. Giggles erupted when we discovered that Santa Anna, who had tried to disguise himself as a Mexican cavalry man in an attempt to get away, had his identity revealed when he was found to be the only prisoner with royal undergarments!
I'd recommend
Remember the Alamo!
for anyone interested in Texas or military history, particularly young men. One day, we hope to visit the unassuming Alamo, where this book will surely come alive again in the "
science of relations
."