This is Part 2 of our IKEA Kitchen Renovation Series. You can read Part 1 here, and see our Before & After photos here.
After I finished designing our IKEA kitchen, we decided to make the trip to our nearest IKEA (a 40 minute drive) and order at the store instead of online.
I am so glad we did.
We bought our kitchen cabinets during IKEA's Kitchen Event, which resulted in the kitchen department being insanely busy. We happened to arrive half an hour before the store officially opened, so we were third in line. By the time we had placed finished ordering, the line-up of people waiting to talk with a kitchen staff member was longer than the whole department! I highly recommend arriving well ahead of time if you plan on ordering your kitchen at the store during their sale. We received 10% back in IKEA gift cards which easily covered the cost of our back-ordered sink, and light fixtures.
When we got to the store, we looked over our selections on display in the kitchen department before ordering. I wanted to make sure everything looked as good in person as it did online. This is where we made the decision not to use IKEA's laminate counter tops. The largest slab of laminate was 8 feet long, and we needed a piece that was over 10 feet. In addition to very obvious seams, IKEA's laminate counter tops looked more plastic-like to me than the Formica samples I had seen at Home Depot, so we nixed the idea completely. Everything else was just how I imagined; better, actually, because the GRIMSLOV cabinets looked more white than off-white!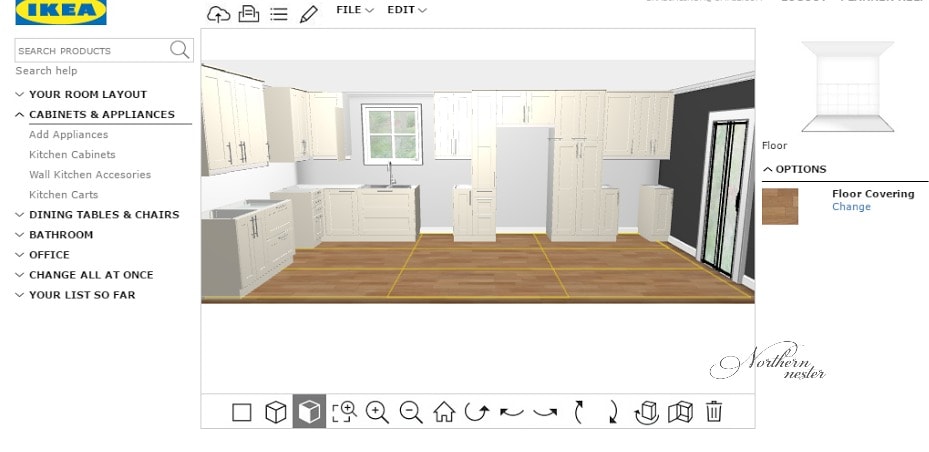 A member of IKEA's kitchen staff, Maureen, looked over our design online with us, confirming measurements and placements, and made several great suggestions, one of which was purchasing an extra set of shelves for each 40 in. upper cabinet that we had two or more of in the same size. Shelves are sold in packages of two, which we had included for each cabinet, but it turns out that 40 in. cabinets can fit 3 shelves very nicely. We had four, 24X40″ upper cabinets in our kitchen design, so we bought two more packages of shelves which gave us enough for 3 shelves in each cabinet.
Maureen also convinced us to pay for delivery rather than picking up the cabinets ourselves and we are SO glad we did. If you're ordering a kitchen, do yourself a favor and pay the $75 to have your kitchen delivered to your house. IKEA takes care of picking out all the boxes from the warehouse, loading them onto the truck, delivering it to your house (which was a 40 minute trip for us), and unloading everything when they get there. If anything is damaged or missing, they will deliver the replacements for free within 4 days. Our only complaint about IKEA's delivery service is that the driver cursed an awful lot in front of our kids (which he thought we had too many of, ha!), even after my husband asked him to stop swearing.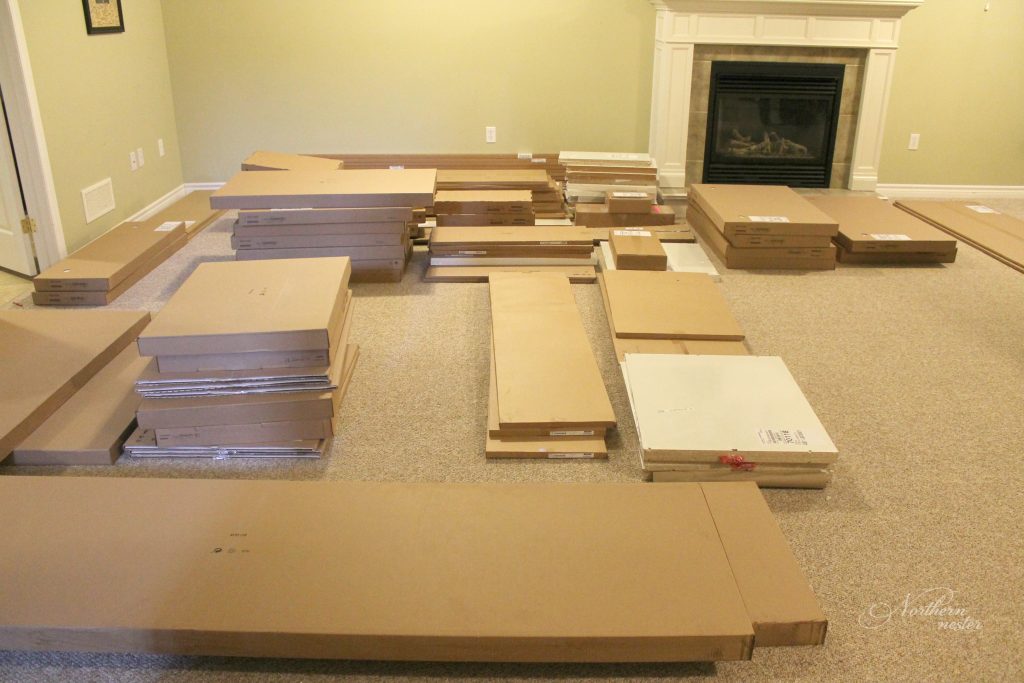 Taking inventory was the first thing we did after the mountain of boxes arrived. We had 4 days to let IKEA know if anything missing or damaged if we were to receive free replacements and delivery. I started doing the job by myself, but was overwhelmed but the magnitude of everything that needed to be checked. It didn't help that our itemized sheet was sectioned by all the different parts needed to build each cabinet, rather than listing each item in alphabetical or numerical order. Brad stepped in to help me out and we quickly learned the most efficient way to go through the list.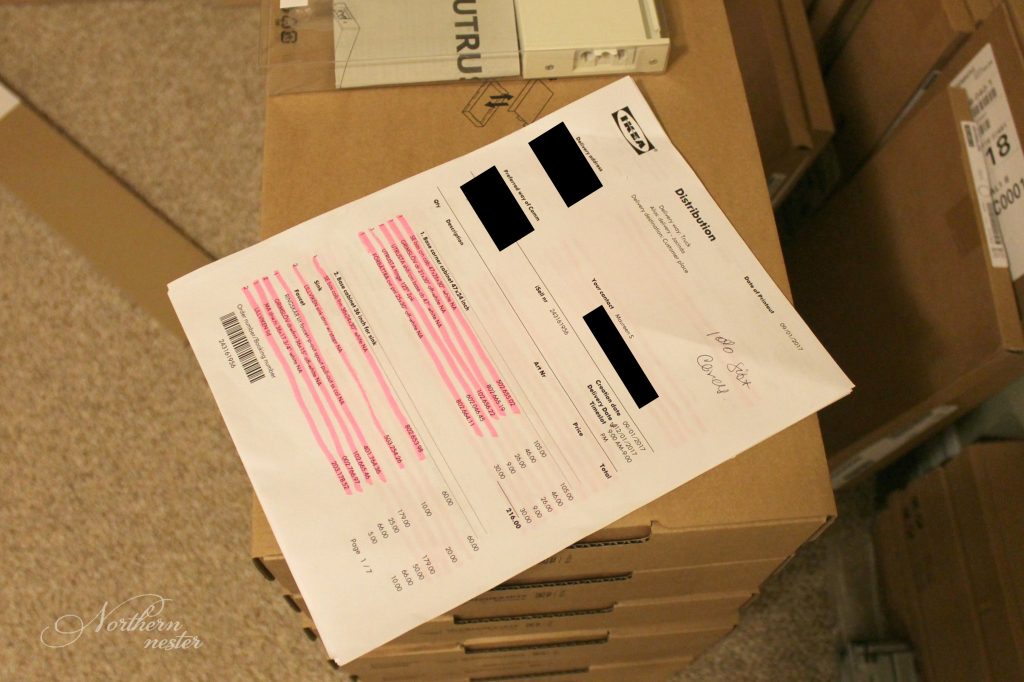 First, we grouped like with like. Doors and cabinets of the same size were stacked on top of each other, bags of matching hinges were grouped together, suspension rails and toe kicks were stacked together, sink components were set aside in a corner, etc. Then, Brad counted how many of each box or bag was in a group and I used a highlighter to mark them off our list. Everything but two back-ordered items was there, and only one door was warped (which we found out about after it was hung), so we could get started on our kitchen as soon as we were ready!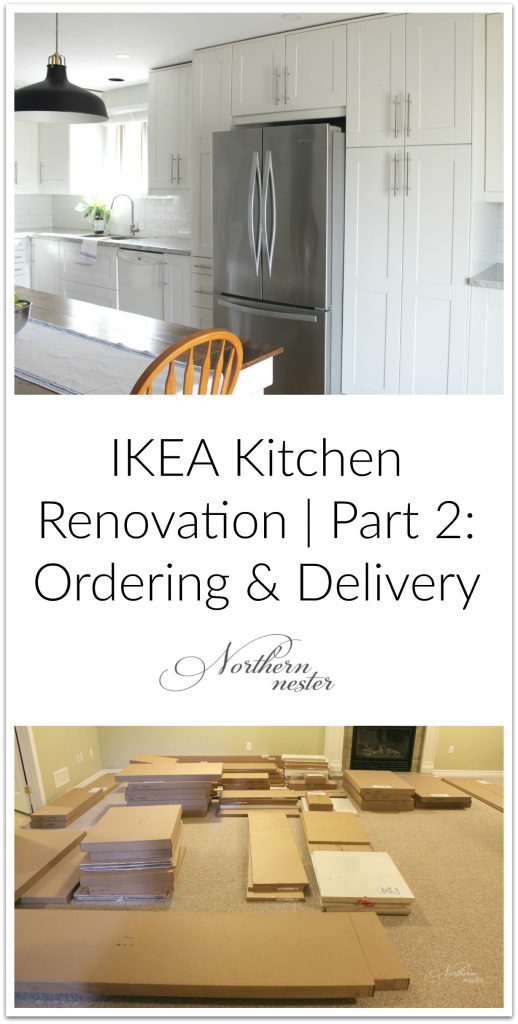 Up next in the IKEA Kitchen Renovation Series| Part 3: How To Assemble An IKEA Kitchen.