This post may contain affiliate links.
Not a word of a lie, these are the quickest, easiest eggs I've ever made. So easy, the kids could do it too. Paintbrushes are even optional!
I must say though, my 5-year-old daughter's eggs look much more girly and glamours than my farmhouse ones. She also decided to paint her nails at the same time. She gets her efficiency expertise from her Dad.
All you need:
1 or 2 dozen plastic eggs from the Dollar Store
paint
paper towels
a toothbrush, preferably one that's not being used 😉
First, slap on some paint. I used Apple Barrel acrylic craft paint in blue, green, yellow, and black. I use that brand because that's what my Oma always used and she was a real folk artist who taught lessons and owned her own folk art shop where she sold all her painted pieces and folk art supplies. I loved visiting there as a little girl. She was also Dutch, so I assume Apple Barrel paints must be well-priced for the quality they are. 😉
I wanted my eggs to be pastel in color, so as soon as I dabbed on some paint with the paper towel, I quickly rubbed off the excess. That left me with a very lightly colored version of the actual paint in the bottle. The eggs are instantly dry this way too, and ready for the fun part – flecking.
My artistic Oma was sweet enough to give her granddaughters folk art lessons too. My favorite part was when we got to fleck our pieces. Flecking is when you dip your paintbrush or toothbrush (a toothbrush is easier, in my opinion) into your paint and thumb back the the bristles so it splatters all over your piece. We would use white when we painted snow scenes, but for these eggs, I used black to make them look more realistic.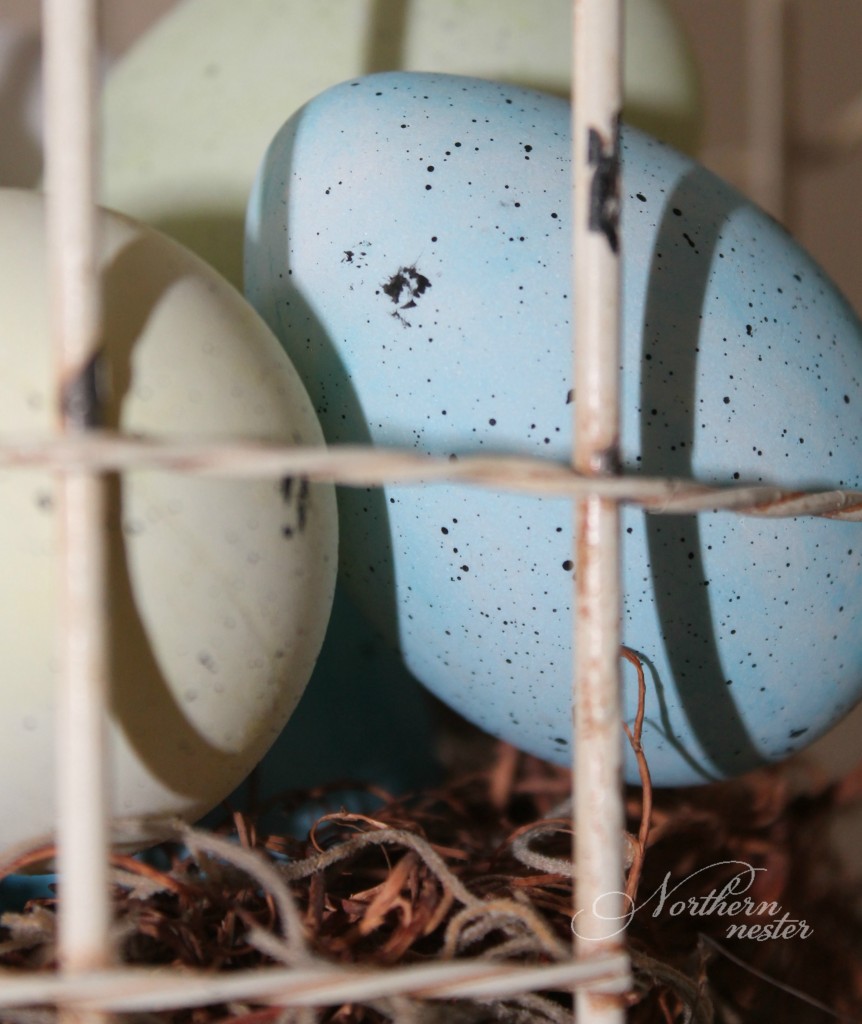 That's all there is to it! I set them on top of some sphagnum moss inside a bird cage, but they'd be perfect in a Spring wreath, clay flower pot, or glass bowl, too.