These two planters of artificial ornamental grass adorned either side of the mirror in our bathroom for years, but they were starting to gross me out. I wanted to get rid of them before we moved to the new house. They were fading from sunlight and beginning to get covered in that sticky bathroom dust that's impossible to clean off fake, tasseling grass.
First, I tried selling them on an online garage sale site (one man's trash…), but when the buyer didn't show, inspiration struck. My two-year-old pulled out a piece of the grass from the Styrofoam base inside the planter and that got me thinking. Hmmm, what if I pulled it all out? Then I'd be left with two cute containers to do something with…
I let the kids have at 'er, and when they were finished enjoying the chance to be destructive with my permission, they gave me these:
Pretty, huh?
The containers seemed like the perfect height for topiaries, so I headed to the Dollar Store where I knew they sold artificial boxwood balls. I grabbed two of them along with a package of ten skinny dowels.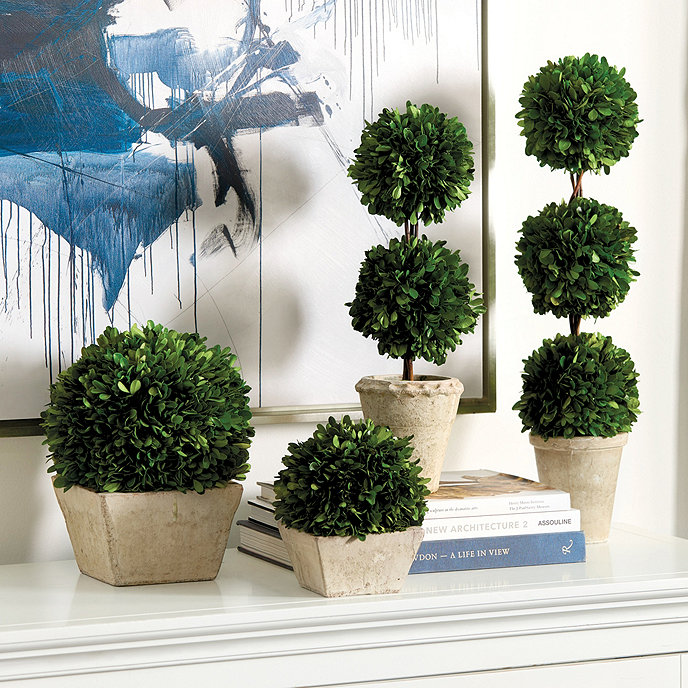 These topiaries from Ballard Designs were my inspiration. If money grew on boxwoods, I might have bought them, but it's way more fun to make your own version than shell out $116.oo a piece anyway!
The boxwood balls looked too top-heavy on a single dowel, so I grouped and hot-glued four of them together for each "trunk" and wrapped them with a piece of twine. Then I glued them to the middle of the base inside the planter and stained them using some Minwax Dark Walnut Stain which I had left over from remodeling our coffee tables.
I hot-glued the boxwood balls to the top of the trunks, brushed the planters with a light coat of white paint, and covered the Styrofoam with some leftover sphagnum moss from my egg nest. Quick, easy, and cheap – just the way I like it. 🙂
Now where should I put them? On either side of the mantel? By the chalkboard canvas? In the bathroom?
It's fun to have a piece of decor that's suitable for any room, but sometimes it makes my head spin. It needs to find a semi-final resting place!