Dear Northern Nester Readers,
I am thankful for YOU!
Thanks so much for your support of my recipe creations over the past year! I can't tell you how special it is when you leave me sweet comments noting that you enjoyed a dish as much as we have! It makes my day to see others enjoying food that's both delicious and good for your body!
As a token of our gratitude for your support of Northern Nester, we're offering you 40% OFF my 4-week, ON-PLAN digital download, The Slim And Satisfied Handbook! You can take advantage of this sale from Black Friday thru Cyber Monday. Discount automatically applied at checkout!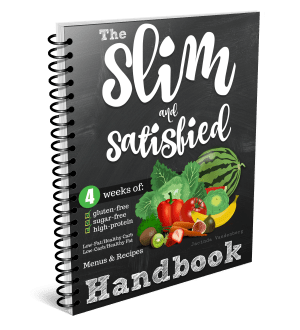 THE SLIM AND SATISFIED HANDBOOK IS DESIGNED FOR BUSY WOMEN
As a mother expecting the arrival of Baby #6 any day, I understand that time is of the essence! This Menu Plan was designed to reflect that by:
Excluding labor-intensive recipes
Avoiding the use of special ingredients
Making use of leftovers
Utilizing make-ahead recipes
Providing you with a complete grocery list each week and recipes for every meal
TABLE OF CONTENTS
The Scoop on The Slim and Satisfied Handbook
How To Use The Slim and Satisfied Handbook
Master Grocery List
Sipper Recipes
Week 1 Menu Plan
Week 1 Grocery List
Week 1 Recipes
Week 2 Menu Plan
Week 2 Grocery List
Week 2 Recipes
Week 3 Menu Plan
Week 3 Grocery List
Week 3 Recipes
Week 4 Menu Plan
Week 4 Grocery List
Week 4 Recipes
Recipe Index
Sample Menu Photos
Progress Report